Reflecting on Golden Times – 743 Jake Bond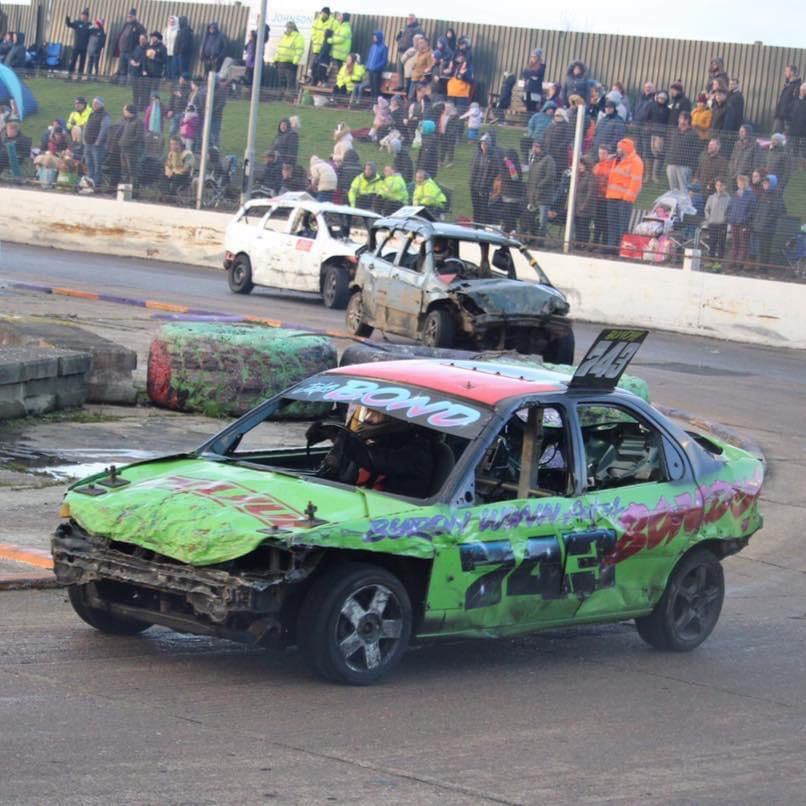 (The following interview was published by Caged! following his PRI world final victory)
Jake Bond isn't the most common name to jump out when you think about drivers from the Westcountry, but the 23 year old from Bridgwater has been quietly improving season upon season since his debut around 6 years ago; leading to him taking a resounding victory in this year's PRI World Final. Bryson caught up with Jake to reflect on his big win.
Like many drivers, Jake's influence on racing comes from his father, however, he didn't race in any Junior formula and in fact started when he was 18. 'Although I'd been going racing from a very young age, I never really pushed to race myself until I turned 18 and I've been hooked ever since.' Everyone remembers their first meeting, but Jake admits his debut was one that wasn't the best! 'My first meeting was at Taunton. From what I remember, I was quite nervous. I think I finished the first race and hit the wall in the next!' Jake does however, reflect on his debut in a jokingly manner. 'I've slowly progressed since. I'm just trying to have more fun with the racing I do now!'
Jake remains very humble about his progression in racing as it's clear to see, however since he debut he's definitely been keen, not only has he been a regular at his 'local' tracks of Mendips, Taunton and St Day, as well as Ringwood, Jake has also visited Northampton, Mildenhall, Ipswich and Stoke – the latter where he competed regularly in the annual Stan Woods Memorial meeting. 'The Stan Woods Memorial was always a stand out meeting. I liked the concept of the meeting where there was an old-school style of racing in an era of cars that I had only ever watched on VHS before. It's always good to get a race out of an old car before gradually getting more stuck in as the meeting progresses.' Jake certainly knows about getting stuck in, especially at the aforementioned Stan Woods meetings, where Jake was recipient of a textbook follow in from 10 James Eaton one year.
Jake calls his progress on the racing scene as steady, but he has become a mainstay fixture among the star graders at both Autospeed and Mendips, seeing him earn qualification in the big championships such as the 1600 Rookie World that takes place at Ipswich, another meeting Jake looks forward too, the BBA British and of course, the PRI World Final. The Rookies are where Jake found his feet, but has since become more of a regular within the 2l Banger scene, where he is no stranger to victory lane.
Heading in to this year's PRI World Final though, it is safe to say that Jake was certainly an outsider, and confesses he didn't really rate his chances. 'After the last couple of years where I've got caught up in the pile ups, I thought my chances were slim to none, especially once I drew grid 32!'
Since the PRI World converted across to Mendips, the pile ups have become a notorious feature within the main race, and once again played it's part this year. Jake takes us through how it was like on board. 'After the first 10 laps I'd got myself up through the grid, I think I was around 6th place when the first pile up happened. From that I managed to gain a couple more places and then when the second pile up happened, I saw a gap up the inside which I tried to stick to and managed to come out the other side in the lead. I think at that point there was 4 laps remaining so my aim was just to hold onto the lead for the last few laps.' Hold on to the lead he certainly did, racing off from his nearest challengers and winning the race by nearly a straight over 623 Ricky Hutton; perhaps his previous experience of getting caught in the pile ups played dividends to his victory. 'I was very overwhelmed to win the race! It took most of the week to sink in!'
Jake didn't have much more than that week though, as with most regular banger drivers he was straight back out on track this weekend, albeit under much calmer circumstances in the Back to Basics at Mendips, although wasn't shy of displaying that well earned gold roof on top of his Fiesta.
As always when drivers win a title, it spurs them on to delve a little deeper in their racing careers, so what does Jake have planned for his year as champion? 'I'll definitely travel a lot more next year! I want to get into doing Unlimiteds regularly, so maybe I'll get to do some of the Banger World Series rounds.' Jake is no stranger to RWD though, having done a few in his time including the annual Thunderbolt meeting that takes place at Mendips, so it will be good to see him among the ranks.
One of my favourite questions to ask drivers is to decipher their ultimate team of 6, naturally including themselves too. Jake opted for a team of true all rounders. 99 Richie Ahern, 158 Shane Davies, 239 Steve Carter, 247 Lee Clarke & 617 Jack Overy; and with rivalries aside, that would be a team certain to entice fear in most other teams and has the basing there to cause the ultimate and pick up points too. Given the nature of that team, I think it shows within Jake too that his characteristics racing wise are similar having taken the victory in the world final race, the Alcomers saw him battle TMT with some heavy shots going in.
As always, we like to give our interviewee a chance to thanks those that make it happen behind the scene.' I'd like to thank my dad for putting in a lot of hours helping out with all the cars and taking me racing, also to everyone else that helps out with the cars and driving to the meetings.'
We at Caged would like to thank Jake for his time to do the interview, and look forward to seeing his future on-track exploits. Thank you to all photographers, we apologise that credit cannot be given but photos are taken from Jake himself so unable to source, please mention if one of the photos are yours so we can give the justified credit. Majority of Mendips photos come courtesy of LimeJelly Photography who is the track's official photographer, you can find their stuff by visiting their Facebook page.