281 Aaron Pole – Rising Star Interview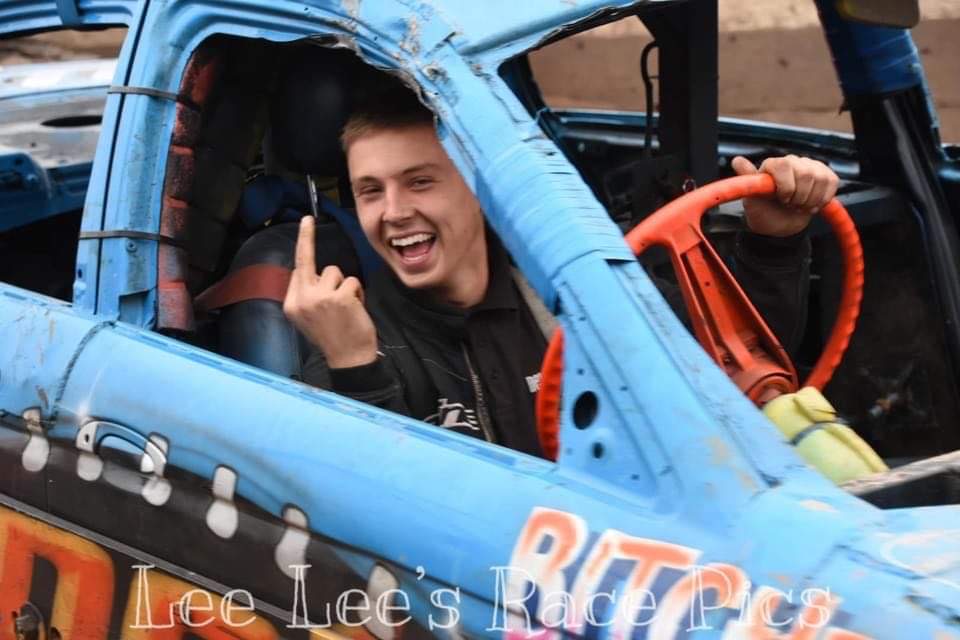 The Barton Boys have been one of the sports' finest teams over recent years; renowned for their entertaining ways. Among their ranks is 281 Aaron Pole; the 20 year old certainly helping the team with his NSD attitude on track.
Age – 20
Location – Derby
Occupation – Groundworker
Tracks Raced – Hednesford, Ipswich, Kings Lynn, Mildenhall, Eastbourne, Northampton, Stoke, Trent
Aaron is from a racing family, with father Jason being one of the original Barton Boys, and brother Jamie being one of the sports' top entertainers. 'My first banger was Stoke for the Battle of Britain. I had a couple of races then a bit of a crash at the end of the day. What got me started in bangers came mainly from watching my brother get smashed up at Yarmouth, and I thought I'm no use on the side so I may aswell get smashed up with him.'
Since Stoke, Aaron hasn't really looked back. Regularly entertaining alongside his Barton Boys teammates, but what's it like to be part of one of bangers top teams? 'It's good yeah, we're just a group of mates who all enjoy smashing bangers up! We don't take it too serious and all just have a good laugh along the way, whether it's one of us racing or all of us out there. Hopefully this year sees some new tracks ticked off with couple of different cars, but it's mainly just go out and enjoy the racing and have a laugh'
That just highlights the attitude of Aaron and the team in general, something that certainly aids them in popularity and likability.
The 2021 All Granada meeting was one of Aaron's favourite meetings, 'purely because it was a mega day with all the lads out in old school cars. Eastbourne the other week (BWS) with me and Jamie 1st and 2nd, until I tried to do an axle delete was pretty cool as well.'
We always like to see whether there is anything our interviewees would change about racing. 'To be fair, not too much, I think bangers at the moment are the best they've been for a while. I would like to see an old national team champs or World DD back at Hednesford though.' On the theme of team racing, we asked Aaron to select another 5 drivers alongside himself to form his dream team. 'Well my brother and dad for starters, as it would be mega to have all three of us out there, and then probably Polo (Mark Boulden 249), Nemesis (Steve Carter 239) and Mark Holdsworth (6).' That would certainly be some team!
Aaron regularly gets compared looks wise to rap superstar, Aitch. If he wasn't doing bangers, what would A Pole be doing? 'Certainly not rapping! I can't talk half the time, let alone rap 😂 but if bangers weren't a thing, I'd probably be happy looking into my bank account and seeing some money!'
'There's plenty to thank, all the lads for their help down the unit when I need it. Everyone who wants to smash me up, because that keeps me interested in it. Most of all the old man and brother, because without them I wouldn't be able to race, let alone be in the standard of car that I race in.'
We look forward to seeing what the season brings for Aaron!