PRI/ORCi World Championship 2021 – 19/09/21 – Mendips Raceway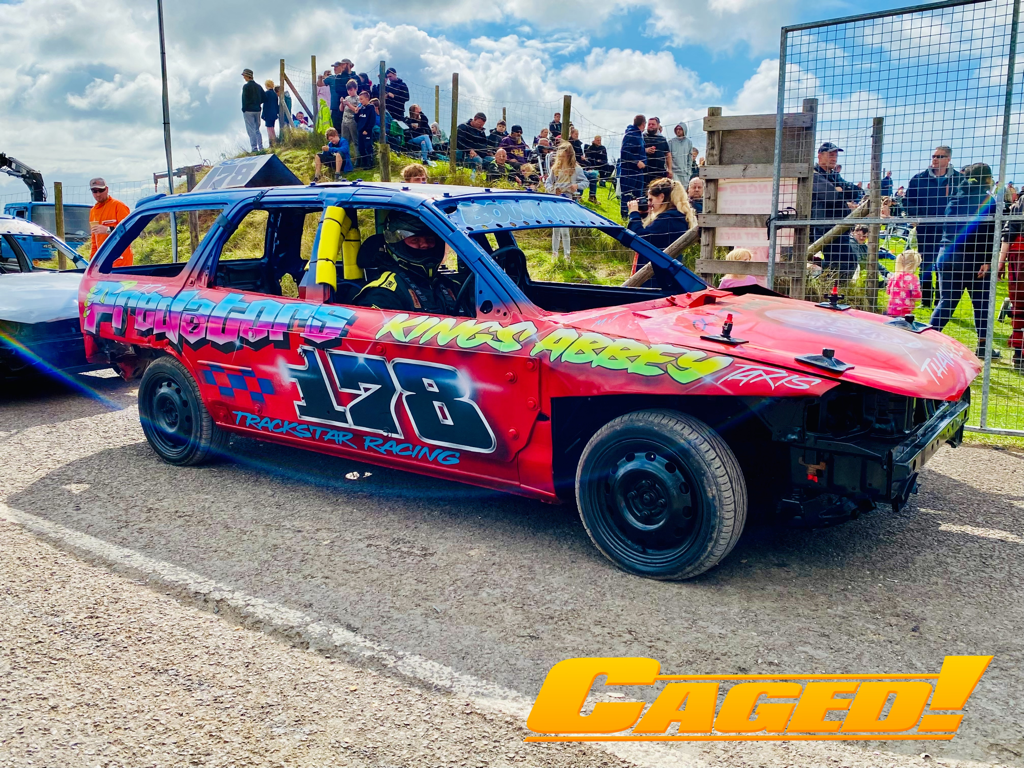 A total of 63 drivers made the trip to the Mendip Hills for the 51st annual staging of the PRI World Championship, the third year on the bounce since the meetings' transition to Mendips Raceway. The 'National Banger' format seeing the Mondeo as the favoured car, which was to be expected, but there was a surprising sprinkle of variety. There was a pair of Ford S Max's, with defending champion 440 Macauley Mills and 2 Jack Hodges having smart versions. 87 Jason Harvey also had the mindset of size matters with his Ford Galaxy. The other variety coming from Ford Focus', a Mk5 Vauxhall Astra, a Vauxhall Zafira, a smart Vauxhall Vectra for 604 Josh Bridger, the odd sprinkling of Ford Cougars and a trio of Jaguar X Types. Local lad 743 Jake Bond had a smart saloon, and 732 Chris Cullum and 908 David Brown with estates, the latter also one of the top paint efforts on the day. Dingles trio 632 Ryan Karleek, 841 Tom & 842 Jack Perkins all put in the effort on the paint front as did Trackstar seeds 178 Kieran Bowman, 210 Callum McKee and 60 Kyle Stevenson; 813 Troy Goodwin and 961 Brad Deeprose's Mondeo Estates other noticeable cars on the paint front.
The Runners and Riders
2 Jack Hodges – Ford S Max
04 Dean Gregory – Ford Mondeo
11 James Hooper – Ford Focus
15 Andrew Dow – Ford Focus
49 Ash Harvey – Ford Mondeo
49 Blake McDowell – Ford Mondeo
60 Kyle Stevenson – Ford Mondeo Estate
73 Dean Cruickshanks – Ford Mondeo Estate (used)
77 Aaron Charles – Ford Focus (used)
83 Ben Styles – Ford Cougar (used)
87 Jason Harvey – Ford Galaxy
99 Shaydy Gough – Ford Mondeo (used)
109 Chris Neville – Ford Mondeo
111 Tom Ruby – Ford Mondeo
114 Liam Lake – Ford Mondeo
121 Aaron Jennings – Mk3 Ford Mondeo Estate (used)
122 Mark Cooper Jnr – Ford Cougar
160 Jamie Warr – Ford Focus saloon
166 Connor Charlton – Ford Mondeo Estate
177 Charlie Edgecombe – Ford Mondeo
178 Kieran Bowman – Ford Mondeo Estate
183 Simon Goodwin – Ford Mondeo Estate (used)
186 Billy Slaymaker – Ford Mondeo Estate
205 Alex Ganter – Ford Mondeo (used)
210 Callum McKee – Ford Mondeo
240 Courtney Warr – Mk4 Ford Mondeo (used)
252 Steven Bugler – Ford Mondeo
259 Dan Poole – Ford Mondeo (used)
262 Rob Bugler – Ford Mondeo
275 Liam Best – Vauxhall Zafira
280 Harry Ricketts – Ford Mondeo Estate (used)
299 Dale Locker – Ford Mondeo
327 Syd Sherman Jnr – Ford Mondeo
333 Charlie Randell – Ford Mondeo (used)
341 Andrew Jones – Ford Mondeo
349 Lewis Price – Ford Mondeo Estate (used)
440 Macauley Mills – Ford S Max
448 Alfie Critt – Ford Mondeo Estate
449 Bill Critt – Ford Mondeo (used)
527 Will Darch – Ford Mondeo Estate (used)
592 Mark Marchant – Ford Mondeo
604 Josh Bridger – Vauxhall Vectra
623 Ricky Hutton – Ford Mondeo
624 Liam Hide – Ford Mondeo
632 Ryan Karkeek – Ford Mondeo
633 Nathan Ferrett – Ford Mondeo Estate (used)
720 Kenny-Joe Gabriel – Ford Mondeo
721 Carley Gabriel – Mk3 Ford Mondeo
727 Kieron Ritson – Ford Mondeo (used)
732 Chris Cullum – Jaguar X Type Estate
741 Charlie Daniels – Ford Mondeo
742 Morgan Galley – Mk3 Ford Mondeo Estate
743 Jake Bond – Jaguar X Type
775 Brad Hunt – Ford Mondeo (used)
813 Troy Goodwin – Ford Mondeo
838 Jamie Peters – Ford Mondeo (used)
841 Tom Perkins – Ford Cougar (used)
842 Jack Perkins – Mk5 Vauxhall Astra
868 Stuart Parrish – Ford Cougar (used)
908 David Brown – Jaguar X Type Estate
911 Toby Wilson – Ford Mondeo
961 Brad Deeprose – Ford Mondeo Estate
999 John Picton – Ford Cougar (used)
Into the racing and it was two split heat Last Chance races to set the day going. 18 cars were out for the first of those with 205 Ganter and 73 Crucko heading the field after the 'Incarace draw.' 604 Bridger was the first to strike as he had a pop at 11 Hooper. 240 Courtney took in 727 Big-K, and was duly jacked in turn by 2 Patchy. TYB revenge was swift as 160 Ginge laid into 2 Patchy. This made it difficult for the leading pack, causing several front runners to get taken out including 448 Critt and 908 Browner, whilst 186 Bilbo ran 73 Crucko head on into 240 Courtney. 624 Lossy Jnr spun 259 Big D out of the lead coming out of turn 4, before 205 Ganter rattled 604 Bridger around the plating down the other end. 624 Lossy Jnr spent too long playing about with the back marking 908 Browner, allowing 109 Neville to slip through and take up the running and he remained there to take the victory. Only 5 cars going the distance with all of whom booking their spot on the World Final grid.
109, 624, 186, 633, 259, NOF
20 cars took to the track for the second last chance all looking to add their name into the main race. 841 Tomo and 911 Burger completed the front row, but it wasn't long before a stoppage was needed as 842 Jack lost a wheel, bringing the reds out. This didn't stop 327 Suicide Syd putting away 49 Macdougal and 121 Jennings removing 742 Titch however. The restart saw 813 Sexpot Jnr catch the lame 49 car and was immediately jacked by 121 Jennings. 177 Edgecombe came round and weighed in on 121 Jennings. 732 Cullum spun 999 Picton. 183 Sexpot got into the lead and then buried himself, and was duly set about by 999 Picton ending his charge. 527 Garchy expired from second place and 841 Tomo pulled off whilst leading as mechanical gremlins appeared to plague the front runners. The rest of the race remained relatively quiet with 4 drivers avoiding technical difficulties and booking their place in the main race; 327 Syd Sherman Jnr taking the victory.
327, 166, 83, 732, NOF
PRI World Final Grid
(Inside-Outside)
327-114
720-60
299-623
961-333
122-275
83-592
210-732
838-49
341-252
111-349
178-186
259-262
775- 743
741-624
77-280
440
The grid draw saw last chance winner 327 Suicide Syd's luck continue as he drew pole, alongside Autospeed World Champion 114 Lakey, the latter looking like a very dangerous threat for the title from that starting position. Defending champion 440 Big Mac was the first to draw his grid position, but gracefully decided not to draw a position and instead opted to start from the back of the pack. It was heartbreak for 87 Jason Harvey and 633 Nathan Ferret who both failed to make the start; although 178 Slim will be thankful it wasn't him this year.
743 Bondy was the first to show, spinning promotion compatriot 262 Roona. 741 Daniels ran in 775 Hunt, before 732 Cullum followed in 592 Marchant. 440 Big Mac homed in for a tbone on 592 Marchant, clearly viewing that he had better strike first in the battle against TMT. 741 Daniels delivered a head on to 440 Big Mac before 275 Besty leathered 775 Hunt. 440 Big Mac attacked 741 Daniels on oppo, and received one himself in turn from 259 Big D. 166 Tornado weighed in on 275 Besty. 299 Knocka spun 720 Kenny-Joe, and 743 Bondy did the same to 262 Roona. 275 Besty tboned 49 Harvey. In the battle for the lead, 341 Jonesey put the bumper in to dislodge 327 Suicide Syd, with 623 Tricky sneaking through too. This in turn saw 299 Knocka turn 111 Tommo fence-wards. 349 Noddy took 111 Tommo into the melee on turns 3 and 4, with the latter backing his attacker up which caused the race to get really interesting. 333 Chaz homed in on 349 Noddy and took on in turn from 60 Shakey, with 280 Ricketts piling in too, completely blocking the track. 178 Slim tboned 333 Chaz to make a gap through and was done in turn by 252 Boogie, seeing the Predators man get momentarily air-time. Behind, the front runners all piled in with 961 Deeprose burying 327 Suicide Syd into 775 Hunt. The positions were swapping frantically along the home straight, and as they entered the back straight, it was 623 Tricky who emerged out front ahead of 77 Aario and 743 Bondy. Bondy put the bumper in on 623 Tricky to dislodge the TMT man and head into the lead, as they all ran out of room going into the bend. 743 Bondy ran into 349 Noddy and 111 Tommo ran head on into 333 Chaz which stopped everyone behind. 743 Bondy and 623 Tricky broke free, as just behind, 341 Jonesey rallied his way back to third by driving through 349 Noddy. 592 Marchant attempted to take out 743 Bondy on oppo but just didn't have enough grunt to get him. Bondy took the 3 lap board with a healthy lead, almost a straight ahead of 623 Tricky. 741 Daniels followed 77 Aario in, ending his charge – the former then collecting teammate 592 Marchant, allowing 743 Jake Bond a clear gap through to race to the chequers and his biggest win to date. Behind carnage ensued, 111 Tommo weighed in on 961 Deeprose. 327 Suicide Syd jacked 60 Shakey and copped one in turn from 349 Noddy. 49 Harvey went in on the nose of 77 Aario, before 341 Jonesey delivered a rapid hit on 252 Boogie. 623 Tricky leathered 49 Harvey before the red flags came out. 623 Tricky and 327 Suicide Syd were deemed the place-men.
(On a side note, it's worth noting that 341 was in fact second but viewed that he had won so refused to accept the position)
743, 623, 327
Alcomers 1 raised 26 cars. 908 Browner spun 632 Ryan to set the tone. 448 Critt leathered 04 Gregory, with 240 Courtney going in on 448 Critt. 633 Ferrett jacked 240 Courtney. 15 Fatboy Slim Junior attacked 813 Sexpot Jnr, before the lively 448 Critt delivered a head on to 166 Tornado. 449 Critt jacked 166 Tornado, the latter also being leathered by 73 Crucko. 166 Tornado's rough ride continued as he was tboned by 449 Critt. 842 Jack homed in on 73 Crucko, putting the rear of the latter's Mondeo estate air-bound. 449 Critt spun 813 Sexpot Jnr, whilst 742 Titch ran 160 Ginge head on into the luckless 166 Tornado, blocking the track. 842 Jack, 449 Critt and 178 Slim all weighed in on the ongoing blockage. A path opened up allowing a way through. 205 Ganter removed 178 Slim. 842 Jack delivered a head on to the leading 838 Sloth as he emerged from the pathway through. 813 Sexpot Jnr jacked 15 Fatboy Slim Junior and was destroyed in turn by 838 Sloth. 449 Critt weighed in on 838 Sloth. 178 Slim steamed in on 449 Critt and was done in turn by 742 Titch. 449 Critt broke free and completed a lap to tbone 166 Tornado once again. 842 Jack weighed in on 178 Slim. 449 Critt jacked 178 Slim and had 15 Fatboy Slim Junior lamely go in. With no cars moving in any convincing manner, the race was declared with 838 Jamie Peters taking the victory.
Only 18 cars returned for Alcomers 2 but it would turn out to be a case of quality over quantity. 49 Macdougal turned 111 Tommo fence-wards and got catapulted into the tyres himself as 262 Roona picked 341 Jonesey up at speed bouncing him over the inner armco and following him in hard. 333 Chaz delivered a brutal head on to 341 Jonesey. 252 Boogie tboned 341 Jonesey as 122 Cooper Jnr jacked 333 Chaz. 114 Lakey jacked 252 Boogie before completing a lap and absolutely decimating the BRC man. 838 Sloth drove through 252 Boogie, who's Mondeo was looking severely mangled by this point. This didn't stop 114 Lakey however, who delivered a head on to 252 Boogie once again. Hats off to Boogie who didn't wave for reds at any point. 262 Roona jacked 114 Lakey and was leathered in turn by 299 Knocka. 721 Gabriel came inside out at 299 Knocka whilst TMT set about newly crowned champion 743 Bondy. 99 Shaydy delivered a rear wheel shot to 741 Daniels. 299 Knocka delivered a meaty tbone to 721 Gabriel. 743 Bondy homed in for one on the nose to 623 Tricky as 838 Sloth weighed in on 262 Roona down the other end. 743 Bondy drove through 741 Daniels and carried on to weigh in on 299 Knocka. 838 Sloth drove through 262 Roona once again, with the race red and chequered. 99 Shaydy Gough took the win.
As a huge crowd gathered around 252 Boogie's wreck to get a glimpse of the damage, he just casually strolled down pit road like something out an avengers film – how do these drivers do it?!
18 cars again for the DD, an impressive number considering the action we were treated to throughout the day. 349 Noddy set about 868 Parrish early doors as 911 Burger attacked 77 Aario. 911 Burger jacked 838 Sloth whilst 299 Knocka set about 11 Hooper. The reds came out for 624 Lossy Jnr who had been involved in an unseen hit. He walked off a little tenderly holding his shoulder but I'm understood that he was all ok. The restart saw 911 Burger leather 11 Hooper. 299 Knocka spun 868 Parrish. 114 Lakey set about 911 Burger, the latter holding the Autospeed World Champion on his breaks allowing 160 Ginge to home in for a large portion to Lakey. 299 Knocka weighed in on 911 Burger and was jacked in turn by 868 Parrish. 205 Ganter ran 11 Hooper through 868 Parrish, who took further abuse courtesy of 633 Ferrett. The red flags came out due to a fire on 160 Ginge's focus, and once that was under control and the DD appeared to be under resumption, a fire broke out on 11 Hooper's Focus too. These were both swiftly dealt with and the action resumed with 114 Lakey weighing in on 205 Ganter. 349 Noddy administered a head on to 205 Ganter, with 448 Critt homing in too. 114 Lakey went in on 448 Critt, with 177 Edgecombe coming off the middle, hitting 114 Lakey flat out on the drivers' side, only to bury himself harder in the process, resulting in him needing medical assistance bringing an end to procedures. 448 Alfie Critt taking the honours.
Another fantastic display for the third year running highlighting that the PRI World Final should really be a 'must do' meeting on all drivers and race fans cards. Mendips is a severely underrated track and I would just like to take the opportunity to thank Jack, Johnny and all the team for making me feel so welcomed. It is the turn of the Unlimited Bangers at the raceway on Sunday 17th October for the 21st staging of the Thunderbolt, rescheduled from its typical May spot due to Covid.