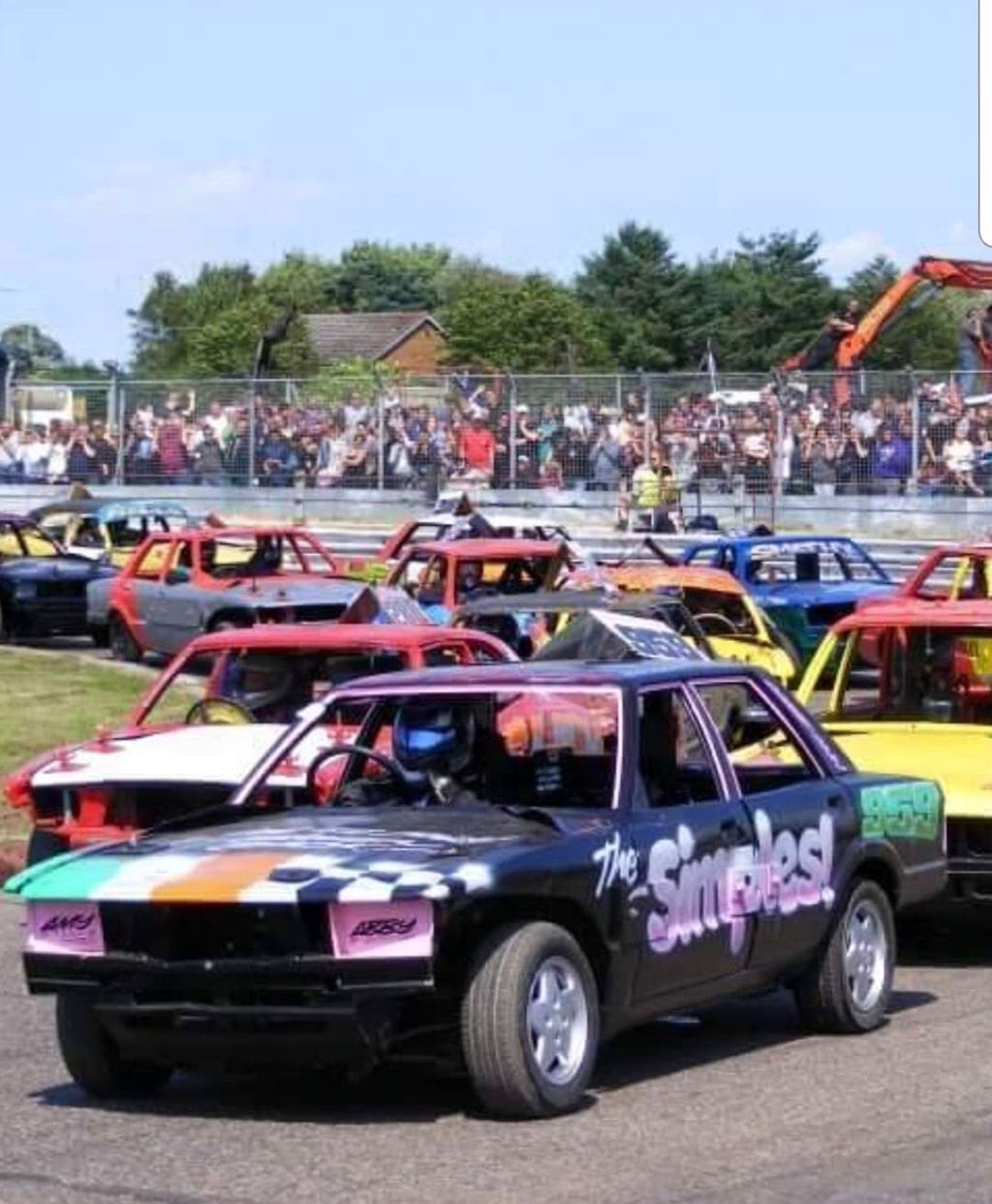 Aaron Keoghan has quietly gone through his racing career, but with 28 years of service, definitely deserves the recognition he deserves. I caught up with the 46 year old from Portsmouth to find out more about his coveted career. Aaron straight away lead into the interview with reminiscing on how he got into the bangers.

'I moved into a tower block in Southsea (Portsmouth) and in the parking bay I'd see a car stripped out, and then painted – a few days later on a trailer smashed up. I introduced myself and Nifty Nige invited me to come with him and have a go. I only went and got a 3rd place and a trophy,' Aaron laughs. 'I then brought a Cortina Estate a week later and boom; 28 years later and I'm still at it.'
Reflecting on his first meeting, Aaron states that the build prep was very basic. 'The battery was on the floor. An acro behind the seat with 17mm nuts and bolts, and a fire extinguisher for a water tank.' Aaron laughs about his origins. 'For a while I became Nifty's Mate the second.' It's evident that Aaron got the buzz straight away. 'I loved my first meeting. Obviously it was 100% different to today's standards. There was not much damage but I still weighed it in the next day and brought a Capri for the next race. My first race was at Sidlesham near Chichester and then next race was Funtly near Fareham.'
Aaron continues to delve into what when on behind the scenes with the racing back when he first started.
'Well back then (when Aaron first started), Cortinas, Capris and Granadas were readily available for £25 – £50. For me the prep was on the trailer in a council parking bay. I only used 10, 13, 17 and 19mm spanner/sockets, a flat blade and Phillips screw driver, hammer and center punch for making holes through the acro. A tin of paint with 4 inch and 1 inch brushes. There were no side plates, corner plates or drivers' door plate. A scaffold pole wedged in the door and tie the other doors; tie the seat from the pillar to the b post. So basically it was strip, paint, race and weigh in Monday morning and get your money back at £25 per ton.'
It's clear that times were a lot simpler, so what made Aaron take the jump and begin taking racing that extra bit serious going from the club tracks of Sidlesham and Funtley as previously discussed, to the tracks and arenas we know and love today. Aaron has since gone on to compete at another 25 tracks, showing the distance he has since travelled over his 28 year career span.
'After a couple of years of bits and bobs with Nifty and his friends, along with The Jokers who at the time were still club racing, I was asked to join The Simples. It was originally started with Vance Brown, Lee Marsh, Russ Tappenden and of course 257 "Simple Sean" Sean Collins, who by then had left to join the Suicide Squad with his good mate 249 Polo. I'd visited Matchams a couple of times in the past so that became my first "Stadium Racing" then onto Eastbourne, Firecrackers and Wimbledon.'
Since then Aaron hasn't looked back seeing him add Bourne, Horndean, Angmering, Tadley, Standlake, Aldershot, Croydon, Ipswich, Swaffham, Mildenhall, Swaffham, Smallfield, Wisbech, Hednesford, Stansted, Skegness, Stoke and Kings Lynn to that list, and it's at the latter track where he now calls 'home'.
'The way Trackstar treat their drivers is outstanding and I'm happy to race under their banner. I consider Kings Lynn to be my home track even though it's 4 1/2 hours away,' Aaron laughs. Aaron has also raced further afield with trips to the Isle of Wight, Nutts Corner and across on the continent at Warneton and Emmen. Aaron recalls his first visit to the Dutch shaleway. 'When I raced at Emmen in 2010, I was introduced as not the first English to race there, (Aaron was the second) but the first that most people would recognise! When I started racing at Warneton in Belgium back in 2003, there was an amazing atmosphere every meeting.'
Going back on ourselves slightly, I asked Aaron why he thinks club tracks like the ones he started on are very few and far between now, and after some deliberation, Aaron stated 'councils I think made it harder to comply with regulations, and thus the closing of tracks. I only strayed from club to arena/stadiums because I just got caught up in the thrill and of course the Blitz Mag coverage and the crowds. I suppose that's how it became more popular so crowds would make a point of going to see the racing.' Aaron expanded on that thought, 'how it has come to what it is today I suppose is just simply because of money spent on engines, carbs, exhausts and tyres etc. That's probably why I concentrate on specific meetings; All Car Meets, Pre Meets etc. I'm not prepared to lay out too much; don't get me wrong I'll pay out for a car.'
Building open Aaron's statement about how the racing scene is now I asked him to develop on his thoughts. 'Over fabricated, over tuned and over handling!' So what would Aaron see done different? 'I'm too easy going to answer that,' Aaron chuckles. 'Simple things maybe like scrutineers getting on an even scale and be a bit more strict across the board on over fabrication. There's being to the rules and then bending rules yet blatant cheating seems to get missed!'
Having raced all those fantastic cars, along with the not so, surely there must be one or two cars, or maybe just meetings alone that stand out for the man from Portsmouth. 'Wow yeah I've had some great memories, some great races, some bad races and injuries.' 'Highlights to name a few,' Aaron ponders, 'all of the All Car meetings – Cortinas at Swaffham and Arena, Granada/Olly Moran & Maya meeting, Good Friday Mildenhall Team meets, A60 Amble, the most recent Stan Woods Memorial meeting. Then there have been races like going overseas for the first time in Emmen 2010, first time at Nutts Corner in 2008 and Warneton in 2003. Of course, Rinwood making my first front cover of Blitz airborne with me in a Cortina and 202 Kilf in a Capri,' Aaron laughs. ' I can't not mention all my Firecrackers; even the half and one lap years,' he joked! 'I've never been about trophies but I can say I'm proud of my trophy collection.' It's great to see even though Aaron isn't about the winning, he does still appreciate the silverware when he gets it.
So, what next for the Jokers man – given the amount of free time everyone has to plan their racing calendar fully, Aaron provided an insight into discussions at Jokers HQ.
'At Jokers HQ yard we are all just waiting for racing to get the go ahead. For me personally in the pipeline was Happy Retirement, Pre 75 Kings Lynn, Classic Carnage, and Pre 75 Scunthorpe.' Aaron jokes that Scunthorpe will be another track to add to that long list. 'I'll possibly add All Volvo and Halloween at Kings Lynn as bolt ons to the list for me. As well as that I'm moving in with Mandy and getting married so a busy year planned!' Aaron laughs, 'so if the racing doesn't get the all clear that will take a bit of weight off my shoulders!'
Having a career span of nearly thirty years, Aaron has undoubtedly met and raced against countless people, so who out of everyone he has raced against would he put in his top 10? Aaron couldn't initially give me an answer, 'I'm working on the list of ten,' he promises. 'Overall I suppose all of the people and friends I've made over the 28 years – my other half says too many!' After a while though, Aaron narrowed it down to a list of ten drivers. 'It's tough and again in no particular order my top ten drivers I've raced against are my mate 248 Dave Harding, 99 Steevie, 13 Peewee Pieter Leistra, 190 Pikey Steve Bailey, 77 Patxi Patch Beasley, 421 Nutty Nigel Riley, 206 Kingy Dave King, 517 Scott Weldon, 348 Sonny Sherwood and 56 Karel Eecloo Vincky.' A very solid list of ten and interesting see the impact somebody young like 77 Patch has had on Aaron having only raced with him over a small percentage of his career compared to the others on the list. Aaron reasoned 'they are drivers I admired and often wanted to emulate. Especially one time at Ringwood, where I was chasing down Mushy after I told him once crashes happen in front, he just glides on through, so I stuck with him for aslong as I could,' Aaron giggles.
Coming a near 30 year hiatus, does Aaron have plans of slowing down at all? He informs is my y master plan (which no one believes haha) is 2022, my 30th year, I will do one big meeting and call that my retirement race. I honestly don't consider myself worthy of a retirement race if you know what I mean. Should something be offered then I would be persuaded I suppose for my own retirement race.' We think Aaron certainly deserves one so who will snap up the opportunity? To close out the interview, I asked Aaron whether there was anybody he would like to thank or mention for their contributions to his racing, as I'm sure there was many! He pondered, 'hmm who to thank – I suppose firstly over the last 9 years my partner Mandy for supporting me. Mick Rowell and his boys Sean and Adam (Team Jokers) for their assistance. Further afield over the years, Vance Brown and his son Ash Brown in my early years of Team Simples for all the help and support building week in week out. I suppose Nigel Blackburn and Paul Chearman for getting me into this crazy addictive sport we all love and hate.' With the thank you's done, I'd just like to add my own thank you to Aaron for taking the time out to speak with us.