Yarmouth – 28/12/2021 – Unlimited Bangers Christmas Cash & Crash In & Back to Basics Van Bangers – Meeting Report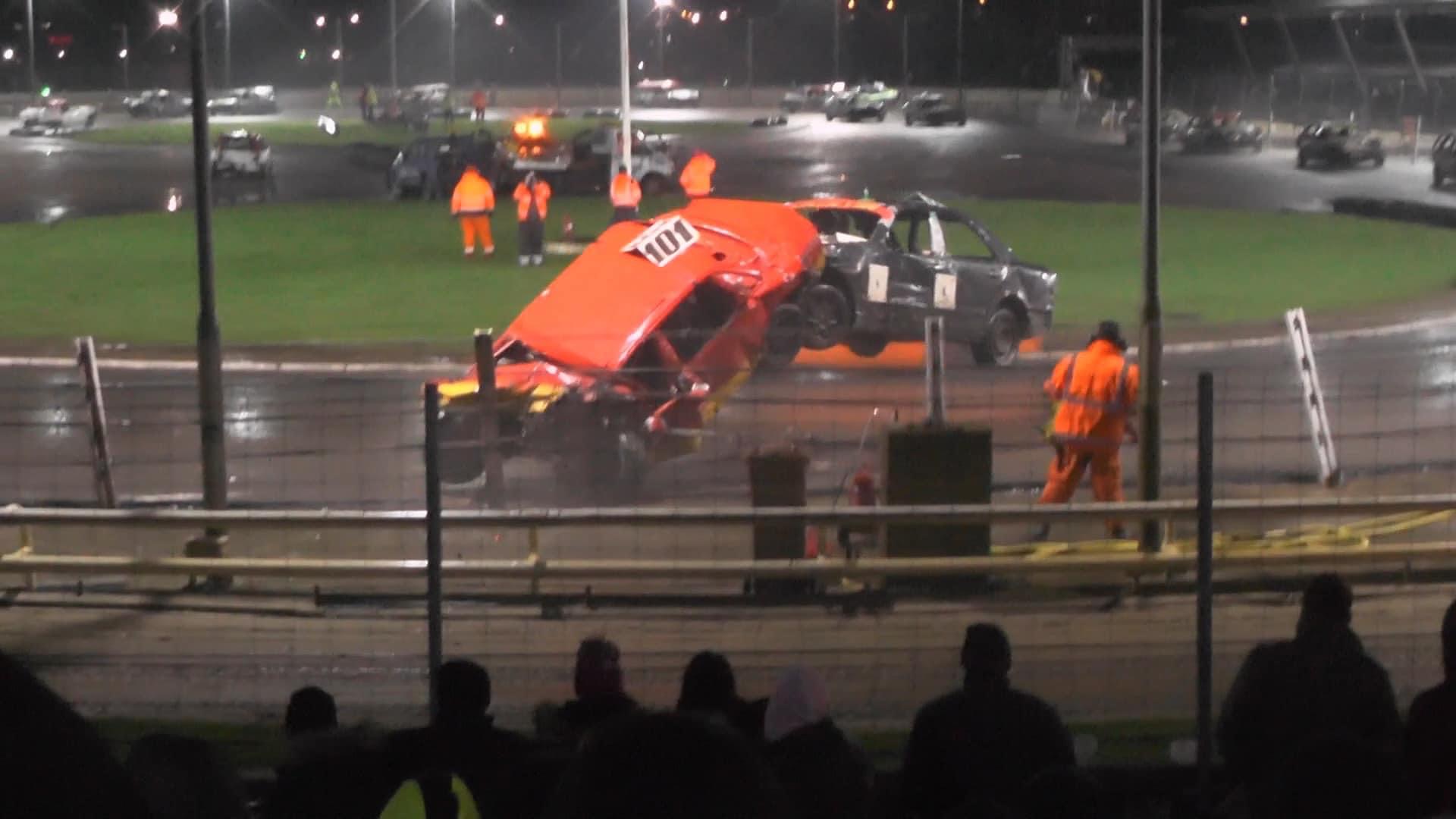 Yarmouth Stadium's Christmas meeting on Tuesday 28th December saw a revamp and new idea come out of the pipeline, with the Unlimited Bangers Christmas Cash & Crash In which raised 59 cars. The Unlimiteds were coupled up with the Back to Basic Van Bangers; the perfect way to blow the Christmas cobwebs away.
The Unlimiteds were split into two half cars heats to begin with. Heat 1 started with 284 James Head putting away 328 Ben Nichols on the Caister bend, as 341 Andrew Jones spun 548 Alex Utting. 820 Martyn Perkins took out 639 Tye Williams and 57 Stu Cummings in one move, before 77 Aaron Charles spun 552 Karl Douglas. 348 Sonny Sherwood spun 161 Billy Smith, as 333 Daniel Weavers had a go at 174 David Osborne, with VS Massive striking first against the Gladiators. 161 Smith blasted 174 Whipper whilst 243 Pete Osborne delivered a head on to the spun 21 Dean Tompkins. 456 Nathan Roberts spun 174 Whipper, which allowed 333 Cuddles to home in for a head on to the Gladiator man. 333 Cuddles continued his assault by driving through 542 Craig Oliver before delivering another couple of head ons to 174 Whipper as 400 Lee Kingsnorth raced to the win.
400, 327, 3, 617, 570, 455, 456, 348, 84, 887
The typical first bend push claimed a few at the start of Heat 2. 222 Matty High jacked 93 Dylan Goodman on the pits bend and was driven through in turn by 123 Kieran Gray. 516 Carl Gould weighed in on 123 Kezza before 960 Ross Winsor followed in 107 Taylor Pratchett down on the Caister bend. 549 Phil Smith jacked 960 Rossco and was duly jacked in turn by 160 Shayn Winsor. This triggered a track blockage on the Caister bend which saw 222 Matty leather 717 Jack Tuffen. 516 Gouldy jacked 222 Matty, with 440 Lennon Phillips weighing in on 516 Gouldy. (5)52 Jordan Street jacked 440 Lemon before 101 Cieran Harmer delivered a head on to the spun 67 Rickie Beasley. 160 Winsor set about 93 Dilly Dilly and 549 Smiffy Jnr. 372 Jay Matthews spun 101 Charmer which allowed 67 Beasley to deliver a revenge hit to the Aftermath young gun. 160 Winsor jacked 549 Smiffy Jnr and then administered a head on too, which left him stranded on the infield marker tyres. This allowed 93 Dilly Dilly to deliver a flat out shot on 160 Winsor, earning himself an early end to the meeting. 356 Harry Overy avoided distractions to take the win in a Team Black top three.
356, 103, 739, 372, 625, 400, 136, NOF
It was the turn of the Back to Basics Vans for their first Heat 1. 499 Alfie Aldous was an early spinner. 323 Kieran Tweed's Ford Transit Camper Van predictably didn't last long, falling apart almost immediately along the home straight. 28 Scott Green spun 548 Big Al's little Daihatsu Hijet, with the result only ever going to end up with a rollover. The race resumed with 109 James Williams spinning 200 Gavin Baldy and 14 Barry Payne removed 136 Richard Brown. 443 Steve Ashman and 212 Chris Bartrum tangled down the back straight and 811 Chris Bailey turned 312 Tom Reynolds fence-wards. 256 Jason Fish tboned the spun 791. 811 Bailey continued his lively streak as he set about 14 Bazza. 331 Jack Elden spun 312 Turbo Tom and 862 Reece Eglington spun 323 Tweedy also. 129 Adam Barker set about 109 Posh Boy, as 862 Eglington spun 200 Baldy, the latter recovering to drive through 109 Posh Boy. 862 Eglington took in 741 Luke Parfitt before getting turned left by 129 Ninja. 116 Mark Want raced to the win in his Fiesta van.
116, 547, 14, 136, 211, 331, 109, 212, 33, 133
A few drivers crashed out early on the Caister bend courtesy of a pack push at the start of Heat 3 for the Unlimiteds. 341 Jonesey took out 161 Smith, which also took out 84 Jack Ansell in turn. 549 Smith delivered a head on to 161 Smith. 114 Liam Lake collected 161 Smith. 328 Nichols drove through 284 Heady before 549 Smith delivered a head on to the spun 333 Cuddles down on the Caister bend. 820 Maggot and 328 Nichols joined the growing amount of casualties. 542 Craig Oliver tboned 820 Maggot and then continuously drove through 333 Cuddles. 617 Overy removed 372 Matthews. 617 Overy set about 634 Ben Green, running himself into the spun 887 Rob Browning in due process. 455 Finney launched 84 Peach into the pile up on the Caister bend. 552 Karl Douglas took the win after just holding off 327 Mick Maskell Jnr put the pressure on in the last couple of laps, so much so that Blacknuts had to use all the track and some to get across the line, catching a fence post just as he took the chequers and burying himself.
552, 327, 67, 455, 699, 400, 328, 570, 460, 217
A more calmed start to Heat 4 for the Unlimiteds, although 873 Kyle Roberts failed to get underway. 356 HJO launched 101 Charmer wide as 817 Kurt Jacobs went for a spin. 52 Street spun 444 Charlie Jackson and 548 Big Al did the same to 243 Bodja. At the front of the field, 625 Gucci and 639 Tye Williams broke away from the rest of the field and enjoyed a good scrap for the lead. 356 HJO removed 243 Bodja on the back straight. The leading 625 Gucci spun 440 Lemon, which caught out 639 Tye Pirate dislodging the latter from second place. 455 Finney had a pop at 136 Adrian Court, eventually running Junior in to the pit gate and spinning him. 243 Bodja duly obliged to weigh in for a head on to 136 Junior, sitting the latter up for a stiff jacking from 444 Chaz. 625 Gucci spinning 243 Bodja, just as the reds came out to check on 136 Junior. 625 Gucci lead 548 Big Al and 247 Bro away on the restart. 243 Bodja spun 356 HJO, as 625 Josh Gooch held off a last bend lunge from 548 Big Al to take the win.
625, 548, 247, 456, 84, 3, 455, 52, 243, NOF
Heat 2 for the Vans saw 133 Faye Madgwick crash out with 811 Bailey early on. 547 Ryan Utting put the bumper in down on the pits bend, which sent 211 Lee Cowley fence-wards and claimed 741 Capt D and 109 Posh Boy in the process. 862 Eglington set about 323 Tweedy, as 116 Wanty squeezed his way up the order from the back of the grid past the muncher larger vans. 136 Brown and 14 Bazza enjoyed a good scrap for the lead, with the latter eventually dislodging Brown for the lead, as behind, 200 Baldy got turned aside. 862 Eglington spun the luckless 200 Baldy. 862 Eglington livened up the battle at the head of field, slowing 14 Bazza down and allowing 129 Ninja to close in to pounce. 211 Steptoe Lee spun 109 Posh Boy, and 862 Eglington had a set about with 136 Brown. 14 Bazza opened the gap once again to take the win.
14, 129, 116, 109, 445, 211, 33, 741, 133, NOF
The Unlimiteds were back for their Final, with 327 Maskell Jnr and 328 Nichols forming the front row, which was probably not the best play to start as they were fired into the fence straight away. 247 Bro turned 52 Street left, with 548 Big Al delivering a head on to the Condom man. 318 Olly Marshall collected 328 Nichols and 341 Jonesey thundered 123 Kezza into the bend. 444 Chaz followed in 101 Charmer in what was one of the fastest, and most gut-churning 1 on 1 one hits I've personally witnessed at the track, the nature of the post and ropes creating a big Jaguar wreck and some crazy airtime. The red flags were out almost immediately to attend to the young Aftermath, the Orange Army swift on the case. Unfortunately for Cieran, he suffered a severe leg injury requiring surgery – all at Caged! would like to wish him the best of recoveries.
The race resumed after the delay, with 617 Overy spinning 455 Finney, as 318 Olive and 123 Kezza crashed out on the back straight. A push into the Caister bend from the back of the grid resulted in 327 Maskell Jnr bounce 341 Jonesey off a post. 570 Dino Jnr spun 699 Stacey, which caused 356 HJO to put away 'uncle Jack' 617 Overy. 328 Nichols removed 21 Dean Tompkins. A four way battle between 103 Jack Deacon, 820 Maggot, 28 Fred James and 247 Bro, which resulted in the Damage Inc man being forced wide costing him momentum allowing 341 Jonesey to home in and spin him from contention. 887 Browning sent 570 Dino Jnr spinning across the grass before 123 Kezza leant 400 Kingsnorth up a post on the exit of the pits bend. 820 Maggot had a storming lap, bumping 103 Jacko wide on the pits bend to take second and then dislodging 460 Friend to take up the running. The places continuously chopped and changed, with 887 Browning working his way into the top three. 820 Martyn Perkins raced to a convincing win, the fast-charging 887 Rob Browning stringing some quick laps together towards the end to take second ahead of 356 Harry Overy. 887 Browning and 123 Kezza tangled at the end, and 114 Lakey spun 460 Friend before the reds came out.
820, 887, 356, 217, 456, 28, 103, 460, 114, 247
A bad start to the Vans Final for 211 Steptoe Lee, who was spun by 33 Gary Madgwick before he even got to the start line. 312 Turbo Tom and 133 Little Miss Magic collided near the pit gate before 14 Bazza removed 443 Ashman. 14 Bazza spun 200 Baldy on the home straight whilst 331 Elden did the same to 109 Posh Boy exiting the pits bend. 443 Ashman set about 200 Baldy. The leading 136 Brown spun 862 Eglington. 211 Steptoe Lee spun 323 Tweedy. 256 Fish spun 109 Posh Boy.
741 Capt D set about 200 Baldy, onto to be spun himself by 14 Bazza. 136 Brown had another nibble at 862 Eglington on his way past. 256 Fish turned 443 Ashman left. 200 Baldy done 109 Posh Boy head on to push the latter off the marker tyres. 741 Capt D attacked 862 Eglington whilst up front, 136 Richard Brown survived a last bend attack from 14 Barry Payne to win, with heat 1 winner 116 Mark Want taking third.
136, 14, 116, 129, 331, 211, 33, 547, 741, 256
The Vans DD saw 331 Elden do the usual reverse trick off the line. 499 Alfie Aldous got spun on the pits bend and was driven into by 211 Steptoe Lee. 109 Posh Boy spun 33 Magic. 200 Baldy ran 256 Fish and 133 Little Miss Magic into 312 Turbo Tom. 547 Rhyno had a nibble at 862 Eglington before 136 Brown drove through 200 Baldy, bouncing the latter of the ropes on the back straight. 811 Bailey leathered 200 Baldy, with 129 Ninja tboning the latter also. 211 Steptoe Lee picked up 811 Bailey, with 136 Brown latching on and running the pair of them in. 133 Little Miss Magic weighed in on 129 Ninja. 109 Posh Boy delivered a large portion to 200 Baldy as 331 Elden set about 862 Eglington. 548 Big Al rolled for the second time in the afternoon, courtesy of a shot from 109 Posh Boy. 129 Ninja got himself in the middle of a Madgwick sandwich before confusion as to whether the DD would be stopped for 548 occurred. The action continued however, with 136 Brown having a pop at 133 Little Miss Magic. 33 Magic weighed in on 136 Brown before receiving a head on from 499 Aldous. 547 Rhyno laid into 109 Posh Boy and then delivered a reverse attack on 133 Little Miss Magic. 109 Posh Boy went in reverse, setting about 33 Magic. 33 Magic and 109 Posh Boy shared a couple of hits before the veteran racer silenced Posh Boy to take the honours.
A great meeting with the right mix of crashing and racing, a bit of everything for everyone, although it's likely to be remembered for all the wrong reasons. Fingers crossed the meeting gets the green light for the 2022 season as an additional Unlimited meeting is certainly what Yarmouth needs.