Mildenhall – 13/11/21 – 2L Bangers Team Championship – Meeting Report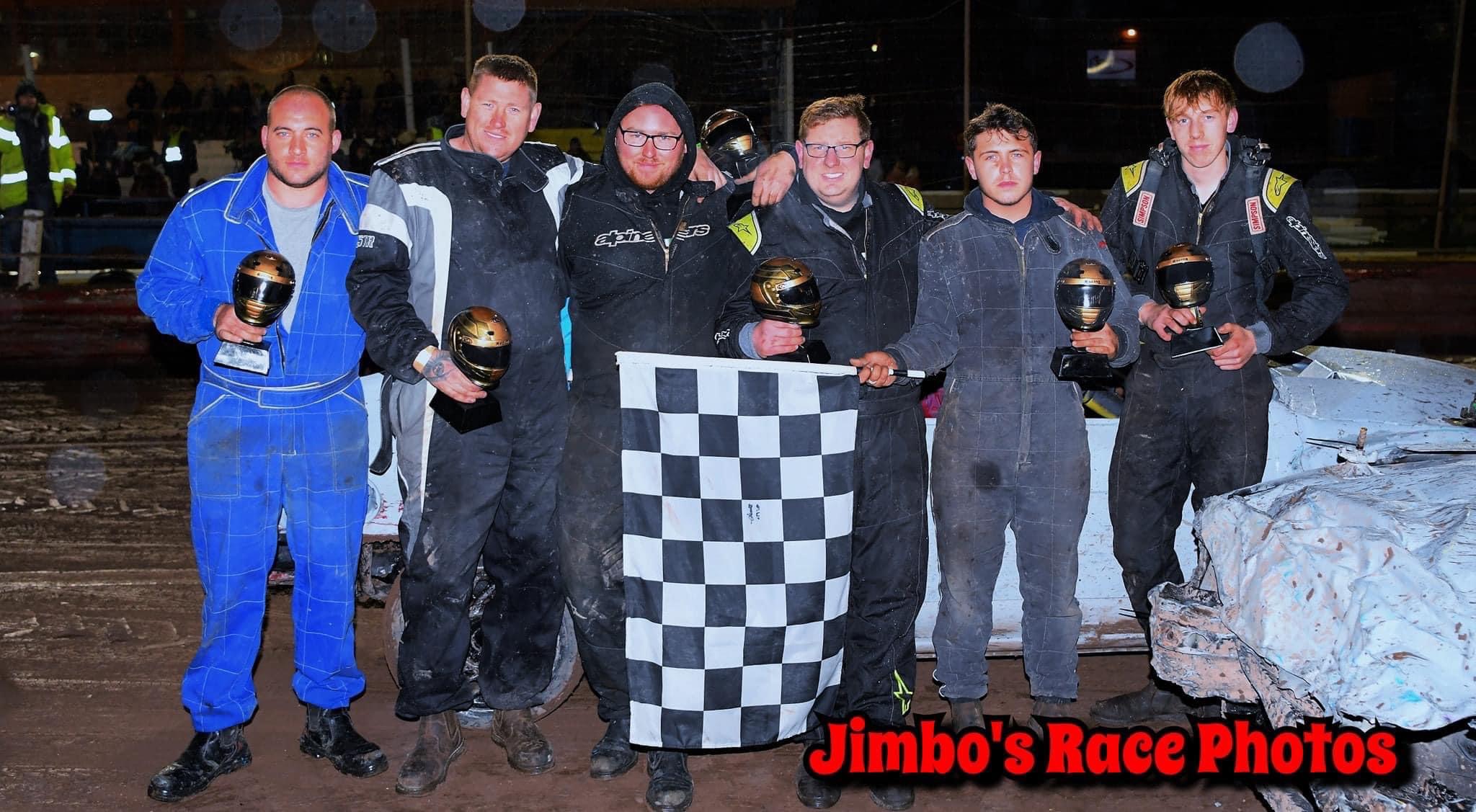 The 2L Mildenhall Team Championship concluded the Mildenhall season with 14 teams doing battle on Saturday 13th November. 112 Daz Prestage had a solid looking Ford S Max. The field being 95% Mondeo based except the odd Cougar and sole Focus and Zafira. 307 'Pretty Boy' Martin Kent had a smart Mondeo Estate and 669 Cal Curtis had a very fitting Remembrance Day tribute.
Aftermath (AM)
57 Max Stott
78 Lee Macey
400 Kevin Shinn
515 Gareth Flatters
603 Jon Cooper
664 Ryan Sutcliffe
Dover Boys (DB)
24 Patric Hughes
51 James Licquorice
116 Nathanial Cohn
188 John Reeves
488 Codie Reeves
647 Jake Webb
GFC
18 Ash Law
161 Billy Smith
313 Craig Osborne
326 Shane Lynn
328 Daniel Lathan
333 Daniel Weavers
Gladiators (G)
93 Dylan Goodman
107 Taylor Pratchett
201 Phil Milner
252 Nemo Llewelyn
669 Cal Curtis
Gravediggers (GD)
12 Coby Prestage
29 Dave Mawdsley
110 Garrie Mirza
112 Daz Prestage
114 Adam Jackson
711 Tom Mackenzie
Green & Black (GB)
28 Mac Bell
69 (?)
313 Callum Harris
545 Karl Hough
699 Aaron Nelson
No Mates (NM)
40 Lester Freestone
273 Kevin McClagish
340 Wes Freestone
342 Ryley Freestone
375 Alex Hensby
910 Jack Rookard
Predators A + B (P)
25 Matthew Black
87 Damien Matthews
178 Kieran Bowman
191 Kieran Greenway
227 Chris Horton
279 Bradley Bowman
307 Martin Kent
378 Jack Bailey
403 Steve Parrish
519 Lee Middleton
595 Drew Burdett
Scrapyard Screamers (SS)
132 Archie Cullum
174 Aaron Smith
214 Shane Rawlins
299 Dale Locker
732 Chris Cullum
Team Mates A + B (TM)
66 Shane Norley
123 Kieran Gray
352 Ben Mynott
390 Dan Stacey
517 Sid Cooper
521 Lee Dace
707 Jack Lilley
785 Dominic Ambrose
830 Lee White
TMT A + B
107 Michael Seex
141 Gary Lee
157 Domie Hall
248 Jamie Blything
259 Dan Poole
270 Mark Hutton
449 Bill Critt
449 Bradley Green
592 Mark Marchant
623 Ricky Hutton
720 Kenny-Joe Gabriel
The first three heats saw a 2 per team format. Heat 1 began with a big push into the pits bend which claimed a few. AM664 Gump spun SS174 Azza. DB24 Hughes ran into SS174 Azza and was pushed fence-wards in turn by TM123 Hairline. G669 Heli Boy ran head on into GD114 Adz. GFC328 Lathan spun G107 Pratchett. AM78 Mad Mace spun GD29 Mawdsley. TM830 Stretch dispatched SS214 Sparky before DB488 Reeves set about AM78 Mad Mace. TM123 Hairline leathered SS214 Sparky. P519 Knuckles removed TM707 Lilley. TMT141 G Man delivered a head on to TM707 Lilley. GFC328 Lathan met G107 Pratchett in a head on. TM830 Stretch spun NM910 Rookard and was met with an oppo attack from TMT141 G Man. AM664 Gump ran into TMT141 G Man. P519 Knuckles ran head on into SS214 Sparky who as a result got battered along the home straight by the pack. SS174 Azza spun G669 Heli Boy. GB545 Huffy spun SS174 Azza. AM78 Mad Mace got rid of G669 Heli Boy, before P378 Jacko followed in AM664 Gump. A quiet last couple of laps saw GFC161 Billy Smith race to the win.
161, 78, 307, 488, 227, 259, 545, 378, 24, 785
Heat 2 begun with TMT592 Marchant bury GD110 Mirza. P25 Black Magic attacked TM785 Diminoc which in turn held up DB51 Licquorice. TM390 Dazza spun GB313 Fat Cal. TMT720 Kenny-Joe took out AM603 Cooper. AM57 Stotty got tangled with the latter which cost him valuable time. TMT592 Marchant had a pop at SS732 Cullum. DB188 Victor spun AM57 Stotty. GD711 Macca spun TMT449 Green. TM517 Cooper rattled in GB28 Bell. TM390 Dazza tangled with GB313 Fat Cal. AM57 Stotty had a pop at the leading TM517 Cooper, but came under fire from SS732 Cullum. P595 Drew Boy removed TMT720 Kenny-Joe before the leading SS132 Cullum Jnr ran TM521 Dace in flat out through the passenger doors and copped a head on in turn from GFC313 Oz Cut ripping the Screamers young gun's front wheel off. The red flags came out for TM521 Dace who was understandably shaken – teammate 517 Cooper leading the way at this stage. The race resumed with P25 Black Magic going against the flow to catch third place GD711 Macca sending him fence-wards. Predators duo 595 Drew Boy and 25 Black Magic combined to block off the track coming out of turn 4 which claimed SS732 Cullum. AM57 Stotty ran out of road and collected P595 Drew Boy. P403 the Duck drove through P595 Drew Boy with the pack pushing behind to clear the barricade. TM517 Cooper was in the middle of the push and claimed the chequered flags before crashing out with DB188 Victor and TMT720 Kenny-Joe. TM390 Dazza pushed TMT449 Green through the melee as AM57 Stotty weighed in on P595 Drew Boy.
517, 188, 107, 449, 390, 403, 28, 201, NOF
The last of the three heat spilts begun with GFC313 Oz Cut rattling in G252 Nemo. P227 Horton ran GD112 Daz head on into G252 Nemo. P87 Damo put away TM707 Lilley. AM515 Flats and TM352 Mynott tangled as GFC313 Oz Cut continued his Gladiator assault by setting about 669 Heli Boy. TMT623 Tricky set about GFC313 Oz Cut. We had a small break in action before AM515 Flats put the bumper in on P279 Bradderz. AM400 Shinny delivered one of his textbook follow ins in true 00s nostalgia with P227 Horton being the victim; Shinny completing a full roll and landing on all fours as the race continued. NM273 Mad Mouse had a pop at P279 Bradderz before being removed by DB647 Webb. G669 Heli Boy then took his spot at setting about P279 Bradderz. TMT449 Critt laid into GB69 and was turned fence-wards himself by TM352 Mynott. SS299 Knocka spun aside GD112 Daz. NM273 Mad Mouse again made a beeline for P279 Bradderz, dumping him at the end of the home straight onto the grass bank. TMT449 Critt dispatched NM273 Mad Mouse, who rejoined only to set about P279 Bradderz again. British Champion DB116 No Luck Nat raced to a solid victory, his Cougar seriously quick.
116, 248, 707, 87, 299, 623, 352, 449, 515, 273
No Luck Nat's win meant that Dover Boys headed Team Mates A and TMT B as we entered the 1/2 team format.
Dover Boys – 40
Team Mates A – 38
TMT B – 33
Predators A – 20
Aftermath – 16
TMT A – 16
GFC – 15
Heat 4 started with AM603 Hitman spin P378 Jack; DB24 Hughes collecting the Predator on the nose whilst GD29 Mawdsley removed NM910 Rookard. AM78 Mad Mace stuffed away G107 Pratchett. A few came to grief on turn 3, with P307 Pretty Boy delivering a solid shot to NM375 Hensby. TMT720 Kenny-Joe drove through NM342 Freestone. GFC333 Cuddles tboned G107 Pratchett hard. NM910 Rookard connected with a head on to P307 Pretty Boy and GFC333 Cuddles weighed in on G669 Heli Boy. GFC328 Lathan homed in for a head on to G107 Pratchett. AM57 Stotty dumped P403 the Duck into the armco. GFC328 Lathan again homed in for a huge head on to G107 Pratchett, well and truly snapping the latter's Mondeo. SS299 Knocka tboned GFC328 Lathan, the latter then receiving a stiff head on from G669 Heli Boy. AM603 Hitman drove through GFC328 Lathan. DB51 Licquorice removed TM352 Mynott. GFC333 Cuddles jacked G669 Heli Boy. NM910 Rookard turned it around to jack P307 Pretty Boy and was leathered in turn from a stiff jacking from TMT157 Domie. GD711 Macca dispatched DB24 Hughes. DB51 Licquorice delivered a huge hit on one of the Gravediggers down on turn 1. AM57 Stotty crashed into GB28 Bell before the red flags came out for the Gravedigger on turn 1. GB545 Huffy lead them away on the green flag from P519 Knuckles and P178 Slim, and it didn't take long for Knuckles to inherit the lead. AM603 Hitman spun TMT623 Tricky left, and then continued his TMT assault by putting 449 Green away. TMT157 Domie jacked AM603 Hitman whilst TMT623 Tricky delivered a shot on oppo to AM57 Stotty. TMT623 Tricky continued his assault on the Aftermath, delivering an oppo hit over the front wheel of 78 Mad Mace. SS174 Azza tangled with TM830 Stretch and was duly leathered by the leading P178 Slim. AM78 Mad Mace turned it round and was caught in a TMT sandwich courtesy of 157 Domie and 623 Tricky. DB188 Victor tboned AM78 Mad Mace. TM830 Stretch attacked DB188 Victor, before TMT623 Tricky homed in for a huge tbone on AM78 Mad Mace. P178 Slim raced to win. TMT157 Domie also weighing in for a large tbone to AM78 Mad Mace before the reds were called.
178, 519, 107, 188, 830, 785, 174, NOF
AM400 Shinny was the first to show in Heat 5 rattling in GB69. P595 Drew Boy and DB647 Webb tangling. NM340 Wes stormed in to blitz P595 Drew Boy and was jacked himself by GD112 Daz. AM400 Shinny buried TM123 Hairline. AM515 Flats jacked P595 Drew Boy. GFC313 Oz Cut turned the leading TMT592 Marchant left to take up the running. NM340 Wes set about GD29 Mawdsley. NM40 Lester weighed in on the nose of P595 Drew Boy. The leading TMT248 Blything spun AM515 Flats as he continued his charge. NM340 Wes set about TMT270 Hutton, running him into the stricken GB69 car. AM400 Shinny delivered a heavy hit to SS214 Sparky at the end of the home straight. TMT259 Big Dan came under fire from NM340 Wes, so decided to put his anchors on to hold him there. P87 Damo duly obliged to weigh in, which in turn catapulted TMT592 Marchant airborne. The Gravediggers decided to go on oppo, with 112 Daz stopping AM400 Shinny and 29 Mawdsley taking out GFC326 Ratty. P279 Braderz homed in on AM400 Shinny, and stayed latched onto him to thunder him into TM123 Hairline, who had been done on oppo by GD112 Daz; Daz also dishing it to TM707 Lilley. NM340 Wes jacked P279 Braderz in sequence with NM40 Lester leathering GD112 Daz. AM515 Flats jacked P279 Braderz. SS132 Cullum Jnr homed in on AM400 Shinny. TMT270 Hutton jacked GD29 Mawdsley on oppo, with P87 Damo meeting the Gravedigger focus on the nose. NM340 Wes jacked GD29 Mawdsley, with the reds then coming out to end the destruction; 248 Blything having long since won the race. Poor 279 Braderz didn't get off lightly on the exit of the track however, getting run into the pit gate by the tractor.
248, 517, 707, 279, 132, 87, 340, NOF
The all-in Final saw everyone eager to get going. DB24 Hughes was turned fence-wards by the pack but was swiftly back in play. DB647 Webb spun TMT157 Domie into turn 2, but found himself going square into the armco courtesy of the pushing TM123 Hairline. DB51 Licquorice picked up TM707 Lilley, with P378 Jacko latching on for extra measures. TM707 Lilley went in square with DB51 Licquorice rolling bringing an early stoppage. The restart saw P378 Jacko get turned left by TMT592 Marchant – P279 Braderz running head on into his teammate. TM123 Hairline and TMT259 Big Dan crashed out along the home straight. P87 Damo clipped the pit gate and catapulted into the path of AM57 Stotty; the pair both veering to the infield. TM830 Stretch went spinning courtesy of the leading TMT449 Green as P279 Braderz came to a halt down the home straight. P378 Jacko tangled with GFC18 the Elf, which lead to DB116 No Luck Nat collecting the Predator and holding him up greatly. TMT248 Blything delivered a back wheel shot to P378 Jacko. TMT270 Fuller looked like he was going for TM352 Mynott on oppo but didn't connect and continued on his way. P519 Knuckles removed TM830 Stretch, before TMT623 Tricky weighed in on the Team Mates captain. DB24 Hughes removed TM830 Stretch. TM352 Mynott came under fire from TMT259 Big Dan, but tactically leant his attacker into the pile of dead cars along the home straight. TMT157 Domie also dumping AM57 Stotty into the melee of dead cars. TMT623 Tricky connected with a shot on oppo to TM352 Mynott, with TMT592 Marchant tboning the latter. Mynott backed Marchant into the lame P279 Braderz. P378 Jacko, GFC333 Cuddles and DB24 Hughes all fell foul along the home straight. P178 Slim jacked brother P279 Braderz for sheer giggles as DB188 Victor took the double chequered flags from TMT449 Green and P519 Knuckles. TMT270 Hutton delivered a stiff head on to TM352 Mynott; TMT592 Marchant jacking the latter. TM707 Lilley jacked TMT270 Hutton on oppo in swift team revenge before the red flags came out.
188, 449BG, 519, 107, 326, 248, 161, 592, 720, 259
With several drivers from the TMT factions finishing in the top 10, TMT 'B' were victorious in the team standings taking the 2l Mildenhall Team Championship.
With the results being declared, this meant that the Alcomers was essentially a free for all. 18 the Elf set about 270 Hutton, as 40 Lester, 248 Blything and 214 Sparky crashed out along the home straight. 66 Shiny rattled in 178 Slim, who continued the momentum to drive through 112 Daz. Down on the road bend, 29 Mawdsley set about 252 Nemo. 342 Freestone dumped 51 Licquorice and 66 Shiny out down the home straight whilst 201 Turk found himself lodged on the infield banking on the back straight. 29 Mawdsley set about 214 Sparky and 299 Knocka put away 515 Flats. 259 Big Dan ran head on into the spun 595 Drew Boy. 214 Sparky homed in on 259 Big Dan, with 273 Mad Mouse going in on the Scrapyard Screamer. 340 Wes drove through 623 Tricky, whilst 214 Sparky got bounced about by the passing traffic. 178 Slim went in on 340 Wes, with both quickly continuing on. 252 Nemo went against the flow to meet 326 Ratty in a head on. 378 Jacko weighed in on 12 Coby. 340 Wes and 623 Tricky met in a head on. 107 Seexy jacked 340 Wes and copped one in turn from 342 Freestone. 449 Green jacked 342 Freestone and was done in turn by 227 Horton. 623 Tricky did 18 the Elf on oppo. TMT and No Mates shared several hits down on turns 3 and 4, whilst on turn 1, 114 Adz struck 174 Azza on oppo. 157 Domie and 375 Hensby shared a head on as the pits bend began to get very congested. 515 Flats weighed in on 378 Jacko on oppo as it really had become a free for all down on turns 3 and 4. 326 Ratty drove through 93 Dilly Dilly. 114 Adz attacked 51 Licquorice on oppo as the red flags came out for what I think was a fire. As the green flag resumed play, 623 Tricky and 157 Domie were already poised on oppo. 40 Lester jacked 623 Tricky on oppo. 51 Licquorice was the leader and weaved his way through the wreckage. The pits bend had certainly become more of a DD with shots going in galore. 521 Dace homed in for a head on to 214 Sparky whilst 326 Ratty dumped 201 Turk on the banking once again. 313 Oz Cut drove through 201 Turk. 299 Knocka weighed in on 114 Adz. 328 Lathan jacked 299 Knocka. 326 Ratty jacked 449 Critt and set alight bringing another stoppage. Only a handful of cars remained for the restart, with 57 Stotty being deemed the leader at this stage. 174 Azza had a pop at the ex-Saloon Stock Car World Champion but didn't strike a hard enough blow. 623 Tricky stopped 57 Stotty head on, with 174 Azza going in on the leader. 333 Cuddles homed in for a large shot to 201 Turk. 157 Domie had a go at 273 Mad Mouse on the back straight. 57 Stotty and 51 Licquorice crossed the line together to take the last lap board. 51 Licquorice spun aside 57 Stotty and remained unchallenged for the last half a lap to take the win. 623 Tricky completed a lap on oppo before letting 174 Azza absolutely have it. 299 Knocka jacked 12 Coby. 57 Stotty homed in on 299 Knocka with 248 Blything doing him head on from the other direction.
Straight into the DD with 333 Cuddles blitzing 201 Turk. 51 Licquorice weighed in on 178 Slim. 51 Licquorice drove through 378 Jacko and then shared a stiff head on with 157 Domie. A huge blaze broke out under the bonnet of 299 Knocka's Mondeo bringing a stoppage. 57 Stotty and 157 Domie shared a head on upon resumption of the DD. 157 Domie went in again on 57 Stotty and was then driven into by 51 Licquorice. Another red had to be called for a fire on 157 Domie this time. On the green, 378 Jacko bizarrely drove through 375 Hensby who had been sat out since half way through the Alcomers. 592 Marchant jacked 378 Jacko. 51 Licquorice weighed in on the front of 378 Jacko's cougar. 592 Marchant rammed 378 Jacko. 51 Licquorice went in on the nose of 592 Marchant. 521 Dace went in on 51 Licquorice, but was deemed as being out of contention for too long, although Licquorice happily obliged to the hits and took an Alcomers and DD double.
A fantastic team meeting; 2L Bangers always deliver the goods and provided a top season finale for Mildenhall with crashing and top attitudes all night long.