Yarmouth – 12/08/21 – Back to Basics + Back to Basic Van Bangers – Meeting Report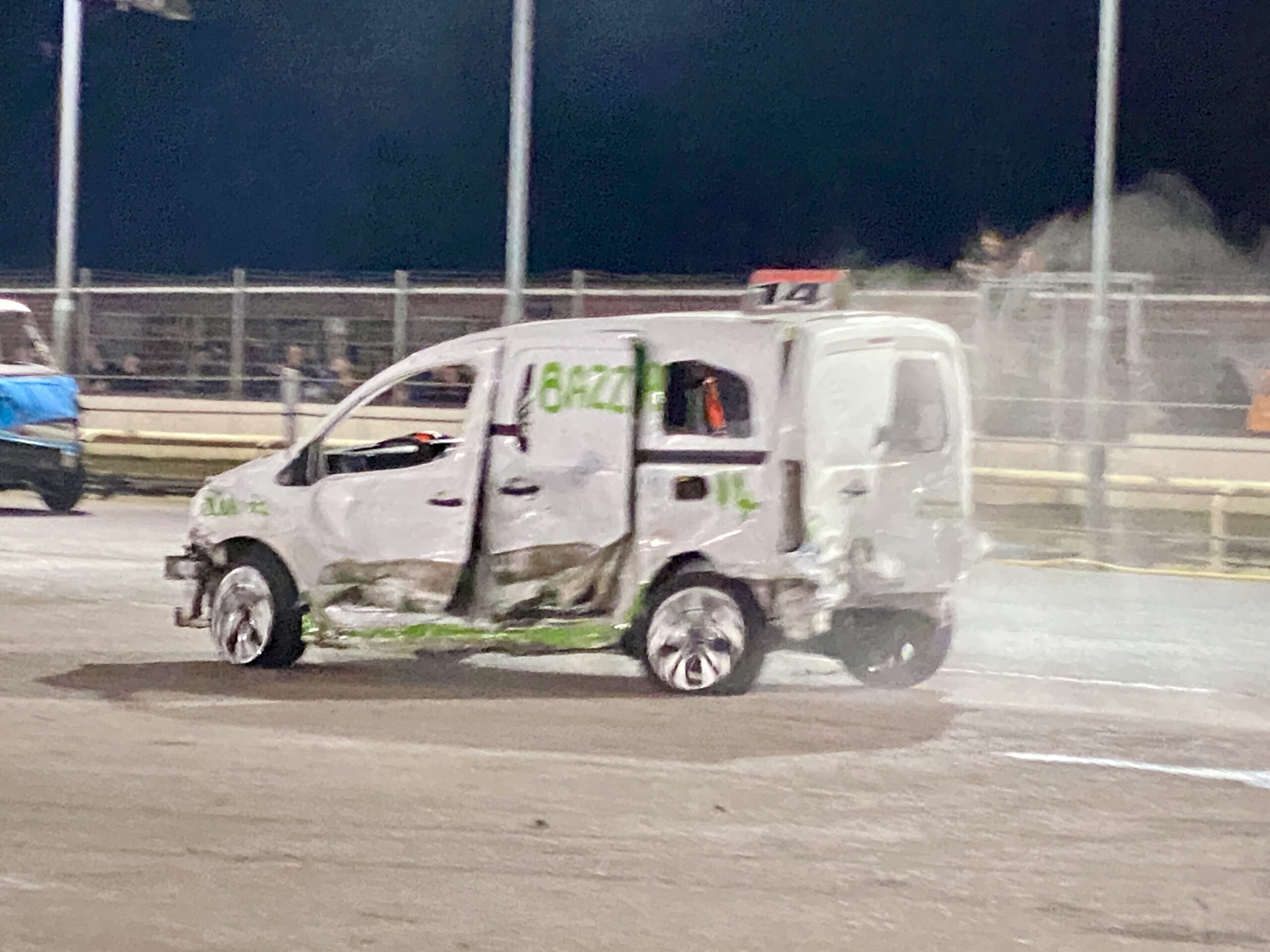 Thursday 12th August saw a double header treat for the summer holiday crowd with the Back to Basics alongside the B2B Van Bangers which raised 23 normal and 8 vans.
Heat 1 for the Vans saw 173 Luke Spall get turned around on the first bend, taking 14 Barry Payne and 439 Danny Sutton with him. A quiet period endured before 39 Paul Sutton spun 14 Bazza, the latter recovering to break test 621 Gareth Parker in his dying Citroen to allow 404 Sam Dace to slip into second. 173 Chunk suffered another spin in his smartly presented van as 141 Jake Stewart won by a mile ahead of 621 Gruff and 404 Dace; 439 Sutty spinning 14 Bazza before the reds came out.
141, 621, 404, 439, 39, NOF
Heat 1 for the Back to Basics commenced with 282 Steen Rozier attacking 549 Austin Newell. 70 Vinnie McCarthy ran head on into 549 Newell. 176 Ralph Emmerson spun 557 Lewis Sharman before 254 Reece Coton had a pop at 862 Reece Eglington in the Mk3 Vauxhall Astra. 760 Harry Spencer took 367 Barry Beevor out to reclaim the lead and 175 James Emmerson did the same to 603 Connor Peckham. 603 Peckham recovered and immediately had a pop at 141 Snakey. 70 McCarthy took out the leading 760 Hazza and 302 Jack Smith spun 176 Ralph. 141 Snakey got his revenge with a spin to 603 Peckham. 847 Lown and 302 Smid tangled on the pits bend, before 175 Emmo spun the luckless 603 Peckham. 543 Tommy Miller spun 629 Ewan Rout, who had luckily already secured the race win. The final piece of action coming with 141 Snakey spinning 847 Lown.
629, 173, 176, 70, 175, 282, 254, 847, 141, 439
The Vans returned for Heat 2 with 14 Bazza putting the anchors on southern visitor 902 Matt Shippam, allowing 621 Gruff to lay into him. 14 Bazza then spun 902 Shippam and did the same to 39 Pusher Paul a few laps later. 439 Sutty tried to have a go at 14 Bazza, but failed twice, the latter going on to drive through 902 Shippam. 14 Bazza attacked 439 Sutty and then had a pop at 39 Pusher Paul, who was trying to slow the former. 439 Sutty delivered a reverse attack to 39 Pusher Paul and 14 Bazza, who was really making the effort to put a show on for the holiday crowd, backed out on the leading 141 Snakey creating big impact. Snakey managed to hold onto the lead and secured the win, even with 39 Pusher Paul backing out on him after the chequers. 404 Sam Dace the only other recorded finisher.
141, 404, NOF
Heat 2 for the Back to Basics saw 687 Dean Miller spin 222 Kieran Norton early on, which in turn sent 603 Peckham flat out into a post claiming 254 Fatboy Slim too. The reds came out for 603 Peckham who was a little shaken. 818 Matthew Brown tangled with 222 Norton on the restart, which resulted in him being whipped out by 760 Hazza. 70 McCarthy laid into the rejoining 818 Brown. 439 Sutty put 70 McCarthy away, whose time was only getting worse as he was turned aside by 173 Chunk. McCarthy bounced back to take out 282 Steeno and had a ding-dong with 687 Miller before the red flags came out. 302 Jack Smith guided his Golf to the win this time around.
302, 173, 367, 176, 543, 222, 760, 282, 707, 687
The Vans had a Figure of 8 for their Final. 39 Pusher Paul dumped 902 Shippham on the infield tyres early doors. 14 Bazza spun 141 Snakey who retaliated by waiting for Bazza and hitting over the 8, causing him to rolling bringing the race to a halt. Bazza got out to huge cheers from the crowd and it was deemed that he could rejoin on the restart. 39 Pusher Paul and 14 Bazza combined to stop the leading 404 Dace on the restart. 439 Sutty delivered a reverse attack on 902 Shippham. 621 Gruff tboned 39 Pusher Paul. The leading 141 Snakey delivered a huge tbone on 14 Bazza, the latter then taking a hit over the front wheel from the now leading 404 Dace. 404 Dave then drove through 439 Sutty. 902 Shippham drove through 439 Sutty before 404 Dace drove through most things in the pits bend chaos. 902 Shippham once again made a beeline for 439 Sutty and 14 Bazza copped another shot from 404 Dace. 39 Pusher Paul delivered a reverse attack on 404 Dace. 14 Bazza jacked 439 Sutty and was then attacked by 39 Pusher Paul in turn. 902 Shippham delivered a front wheel shot on 439 Sutty before it all went a little bit quiet. The race was red and chequered with the victory being awarded to 14 Bazza solely for his top display all meeting and to allow him to have a lap of honour to a top crowd.
The Back to Basics had the difficult task of following on from that for their Final. 557 Sharmo was spun from the drop of the green and was duly driven through by 549 Newell. 543 Miller spun 367 Beevor and heat 2 winner 302 Smid administered the same treatment to 439 Sutty. 141 Snakey spun 70 McCarthy and did the same to 173 Chunk half a lap later. 70 McCarthy spun 176 Ralph. 175 Emmo set about 70 McCarthy in swift Emmerson revenge before 141 Snakey spun 629 Rout. 760 Hazza collected 629 Rout breaking his drivers' front suspension. The leading 222 Norton was black crossed for excessive use of the curb and was then stopped by the backing out 254 Fatboy Slim. 222 Norton completed a lap before delivering a flat out tbone on 254 Fatboy Slim, and then jacked him a lap later. 549 Newell then jacked 222 Norton as 818 Matthew Brown raced to the win from 862 Reece Eglington and 141 Jake Stewart.
818, 862, 141, NOF
The Caravan Bangers ended the evening with their figure of 8 DD which provided the usual array of chaos and debis to round off a top night of action which was matched by a great atmosphere by the holiday crowd.