Kings Lynn – 7/8/2021 – Pre 90 Unlimited Bangers, Pre 94 Micro Bangers & 1500 Bangers – Meeting Report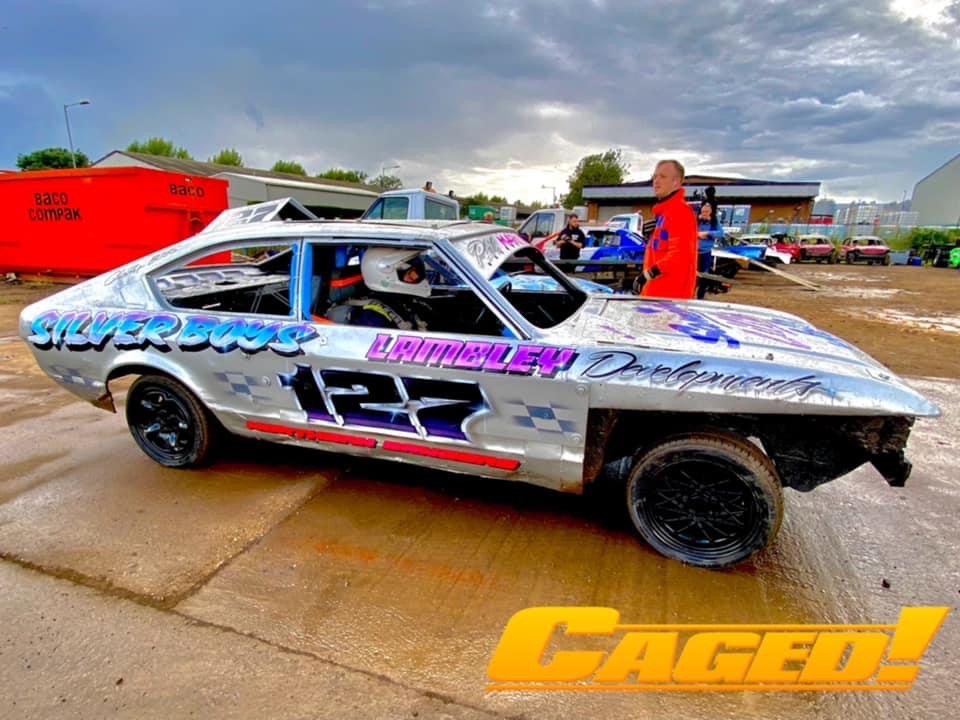 Saturday 7th August 2021 saw one of Trackstar's all banger nights, as the Adrian Flux Arena went old school for the evening with Pre 1990 Unlimited Bangers and Pre 1994 Micro Bangers alongside the 1500 Bangers and Junior Bangers.
Around 50 Unlimiteds were in attendance with some top material and paint on display. 127 Phil Markham and 782 Glenn Boyce each had a pukka looking Mk1 Ford Granada Coupe. 299 Tommy Callaghan had a smart Mk2 Ford Granada, as did 87 Damien Matthews. 538 Jake Swann made a rare banger appearance with a stunning Jaguar XJ. 281 Lewis Tingle and 673 Darren Fendley piloted smart Volvo 240 Estates, and there was plenty of other top cars on a used front.
The Pre 1994 Micro Bangers certainly provided a variety of top bilge. The Vauxhall Corsa B was the favoured choice ahead of the Suzuki Swift, but outside of that we had plenty of cool stuff. 860 Christian Doughty had the pick of the bunch with his pukka Datsun 120A 2-door, with brother 306 Marc Doughty piloting an Austin 1300. 352 Stu Brooks kept to his Mr Bilge alias with a Fiat Uno, and a very tribute paint wise to Kev Waller. 24 Joel Bond had a Vauxhall Nova, 155 Sam Coote's weapon of choice was a Skoda Favorit, 229 Harry Cobb a Mk2 Volkswagen Polo, and a bunch of K10 Nissan Micras, with 336 Jamie Plane and 350 Ryan Yeo having cool examples – there was also a used Austin A40 Farina for 862 Reece Eglington.
The first race of the day was for the 1500 Bangers and was a white top only heat. 181 Craig Allen was the first to show as he attacked 910 Jack Rookard. 528 James Bailey and 181 Farmboy Jnr crashed out at the end of the back straight. One of the STB boys went head on into 181 Farmboy Jnr, who was then hacked in turn by 356 Sam Hildon. 400 Mark Gibbons drove through 624 Cameron Hubbard before the red flags came out to check on 528 Bailey.
781 Tyrone Howe took out 420 Matt Jode on the restart. 178 Kieran Bowman went in on 420 Maff. 479 Joel Allen spun 781 Taz for the lead, the latter was then done in turn by 7 Daniel Bitson. 49 Liam Boden tboned 910 Rookard. 420 Maff delivered a front wheel shot to 49 T Leaf. 267 Tom Alcock met 49 T Leaf on the nose, done a lap and jacked him. 400 Gibbo rattled in 420 Maff as 479 Jooble raced to the win ahead of 7 Bitson and 92 Jamie Clapton.
479, 7, 92, 800, 443, 214, NOF
The all white top heat for the Unlimited class began with 816 Jack Weeks spinning 367 Darryl Scandrett. 721 Dan Clarke spun 279 Bradley Bowman before 224 Graham Gamble ran in 707 Jack Lilley. 323 Kieran Tweed spun 160 Perry Willings, with 950 Scott Gamble jacking Pez. 279 Braderz destroyed 160 Pez. A battle of the 224's as Graham Gamble and Buggsy Jnr clashed. The lively 950 Gambit jacked 279 Bradderz. 650 Phil Barker went in on 950 Gambit, before the red flags came out to assist 160 Pez. The restart saw 138 Jason Smy follow in 816 Binx, with 165 Ben Randell collecting the latter. 950 Gambit went on oppo on turn 2 taking a few out and causing an array of carnage, seeing 138 Little Jay put the boot up on 367 ABC 123's Mk2 Granada Estate. 224 Gamble had a pop at 178 Slim. 174 Dave Osborn spun 568 Sheamus Wyer, who was left game for a jacking from 178 Slim. 224 Gamble homed in on 178 Slim. 550 Phil Jackson jacked 224 Gamble and was leathered in turn by 174 Whipper. 639 Tye Williams avoided the chaos to guide his Supra to the win.
639, 127, 419, 611, 224 (JB), 721, 174, 138, 165, NOF
Although their first race of the night, the Micros Bangers were out on track for their Final. 333 Olly Scott was put away by the pack and collected by 721 Clarkey. 434 Liam Carter jacked 333 Scott. 721 Clarkey set about 862 Eglington and clobbered himself in the process. 229 Cobby Jnr attacked 678 Alex Ward and then continued on to spin 216 Ryan Cooper. 721 Clarkey followed in 229 Cobby Jnr. 608 Lenny Murkin, 69 Brad Bartam and 24 Joel Bond enjoyed a tussle for the lead, before 51 James Licquorice rattled in 216 Cooper. 337 Ashley Garrod rattled 350 Yogi Jnr around the plating. 306 Chunky spun 352 Mr Bilge. 24 Bond had a pop at 27 Longford to try and grab a late position change but it was 608 Lenny Boy who took a convincing win from 27 Longford and 24 Bond.
608, 27, 24, 69, 336, 51, 306, 352, 803, 337
The first of the all in races for the 1500 Bangers was also their Final. 828 Jordan Sharpe had a pop at 495 Aston Gibbons from the drop of the green. 9 Ben Cox spun 181 Farmboy Jnr. 69 Brado delivered a rear wheel shot on 828 Sharpey. 378 Jack Bailey leathered 721 Clarkey, before 181 Farmboy Jnr followed in 7 Bitson. 9 Cox attempted to take 69 Barty Jnr out for a couple of laps, with no success. 910 Rookard jacked 9 Cox who had buried himself into a marker tyre. The race was stopped for a wheel on the track. The restart saw 757 Callum Gill spin 69 Brado for the lead. 101 Cieran Harmer spun 231 Alex Smith, who took a front wheel shot from the passing 77 Russell Gill. 92 Chappy Jnr buried 26 Paul Lovick with 757 Jack Jnr cementing his star power by racing to a convincing win from always impressive 608 Lenny Boy and 101 Charmer.
757, 608, 101, 338, 77, 231, 51, 26, 512, 337
The Unlimiteds returned for their Final. 466 Dalton Steele spun 87 Damien Matthews in the first bout of action. 627 Terry Coke spun 830 Lee White, and 466 Dalto did the same to 555 Harry Gelsthorpe. 634 Ben Green spun 313 Scottie Elden and 538 Swanny Jnr did the same to 782 Gladis. 103 Jack Deacon used his Mk1 Granada to turn 707 Lilley fence-wards. 224 Buggsy Jnr tboned the spun 313 John Cullingford. Silver Boys brothers 182 Reece and 281 Lewis Tingle were causing carnage on oppo on the exit of turn 2 taking all-sorts of prisoners. 419 Laura Quadling and 721 Clarkey crashed out down the home straight. 103 Jacko spun 138 Little Jay. 85 James Ellis took out the leading 299 Callaghan. 271 Ashlun Woods took out 77 Jack on oppo. 77 Jack then drove through 182 Tingle on opp. 87 Damo jacked 335 Lee White before 707 Lilley tboned 77 Jack on oppo, and combined forces with the Tingles to set about the Crown of 77. 551 Brett Jackson attacked 950 Gambit on oppo. 538 Jake Swann raced to the win ahead of 85 James Ellis who was certainly piloting his Mk2 Granada Limo; 673 Darren Fendley rounding off the podium places.
538, 85, 673, 757, 128, 830, 321, 634, 103, 313
Alcomers 1 for the Pre 94 Micros was a quieter affair but still had its moments. 721 Clarkey followed in 352 Mr Bilge. 336 Fathead spun 843 John Cook. 608 Lenny Boy spun 803 Kelly Wright, before 306 Chunky had a pop at 350 Yogi Jnr. 51 Licquorice put the boot up on 350 Yogi Jnr's Micra before continuing on to put away 843 Cookie. 678 Alex Ward took the win this time.
678, 608, 336, 27, 51, 337, 77, 843, 216, 306
Alcomers 1 for the 1500 Bangers begin with 443 Steve Ashman getting turned fence-wards. 231 Ally put away 828 Sharpey. 10 Chris Wick lost a wheel and copped a heavy shot from 23 Sonny Parsons, with the race being halted to deal with the errant wheel. 781 Taz put away 267 upon the restart. 608 Lenny Boy followed in 781 Taz. 828 Sharpey tboned 443 Ashman and continued his assault by destroying 378 Jacko. 231 Ally took out 400 Gibbo, which claimed the latter's running mate 313 Scottie Dogg as well. The reds came out for another lose wheel. The restart saw a back marker lean 565 Darren Quadling into the lame Astra Estate of 812 Jordon Rengger, which created a huge flash fire and yet another stoppage. The restart saw an awesome scrap for the lead between 51 Gavin Wing, 178 Slim, 732 Chris Cullum and 231 Ally; all very much unlikely front runners at your typical Trackstar meeting suggesting how lively this race had been so far. 51 Licquorice attacked 50 Aiden Gamble and took one in turn from 77 Jack. 400 Gibbo delivered a rear wheel shot to 178 Slim, leaving him stranded on the entrance of the home straight. 828 Sharpey duly obliged to steam in on 178 Slim. 732 Cullum spun 828 Sharpey a lap later, with 231 Ally driving through the latter hard. 732 Chris Cullum took the victory.
732, 231, 77, 338, 337, 400, 51, 50, 828, NOF
The Unlimited Alcomers 1 raised 18 cars, with the dwindling numbers taking its toll on the amount of action. 224 Buggsy Jnr spun 707 Lilley early on, and 466 Dalto administered the same treatment to 87 Damo. 634 Marty followed in 611 Joe Geeves. It look like nobody was obliging to the open shot on 611 Bieber, but 466 Dalto didn't let us down the second time past. 271 Woods went in on 466 Dalto, before 634 Marty spun 77 Jack. 165 Benny spun 224 Buggsy Jnr and himself in one. Buggsy Jnr rejoined only to be spun again, this time by 538 Swanny Jnr, the final winner also going on to spin 662 Dalton Smith before the race end too. 299 Tommy Callaghan took the win.
299, 757, 538, 673, 271, 466, 634, 639, 165, 224 (JB)
Alcomers 2 for the Pre 94 Micro Bangers started with 336 Fathead spinning 333 Scott. 51 Licquorice destroyed 860 Bonkers. 352 Mr Bilge decided to liven up things by backing out; 27 Longford duly obliged to steam in on the former. 333 Scott delivered a huge head on to 843 Cookie which certainly ended his night, although 28 Davey jacked him to ensure this was the case. The lively 51 Licquorice ruined 28 Davey and took one in turn from 336 Fathead. 306 Chunky attacked 336 Fathead before the red flags came out to check on 28 Davey. The restart saw 51 Licquorice take a nibble at 803 Wright, before being spun by 862 Eglington. 155 Captain Slow spun 336 Fathead, who recovered only to have a coming together along home straight with 51 Licquorice. This left Fathead sat up nicely to get leathered by the victorious 608 Lenny Boy, with 862 Eglington also taking a pop at the signwriter.
608, 69, 155, 678, 77, 337, NOF
Into the DD which was a short lived affair. 608 Lenny Boy delivered a huge jacking on 350 Yogi Jnr, and was set about in turn by 155 Captain Slow. 337 Garrod tboned 350 Yogi Jnr and 229 Cobby Jnr completed the sequence. 862 Eglington and 350 Yogi Jnr shared a head on. 678 Ward buried 608 Lenny Boy into running mate 155 Captain Slow. 608 Lenny Boy recovered to home in for a large head on to 350 Yogi Jnr. 678 Ward connected with a meaty head on to the oncoming 306 Chunky to take the honours.
1500 Alcomers 2 began with 420 Maff coming under fire from 26 Skiddy and tangling with 828 Sharpey in the process. 12 Corbett ran in 400 Gibbo, who rolled on impact bringing the race to a halt. 565 Smeegzy attacked 69 Brado from the off on the restart as they battled for the lead, costing them both time. 479 Jooble attacked 51 Gavsta, as 11 Leeksy bounced around the armco and was duly set about by 51 Licquorice, as 608 Lenny Boy made it another win on the night.
608, 69, 757, 479, 51GW, 51JL, 337, 9, 338, 7
DD time for the 1500s started with 7 Bitson set about 11 Leeksy. 26 Skiddy got turned fence-wards on the entrance of the home straight, causing the SHB man to roll and land perched on the armco. 51 Gavsta attacked 378 Jacko before the reds came out to assist Skiddy from his predicament. Upon the greens, 512 Armstrong homed in on 12 Corbett, and took one in turn from 443 Ashman. 664 Challis thundered an array of cars into the turn 1 plating, before 7 Bitson jacked 377, whom unfortunately we do not have a name for. 664 Challis continued his momentum, weighing in on 7 Bitson. 512 Armstrong again diverted his attention to 12 Corbett, the latter getting leathered by 378 Jacko, who also had a pop at 7 Bitson. 378 Jacko delivered a head on to 443 Ashman, and took one himself in turn from 7 Bitson. 443 Ashman retaliated with a jacking to 378 Jacko, setting him up for much the same from 7 Bitson, who silenced the former to take the win.
The Unlimiteds returned for their second Alcomers, seeing early spins for 707 Lilley and 165 Benny. 611 Bieber happily obliged to jacking 178 Slim who was a sitting duck on the road bend. 299 Callaghan caught the front of 178 Slim's Granada, spinning him towards the armco and setting himself up for a jacking from 538 Swanny Jnr. 165 Benny drove through 538 Swanny Jnr as 634 Marty spun 873 Roberts. 757 Jack Jnr taking the win this time around.
757, 721, 77, 673, 419, 873, NOF
Only 6 cars for the DD, which started with 182 Tingle attacking 367 ABC123 and then continuing on to blast brother 281 Lewis. 419 Mossop had a pop at 224 Burrows, only to come under fire in turn from the lively 182 Tingle. 816 Binx jacked 182 Tingle, with 224 Burrows having a go at the former. 182 Tingle and 224 Burrows shared a few hits, before 816 Binx delivered a rear wheel shot on 224 Burrows. 182 Tingle went in on the nose of 224 Burrows and 816 Binx weighed in on 224 Burrows. 816 Binx finished 224 Burrows off with around half a dozen shots to take the win.
A great night of action, another opportunity to gather that nostalgic feel of bangers with a modern twist. The action coming thick and fast all night. Unfortunately it appears the meeting is not on current plans for a 2022 staging, however.