Kings Lynn – 13/8/2021 – Micro Bangers – Meeting Report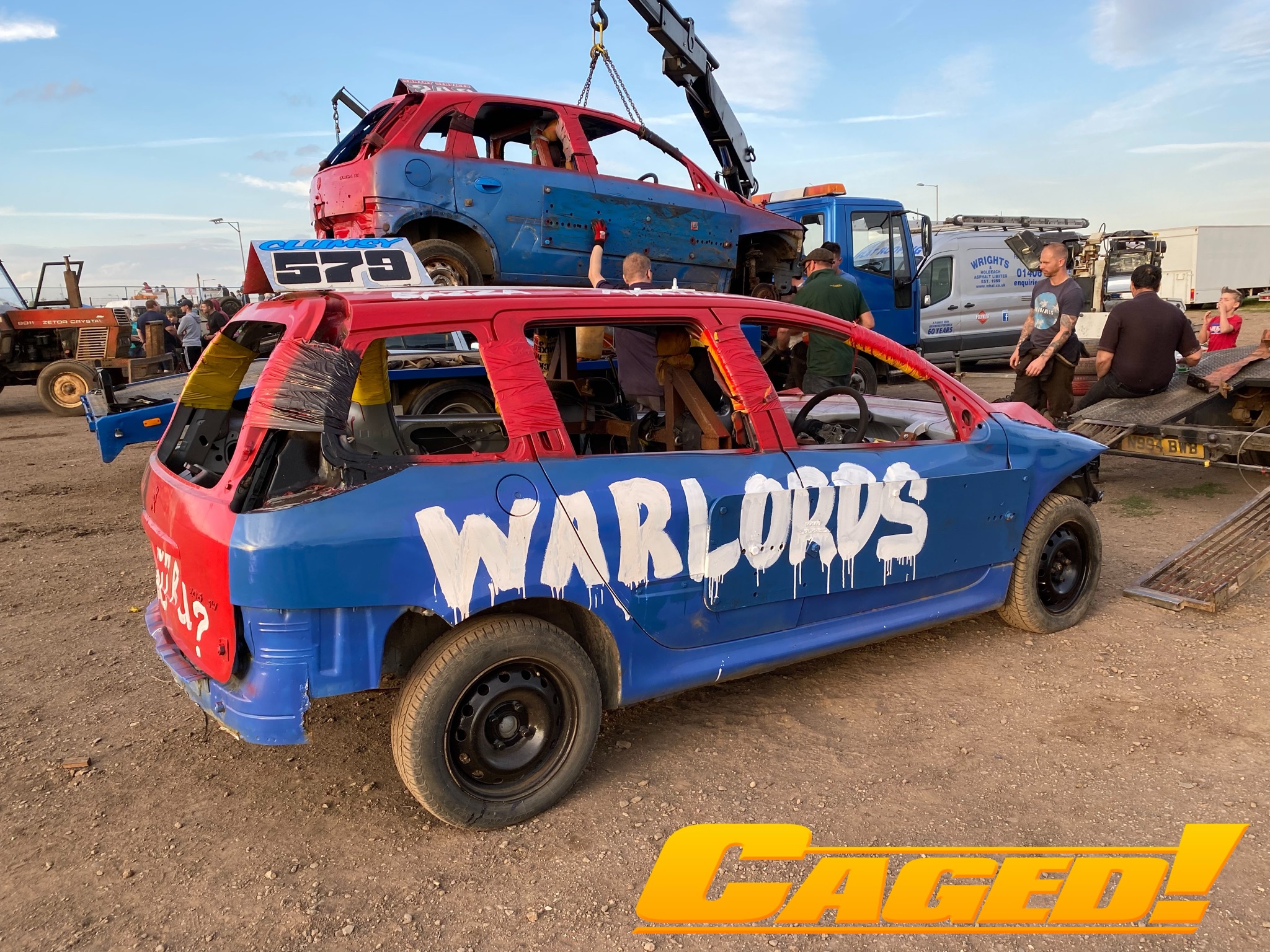 A rare Friday evening feature in the summer sunset saw just over 50 Micro Bangers attend the Adrian Flux Arena on the 13th of August.
Heat 1 was for the White Top drivers only. A few clattered the plating on the power station bend early on, which left 19 Joe Mullarkey facing the wrong way. 335 Lee White drove through 115 Joe Bull – Bull then going on oppo at the oncoming pack causing chaos. 10 Charlotte Marshal rattled in 84 Will Cole, with 93 Dylan Goodman laying in to 10 Char. 178 Kieran Bowman jacked 93 Dilly Dilly with the red flags coming out to assist someone within the melee on turns 3/4. 28 Mac Bell took out 71 James Unwin on the restart, before 721 Dan Clarke had a pop at 28 Bell. 721 Clarkey was leathered by 669 Cal Curtis as 36 Dave Lewis spun 248 Nick Ashbridge. 900 Liam Halls followed in 833 Robbie Dillon as 665 Deccy Boy caught the spun 117 Lee Reynolds in the door. 669 Heli Boy drove through 665 Deccy Boy and 550 Phil Jackson did the same to 900 Halls. 28 Bell jacked 833 Dillon which brought another stoppage, obliterating 833's Nissan Micra. The restart saw 375 Alex Hensby head them off from 229 Harry Cobb and 624 Cameron Hubbard. The lively 28 Bell attacked 110 Brett Judge, who at this point was crabbing along. 488 Codie Reeves went in with a front wheel shot to 110 The Judge. 229 Cobb administered a last bend lunge on 375 Hensby to take the win.
229, 375, 624, 488, 110, 165, 28, NOF
Heat 2 saw 899 Kieran Flowers spun into the marker tyres almost immediately by 28 Bell, and was collected by a couple of drivers on their way past. 87 Damien Matthews was spun aside by 93 Lewwie Boy. 311 Ozy took out 28 Bell before 318 Oliver Marshall got tangled with 84 Alpaca. 335 White went in on 318 Olive. 579 Gary Beecham weighed in on 335 White in turn. 28 Bell got spun and was driven through by 488 Reeves, who recovered only to be spun by 311 Ozy. 116 Nathaniel Cohn turned 624 Cameron Hubbard fencewards at the end of the straight. 579 Clumsy spun 110 The Judge. 51 Licquorice jacked 93 Lewwie Boy before 311 Ozy spun 229 Cobby Jnr. 335 White caught 84 Alpaca and was leathered by 165 Ben Randell in turn. 312 Brad White raced to the victory this time around.
312, 248, 551, 165, 99, 229, 77, 338, 337, 830
Heat 3 started with 721 Clarkey taking out 661 Smiffy which in turn caused a few drivers to crash out behind on the power station bend. 550 Phil Jackson delivered a hard hit to 117 Rennie. 721 Clarkey put the bumper in on 36 Lewis, before 178 Slim leathered 247 Clarkey. 115 Joe Bull clipped the parked cars on turn 3 which saw him roll his KA bringing the red flags out. The restart saw 900 Halls attack 178 Slim which in turn took out 375 Hensby. 87 Damo drove through 900 Halls. 900 Halls broke free to turn around and deliver a flat out head on to 87 Damo. 550 Fearless got taken out at the front of a pack push, as 178 Slim homed in for a huge shot on 900 Halls. 338 Terry Garrod ran 665 Deccy Boy into 87 Damo, which rolled the Team Bilge member, bringing another stoppage, but not before 93 Lewwie Boy delivered a stonking head on to 51 Licquorice. 331 Mackenzie Mate lead them away on the restart. 24 Joel Bond drove through the backing out 352 Mr Bilge. 337 Ashley Garrod sent 579 Clumsy into the infield tyres. 342 Ryley Freestone tboned 352 Mr Bilge. 188 Victor spun 303 into the marker tyres. 121 Aaron Colbert jacked 352 Mr Bilge on oppo. 188 Victor spun 135 Old Mann. 579 Clumsy weighed in on 121 Colbert on oppo. 551 Jackson spotted this and turned round to blow up 579 Clumsy.
312 Brad White won once again, with 303 spinning into the marker tyres for a second time before the red flags came out.
312, 337, 37, 830, 338, 99, 36, 188, 721, 135
29 cars returned for the Final. 110 The Judge and 375 Hensby were early spinners. 188 Victor had a pop at 700. 84 Alpaca stopped the leading 721 Clarkey on oppo, and was blitzed in turn by 178 Slim. Loads piled in on the road bend including 51 Licquorice and 700, before the red flags came out. A quiet few laps on the restart saw 488 Reeves holding a strong lead. 375 Hensby stopped 312 White on oppo ending the latter's hopes of a hattrick. 375 Hensby attacked 311 Ozy on oppo before receiving a revenge hit on the middle from the latter, suspiciously close to the drivers' door. 311 Ozy delivered a head on to 375 Hensby on the middle. Whilst that happened, 488 Codie Reeves raced to her maiden National Banger win from 77 Russel Gill and 37 Dave Lewis.
488, 77, 37, 662, 830, 634, 188, 331, 551, 229
The conclusion of the race saw the greens dropped again straight into the DD. 93 Lewwie Boy went in on 117 Rennie and 188 Victor set about 550 Fearless. 93 Lewwie Boy attacked 375 Hensby. 93 Dilly Dilly and 117 Rennie shared a huge head on. 551 Jackson tboned 624 Hubbard. 188 Victor went in on 247 Clarkey and took one in turn from 318 Olive. Blue & Black set about 624 Hubbard, with 550 Fearless delivering a head on and 551 Jackson weighing with a jacking. 188 Victor went in on 551 Jackson, and had 247 Clarkey limp in to him. 93 Dilly Dilly set about 188 Victor, who recovered for a head on to 178 Slim. 93 Dilly Dilly and 247 Clarkey shared a head on. 338 Wingnut attacked 93 Dilly Dilly. 551 Jackson went in on the nose of 338 Wingnut before cruelly expiring due to a flash fire; 338 Terry Garrod inheriting the win and rounding off a top night. A great session for the Micro Bangers which highlighted that a Friday night in the summer sun could really work for Trackstar.