Unlimited National Bangers – 06/07/2019 – Ipswich – Spedeweekend 2019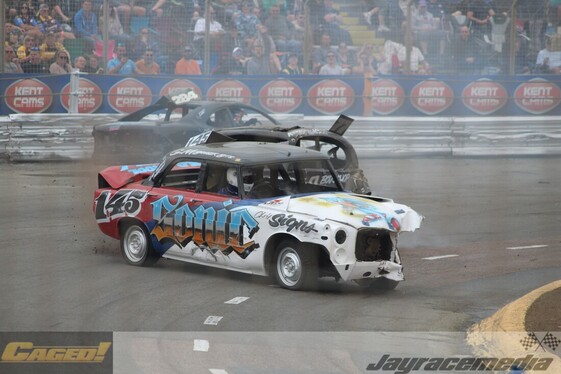 Barton Boy Reece Marsh was declared the best entertainer of the day as the Unlimited National Bangers returned to the Ipswich Spedeweekend after a few years away. Marsh will now line-up on the 2019 World Final grid at the Foxhall Heath Stadium in October.
Joey Reynolds led the first heat of the afternoon away as Richard Mackley hit the turn three armco head on after trying to avoid the spinning Sheldon Grimes right in front of him, with Fred James also getting slowed up in the action as well.
Nick Andrews then attacked Patch Beasley's used Jaguar from the Skegness team event on turn three. Beasley then attacked the loan Brighton Bear – Callum Hall – making contact over his left rear wheel and spinning him out. The race was then brought to a stop for debris on the track.
Reynolds led the field away again when the race resumed with Alan Hunt getting turned around on the home straight by James Head.
Meanwhile, Colin Dicken had turned it around in his gorgeous Rover P5 and met Lee Kingsnorth on the nose with Sam Beasley having nowhere to go except for into the back of Kingsnorth's Ford Scorpio. Beasley then came around and jacked Dicken with a solid shot bringing Dicken's race to an end.
Beasley then went on the attack again, this time taking out PJ Collins.
Ricky Beasley, meanwhile, nudged Reynolds out wide going into turn three to take the race lead before going on to claim victory in the opening race of the afternoon.
Sonny Sherwood led the cars away for heat two on a very wet and slippery track as Stu Cumming delivered a stiff head on to Marsh on turn three.
Jack Anscombe was spun on turn three and was met with a brutal head on from Charlie Jackson against the armco. Jack Ansell then delivered a controversial T-Bone to Anscombe bringing out the red flags.
Sherwood led them away for the restart which saw DWO star Andrew Jones deliver an incredibly fast and hard following in to Billy Cunningham on turn three, completely snapping his MK3 Ford Granada. The red flags were brought out to make sure Cunningham was ok after the hit.
Thankfully he was and he went and shook Jones' hand – great sportsmanship between the pair which is exactly what Banger racing should be about.
Sherwood led them away for the third time of asking with former PRI World Champion Scott Cornish attacking Ross Winsor on opposite with Trackstar World Champion Jordan Cumming also getting caught up in the melee.
The red flags were brought out for a third time after John Golden jacked Alfie Cornish on the back straight leaving Cornish feeling slightly winded.
The restart saw Ricky Beasley nudge Sherwood wide before passing him for the lead with Jack Overy also following him through.
Andrews picked up Head and followed him in on turn three. Beasley won his second race of the day in his very quick MK1 Ford Granada.
Jack Tuffen led the field away in the third and final race of the day on a much drier but still slippery track.
Marsh attacked Cumming on turn three, clipping his rear right wheel as a few cars came to grief on the same turn after getting tangled up going down the back straight.
Marsh then went on the offensive again, meeting Dean Tompkins with a solid head on.
Meanwhile, on turn two Kieran McIvor followed in Patch Beasley getting some decent airtime before getting jacked by Golden and Marsh – completely ruining his Mercedes saloon.
Tuffen came through for a flag-to-flag victory in the final race of the day.
​Congratulations to Reece Marsh on making the 2019 World Final grid and to Ricky Beasley and Jack Tuffen for their race wins on the day.