Unlimited National Bangers Teams – 13/07/2019 – Emmen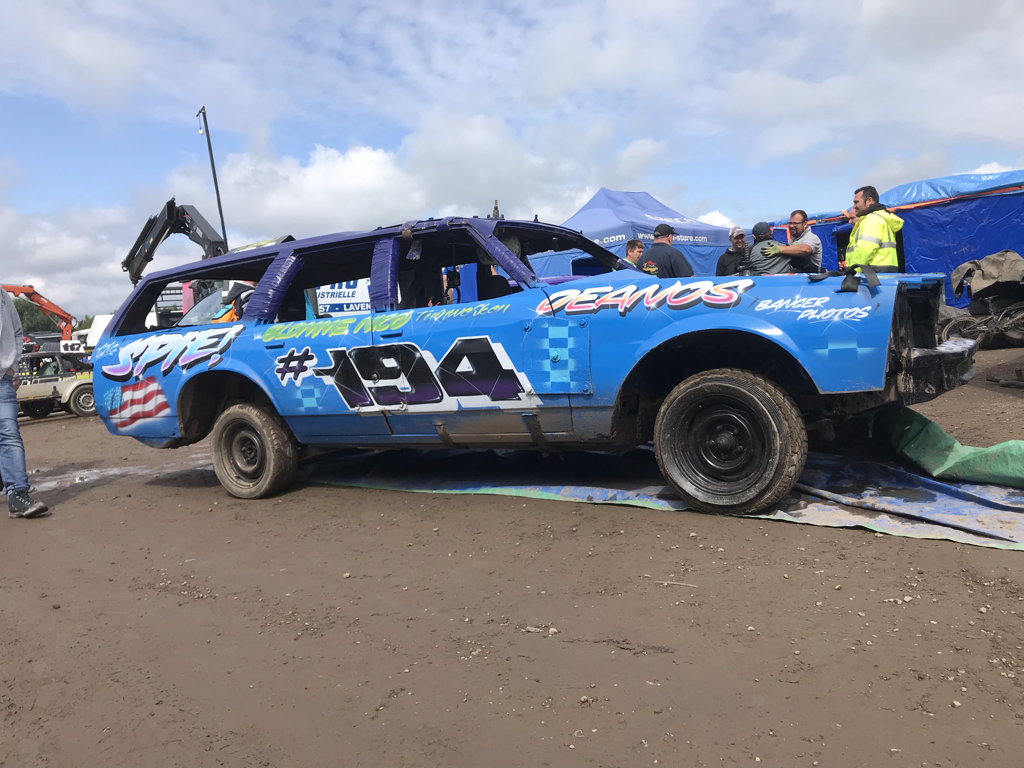 The annual Emmen Unlimited Teamrace weekender took place at the now famous Dutch shaleway on Saturday 13th/Sunday 14th July, which saw Caged! join in with the pilgrimage for the maiden time in what was set to be an outstanding weekend of banger action.
Drivers List
(Kind thanks to Paul Toward of Northern Bangers for the assistance with the material list!)
3 Litre (3LA)
209 Tom Waller – Volvo 240 Estate
239 Steve Carter – Volvo 240 Estate
247 Lee Clarke – Volvo 240 Estate
252 Steve Bugler – Volvo 240 Estate
360 Jack Reynolds – Volvo 240 Estate
433 Ben Smith – Volvo 240 Estate
760 Joey Reynolds – used Volvo 240
838 Jamie Peters – used Mercedes W210
3 Litre B (3LB)
122 Mark Cooper – Volvo 240 Estate
146 Dan Wigman – Volvo 240 Estate
197 Peter Dodge – Mercedes W140
240 Rob Setters – Volvo 240 Estate
241 Liam Cracknell – used Jag XJ S5
275 Joe Morgan – Volvo 240 Estate
625 Josh Gooch – Volvo 240
702 James Dodge – Jag XJ S5
Black and Yellow (BY)
91 Patrick Baarslag – used Volvo 740
487 Bas Belsnijder – Volvo 240
634 Simon Koenjer – Mk8 Oldsmobile 88
635 Thymen Logtenberg – Mk5 Buick Electra Estate
636 Etienne Beuwer – Scorpio Estate
637 Luuk Veldkamp – Volvo 740 Estate
639 Lars Bruggeman – Volvo 740 Estate
Blue Devils (BD)
119 Alwin Prins – Volvo 740 Estate
136 Lars Zwakenberg – Volvo 740 Estate
148 Peter Schepers – Volvo 740 Estate
183 Erwin Moorman – used Volvo 740 Estate
273 Jeroeme Knobben – Volvo 740 Estate
274 Alwin Beltman – Volvo 740 Estate
587 Raymond Hoeman – Volvo 740 Estate
666 Chiel Wellenberg – Volvo 240
Bonos (BO)
2 Luca Vos – Volvo 940
59 Steven Bolton – Volvo 240
199 Matthias van Mulders – Mk1 Cadillac Seville
211 Dennis Vorkink – used Volvo 240 Estate
488 Addy Pelikaan – Mk11 Cadillac Fleetwood
721 Sam Borre – Volvo 740 Estate
747 Eddie Cotton – Volvo 740 Estate
921 Erwin van Gurp – Volvo 240 Estate
Boogiemen (BM)
15 Colin Toussaint – Jag XJ S5 LWB
227 Niels Nijhuis – Mk11 Cadillac Fleetwood Hearse
509 Rob Kruders – Volvo 240
601 Richard Groothold – used Jag XJ S5
818 Dylan van Wezel – Jag XJ S3
884 Robert Emaus – Volvo 240 Estate
885 Morice Katier – Mk8 Oldsmobile 88
926 Tim Kruders – Mk2 Granada
B'tween (BT)
7 Joeroen Korterink – Volvo 740 Estate
16 Roel Troost – used Lexus LS
79 Jarne Hoeve – Volvo 240 Estate
107 Stefan Kruidhof – Omega
362 Jeroen Boer – Mercedes W210 Estate
406 Sander Korterink – used Scorpio Estate
408 AJ Horstede – Volvo 240
559 Petrick Kooiker – used Mercedes W210 Estate
Club Niet Wies (CNW)
64 Michiel Hulsman – used Volvo 740 Estate
65 Rutger Bokxem – used Mercedes W210
72 Mark van Zommerman – Scorpio Estate
254 Barry Leentjes – Volvo 780 Coupe
255 Rob Schuurman – Scorpio Estate
433 Menno Prins – used Scorpio
844 Peter Hoes – Volvo 740 Estate
Doeks uut Hasselt (DUH)
05 Daan van Dijk – Volvo 240
22 Berry Gijze – Mk3 Granada Hatch
60 Laurens van Dijk – Scorpio
99 GertJan Brinkman – Volvo 740 Estate
172 Joey Roessink – Volvo 240 Estate
181 Ruud Brinkman – Volvo 740 Estate
996 Jaivy Vahl – Volvo 740
Drive Inn (DI)
23 Ron Huls – used Mk3 Chevrolet Caprice Estate
116 MarkJan Klok – used Omega
901 Rik Kuiper – Mercedes W210
945 Jeroen Hoes – Mk2 S-Type Jag
951 Marc Schuurman – used Jag XJ S2
976 Richard Kisteman – used Scorpio
981 Patrick Kisteman – Ford LTD II Coupe
985 Stefan Scholten – Scorpio
Dut Mie Niks (DMN)
84 Marijn Ten Kate – BMW E39
85 Herre Ten Kate – Volvo 740 Estate
238 Martijn Kleine – used Volvo 740 Estate
305 Barry Knoeff – Mercedes W210
377 Sven Veerman – Omega Estate
486 Remco Overhein – Volvo 740
658 Thomas van der Wal – used Volvo 740 Estate
Gas Hoal'n (GH)
75 Gerben Talent – Volvo 240 Estate
102 Bouke Schiphorst – Volvo 740 Estate
103 Jelte Schiphorst – Scorpio
145 Wout van Groot n Bernd – used Scorpio Estate
582 Maurice Marissink – Volvo 740
627 Jasper Haye – Jag XJ S5
881 Kevin Mulder – Volvo 940
898 Koen Roessink – Jag XJ S5
Hornytime (HT)
26 Jeroen Muller – Volvo 740 Estate
78 Frank Pelgrim – Volvo 740 Estate
94 Jan Willem Stevens – Volvo 740 Estate
130 Roy de Jong – Volvo 740 Estate
178 Ruud Kuijk – Volvo 240 Estate
598 Wouter Hak – BMW E32
777 Arjan Vorkink – Volvo 740 Estate
896 Rutger Broekhof – Volvo 740 Estate
Mafkezen (MF)
507 Marc Kuiper – Volvo 740 Estate
508 Bart Douma – Mk8 Oldsmobile 88
545 Jari Trimpetter – Volvo 740 Estate
580 Jasper Dunnewind – Volvo 740
581 Lars Boldewijn – used Volvo 740 Estate
791 Christian de Weerd – Volvo 740 Estate
794 Berwoud Russcher – used Jag XJ S5
918 Gerwin Wienen – Volvo 240 Estate
Maniacs (MN)
266 Martin Hooikammer – Scorpio
267 Jarno Hooikammer – Scorpio
527 Dennis Klomp – Omega Estate
528 Jaron Hooikammer – Jag XJ S5
752 Richard Klomp – Jag XJ S5
753 Han Visscher – Mk2 S-Type Jag
754 Klaas-Jan Poolman – Mercedes W210 Estate
755 Gert Poolman – Scorpio Estate
Onbenul (ON)
3 Torsten Katuin – Volvo 240 Estate
21 Olaf Katuin – Volvo 240 Estate
39 Robert Kremer – Volvo 740 Estate
92 Jasper Stuivenberg – Volvo 740 Estate
126 Johan Roosien – Mk3 Granada
416 Kevin Keur – Volvo 240 Estate
Party Racers (PR)
49 Roelof Mulder – Volvo 740
175 Kevin Timmerman – Volvo 240 Estate
260 Reinout Kappe – Volvo 740 Estate
461 Andre Dunnink – Scorpio
480 Rene van der Kolk – Volvo 240
789 Kefan de Boer – used Volvo 740 Estate
982 Jordy Veijer – used Scorpio Estate
Pink Devils (PD)
38 DirkJan Kin – Mk1 Lincoln Town Car
67 Marcel de Bruin – Volvo 240 Hearse
94 GerJan Roozeboom – Mk1 Lincoln Town Car Limo
95 Ramon Snippe – Jag 420
201 John van den Berg – Mercedes W210 Ambulance
205 Klaas Jan Boldwijn – Volvo 740 Estate
295 Pascal Snippe – Austin FX4 Taxi
399 Yorick Welleweerd – used Mk6 Cadillac Fleetwood Limo
Ral 6005 A (RA)
24 Mark de Laat – Omega
52 Roy van Heel – Mercedes W210
156 Jonas Peers – Scorpio Estate
245 Appie van Lente – Scorpio
365 Glenn Meerschaut – Volvo 240
834 Jan van Osch – used Mercedes W210
876 Coen Segers – Scorpio Estate
Ral 6005 B (RB)
1 Maarten Steenbekkers – Mk5 Chevrolet Impala Estate
8 Maikel Kollenberg – Dodge Royal Monaco Estate
17 Mark Huys – Mk3 Chevrolet Caprice
63 Rene Tiemens – Mercedes W208 Coupe (DNR)
73 Frederick de Witte – used Jag XJ S3
364 Kenny Audoor – Volvo 740
734 Dave van Osch – Volvo 740
RTD
51 James Licquorice – Volvo 240 Estate
153 Jouke Kas – Volvo 940 (DNR)
312 Sybo Huizenga – Mk4 Chevrolet Caprice Hearse
359 Ferre Iedema – Scorpio
451 Pieter Veenstra – Mercedes W210
464 Rutger Balt – Mercedes W210 Estate
520 Johannes Mulder – Mercedes W210
827 Sjirk Hansma – Volvo 240 Estate
Seedless Squad (SS)
182 Danny Spin – used Mk1 Granada
250 Michel Kisteman – used Mercedes W210 Estate
282 Sebastiaan Hoes – Scorpio Estate
420 Patrick Hoes – Mercedes W210 Estate
572 Yoeri Spin – Jag XJ S5
573 Peter Kleen – used Scorpio Estate
574 Hielke Heetebrij – Volvo 740 Estate
975 Pascal de Groot – Scorpio
Shepherds (SH)
138 Ruben Poiesz – Mercedes W210
210 Thijs van Dijk – Mercedes W210 Estate
333 Eric Schutte – Volvo 740 Estate
546 Sander Dijk – used Volvo 940
878 Danny van den Berg – used BMW E39
893 Johan Doldersum – Volvo 940
903 Marcel van Gurp – used Scorpio Estate
949 Robin Blik – used Scorpio Estate
Shocking Blue (SB)
100 Nick Rupert – Volvo 740 Estate
111 Dennis Weegerink – Volvo 240 Estate
203 Marc Grefte – Volvo 240
217 Koen Wijlens – Volvo 740 Estate
260 Kevin Lenderink – Volvo 740 Estate
275 Tristan Peters – used Volvo 740 Estate
666 Mart Wopereis – Volvo 940
730 Christiaan Geerdink – Volvo 240
Simply Wild (SW)
91 Stefan Schiphorst – used Imperial Crown
93 Remco Emmink – 6-door Mk11 Cadillac Fleetwood Limo
104 Richard Klein – Mercedes W210
202 Peter Hekman – Mk4 Dodge Monaco Estate
222 Bas Eilert – used Chrysler Newport Limo
246 Marcel van Leussen – used Volvo 740
335 ErikJan Huzen – Mk4 Chevrolet Caprice Hearse
959 Martijn Hoes – Mk8 Oldsmobile 88
Sleurnis (SL)
54 Richard Logterman – Volvo 740 Estate
88 Jasper Logterman – Volvo 740 Estate
155 Patrick Logterman – Volvo 740 Estate
338 Marco Hekman – Volvo 740 Estate
575 Rolf Vonder – Volvo 740 Estate
702 Jarno Seinen – Volvo 740 Estate
706 Eric Seinen – used Scorpio Estate
708 Lucas Borger – used Mercedes W210
Staphorst (ST)
06 Niek Tippe – Volvo 240
40 Gerard de Witte – Volvo 940
41 Arjan de Witte – Jag XJ S4
53 Ben Holtrop – used Jag XJ S5
101 Klaas Troost – Supra
995 Nathan Koster – Scorpio
997 Meilof Troost – Scorpio
999 Klaas Slager – Jag XJ S4
Twente (TT)
52 Coen Comino – used Scorpio Estate
115 Werner Flinkers – Mk2 Granada Estate
121 Bjorn Bosch – Scorpio Estate
264 Mathe Vaanholt – used Scorpio Estate
369 Rob Ter Keurs – used Volvo 740 Estate
401 Roelof Funcke – Jag XJ S4
456 Wiebren Edens – Mercedes W210 Estate
716 Jesper Flinkers – Volvo 240 Estate
United (UN)
48 Foppe Minnema – Jag XJ S3
192 Gregory de Luyck – Scorpio Estate
194 Johan Spiessens – Mk3 Chevrolet Caprice Estate
207 Benjamin Descamps – Scorpio
301 Albert Troost – Supra
388 Stevo McGrath – Scorpio
890 Leszek Malinowski – Scorpio
Voodoo (VO)
31 Holger Terweide – Scorpio
296 Stephan Bartel – Mk1 Granada
323 Christian Blask – Volvo 740 Estate
589 Timo Martensen – Volvo 740 Estate
644 Richard Steeghs – Volvo 740 Estate
961 Pepino Starmans – Mercedes W140
The first Heat placed 3 Litre A, B'tween, Doeks Uut Hasselt and The Shepherds on the grid. DUH99 De Lippe was the first to show as he spun SH138 Poisez. 3LA360 Jackstar ran in BT107 Steven and SH893 Dolly in one sweep, as 3LA838 Sloth attacked SH903 van Gurp. 3LA252 Boogie attacked DUH172 Roessink, the latter then being left prone for a follow in from 3LA239 Nemesis. 3LA252 Boogie removed DUH99 De Lippe from contention. 3LA838 Sloth then went on the attack; spinning aside SH138 Poiesz before following in DUH181 Brinkman. 3LA838 Sloth then came under fire himself as he was spun aside by DUH60 Laurie. The former rejoined the fray to jack DUH181 Brinkman, only to cop a heavy jacking from BT406 Sander. TS878 van der Berg then stormed in with a solid jacking to BT406 Sander. DUH99 De Lippe attacked BT16 Troost. 3LA252 Boogie ended the action from a lively opening with a stiff shot to TS878 van der Berg as the red flags came out. 3 Litre A taking the win, whilst the entertainer team award went to B'tween.
The second heat pitched Seedless Squad, Dut Mie Niks, Blue Devils and Bonös together. BO721 Borré had a pop at BD587 Hogeman which in turn sent DMN305 Knoeff and SS975 Pascal crashing into the barrier. BO488 Ziggy spat SS182 Spin fencewards before it all kicked off between the Seedless Squad and Blue Devils. SS572 Yoeri followed in BD666 Duyf. BD274 Belti collected teammate BD666 Duyf, as SS420 Hoes steamed into DMN377 Mr Veerboot. SS572 Yoeri jacked BD274 Belti. SS420 Hoes ruined BD274 Belti. The red flags came out for a driver that needed attention on turn 2 but he exited all ok. The restart saw SS282 Hoes remove BO488 Ziggy, whilst BO721 Borre took the win for Bonos, and Seedless Squad grabbed the best entertainer award.
Heat 3 featured Pink Devils, RTD, Ral 6005 B and Drive Inn. RTD451 Smookey was the first to show as he attacked PD399 Welleweerd. RTD51 Licquorice set about PD295 Snippie Jnr under pressure from PD205 Jan Boldwjin. RB73 Bandit followed in PD94 Roozeboom, with RTD359 Iedema attempting to latch onto the former getting him slightly out of shape. RTD312 Mr T-Bone shed a wheel but continued battling on. A few moments past before DI945 BB Man thundered in PD38 DirkJan. RTD827 Hansma followed RD67 Marco in to PD38 DirkJan. PD94 Roozeboom was the second driver to have a wheel part with the car. DI116 Klokkie followed in RTD51 Licquorice which commenced an entertaining sequence – RTD451 Smookey jacked DI116 Klokkie. DI23 Dalton jacked RTD451 Smookey, only to cop a pair of stiff jackings from RTD827 Hansma and RTD359 Iedema. DI945 BB Man leathered RTD51 Licquorice to conclude the action. Drive Inn took the race win, with RTD being the best entertainers.
Club Niet Wies, Hornytime, Mafkezen and Simply Wild were the four teams that formed the grid for Heat 4. A big push into the first bend saw HT896 Rutger ending up facing the wrong way. SW959 Matty rattled in CNW254 Leentjes. MF581 Boldewijn delivered a wild attack on SW91 Schiphorst which set the latter up for a head on from HT130 de Jong. SW335 ErikJan homed in for a shot to HT130 de Jong. SW91 Schiphorst caught MF508 Douma with a strange hit on oppo which absolutely splintered the latter's Oldsmobile. SW202 Hekman homed in for a jacking to MF508 Douma as the latter attempted to limp to safety; CNW433 Menno also jacking the Mafkezen member's Yank as he looked for a gap through. SW959 Matty weighed in on CNW433 Menno. SW91 Schiphorst delivered a solid head on to MF545 Trimpetter which led to the red flags being brought out and a subsequent early climax to proceedings – Hornytime being deemed the winners whilst Simply Wild understandably took the entertainer award.
Heat 5 compiled three teams: Team Onbenul, Black & Yellow and Staphorst – the latter team featuring ASE Points Champion 999 Mokko. ST995 Koster was the first to show as he buried BY636 Etienne. BY636 Etienne recovered to blast ON126 Roosien, who had tangled with teammate ON92 Stuivenberg. ON39 Kremer jacked BY636 Etienne which began an awesome passage of wrecking between Onbenul and the Black & Yellow factions. BY634 Simon destroyed ON39 Kremer with an airtime shot only to cop a stiff shot himself from ON92 Stuivenberg. BY635 Thymen steamed into blitz ON92 Stuivenberg. ON21 Olaf blasted BY635 Thymen. BY639 Bruggeman weighed in on ON416 Keur. The red and chequered was waved after only around 5 laps being completed putting an end to the race of the day so far. Staphorst were given the win, which was understanding considering the lack of involvement in the wrecking train; Black & Yellow took the entertainer award.
Shocking Blue made their Emmen Teamrace debuts in Heat 6, and they were joined out on track by Team Voodoo, Team Twente and Gas Hoal'n. SB730 Geerdink was the first to show as he removed TT401 Batman from contention. TT264 Vaanholt spun aside VO323 Kimmel, allowing SB111 Keezeman to blast the Voodoo man. A jacking train commenced at the end of the home straight after TT52 Comino ran SB225 Baco through VO296 Stoffel's MK1 Granada which was sat broadside across the straight. VO961 Pepino weighed in on the back of TT52 Comino, with GH627 Haye going in to complete the train. VO589 Timo buried himself into the back of GH627 Haye to continue the action, ultimately leaving himself prone to a shot from SB203 Grefte. TT456 Edens delivered a solid jacking to SB203 Grefte seeing the former get a bit of airtime as he went in. Shocking Blue revenge was swift as SB217 Knoef weighed in on TT456 Edens. TT369 Ter Keurs weighed in on SB217 Knoef which ended the action for a few laps until TT401 Batman delivered a solid hit to VO323 Kimmel. GH75 Talent homed in on TT401 Batman. Gas Hoal'n took the race win whilst Shocking Blue were deemed the most entertaining team in what marked their first true banger event.
Race 7 was next on the agenda and pitted Team United, Party Racers, The Maniacs and Sleurnis together. MN752 Klomp made a beeline for PR260 Kappe spinning him aside. SL338 Hekman jacked PR982 Jordy. SL702 Seinen homed in for a stiff hit to PR982 Jordy to add further punishment to the latter who viewed he'd taken enough hits so called for the reds bringing the race to a halt. PR982 Jordy exited his car all ok. The restart saw SL708 Borger attack MN267 Jarno whilst SL54 Logterman was sent spinning by the pack. SL706 Seinen buried UN194 the Spie and PR260 Kappe in one foul sweep down on turns 3 and 4. MN752 Klomp buried SL702 Seinen into the growing carnage on the entrance of the back straight – the latter coming under further abuse as he was treated to a head on by one of the Party Racers. This allowed UN194 the Spie to blast the aforementioned Party Racers driver as elsewhere, MN752 Klomp continued his charge to turn SL706 Seinen fencewards. UN890 Pavarotti thundered in MN754 Poolman. MN527 Klomp set about UN207 McFly to conclude the action. The Maniacs took the race victory and Sleurnis emerged as the entertainers.
Heat 8 was the final race within the split format and looked the most exciting on paper with continental heavyweights Boogiemen and Ral 6005 A taking on UK's 3 Litre; the latter team fielding their 'B' faction. 3LB146 Wiggy attacked BM884 Emaus from the off, eventually spinning him aside. BM818 Dylan bounced 3LB240 Setters off of the armco. RA245 Appel followed in 3LB625 Gucci. RA52 Van Heel stuffed in 3LB122 Cooper Jnr. BM818 Dylan picked 3LB275 Rusty up through the passenger doors running him in and collecting the stricken 3LB122 Cooper Jnr car. This allowed 3LB720 Jimbo to avenge the 3 Litre team weighing in on BM818 Dylan. RA52 Van Heel and BM884 Emaus combined to set about 3LB720 Jimbo. 3LB197 Dodge squared BM884 Emaus up for a head on as he backed out of the train just as the reds came out to allow 3LB275 Rusty to exit his car safely. The restart saw 3LB241 Cracknell attack RA365 Meerschaut. BM926 Kruders rattled in 3LB146 Wiggy. 3LB146 Wiggy then spun on turn 3 allowing BM227 Nijhuis to blast him on the nose. BM15 Touissant weighed in on 3LB146 Wiggy. 3LB241 Cracknell followed in BM885 Katier leaving him open to a shot from RA24 Devastator. 3LB241 Cracknell and RA24 Devastator remained latched together with the latter running the 3 Litre man into BM15 Touissant. Ral 6005 A took the race win whilst Boogiemen swept the entertainer award.
The format then saw 4 Quarter Finals take place next. ¼ Final A commenced with 3LA209 Tombo attacking BO2 Vos. 3LA239 Nemesis attacked BT408 Tosti who latched onto SS572 Spin. BO488 Ziggy fired into 3LA239 Nemesis. A pile up formed on the entrance of the home straight which created a track blockage. BT107 Steven drove through the rear wheel of SS573 Kleen. 3LA 209 Tombo jacked BO488 Ziggy. SS574 Heetebrijj jacked 3LA209 Tombo. BO199 Matti delivered a meaty head on to BT16 Troost, whilst 3LA252 Boogie delivered a portion to SS574 Heetebrijj. SS420 Hoes went in on 3LA252 Boogie to continue the 3 Litre/Seedless Squad run of hits. SS572 Spin went in on the back of 3LA360 Jackstar as the red flags were brought out. The restart saw 3LA360 Jackstar deliver a head on to SS282 Hoes. 3LA247 Bro jacked the recovering BT362 Boer. 3LA239 Nemesis jacked BT16 Troost, as 3LA247 Bro came under fire from BT408 Tosti. 3LA239 Nemesis treated the spun BT79 Hoeve to a head on as 3LA247 Bro copped another jacking from BT408 Tosti. The B'tween onslaught with BT107 Steven laying into 3LA360 Jackstar which saw the latter barrel roll and bring an end to the race in which it was 3 Litre A who took the victory and B'tween being awarded for their efforts as race entertainers.
¼ Final B was up next. DI945 BB Man was the first to show as he ran in RTD312 Mr T-bone. DI901 Kupier spun HT598 Wouter leaving him prone to a head on from SW335 Huzen. SW246 van Leuseen had a pop at HT78 Pelgrim leaving him prone to a massive jacking from SW93 Emmink. DI985 Scholten attacked SW202 Hekman. RTD312 Mr T-bone drove through SW93 Emmink which set him up for a questionable hit behind the door's courtesy of SW335 Huzen. SW91 Schiphorst delivered a brutal head on to RTD312 Mr T-Bone. HT598 Wouter destroyed the front end of his BMW with an all or nothing jacking on SW91 Schiphorst. The reds were brought out to assist RTD312 Mr T-Bone from his wreck. The action resumed with SW959 Matty following in HT941 Stevens. DI951 Schuurman set about SW246 van Leuseen. DI116 Klokkie had a pop at RTD827 Hansma. SW104 Klein buried RTD359 Iedema on the exit of turn 2 allowing SW959 Matty to tbone the latter. HT777 Vorkink laid into SW959 Matty. SW202 Hekman jacked RTD359 Iedema to conclude the action. Drive Inn were the winners of the race with Simply Wild continuing their form through the meeting taking the Entertainers.
¼ Final C saw the return of Shocking Blue alongside Gas Hoal'n and Black & Yellow among others. GH145 van Groot n Bernd stuffed in ST41 de Witte, continuing his momentum to blast the spun, leaving the former a sitting duck for a blistering jacking from SB111 Weegerink. At the other end, SB730 Geerdink found himself sat lame against the armco with BY635 Thymen happily obliging to deliver a huge jacking bringing the race to a stoppage. The restart saw ST999 Mokko bury BY636 Etienne into the parked cars on turns 3 and 4. GH627 Haye ran BY636 Etienne through SB100 Rupert which in turn rolled another Shocking Blue member bringing the reds out again. The restart was short lived as a bit of chaos along the back straight led to GH582 Marissink giving a big shot to ST40 de Witte, rolling the latter resulting in bringing the race to an early finish. Gas Hoal'n to the race win and Black & Yellow took another entertainers award.
The last of the ¼ Finals commenced with MN752 Klomp turning BM885 Katier fencewards. MN755 Poolman collected the broadside Yank which allowed BM15 Touissant to blast the former. MN527 Klomp went in on the back of BM15 Touissant. BM227 Nijhuis set about SL338 Hekman running him head on into BM885 Katier. BM509 Kruders ran in SL88 Logterman which in turn caused teammate SL54 Logterman to roll bringing the race to a temporary halt. The race resumed with RA52 La Porre attacking MN267 Hooikammer but got caught up on him allowing BM601 Groothold to go in on the former. SL575 Vonder steamed in on RA52 La Porre. Boogiemen pairing BM15 Touissant and BM885 Katier destroyed SL575 Vonder with successive hits. BM885 Katier continued his momentum to jack SL155 Logterman. SL706 Seinen put away BM509 Kruders. MN753 Visscher spun BM926 Kruders leaving him open to a stiff head on from MN527 Klomp. Boogiemen revenge was swift as BM15 Touissant was on hand to land a big hit on MN527 Klomp. MN227 Nijhuis rattled in SL706 Seinen just before MN752 Klomp steamed in for a big jacking on BM15 Touissant. BM509 Kruders weighed in on MN752 Klomp who recovered to complete a lap and steam into BM15 Touissant once again just before the red flags were brought out. The Maniacs took the win whilst Boogiemen were the entertainers.
The first Consolation saw DUH05 van Dijk attack PD67 de Bruin as BD119 Alwin spun aside DUH172. BD183 Blinde met the spun DUH172 Roessink on the nose. PD205 Jan Boldwijn attacked SH210 Van Dijk. PD94 Roozeboom buried SH333 Schutte and continued his onslaught by weighing into DUH172. DUH05 van Dijk attacked PD201 Woesteketteboer. BD183 Blinde tried to sneak up the inside of a slowing PD399 Welleweerd but got caught up catapulting him airbound, allowing DMN377 Mr Veerboot to spin him aside. DMN238 Mini Poele jacked DUH99 De Lippe and was immediately blitzed by PD67 de Bruin. DUH05 van Dijk steamed in on the back of PD67 de Bruin. The reds were out to check on one of the drivers but no issues to report. The restart saw BD273 Jompie thunder SH210 Van Dijk into PD67 de Bruin's abandoned motor. DMN486 Remco delivered a massive shot to BD273 Jompie. DUH181 Brinkman jacked DMN486 Remco. DMN377 Mr Veerboot gave a portion to DUH181 Brinkman. BD587 Hogeman lamely went in on SH210 Van Dijk leaving him open to a huge hit from DUH60 Laurie. BD119 Alwin jacked DUH60 Laurie. DMN305 Knoeff had nowhere to go catching the abandoned Volvo Hearse of PD67 de Bruin on the nose – this allowed SH138 Poiesz to deliver a hard jacking to the former. DUH05 van Dijk went in on BD119 Alwin. PD95 Snippe jacked DUH05 van Dijk. BD148 jacked PD95 Snippe. Doeks uut Hasselt done enough to make their way through to the Semi-Finals.
Consolation 2 started with RB8 Maiky Maik setting about MF507 Kuiper which also claimed teammate RB73 Bandit. CNW65 Ugge had a pop at RB1 Maai. CNW65 Ugge continued his lively streak by burying MF580 Dunnewind. He then continued to set about UN194 the Spie. MF918 Gerwin jacked CNW72 Zommerman which in turn sent RB364 Jantje airbound and onto a marker tyre. UN194 the Spie followed in RB17 Linkie. RB8 Maiky Maik ran in UN194 the Spie and immediately came under fire from UN207 McFly. The reds came out breaking down that interesting exchange between the Ral & United teams. The restart saw CNW65 Ugge assault MF581 Boldewijn. UN301 Troost attacked CNW72 Zommerman with a hit as he rejoined from an off. RB1 Maai spun MF581 Boldewijn. RB73 Bandit removed CNW64 Hulsman. RB73 Bandit then had a pop at CNW72 Zommerman. RB1 Maai spun CNW64 Hulsman. RB73 Bandit concluded the action with a head on to CNW64 Hulsman. Ral 6005 B went through to Semi-Final.
The last consolation started with VO323 Kimmel blasted PR461 Dunnink and got collected himself bouncing him in the path of 3LB240 Setters who unfortunately caught him in the drivers' door bringing the reds out early on. The restart saw 3LB720 Jimbo attack VO589 Timo running him into VO323 Kimmel's abandoned car. 3LB240 Setters jacked SH789 Dolly. VO31 Terweide delivered a large jacking to 3LB720 Jimbo. 3LB275 Rusty was immediately on hand to home in on VO31 Terweide. PR461 Dunnink jacked 3LB275 Rusty. 3LB197 Dodge assaulted PR461 Dunnink. PR49 Mulder went in awkwardly into the pile up not really getting a shot on anyone but left himself open to a shot from the obliging 3LB122 Cooper Jnr. TT264 Vaanholt went in on 3LB197 Dodge. VO644 Steeghs went in on TT264 Vaanholt. 3LB625 Gucci jacked PR175 Timmerman. PR480 Ice Boy weighed in on 3LB625 Gucci. VO961 Pepino jacked 3LB625 Gucci. 3LB122 Cooper Jnr managed to escape the pile up to complete a lap and storm in on VO961 Pepino. TT121 Bosch went in on the back of 3LB122 Cooper Jnr. TT121 Bosch was the last car running and eventually weighed in on VO644 Steeghs. 3 Litre B made it through to the Semi-Final.
The first Semi-Final commenced in lively fashion as SW104 Klein picked up 3LA760 Joey as DI945 BB Man spun 3LA252 Boogie which rolled the latter bringing an early race stoppage. The restart saw 3LA209 Tombo deliver a huge shot to SW91 Schiphorst, only to later find out that the Simply Wild yank was empty. 3LA838 Sloth buried himself in a strange move which left him prone to a large jacking from SW222 Eilert. 3LA360 Jackstar jacked SW222 Eilert. 3LA433 Smith spun aside BT107 Steven as SW93 Emmink weighed in on 3LA360 Jackstar. SW959 Matty followed 3LA209 Tombo into SW91 Schiphorst's empty yank. SW335 Huzen delivered a head on to 3LA360 Jackstar and then completed a lap before storming in for another to the 3 Litre man. DI116 Klokkie weighed in on SW335 Huzen. 3LA760 Joey ran in SW104 Klein. 3LA247 Bro drove through SW335 Huzen. 3LA360 Jackstar copped multiple hits from Simply Wild. DUH172 Blowie drove through SW246 van Leussen leaving him open to an attack from SW222 Eilert. DUH172 Blowie then copped a big jacking from 3LA247 Bro. DUH05 Van Dijk set about BT79 Hoerve which also claimed 3LA760 Joey and DI976 Rachid. DI116 Klokkie jacked DUH05 Van Dijk. 3LA760 Joey drove through SW222 Eilert to end proceedings. Drive Inn took the race win and their place in the final alongside Simply Wild who made it through as best entertainers.
The second Semi-Final started with RA834 Balletje spinning GH627 Haye. A small jacking train accumulated on the back straight but cleared itself quickly but not before BM885 Katier attacked RA156 Jonas. GH102 Bouke attacked BY636 Etienne but was quickly on the receiving end of a big hit courtesy of BY91 Baarslag. RA834 Balletje delivered a massive hit to BY487 Bas. BM885 Katier delivered a large jacking to BY91 Baarslag. MN753 Visscher jacked RA156 Jonas at the end of the back straight and was immediately done in turn by BY637 Luuk. GH881 Mulder stormed in for a big jacking to BY637 Luuk. BM509 Kruders weighed in on GH881 Mulder. RA834 Balletje jacked BY91 Baarslag. GH103 Schiphorst assaulted BY635 Thymen. GH103 Schiphorst followed BY636 Etienne into RA834 Balletje. RA245 Appel spun BM885 Katier under pressure from the pursuing pack. MN266 Hooikammer delivered a shot to the spun RA245 Appel. RA24 Devastator jacked BY636 Etienne. GH75 Talent spun and in turn copped a light head on from teammate GH582 Marrisink, and then another head on from BM227 Nijhuis. BM885 Katier went in on the sat up BY635 Thymen. The Maniacs took the race win whilst Boogiemen ensured they were in the final too with the race entertainers award.
The meeting format saw a pair of Alcomers before the Final – the first of which starting with RTD520 Venema tboning the spun BO747 Piglet which resulted in cars going in all directions as DMN377 Mr Veerboot bounced off of the big tractor tyre in the same place wiping out RTD464 Balt at the same time. RB364 Jantje jacked RTD520 Venema. HT896 Broekof caught RTD520 Venema head on which held up BO721 Borre. This allowed HT941 Stevens to run PD95 Snippie through the back of the latter. RTD827 Hansma attacked PD94 Roozeboom leaving him open to a meaty jacking from SS572 Spin. RTD revenge was swift as RTD359 Iedema weighed in on SS572 Spin. RB364 Jantje thundered BO921 Edje into the metal plating and then into the back of SH878 van den Berg. BO59 Leadfoot tried to get on the back of RB364 Jantje but copped more of the armco. BO211 Mr Nos had a go at SS572 Spin. BO488 Ziggy attacked SH878 van den Berg. RB73 Bandit jacked BO921 Edkje. SS282 Hoes set about RB73 Bandit only to cop a shot over the rear wheels from RB1 Maai. RTTD359 Iedema piled into PD38 DirkJan on the entrance of the back straight. DMN658 van der Wal buried himself into RB1 Maai and was duly jacked by HT130 de Jong in turn. HT178 Kuijk happily obliged to jack teammate HT130 de Jong. DMN305 Knoeff weighed into SS282 Hoes. HT598 Woutr steamed into DMN305 Knoeff. SH949 Blik jacked the lame HT78 Pelgrim who had expired on the line through the pile up. HT26 Muller laid into DMN658 van der Wal.
The second Alcomers commenced with a lot of early chaos bringing the red flags out straight away. The restart started in similar chaotic fashion with UN301 Troost sitting broadside across the back straight, which resulted in him being pummelled by TT116 Dalton. UN194 the Spie weighed in on TT401 Batman. SL706 Seinen delivered a solid jacking to ST997 Troost. SB100 Klaus tboned SL706 Seinen. ST999 Mokko slaughtered SB100 Klaus. TT116 Dalton jacked CNW72 van Zommerman and copped a solid hit from ST41 Arjan in turn. With a complete track blockage, the race was brought to a halt – ST997 Troost losing a wheel also being a contributing factor. The restart saw RA24 Devastator buried MF791 de Weerd into the back of SL338 Hekman. UN48 Showman weighed in on MF791 de Weerd. ST53 Big Ben laid into UN48 Showman and came under fire from CNW65 Ugge in turn. UN101 Troost went for a big attack on CNW65 Ugge to take the win.
The Final was next up and saw Boogiemen, Maniacs, Simply Wild and Drive Inn battle it out for the title, and they were joined by 3 Litre B who took a wildcard spot in the main event. MN527 Klomp followed in 3LB122 Cooper Jnr from the off which set him up for a shot over the rear wheel from BM227 Nijhuis. SW202 Hekman treated 3LB122 Cooper Jnr to a head on. 3LB146 Wiggy jacked SW202 Hekman – Hekman also coming under fire from 3LB197 Dodge. BM227 Nijhuis jacked 3LB275 Rusty on turn 1. DI976 Rachid tangled with SW959 Matty which caused a slight blockage on turns 3 and 4. MN266 Hooikammer came under fire from DI951 Schuurman. 3LB240 Setters went in on the back of DI951 Schuurman. DI901 Kuiper delivered a solid jacking to MN527 Klomp. This left BM601 Groothold open to a hit from 3LB197 Dodge. DI116 Klokkie weighed in on MN266 Hoikammer. DI981 Kisteman homed in on 3LB197 Dodge allowing BM509 Kruders to steam in to the Drive Inn yank getting some airtime in the process. DI945 BB Man homed in on BM509 Kruders. 3LB146 Wiggy jacked BM509 Kruders. MN755 Poolman jacked 3LB146 Wiggy in turn. MN755 Poolman ran DI945 BB Man softly into the limping 3LB240 Setters which enabled DI116 Klokkie to go in on the back of MN755 Poolman. DI951 Schuurman attacked 3LB146 Wiggy who went up on two wheels and hadn't even landed before copping a shot from MN755 Poolman. Drive Inn took the win crowning them champions; The Maniacs getting second overall and 3 Litre B third. Simply Wild continued their streak throughout the day to be crowned overall entertainers of the day, although Boogiemen received the entertainer award for the final race itself.
The DD was set to conclude the day, and what a conclusion it was going to be. ST995 Koster followed in BO2 Vos. ON21 Katuin followed in teammate ON126 Roosien. BO2 Vos thundered in TT369 Brugge Man but came off worse himself. ON416 Keur tboned BO2 Vos after coming under pressure from BO211 Mr Nos. RA834 Balletje homed in on ON416 Keur. SL54 Logeteman weighed in on RA834 Balletje snapping himself off in the process. CNW65 Ugge absolutely destroyed SL54 Logeteman. ST41 Arjan jacked CNW65 Ugge just as the reds came out to allow SL54 Logeterman to get out of his massive wreck. The DD continued momentarily until SL706 Seinen spun RB734 Dave which rolled the latter bringing another stoppage. The third try saw SB203 Kuukn bury himself into the wreckage much to the delight of his supporters on the bend. RA876 Pinkie delivered a thunderous jacking on SB203 Kuukn getting massive airtime. The red flags were brought out instantly, but this didn't stop GH145 van Groot n Bernd and DUH05 van Dijk from piling in. The restart allowed a big influx of cars from the pits to come out on track and join in the fray. BO721 Borre got things rolling as he attacked TT369 Brugge Man. Loads of cars went piling into the growing mass of dead cars on turns 3 and 4. VO961 Pepino attacked BO59 Leadfoot which allowed BT107 Steven to run the former into the pile up. RA24 Devastator jacked BT107 Steven. BD119 Alwin jacked BO59 Leadfoot and came under fire himself from RTD827 Hansma as the reds came out once again. The restart saw ST997 Troost thunder BO199 Matti into the melee of cars and then continue his momentum to give BT79 Hoerve a head on. BO721 Borre jacked ST997 Troost. BO59 Leadfoot weighed in on RTD827 Hansma only to be ruined by SW959 Matty. BO488 Ziggy leathered SW959 Matty. RB73 Bandit jacked BO488 Ziggy. SH546 Sander spun RA364 Jantje who rolled bringing the reds out but not before SH546 Sander squashed RB73 Bandit. The restart saw SL706 Seinen attack HT130 de Jong. HT777 Arian laid into SL706 Seinen. HT26 Muller attacked BT408 Tosti. HT896 Broekhof weighed in on HT26 Muller. BO721 Borre delivered a large portion to HT896 Broekhof. BT16 Joelie set about HT777 Arian. At this stage, the blue flag was waived to signify that oppo was now allowed. BO721 Borre followed BT408 Tosti in on oppo in splendid fashion. HT26 Muller attacked BT79 Hoerve only to receive a massive hit from BT16 Joelie. BO721 Borre homed in for a big hit of his own to BT16 Joelie. The reds came out to check on HT26 Muller who had put his thumbs down, but all was ok. Only 3 cars were left on the restart – BT79 Hoerve homed in on the obliging HT777 Arian. BO721 Borre steamed into BT79 Hoerve to finish the action and take the DD victory with a very hard-hitting display – Borre also gaining the entertainer award for the DD.
Overall, an absolutely unreal meeting from start to finish. The atmosphere and quality of racing is literally something else and we were treated to the best DD in the modern era of bangers. 945 BB Man was by far the standout driver of the day for me and he was rightfully awarded with the Entertainer of the Day Award. The Man of the Meeting Award went to SW959 Martijn Hoes, with his Simply Wild team collectively earning the Best Entertaining Team of the Day. The Pink Devils collectively swept the Best Presented Team with PD201 John van den Berg having car of the meeting with the first ever Mercedes W210 Ambulance. Shocking Blue's maiden participation in the event saw them claim the Best Painted Team Award. Black & Yellow got the Best Teamwork Award with 3 Litre getting a combined Pitcrew Award for their efforts over the weekend.