Back to Basics Old Boys & Young Guns – 23/06/2019 – Yarmouth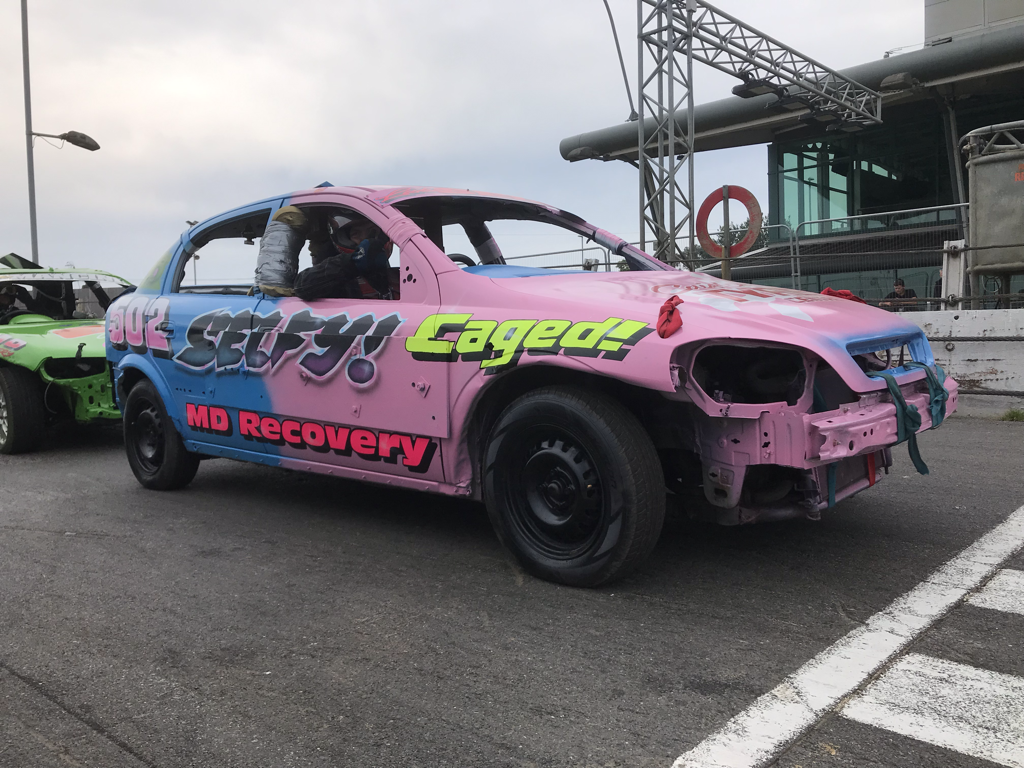 77 Back to Basic Bangers headed to Yarmouth Stadium on Sunday 23rd June where the meeting split into an 'Old Boys' and 'Young Guns' format in which 34 drivers competed in the Old Boys races. There was the usual expected mix of cars given the Back to Basics format with 10 James Eaton opting for a Ford Orion and 655 Carl Rushforth using a Mk3 Vauxhall Astra on the slightly older car front.

The format saw 2 split heats for both the Old Boys and Young Guns with 17 cars creating an even split for the Old Boys first Heat. 46 Nichols set the ball rolling by spinning 142 Walters. 548 Mario gave 97 Scott the same treatment which saw her come to a halt just off the racing line. 98 Shandy spun 724 Canham. 239 Evil Eric attacked 116 Wanty, which saw the latter go bouncing over the inner curb and whip towards the caister bend ropes. 151 Wobbie spun aside the leading 46 Nichols who quickly rejoined the fray. 367 Beevor removed 239 Evil Eric with a tidy spin. 112 Greatrex spun 700 Rigby, who then came under fire from 116 Wanty creating a bit of tail back within the following pack. 46 Kelvin Nichols recovered from his earlier off to take the victory.

17 cars were on track once again for the Old Boys second heat. 31 Mann Snr put away 3 Hewitt from the off. 792 Cousins jacked 31 Mann Snr. 176 Ralph spun aside 216 Buzzer as he looked to make movements up the order. 31 Mann Snr set about 513 Wishbone, and they subsequently tangled onto the centre green. 135 Old Mann attacked 132 Reeve. 216 Buzzer set about 34 Knightsy, spinning the latter who overcompensated the recovery sending himself bouncing off the ropes. 369 The Dog spun wife 621 Fast Shed on route to taking the win. (I wouldn't like to have been Scott when they got back to the pits!) 82 Quinny finished the action as he went for a wild last bend attack on 636 Planey.


Heat 1 for the Young Guns commenced with 179 Fat Pants putting away 155 Captain Slow. This allowed 433 Smith to set about 179 Fat Pants. 123 Ratboy spun 293 Smith, whilst debutee 315 Beevor got put in the pit gate post. 433 Smith spun aside fellow Ben Smith, 293, which caused 152 Nathoo to run into the stricken 315 Beevor. 717 Booty buried 123 Ratboy who bounced off a post and rejoined. 433 Smith spun 717 Booty, whilst 145 Billy Gladden raced to the win.

The second heat for the Young Guns started with 328 Nichols setting about 336 Fathead which in turn took out 995 Deano. 512 Wishbone Jnr and 540 Jamesy tangled on the back straight. 748 Ginge jacked 839 Irons who had come to a stop near the start line. 512 Wishbone Jnr bounced off the marker tyres on the pits getting up on to two wheels. 175 Emmo moved up the order as he dismissed 499 Crashley. 10 Sideways Jim was a casualty on the pits bend but soon recovered. 629 Rout tried to fend off an attack from 175 Emmo, resulting in the latter getting turned fencewards. 333 Ginger attacked 748 Ginge in an apt battle of the names! 141 Snakey spun aside 629 Rout as 621 Gruff had a pop at 333 Ginger. 315 Nathan Webb took the win this time around.

The Final for the Old Boys was next up. 3 Hewitt attacked 31 Mann Snr from the off, the former was then disposed of by the pack and met head on by 98 Shandy. 517 Madgwick and 239 Evil Eric crashed out together at the end of the home straight. There was more drama near the starters' rostrum, as 82 Quinny, 369 The Dog, 724 Canham and 792 Cousins all crashed out together. 216 Buzzer attacked 515. 132 Reeve ran 34 Knightsy into 792 Cousins. 352 Brooks attacked 700 Rigby, whilst 548 Mario spun 112 Greatrex. 216 Buzzer went for a wild attack on 98 Shandy posting himself hard in the process – both cars re-joined the fray leading to 98 Shandy getting a revenge attack in on 216 Buzzer. 31 Mann Snr rode up the immobilised 548 Mario. 636 Planey lost his back axle after a collision with 367 Beevor, resulting in an early climax to the race with 585 Martin Tyte being awarded the win ahead of 352 Stu Brooks and 132 Bernie Reeve.

The Young Guns Final started with 915 Rumney stuffing 152 Nathoo off a post halfway down the home straight, resulting in a medley of cars going in all directions to take avoiding action. 433 Smith attacked 839 Irons. A pile up had formed on the pit bend which saw 915 Rumney blast 140 Scotty. 145 Gladden attacked 362 Baker. 392 Smith and 667 Smith collided. 717 Booty ran head on into 749 Jazzman. 810 Eaton set about 336 Fathead. 392 Smith attacked 648 Matthews. 145 Gladden followed in 224 Canham on the pits bend, albeit aided by all the oil dropped on the track. 141 Snakey jacked 717 Booty. 315 Beevor spun aside 655 Angry Kid, as 141 Snakey again went full bore into the growing pile up to jack 696. 315 Beevor jacked 336 Fathead who was the limping along the back straight. 315 Beevor attacked 336 Fathead once again. 333 Ginger attacked 302 Smith, as 123 Ratboy set about 315 Beevor. 294 Deano put away 667. 141 Snakey raced to an impressive full contact win ahead of 748 Ginge and 123 Ratboy.

The Alcomers commenced with a big push into the pits bend resulting in 302 Smith rolling which in turn caused running mates 655 Angry Kid and 333 Ginger to go in hard near the pit gate and creating a subsequent pile up. The reds came out to recover 302 Smith whilst 333 Ginger needed medical treatment for an arm injury. The restart saw 513 Wisbone spin 546 Leonard. 517 Madgwick delivered similar treatment to 512 Wisbone Jnr. Another pile up formed on the pits bend which was becoming a hub for action – 748 Ginge, 362 Baker and 562 Baker all involved. 585 Tyte took out 517 Madgwick who immediately whipped the car into reverse and backed his attacker into the ever-growing pile up. The reds were brought out once again for 748 Ginge this time. The restart saw 315 Beevor attack 142 Walters and came under fire himself from 3 Hewitt. 362 Baker ran into the parked car of 629 Rout. The last few laps saw the action quieten down as the remaining drivers looked to get the places until 724 Canham spun 3 Hewitt. 176 Ralph went for a last bend lunge attack on 33 Magic to take second, whilst 724 Canham attacked 512 Wishbone Jnr to conclude the action. 175 James Emmerson raced to the win and 33 Magic was deemed to be second ahead of 176 Ralph Emmerson. The race went straight into the DD in which 10 Sideways Jim set the ball rolling with an attack to 655 Angry Kid. 655 Angry Kid recovered to deliver a shot over the rear wheel of the passing 367 Beevor. 34 Knightsy attacked 562 Baker. 433 Smith jacked 10 Sideways Jim, producing a fair wreck for the latter. 34 Knightsy went on oppo to attack 239 Evil Eric. 239 Evil Eric responded with a hit of his own to 34 Knightsy. 392 Smith jacked 328 Nichols on the middle. 724 Canham delivered a head on to 512 Wishbone Jnr. 362 Baker assaulted 667 Smith. 433 Smith went in on 239 Evil Eric. 562 Baker attacked 200 Baldy, the latter responding with a shot to his attacker, pushing him head on into 216 Buzzer. 367 Beevor weighed in on the slowing 433 Smith. 362 Baker slammed into 667 Smith and silenced him to take the DD win capping off a fine night of Back to Basics action.