Swaffham – 30/01/2022 – Rookie Bangers & Back to Basics – Meeting Report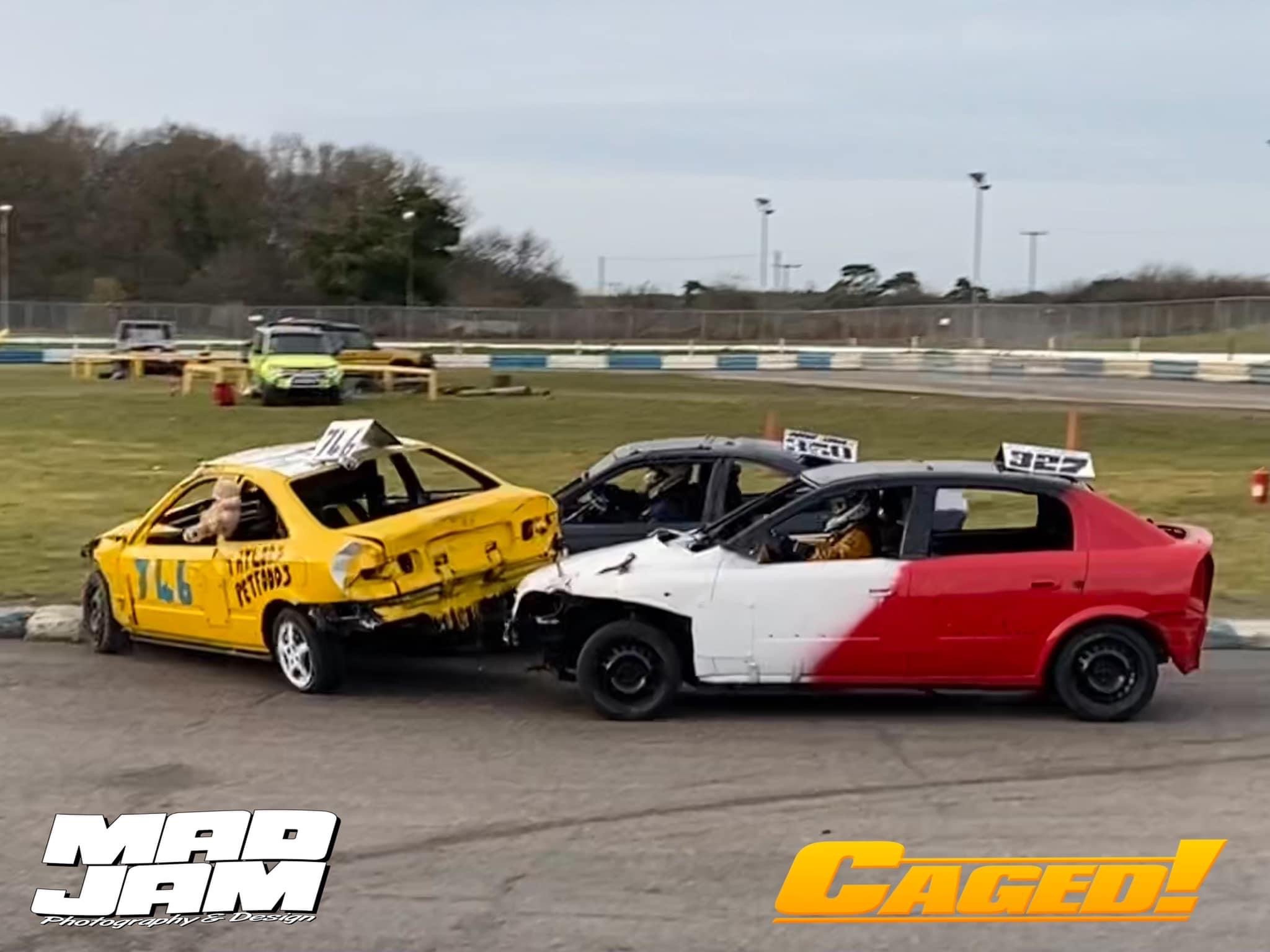 Swaffham Raceway hosted another 'off-season' fixture on Sunday 30th January 2022, featuring Rookie and Back to Basics Bangers.
The Rookie Bangers raised 17 cars for their first Heat. 607 Asbo set about 746 Josh Taylor, who had already experienced mechanical issues before entering the track. 717 Ashley Neal turned 187 Glenn Olley fence-wards. 717 Neal spun 259 Wayne King. 167 Garry Carter tried to dislodge 275 Joel Bond from the lead, punting him into 259 King, sending the pair sideways. Heading into turn 1, 167 Carter once again put the bumper in on 275 The Mole, whilst behind, 233 James Carter attacked 259 King. 167 Carter had a nibble at 350 Liam Webster, as the front pack were all squabbling for position. 233 Stravros took up the running, only to be punted in to the lame 187 Impact Mafia by 275 The Mole.
167 Carter put the bumper on 350 Webster, but so did 275 The Mole, 327 Ed Hanser and 927 Taylor Hutchings, which resulted in 167 Carter getting taken out and 927 Hutchy having to take avoiding action. The reds came out to check on 187 Olley, who was slightly shaken. The restart saw 350 Webster race off into the lead where he remained. The only other action coming with 931 Billy Gladden and 167 Carter coming together along the back straight.
350, 275, 847, 849, 233, NOF
26 Back to Basics for Heat 1, although 701 Nathan Broom and 912 Michael Greenway were non-starters. A big push into turn 1 claimed several drivers, but all recovered fine. 932 Josh Nottingham weighed in on 115 Nathan Kempton, spinning the latter aside. 196 Eddie Farrow dislodged 215 Rental 1, jumping up the side of him, as behind 787 Andy Wyatt spun 423 Luke Batten. 773 Ollie Wales collected 423 Luke. 703 Ryan Clark spun 989 Sam Clarke. A sort out along the back straight claimed 168 Danny Elton and 773 Ollie. 423 Luke crashed out on the pits bend and was leathered by 115 Nath. 379 Chris McKay spun and was driven through by 927 Ashley Jordan. 773 Ollie had a pop at 85 James Elliot. 9 Titch Mancini was turned fence-wards by 777 Rental 2, tearing the back axle out of the former's Mk5 Astra. 9 Titch extracted a revenge hit to 777 Rental 2, as 927 Ashley Jordan guided his Toyota Celica to the win.
Heat 2 for the Rookies saw 14 cars return. 167 Carter had a pop at 209 Bobbi Blowers, before 746 Taylor hit the armco hard after tangling with 350 Webster, bringing an early red flag due to the front bumper falling off the 746 Civic. The restart saw squabbling for places across the pack in mostly action-less laps until 350 Webster put the bumper in on 847 Russ Lown. 275 Joel Bond raced to the win this time around.
275, 167, 350, 233, 849, 351, 209, 717, NOF
19 cars returned for the second back to basics heat. 703 Nobby had a pop at 777 Rental 2 which sent the latter out of shape. 9 Titch had a pop at 777, with them both crashing out on turn 1. 510 Ashley Pilgrim had a moment of air-time as he catapulted off the back of 379 McKay. 932 Nottingham had an off along the back straight courtesy of 215 Rental 1. 989 Clarke had a pop at 131 Shane Rolfe, and 196 Eddie Farrow put the bumper in on 510 Pilgrim. 131 Rolfe attacked 777 Rental 2, as the latter laps saw the action quieten down. 215 Axl Johnson removed Rental 1 in a battle of the 215s. 196 Eddie Farrow raced to the win.
Down to 13 cars for Rookies Final, which started with 746 Taylor nearly taking flight courtesy of 327 Hanser and 350 Webster. 746 Taylor crashed to the infield along the home straight, with 847 Lown spinning 327 Hanser, the latter getting collected by 275 The Mole. The action stepped up a notch, with 275 The Mole following in 327 Hanser hard on the pits bend; seeing some proper airtime. The red flags came out with a slight bit of 'other altercations', but all was diffused quite quickly.
The restart saw 167 Carter dislodge 350 Webster to take up the running. 717 Neal turned 849 Mick Lown left before enjoying a scrap for position with 351 Ross Lucas. Further up the field, and 931 Gladden and 209 Blowers were having a great battle for 4th and 5th. 167 Garry Carter took the win, ahead of 350 Liam Webster and 233 James Carter.
167, 350, 233, 931, 209, 717, 351, NOF
The Back to Basics Final begun with 932 Nottingham and 773 Ollie combining to remove 215 Rental 1. 196 Farrow removed 927 Red Ant in a battle of heat winners. 85 Elliot had a pop at 510 Pilgrim as he looked to move up the order. 787 Krankie, 168 Elton and 196 Farrow enjoyed a good scrap for position. 133 Lee Britton set about 187 Andy Coleman. 196 Farrow spun 787 Krankie, and 168 Elton did the same to 215 Rental 1. 510 Pilgrim attacked 196 Farrow, which damaged the latter's rear axle. 196 Farrow gave a fine display as he tried to keep his Vectra under control. 168 Elton spun 777 Rental 2. 787 Krankie reeled 196 Farrow, and spun him in a revenge attack. 912 Michael Greenway raced to the win to cap off an entertaining day.