Yarmouth – 13/02/2022 – Back to Basics – Meeting Report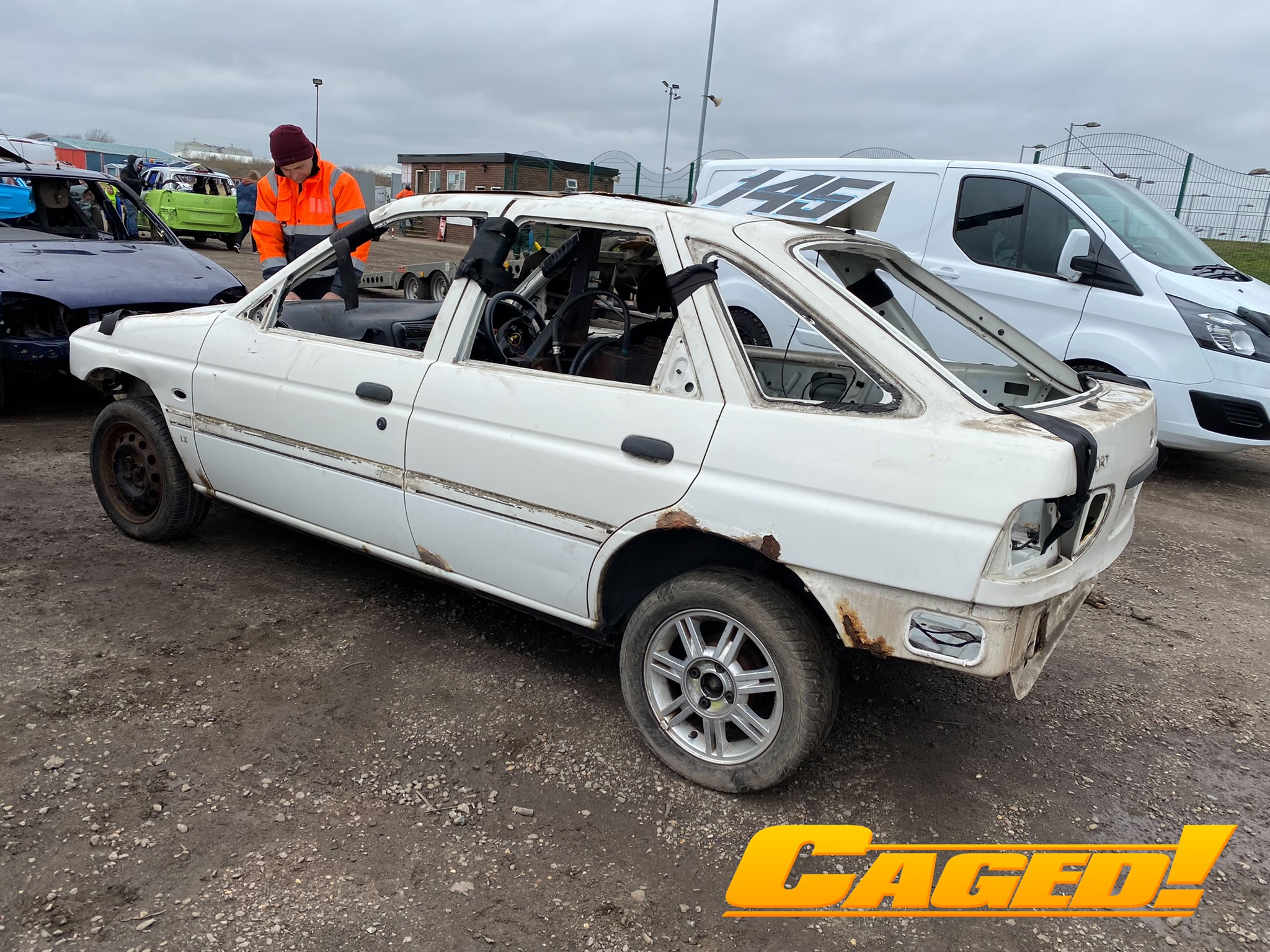 The 2022 season at Yarmouth Stadium kicked off with the Back to Basics on Sunday 13th February, raising around 55 cars.
26 cars for Heat 1 in a 1/2 car format. 17 Ryan Shanahan set off slightly eagerly, getting sideways off the curb. 501 Matthew Williams set about 456 Drew Finch, as behind, a push saw 293 Ben Smith put away 666 Adrian Finch and 379 Brandon Kevern. 123 Steve Saw launched himself off the marker tyres, eventually spinning 200 Gav Baldy fence-wards. 862 Reece Eglington spun 17 Giggs for the lead, which also claimed the back-marking 456 Daffy. 629 Ewan Rout removed 862 Eglington immediately to inherit the running. 14 Barry Payne had a pop at 741 Luke Parfitt, which set 123 Ratboy crashing into the marker tyres once again. 302 Jack Smith attacked 549 Austin Newell, who copped a front wheel shot from 445 Andy Leonard. 741 Capt D fired 456 Daffy into 629 Rout to try and dislodge him from the lead. 741 Capt D took his opportunity to strike, dispatching 629 Rout alongside the back-marking 145 Liz Dicken and 666 Finch, only to cop a head on from the badly timed rejoining of 200 Baldy. 14 Bazza inherited the lead with 6 laps to go, as 629 Rout put away 456 Daffy. 501 Williams drove through 456 Daffy. 445 Leonard spun 145 Sonic Jnr. 302 Smith bested 14 Bazza for the lead with 3 laps remaining. 888 Pete Davidson buried 216 Mark Burrows into the lame 293 Smith. 302 Jack Smith piloted his Golf to the first victory of the season.
302, 123, 629, 14, 445, 41, 888, 228, 379, 17
Heat 2 saw 30 cars out on track. 70 Vinnie McCarthy set about 778 George Enescu, who completed a full rollover before even making the start-finish line. 509 Richard Colk spun 552 Benson also, as others collided taking avoiding action. 217 Bailey Burrows took the early lead, but he was wiped out at the end of the straight as cars went in all directions – 778 Enescu in the centre of the action once again as he sent 149 Todd Payne and 217 Scruff towards the fence. 48 Lewis Grummett attacked 160 Carl Firman. This caused several drivers to crash out behind, including 211 Lee Cowley who was left beached on the marker tyres. 28 Scott Green spun 509 Dicky, and 909 Jack Watson was spun; it not taking long for 'Spack' to get his debut knock. 217 Scruff narrowly avoided difficulty, as he passed the back-marking 811 Kevin Green, whom nearly spun him left. 48 Grummy Jnr spun 439 Daniel Sutton. The leading 217 Scruff spun 909 Spack, whilst several came together on the Caister bend including 540 Samuel Hayward, 263 Ben Johnson, 509 Dicky, 251 Charlie Palfreman and 136 Richard Brown, which saw the demise of the latter. 959 Andy Sewell set about 263 Johnson, and 48 Grummy Jnr was spun fence-wards in an unseen incident. 217 Bailey Burrows managed to avoid anymore hiccups to guide his Fiesta to victory.
217, 611, 70, 141, 795, 488, 439, 28, 903, 778
142 Fungus was keen to get going, setting about 549 Austin Newell before the green flag even dropped on Heat 3. 14 Bazza spun 551 Ben Warner straight away too. 173 Scott Parkes spun 58 Rob Dye, and 549 Newell crashed out on the tyres on the Caister bend, all before lap one was completed. 142 Fungus and 629 Rout tangled along the home straight. 501 Walker spun 211 Steptoe, who had 96 Sham sent spinning into him by 142 Fungus; the latter then turned fence-wards himself by 41 Thomas Dye. 41 Beardy removed 501 Walker going into the Caister bend. 810 Stevo spun 263 Johnson, before 551 Warner attacked 14 Bazza – the latter reversing his attacker into the pit gate plating. Warner, clearly not happy with that, responded with a reverse attack himself before they dispersed. 41 Beardy spun 552 Benson. 810 Stevo put away 58 Dye as 123 Steve Saw raced to a dominant victory in his Fiesta.
123, 41, 445, 379, 777, 217, 173, 810, 142, 862
Heat 4 saw 293 Smith an early spinner courtesy of 798 Lewis England. A big push into the pits bend claimed a few drivers. 112 Martin Powell set about 909 Spack whilst 149 Payne and 573 Marty Lake combined to fence 509 Dicky. 228 Megan Petherick spun 778 Enescu. 611 Bieber removed 302 Smid, which claimed the leading 136 Swifty. A sort out on the back straight saw 621 Gareth Parker run head on into 509 Dicky and 228 Petherick ended straddled on the marker tyres as the reds came out for debris on the track; 741 Capt D losing parts off his Puma. The restart saw 621 Gruff remove 293 Smith. 216 Buzzer's charge was halted as he had to deal with the back-marking 909 Spack which allowed 439 Sutty to open up a bit of a gap at the front of the field. 778 Enescu spun 136 Swifty. 28 Mayo Maker attacked 621 Gruff, only to come under fire from his own teammate, 112 Marty P. 17 Giggs put the bumper in on 778 Enescu. 621 Gruff spun 293 Smith once again before 145 Sonic Jnr did the same to 112 Marty P. 621 Gruff fenced 28 Mayo Maker. 17 Giggs turned 216 Buzzer fence-wards, before 112 Marty P once again drove through 28 Mayo Maker. 145 Sonic Jnr set about 959 Sewelly and 1600 World Champion 141 Jake Stewart set about 112 Marty P. 439 Daniel Sutton guided his Hyundai to the win.
439, 70, 302, 621, 136, 141, 903, 798, 143, NOF
An impressive 47 car Final saw a few go in the first bend. 888 Davidson fenced 187 Denham Waight hard, before 48 Grummy Jnr spun 778 Enescu. 573 Lake spun 216 Buzzer. 142 Fungus and 741 Capt D crashed out on the entrance of the pits bend. 778 Enescu spun 123 Fatboy, before 862 Eglington fenced 136 Swifty and 456 Daffy on the Caister bend. 160 Carl Firman, 445 Leonard and 612 crashed out down the home straight, before a big coming together saw 48 Grummy Jnr run 228 Petherick and 96 Sham head on into 741 Capt D, creating an impressive auto-sculpture and leaving the latter's Puma well wrecked. 439 Sutty attacked 798 England. 302 Smid put away 142 Fungus before being spun himself. 70 McCarthy and 811 The Fat Man were also casualties in a frantic race before the reds were called to deal with someone in relation to the big home straight crash. The restart saw 41 Beardy lead from 58 Dye and 17 Giggs, although the former didn't stay out front for long, putting himself into a parked car on the green. 551 Warner spun 58 Dye out up front too, and 17 Giggs spun 136 Swifty. 142 Fungus turned 445 Leonard left earning himself a disqualification. The leading 17 Giggs was leant out wide by the back marking 777, which allowed 123 Ratboy to slip through and inherit the lead. 621 Gruff attacked 149 Payne. 777 ran 621 Gruff into the lame 798 England. 211 Steptoe jacked 777. 551 Warner set about 41 Beardy before getting a technical disqualification as 123 Steve Saw counted down the last 5 laps to take the win, ahead of 17 Ryan Shanahan and 778 George Enescu, in what was a very destructive race.
123, 17, 778, 58, 629, 41, 439, NOF
The DD saw the usual antics of some in reverse and others pushing into the first corner. 778 Enescu attacked 141 Snakey. 777 attacked 573 Lake. 216 Buzzer spun 293 Smith. 777 ran 302 Smid head on into 445 Leonard. 778 Enescu tboned 58 Dye. 216 Buzzer backed out on 41 Beardy. 217 Scruff jacked 778 Enescu. 263 Johnson jacked 217 Scruff, with 175 James Emmerson going in on 263 Johnson. 141 Snakey jacked 145 Sonic Jnr, before the action was halted due to a fire on 778 Enescu's car. 439 Sutty jacked 263 Johnson on the restart whilst 777 put away 549 Newell. 58 Dye jacked 48 Grummy Jnr. 58 Dye leathered 142 Fungus. 439 Sutty spun 778 Enescu. 216 Buzzer gave a head on to 228 Petherick. 175 Emmo jacked 217 Scruff. 217 Scruff and 216 Buzzer shared head ons before 217 Scruff weighed in on 141 Snakey. 439 Sutty attacked 216 Buzzer. 217 Scruff laid into 293 Smith. It boiled down to 439 Sutty against the Burrows, but surprisingly, 216 Buzzer jacked 217 Scruff, accordingly for having a 'poor attitude on route to racing' Mark said. Buzzer continued on to deliver a hard head on to 439 Sutty, really proving the durability of the Hyundais. 439 Sutty responded with head on of his own, before Buzzer again put his son's Fiesta boot even further up. 216 Buzzer silenced 439 Sutty and laid into 293 Smith who was still trying to limp into life to take the win.
An awesome opener for Yarmouth which really whets the appetite for what is to come, we at Caged! are certainly looking forward to finding out and shall be back for the next one on the 6th March.