Pre 90 Teams – 16/06/2019 – Skegness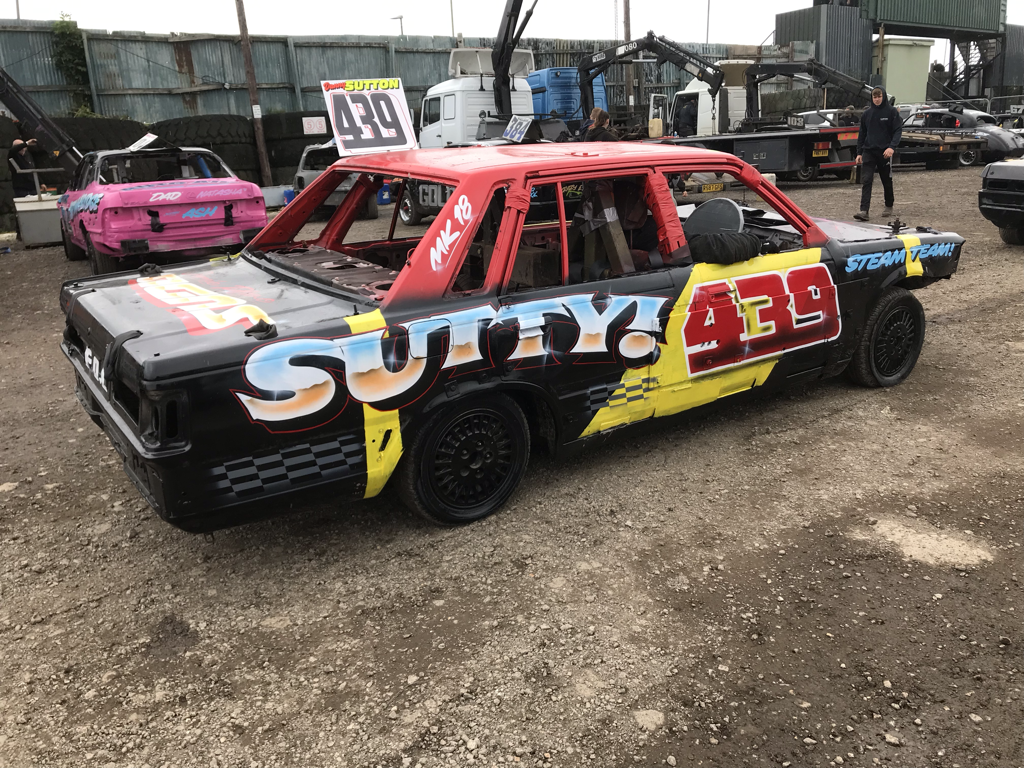 The second annual old school style Team meeting at Skegness Raceway took place on Sunday 16th June; the main switch seeing the Pre 85 format revised to a Pre 90 format for this year's event. The Unlimited Pre 90 Teams were joined by the Micro Bangers creating a day of all banger action. The hype in the week leading up to the meeting certainly lived up with some stunning paint and motors on display. Team Extreme/TYG Extreme set a very high marker to top with eight superbly turned out Toyota Crowns – 622 Gazza and 362 Drifter having the top ones with an S60 Custom Estate and S60 Custom respectively. Keeping with the Jap side of things, and Steam Team pilot 439 Sutty had a well turned out Nissan 300c, the 18th of his career which is another standout stat from the meeting. The Aftermath opted for a bit of tin with 100 Cock having a stunning Daimler DS420 Limo and 476 Rosco bringing a crusty Daimler Majestic Major. There was a pair of Series 1 XJs for Team Black young gun 356 Harry Overy and VS Massive man 960 Ross Winsor. Damage Inc saw a pair of yanks – 548 Big Al with the car of the meeting with his stunning Oldsmobile 88 Hardtop and 433 Smith had a facelift Mk5 Lincoln Continental. 200 Noon had a Rolls Royce Silver Shadow. There was a pair of fresh Mk2 Granadas – 22 Dave Vincent with a saloon and 632 Reedy Jnr had a timeless looking Estate. 77 Patch rarely goes without material and had a smart Mk9 Jaguar to complete the fresh material.
3 Litre (3L)
146 Dan Wigman – Volvo 240 Estate
252 Steven Bugler – used Toyota Supra
360 Jack Reynolds – used Volvo 240 Estate
702 James Dodge – Volvo 740 Estate
Aftermath A (AA)
100 Callum White – Daimler DS420 Limo
171 Andy Frost – used Lincoln Town Car Limo
476 Ross Coleman – Daimler Majestic Major
603 Jon Cooper – Jaguar XJ
Aftermath B (AB)
72 Billy Bond – used Mk1 Ford Granada Coupe
186 Alex Daniels – Mk3 Ford Granada Estate
551 Brett Jackson – used Lexus LS400
602 Shaun Cooper – Jaguar XJ40
Team Black A (BLA)
67 Rickie Beasley – Jaguar XJ
77 Patxi Beasley – Jaguar Mk9
617 Jack Overy – Jaguar XJ
907 Cameron Bradford – Jaguar XJ
Team Black B (BLB)
103 Jack Deacon – used Jaguar XJ
356 Harry Overy – Jaguar XJ Series 1
384 John Golden – Jaguar XJ
760 Joey Reynolds – Volvo 240 Saloon
Blitz A (BA)
33 Gary Madgwick – Jaguar XJ
194 Steve Anscombe – Jaguar XJ6
332 Chris Reed – used Mk1 Ford Granada
Blitz B (BB)
17 Kyle Overy – Volvo 240 Estate
632 Callum Reed – Mk2 Ford Granada Estate
673 Darren Fendley – Jaguar XJ
Blooz Boyz A (BBA)
46 Scott Starkey – Toyota Supra
171 Tommy West – Lexus LS400
200 Steve Farrell – Rolls Royce Silver Shadow I
Blooz Boyz B (BBB)
181 Grant Doe – Jaguar XJ40
526 Jak Denikiewicz – Volvo 240 Estate
591 Marc Blower – used Jaguar XJ6
Damage Inc (DI)
247 Lee Clarke – Volvo 240 Estate
433 Ben Smith – Lincoln Continental Mk5
548 Alex Utting – Oldsmobile 88 Hardtop Mk2
821 Ryan Preston – Toyota Supra
DWO
239 Steven Carter – used Jaguar XJ6
341 Andrew Jones – used Jaguar XJ6
838 Jamie Peters – Jaguar XJ40
Grey & Black (GB)
180 Mark Foster – Volvo 240 Estate
382 Jack Foster Jnr – used Lexus LS400
399 Jonny Atkin – Lexus LS400
882 Barry Foster – Lexus LS400
The Mob (TM)
209 Mark Morrison – Volvo 940 Estate
226 Brian Youngston – Toyota Supra
297 David Linton – Jaguar XJ40
440 Pete McVay – Mk3 Ford Granada
Shunters (SH)
174 Curtis Rathbone – Jaguar X300
Steam Team (ST)
22 Dave Vincent – Mk2 Ford Granada
321 Andy Newton – used Lexus LS400
439 Danny Sutton – Nissan 300c
537 Martin Brunson – Volvo 240 Estate
Stinkbridge (SB)
04 Mikey Croft – Lexus LS400
451 Willie Blackwell – Lexus LS400
Team Extreme (TE)
362 Johnny James – Toyota Custom Crown S60
388 Steve McGrath – Toyota Crown S50
622 Garry Webb – Toyota Custom Crown Estate S60
625 Joshua Gooch – Toyota Crown S50
TYG Extreme (TYG)
204 Charlie King – Toyota Crown S110
209 Tom Waller – Toyota Crown S80
262 Buddy James – Toyota Crown S110
757 Callum Gill – Toyota Crown S110
Wild Boyz A (WBA)
43 Nicky Bishop – Volvo 740 Estate
222 Matty High – Jaguar XJ40
812 Lewis Winter – Mk3 Ford Granada
Wild Boyz B (WBB)
127 Phil Markham – Mk3 Ford Granada
211 Dennis Vorkink – Volvo 240 Estate
828 Jordan Sharpe – Mk3 Ford Granada
VS Massive (VS)
160 Shayn Winsor – Jaguar XJ
960 Ross Winsor – Jaguar XJ Series 1
Unlimited Heat 1 commenced with DI247 Bro spinning GB882 Foster. DI821 Dangerous set about WBA812 Winter. TE622 Gazza followed in WBA812 Winter. WB43 Bish rattled in TE622 Gazza. TE388 Meatball jacked WBA222 Matty. ST439 Sutty caught an infield tyre as he went for a gap that wasn't there damaging his steering. GB382 Chubby spun BBA46 Starkey who then tangled with ST321 Newton which allowed BBA171 Westy Jnr to home in with a big hit to ST321 Newton. GB399 Noodles set about ST537 Bruno. TE362 Drifter ran WBA43 Bish through BBA171 Westy Jnr. GB382 Chubby took the win ahead of DI247 Bro and BA33 Magic. BBA171 Westy Jnr was given the best entertainer award.
Heat 2 commenced with SB451 Willie attacking AA171 Frosty which also took out AB476 Rosco. BLA77 Patch jacked AA171 Frosty. Aftermath revenge was swift as AA100 Cock jacked BLA77 Patch. TYG209 Tombo destroyed AA171 Frosty with a solid air time shot which led to a race stoppage to allow 171 Frosty to exit under his own steam. The race resumed with BLA617 Overy following in AA603 Hitman in savage fashion. BLA617 Overy continued his assault on the Aftermath picking up AA476 Rosco and smearing him around the metal plating. 3L252 Boogie spun TYG204 Charlie Boy to conclude the action as BLA907 Bradford raced to the win ahead of TBB673 Fendley and TBB632 Reedy Jnr. The Entertainer Award rightfully going to BLA617 Overy on this occasion.
Heat 3 started with BLB356 Overy spinning AB602 Mr Moody. DWO838 Sloth followed in WBB828 Sharpey. AB186 Mad Alex put away WBB211 Mister Nös. WBB127 Markham set about AB72 Bondy who backed his attacker up for AB602 Mr Moody to deliver a revenge hit. DWO341 Jonesy picked up AB186 Mad Alex but let off allowing TM226 Youngston to run the pair in. DWO838 Sloth jacked AB186 Mad Alex. WBB127 Markham jacked DWO838 Sloth. AB602 Mr Moody jacked WBB127 Markham. TM297 Linton attacked AB551 Jacko Jnr and then spun himself a lap later only to cop a head on from AB551 Jacko Jnr. TM209 Mr Cuffs weighed in on AB551 Jacko Jnr. BLB356 Overy attacked AB551 Jacko Jnr to add to his woes, as BLB760 Joey Reynolds raced to the win ahead of BBB181 Doe and TM440 Pedro. WBB127 Phil Markham took the entertainer award this time.
The first Heat for the Micro Bangers was up next and saw 548 Big Al follow in 41 Louis, as 13 Sammy followed in 379 Iggle. 266 Cactus stuffed in 792 Stevie G. 99 Shaydy weighed in with a big hit to 548 Big Al. 31 Woody set about 634 Marty. 13 Sammy attacked 634 Marty and came under fire from 266 Cactus as a result. 31 Woody set about 364 Farmboy Snr, only to come under fire himself from 181 Farmboy Jnr.
The Micros Heat 2 commenced with 16 Coxy putting away 901 Westlake. 843 Foster delivered a shot on 512 Armstrong, as 743 Barton came inside out at 702 Eagle, luckily failing to make any significant connection. 289 Haresign set about 374 Carter. 13 Knibbs followed in 289 Haresign. 551 Jacko Jnr jacked 13 Knibbs. 16 Coxy homed in for a massive shot on 551 Jacko Jnr. 155 Bastow was on hand to jack 16 Cox, avenging the hit on teammate 551 Jacko Jnr. 254 Wylie nailed 410 Calvert. 216 Cutts went in on 312 Whitey as a pile up had formed on the exit of turn 2. A gap opened up through the pile up. 254 Wylie had a pop at 551 Jacko Jnr. 68 Rocketdog tboned 743 Barton as 40 Lester Freestone raced to the win. The Entertainer Award went in the way of 16 Jamie Cox.
Whilst the cars were lining up for the second set of Unlimited Heats, it was announced that the Material Team Award was to be given to Team Extreme, whilst TYG Extreme swept the Best Paint Award. There was also 10 Individual Awards handed out for various accolades such as smart paint or material and these went the way of AA476 Rosco, AA100 Cock, DI548 Big Al, DI433 Smith, BLA77 Patch, ST439 Sutty, BLB356 Overy, VS960 Rossco, BBA200 Noon and BLB384 Goldie.
Unlimited Heat 4 commenced with VS960 Rossco spinning father VS160 Winsor as they tangled. TM440 Pedro had a pop at SH174 Little Rath. BA33 Magic spun aside TM226 Youngston for the lead; the latter then crashing out in a collision with SH174 Little Rath. BLA617 Overy treated the spun TM297 Linton to a head on. Mob revenge was swift as TM440 Pedro went in on BLA617 Overy. BLA67 Beasley jacked TM440 Pedro, leaving the latter prone to a jacking from TE362 Drifter. BA33 Magic took the win ahead of ST22 Vinno and BA332 Reedy.
Unlimited Heat 5 was the last up for the split heats and started with 3L360 Jackstar spinning DWO341 Jonesy. TYG757 Jack Jnr jacked GB399 Noodles. SB04 Croft went in on TYG757 Jack Jnr. AB602 Mr Moody set about SB04 Croft. GB180 Sparky and GB399 Noodles ended up stuck on each other in the pile up on turns 3 and 4 which allowed DWO838 Sloth to jack GB399 Noodles. GB882 Foster set about DWO838 Sloth. DWO239 Nemesis assaulted GB882 Foster. 3L252 Boogie jacked DWO239 Nemesis. DI821 Dangerous delivered a head on to DWO838 Sloth. TYG209 Tombo jacked SB04 Croft. DWO341 Jonesy tboned DI821 Dangerous. DI433 Smith gave a head on to DWO838 Sloth. DWO838 Sloth sat game as he took further punishment with a jacking from GB382 Chubby and then a head on from DI247 Bro which also claimed 3L252 Boogie. TYG204 Charlie Boy went in on 3L252 Boogie as DWO341 Jonesy met GB382 Chubby head on. DI247 Bro jacked DWO341 Jonesy. 3L252 Boogie gave a head on to DWO838 Sloth. DI821 Dangerous tboned DWO838 Sloth who was still waving the shots in. DI247 Bro went in on DWO341 Jonesy; the latter then copping a head on from GB382 Chubby, who then completed a lap to duly tbone the DWO man. GB180 Sparky delivered a savage tbone to DWO341 Jonesy which snapped the latter's Jag big time. DI821 Dangerous again delivered a head on to DWO838 Sloth as DI247 Bro concluded a superb race with a front wheel shot to DWO341 Jonesy. At this stage heading into the final the points situation was pretty tight with Team Black A leading their B counterparts by a point and were being chased by both Team Blitz teams.
Team Black A – 48
Black B – 47
Blitz B – 33
Blitz A – 31
Steam Team – 27
The Micro Bangers were back for their Heat 3 which started with 364 Farmboy Snr tboning 266 Cactus. 410 Calvert followed in 855 Cal. 364 Farmboy Snr again tboned 266 Cactus, who was riding the armco on turns 3/4. 99 Shaydy delivered a stiff shot to 855 Cal.
The Micros Heat 4 commenced with 248 Blything spinning 254 Wylie who nearly rolled as a result. 400 The Boy ran 249 Ashbridge into the marker tyres, which also claimed 248 Ashbridge. 68 Rocketdog weighed in on 248 Ashbridge only to be ruined in turn by a solid balls out shot from 72 Bondy. 374 Carter attacked 155 Bastow. 40 Lester followed in 31 Woody. 374 Carter jacked 155 Bastow, only to then come under fire from 40 Lester. 743 Barton assaulted 155 Bastow as 400 Lee Kingsnorth raced to the win, whilst 72 Bondy was given the race entertainer.
The Unlimiteds returned for their Final which commenced with DWO239 Nemesis giving a head on to GB399 Noodles. TE622 Gazza followed in BBB591 Blower. AA476 Rosco jacked BBB591 Blower. DWO239 Nemesis tboned TYG262 Axle. GB882 Foster attacked DWO838 Sloth. TE362 Drifter jacked DWO838 Sloth. GB180 Sparky jacked DWO838 Sloth. VS960 Rossco tboned AB602 Mr Moody. DI247 Bro jacked DWO838 Sloth. BLA907 Bradford attacked TE622 Gazza. The reds came out for a lose wheel and AB602 Mr Moody was in need of assistance after copping an accidental dooring. He got out after a few moments and was assessed by the medical team, but all was ok. The restart saw DI548 Big Al run in DWO239 Nemesis. DI821 Dangerous jacked BBB181 Doe. DI433 Smith gave a head on to DWO239 Nemesis. BLB760 Joey Reynolds raced to the win ahead of BB632 Reedy Jnr and BB673 Fendley. BB632 Reedy Jnr finished with a follow in to 3L252 Boogie. 3L702 Jimbo jacked BB632 Reedy Jnr. BLA77 Patch storming shot on 3L702 Jimbo which rounded off another top race of action and helped towards him getting the entertainer award.
760, 632, 673, 22, 702, 67, 103, 907, 384, 209
With the results and points totted up, Team Black A took the win ahead of Team Black B and Team Blitz B.
The Micro Final started with the lively 99 Shaydy attacking254 Wylie. 840 Waddingham jacked 99 Shaydy. 400 The Boy went in on 840 Waddingham. 99 Shaydy treated 254 Wylie head on. 840 Waddingham jacked 254 Wylie. 756 Stafford jacked 840 Waddingham on the reds. The restart started quietly until 743 Barton turned round and stopped second placed 94 Little Dreamer head on after missing leading 312 Whitey. 756 Stafford attacked 634 Marty. The leading 312 Whitey buried 756 Stafford. 40 Lester set about 756 Stafford. 312 Whitey then set about 551 Jacko Jnr. 756 Stafford gave a head on to the obliging 551 Jacko Jnr; the former was then spun aside by 385. 312 Whitey won from 400 The Boy and 248 Blything.
The Unlimited DD raised about 10 cars with the majority coming from the Team Black contingent. 103 Jacko set about 04 Croft. 617 Overy attacked 04 Croft. 67 Beasley tboned 297 Linton. 77 Patch delivered a flat out shot on 360 Jackstar. 67 Beasley attacked 360 Jackstar. 617 Overy jacked 04 Croft. 617 Overy gave a rear wheel shot to 04 Croft. 77 Patch administered a head on to 04 Croft. 103 Jacko tboned 04 Croft. 77 Patch gave a head on to 360 Jackstar. 252 Boogie attacked 77 Patch. 297 Linton and 04 Croft shared a head on. 77 Patch tboned 04 Croft. 194 Cecil finished doing laps upon laps to lamely go in on 04 Croft. 103 Jacko set about 194 Cecil much to the delight of the turns 3/4 crowd. 67 Beasley jacked 194 Cecil. 617 Overy jacked 194 Cecil. 67 Beasley and 617 Overy sandwiched 194 Cecil. 04 Croft attacked 617 Overy. 103 Jacko jacked 04 Croft. 252 Boogie attacked 103 Jacko. 67 Beasley set about 252 Boogie twice. 252 Boogie jacked 77 Patch. 103 Jacko homed in on 252 Boogie getting a nice bit of air. 67 Beasley treated 252 Boogie to a head on. 103 Jacko silenced 252 Boogie and 67 jacked 103 Jacko to take the DD honours.
The Micro DD finished the day's action. 756 Stafford set the ball rolling by taking a pop at 155 Bastow. 840 Waddingham gave a head on to 908 Judd. 16 Coxy went head on into 908 Judd. 342 Ryley jacked 16 Coxy. 756 Stafford attacked 840 Waddingham. 13 Sammy weighed in on 342 Ryley. 72 Bondy jacked 13 Sammy. 342 Ryley went in on 72 Bondy.
Another stunning session at the East Coast track proved once again what an underrated track Skegness is and can definitely produce the goods with the right amount of numbers with action in both classes all day. Well done to Team Black A who added another win to their team roll of honour whilst 838 Sloth stood out as man of the day, undoubtedly earning himself a lot of respect.