Paddywhack III National Unlimited Bangers – 10/03/2019 – Nutts Corner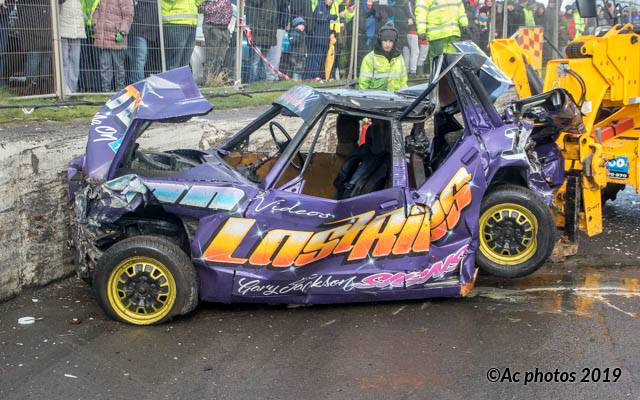 Photos courtesy of Alex Catley
Off to Nutts Corner in Northern Ireland for the 3rd running of the Paddywhack Meeting, promoted by Ringwood Raceway/Trojan International, one of 3 Unlimited Banger meetings to be held in Ireland in 2019.
The meeting doubled as a retirement meeting for the majority of the Last Rites team, who have been around for more than a decade but for some of their members they have been racing for a lot longer!
This meeting is the only opportunity to race an Unlimited around Nutts Corner which is considered to be the best Banger circuit in Ireland with its tight bends and long straights which guarantee action and 68 cars were in the pits, although not all of them made it onto the track.
A very diverse mixture of cars was in the pits and it was not all the current crop of Unlimiteds either and the list will show what was ready in the pits.
Entry List – 68 Cars
12 Chad Gilbert – Ford Mk2 Granada
16 Michael Flaherty – Ford Mk2 Granada
16 Michael Flaherty – Toyota Crown Custom S60
16 Michael Flaherty – Ford Scorpio*
17 Sean Flaherty – Ford Mk2 Granada Estate*
19 Dan Flaherty – Mk11 Cadillac Fleetwood Limo
20 Rocky McKenna – Volvo 940
43 Luke Maynard – Mercedes W210 Estate
48 Marc Cassidy – Mercedes W210*
63 Lee Moore – Volvo 740
64 Norrie Moore – Mercedes W210 Estate
69 Jack Moore – Volvo 740
69 Ciaran Ryan – Chevrolet Caprice Estate
77 Ray Farrelly – Mk2 Lexus LS
78 Enda McKiernan – Mercedes W210
83 Brian Smyth – Daimler DS420 Limo
88 William Stawiarski – Volvo 240 Estate
105 Jake Neill – Rover P4 110
120 Barry Leech – Volvo 740 Estate
125 Rodney Herron – Volvo 940*
127 Danny Poynton – Jaguar XJ S5
135 Jamie Bachelor – Mercedes W210 Estate
141 Dan Steele – Rolls Royce Silver Shadow*
146 Davey O'Connor – Jaguar XJ S2
146 Dan Wigman – Volvo 240 Estate
147 Kevin Moran – Toyota Previa*
148 Mark Hughes – Mk2 Lexus LS
151 Gavin Mulvey – Mercedes W210 Estate
158 Gary Dickson – Volvo 240 Estate*
160 Davy Patton – Daimler DS420 Limo
170 Ryan Patton – Volvo 240
173 Steve Reynolds – Jaguar XJ6 S3*
201 Brian Mullen – Ford Mk2 Granada*
205 Alex Ganter – Mercedes W210 Estate
211 Dennis Vorkink – Volvo 240 Estate*
215 Leonard Dunn – Ford Thunderbird Mk7
232 Justin Pollard – Mercedes W210 Estate
241 Liam Cracknell – Jag XJ S5
249 Ryan Guppy – Scorpio Estate
262 Rob Bugler – MK3 Supra
291 Sean Bell – Mercedes W210
299 Ivan Bell – Jag XJ S4
315 Paul Gaffney – Mercedes W210 (DNR)
321 Kieron Fry – Mk3 Supra
347 Jason Burke – Mk11 Cadillac Fleetwood (DNR)
349 James Guppy – Jaguar XJ S5
360 Jack Reynolds – Volvo 240 Estate
363 Jonny Murdock – Daimler DS420 Hearse (DNR)
388 Stevo McGrath – Mk7 Mercury Monterey Hardtop (DNR)
391 Sheldon Murray – Ford Mk2 Granada*
402 John Warde – Toyota Previa*
403 George Tickner – Mk10 Cadillac Fleetwood Hearse
416 Josh Spokes – Mercedes W210*
421 Nigel Riley – Mk2 Ford LTD Hardtop*
435 Paul Mullen – Volvo 740 Estate
440 Peter McVay – Volvo 740 Estate (DNR)
465 Liam Johnston – Jag XJ S2
488 Addy Pellikaan – Volvo 740 Estate
521 Ashley Riley – Mk2 Chevrolet Caprice Estate*
591 Marc Blower – Jaguar XJ S3*
616 Stephan Ryan – Lincoln Continental V*
671 Alan Leonard – Chrysler 300C
775 Stephen Gilroy – Ford Scorpio Estate
810 Thomas Connolly – Ford Scorpio Limo
811 Kieron McIvor – Jag XJ S2*
831 Shane Fry – Toyota Mk3 Supra
880 Neil Naismith – Checker Marathon Cab* (DNR)
932 Rhys Reed – Mercedes W210 Estate*
*used car
DNR – Did Not Race
Heat 1 – Pre 90 Granada's and Volvos
14 cars and a greasy track with 17 Sean Flaherty immediatelyall over 88 Will Stawiarski as 360 Jackstar and 391 Sheldy squabbled for the lead with 17's eagerness leaving him open to a stiff shot from 170 Ryan Patton. It quietened down a bit briefly with most struggling with the greasy track before Jackstar buried 158 Gary Dickson into the pit bend wall with 69 Jack Moore giving Jackstar a revenge shot who was then quickly done by 16 Fagass. Jackstar got going again and this left Fagass open to a shot from 12 Gilbert who was left against to wall open to be done by 146 Wiggy, Fagass done Wiggy on the very next lap ending up head on in the wall in the process leaving him open to a huge shot from Jackstar who destroyed the Mk2 and rolling the Volvo on impact. This brought out the Reds leaving 391 Sheldy as the winner
Result – 391 146 158 69 16 435 201
Heat 2 – Post 90 Modern Cars
25 Cars on a drying track and 241 Liam Cracknell started by wiping 77 Ray Farrelly all over the wall at the pit bend who on the next lap dished out an identical move on 671 Switcher. Up at the airport bend a massive pileup had developed with 151 Fat Head and 48 Marco ran in by 148 Mark Hughes who took a solid shot from 831 Wally who was quickly done by 291 Ding Dong before 416 Josh Spokes dished a solid shot to 775 Stephen Gilroy before the reds were shown
7 for the restart with 932 Rhys Reed and 43 Luke Maynard squabbling on the Airport bend before 321 Chattyman spun himself out of a healthy lead. Little Reedy then pulled off with a loose wheel as 262 Roona took an unhindered win
Result 262 349 321 43 135

Heat 3 – Pre 90 Cars
22 Cars on a dry track with 170 Ryan Patton starting with a decent shot on 591 Blower. 811 Motorhead was in a nice lead but had little fear in shoving 403 Cockles behemoth Cadillac as he lapped him, Cockle running in 69 Ciaran Ryan with some help from 299 Ivan Bell on the pit bend, 69 Ryan now limping around and picked up by 160 Boo-Boo and 173 Hotsocks being wiped around the airport bend again before 215 Murphy tried running in 20 Rocky on the airport bend, for Rocky to clip a marker tyre and launch himself into a massive barrel roll, immediate reds but Rocky emerging unharmed with a grin. Respect to Fagass for shielding Rocky's upturned car.
10 cars for the restart with 215 Murphy leading away, 616 Towley taking a swing at 403 Cockle only to spin out. Murphy then abandoned the lead to try running in Cockle, merely for Cockle to hit the brakes leaving Murphy stuck to the rear of the hearse before he gave up and let go, but not for long. 16 Fagass had spun leaving Cockle clear to move on the Crown, slicing open the passenger side, starting a train as Towley gave Cockle a solid shot snapping the massive Lincoln off before Murphy ploughed in leaving the Lincoln a mess. 146 Davey then in hard on Murphy snapping his Jag with the bonnet pointing downwards as opposed to the more usual upwards. 141 Dan Steele given the win, while it took a good 10 mins to separate Towleys car from Murphys!
Result 141 215 146 403 616
Allcomers
20 cars and it started with a bang as 521 Ace Ash found the pit bend wall assisted by 83 Brian Smyth, 201 Loonacy, 69 Jacko and 241 Cracknell. Loonacy was now stalled on the exit of the pit bend and copped a tbone off Cracknell the next time round, Cracknell then taking it hard from Ace Ash who copped a shot from 147 Kev who merely bounced his Previaoff Ash's massive Yank. Loonacy was in trouble after his heavy T-Bone and called for the Reds.
15 for the restart with 811 Motorhead shoving 146 Wiggy clearly out of his path before 211 Devastator sent 17 Seanie spinning with a solid shot on the startline with 120 Leech being neatly spun into his stricken car by Chattyman. Motorhead finally spun Cockle out, but would regret it soon after as he lost the lead to Roona. It went a bit quiet for a few laps with Chattyman trying to spin 349 Guppy out but sending both cars sliding into the centre. Motorhead held onto to 2ndbut was run in hard by 43 Mutley Jr on the pit bend, before copping a stiff shot from Cockle – payback for being the only driver to spin the hearse all day
Result – 262 811 43 321 403
Allcomers II
18 cars returned to a greasy track and it didn't take long for Jackstar to jack up 19 The Yanks Chevy before Roona buried 810 Paddy's Limo, both on the pit bend. 402 Froggy avenged with a shot on Roona before Murphy severely shortened Froggys Previa before he copped a roof bender off 16 Fagass, Blower then on Fagass before 416 Josh Spokes caged Fagass's Scorpio, 205 Ganter gave Blower a stiff shot before Hotsocks came in on Ganter. Blower then broke free and t-boned Ganter for his troubles, at this stage it was Hotsocksand Jackstar left, Hotsocks flicking Jackstar into the grass to win as the last car running
Result 173 – NOF
Final
24 cars started but it was not long before a brief but big snowstorm descended on the track and the stiff breeze that brought it was blowing the snow right into the commentary platform which is where I was standing, so alas I could not report on it, but respect to the drivers who held on, it unexpectedly being the most 'racing' there was all day. Never before has Dean Martins 'Let it Snow' been more apt over the PA system.
Guppy won ahead of Chattyman and Steely Dan
Result 349 321 141 262 43 360 403 831
DD
Given the amount of damage during the day and the snow it was an excellent 16 cars that made it back out for one last crash including 421 Nutty Nige who had suffered car trouble all day and was out for the first time. Murphy ploughed into Ganter at the start before 421 Nutty Nige dealt Murphy a stiff head on before Fathead further caged Murphys T-Bird, Ace Ash then caging Fathead before Switcher ended Ace Ash with a solid shot. Fagass in the repaired Crown embedded himself in Boo-Boos DS on the airport bend ending his Banger Career in style.
At the other end on the exit of the pit bend 402 Warde copped a huge shot off Steele before being planted hard by 127 Danny Boy. Motorhead and Nutty Nige had a solid head on, before Steele stuffed the Roller into Nutty Nige. At this stage it was only 127, 141,205 and 671 still going with 127 having the most life in his car and 205 desperately trying to get off the grass. Switcher and Steele met head on stopping both cars before DannyBoy killed Steele for good with a stiff shot jacking the Roller. Ganter got off the grass for a soft shot on Dannyboy and was declared the DD winner, although in the views of many Dannyboy was the rightful victor
DD 205/671

A good meeting even with Mother Nature doing her finest, throwing four seasons at the track and making it a struggle for everyone, on track or off it. There are pros and cons of having meetings in the off season, pro's that it is easier for people to attend with cheaper ferries and less meetings to clash with, cons the weather!