National Unlimited Bangers World Series Round 6 – 22/08/2021 – Yarmouth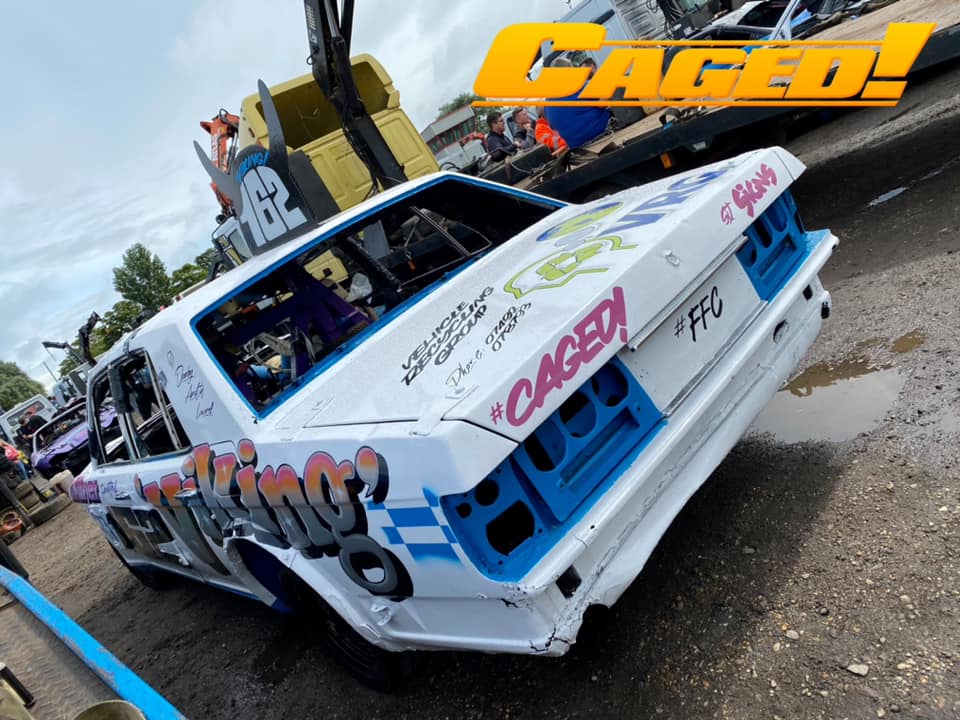 The eagerly anticipated meeting of the BWS Series, the Yarmouth round, took place at the seaside venue on Sunday 22nd August, with an impressive 70 cars in attendance. Among those in attendance was Autospeed World Champion who had his sixth Toyota Crown of the World Series with a very smart S80 variant; this feat being even more outstanding given how thick and fast the fixtures have come recently. Caged's favourite afro-haired driver, 162 'The Viking' Brent Shaw piloted a smart Rolls Royce Silver Spirit. The material didn't stop there, with all top tin being painted smartly too. 246 Aston Burt was at the wheel of the UK's second Jaguar XK8, 360 Jack Reynolds favoured a trusty Volvo, with a 242, whilst 129 Joe Skutela opted for a 240 Estate. 288 Carl Sowter had a smart Jaguar XJ40, and on the modern front 77 Aario had a well presented Lexus 200 with 542 Craig Oliver's Volvo 740 Estate being smartly signwritten with some additional war paint, and 262 Rob Bugler was out in a typically tidy Supra.
Heat 1 began in epic fashion with a huge push into turn 1 claiming more or less all the pack; the main focal point being the enormous airtime that 548 Alex Utting got, with 246 Burty Jnr's XK8 on the back end of the Damage Inc man's Supra leaving it well and truly snapped. Other casualties included 124 Carl Korszewski and 821 Ryan Preston who both ended with their boots tucked well up, the former's being bad enough to end his day. The restart saw 876 Ronnie Hammond bury 203 Darren Nash into the remaining dead cars on the Caister bend. 28 Fred James spun 876 Ron, the former then taking a shot from 288 Sowter on oppo. The leading 158 Shane Davies tangled with 820 'Maggot' Martyn Perkins along the back straight, bouncing him off a post costing him time allowing the chasing pack to close in. 625 Josh Gooch spun 447 Nyall Hardingham out of contention, and 288 Sowter again went on the attack on oppo, this time claiming 120 Lewis Campbell. 28 Jamesie drove through 288 Sowter in revenge from the earlier attack, and then continued on to launch 120 Campbell into the pile of dead cars. 516 Carl Gould stayed out of trouble to take the win, ahead of 2l World Champion 456 Nathan Roberts and 625 Gucci.
516, 456, 625, 158, 639, 120, 447, 203, 28, 542
Heat 2 commenced with 333 Dan Weavers spinning 440 Lennon Phillips early on, with a few piling in behind. World Champion 217 Sid Madgwick attacked 242 Ricky Korpiela, which in turn bounced running mate 440 Lemon off a post. 77 Aaron Charles met Trackstar guru 25 Matt Black head on. 178 Kieran Bowman drove through 577 Alfie Lee on the Caister bend, with TCB revenge coming swift as 506 Danny Mitchell weighed in on 178 Slim. 77 Aario jacked 506 Mitchell, and 25 Black Magic homed in for a shot on the nose of 577 Lee. 77 Aario completed a lap before delivering a huge tbone on 25 Black. The action calmed down allowing the crowd to admire 32 Callum Reed seamlessly race to the victory, ahead of 717 Jack Tuffen and 455 Ricki Finney.
32, 717, 455, 348, 217, 328, 160, 208, 960, 399
Another big first bend push saw half the pack go in at the start of Heat 3. 760 Joey Reynolds stopped 331 Jason Jackson with a head on coming out of the Caister bend. 114 Lakey used his Crown to deliver a head on to 262 Roona. 114 Lakey completed a lap before leathering 262 Roona. 360 Jackstar went in on 114 Lakey. 66 Darren Geary delivered a head on to 331 Boxer Jack, who also received the same treatment from 360 Jackstar a moment later. 4 David Wilde ran 555 Harry Gelsthorpe through 360 Jackstar, the latter soldiering on to administer a solid tbone to 932 Rhys Reed. 215 Callum Gould delivered a flat out head on to 201 Phil Milner, after a previous failed attempt which saw the Gladiator man dive for the centre green. 114 Lakey jacked 360 Jackstar, and leathered him once again a lap later. 331 Boxer Jack done a full lap on oppo before tamely going in on 760 Joey. 360 Jackstar clocked this, and turned it around to give 331 Boxer a jacking. 114 Lakey homed in for a shot on oppo to 360 Jackstar. Among the chaos on the Caister bend, 111 Joe Cotton avoided coming in to harms way to take the win; 570 Jordan Cumming taking second and 4 Wildy came home third.
111, 570, 4, 136, 114, 699, NOF
Another big first bend push kicked off the Consolation. 817 Kurt Jacobs got turned aside and was collected by 887 Rob Browning, the latter getting pasted by 262 Roona. 876 Ron buried 821 Dangerous into the pile up. 555 Gelsthorpe thundered 162 Viking in. Aberdeenshire man 230 Scott Paterson drove through 252 Boogie. 514 Marty Eighteen tboned 252 Boogie. 162 Viking went in on 333 Cuddles on the Caister bend, and was duly jacked in turn by 178 Slim. 760 Joey stopped 932 Reedy Jnr on oppo. 356 Harry Overy delivered a head on to 440 Lemon on the exit of the Caister bend, as 178 Slim jacked 932 Reedy Jnr. 876 Ron went in on 178 Slim, before 262 Roona homed in for a head on to 230 Flatty. 103 Jack Deacon went in on 230 Flatty, and was mullered by 123 Kieran Gray in turn. The red flags then came out and halted momentum to gather a lose wheel and put out a fire which had sparked on 932 Reed's Mercedes W210 Estate. The restart saw 820 Maggot spin 327 Mikey Maskell Jnr. 252 Boogie gave a head on to 230 Flatty. 328 Ben Nichols spun 400 Lee Kingsnorth. The Bugler brothers then went on a mission setting about most things coming their way on the exit of the pits bend. 262 Roona attacked 246 Burty Jnr on oppo and then treated 876 Ron to a head on. 252 Boogie stopped 328 Benny, who then received a head on from 246 Burty Jnr. 820 Maggot spun 876 Ron, as 247 Lee Clarke won and celebrated by attacking 820 Maggot. 246 Burty Jnr jacked 876 Ron before the race was over; 327 Maskell Jnr and 400 Kingsnorth taking the podium spots.
247, 327, 400, 246, 820, NOF
In typical BWS Wildcard fashion, all heat winners completed a coin toss, where their fortune would be decided as to whether they would start at the front or back of the grid. Lady Luck wasn't on any of their sides, as all heat winners chose incorrectly having to go round to the back of the pack. 548 Big Al limped his Toyota Supra on to the track that he and his team had miraculously managed to salvage from the certain wreck it appeared to be after heat 1. This received a great ovation from the crowd, but it was deemed by the meetings' stewards that the car was definitely too far gone and thus unsafe to race, but Al was treated to a plethora of applause as he completed a lap of the track before entering the pits again.
The race itself got underway with 960 Ross Winsor the first to show; the VS Massive driver turning around to blast 542 Craig Oliver head on in their ongoing feud. 160 Shayn Winsor clocked this and turned it around to deliver an oppo attack on 542 Oliver. 447 Nail jacked 960 Rosco, before 328 Dan Latham steamed in for a shot on 542 Oliver. 262 Roona administered a head on to 114 Lakey, as 328 Lathan completed a lap to weigh in for a huge jacking on 542 Oliver, putting the Gladiators' man's roof well up! 400 Kingsnorth homed in on 328 Lathan just as the reds came out to assist 542 Oliver from his wreck. 717 Jack Tuffen lead 625 Gucci and 570 Dino Jnr away from the restart. 158 Davies set about 247 Bro, managing to send the latter spinning. 114 Lakey leathered 262 Roona a few times on oppo, leaving himself open for a jacking from 360 Jackstar who was also enjoying the alternative anti-clockwise route. 247 Bro stopped 158 Davies with a stiff head on, but Condoms revenge was swift with 203 Gnasher going in on 247 Bro. 570 Dino Jnr collected 203 Gnasher, and was driven through in turn by 32 Reedy. 820 Maggot spun 348 Sonny Sherwood, dumping him into marker tyres at the end of the home straight. 114 Lakey jacked 262 Roona, and as the former rejoined, 625 Gucci caught the back of the Crown sending him spinning. 247 Bro delivered a head on to 203 Gnasher, whilst 717 Jack Tuffen avoided all the commotion to come through to take the victory booking his spot on October's grid. 456 Nathan Roberts came home second with 208 PJ Collins taking third.
717, 456, 208, 455, 516, 4, 217, 327, 820, 447
An incredible 37 cars made it out on track for the Showdown considering all the destruction throughout the afternoon. 821 Dangerous was the first to strike, leathering 203 Gnasher. 887 Browning spun 360 Jackstar, leaving the latter prone to a head on from 114 Lakey. 178 Slim tboned the spun 820 Maggot, before 528 Alan Hunt drove through 887 Browning. 333 Cuddles jacked 201 Turk. 114 Lakey jacked 360 Jackstar, having completed a lap after nicely lining him up after the head on. 262 Roona ploughed into 114 Lakey. 4 David Wilde spun into 360 Jackstar. 66 Darren Geary ran 399 Jonny Atkin through the spun 4 Wildy. 252 Boogie delivered a head on to 114 Lakey. 25 Black then ran 717 Tuffen into 252 Boogie and was collected by 230 Flatty as the Caister bend became increasingly more congested. 639 Tye Williams caught 114 Lakey and blocked the only line through, seeing 400 Kingsnorth pile in and get jacked in turn by 143 Dan Rose. 760 Joey laid into 114 Lakey on oppo. 178 Slim weighed in on 143 Rose. 123 Kezza leathered 203 Gnasher. 760 Joey went on oppo once again to administer a head on to 114 Lakey. 262 Roona jacked 143 Rose, as several drivers began getting black crossed for cutting the grass to avoid the Caister bend pile up. World Champion 217 Sidders launched 25 Black into a post. 252 Boogie jacked 114 Lakey and immediately had 178 Slim come through his boot. 262 Roona laid into 178 Slim. 158 Davies dived for the infield taking 447 Nail with him as he looked to turn around to go into the pile up. 717 Tuffen posted 123 Kezza on the pits bend, the latter then getting jacked by the lively 25 Black. 262 Roona turned it round and met 25 Black in a big head on. 247 Bro homed in for multiple jackings to 158 Davies on oppo. 570 Dino Jnr spun 399 Jonny after the flag, the latter being deemed the winner after penalties etc for the grass cutting.
399, 570, 455, 625, 447, NOF
Another superb display from the boys and girls out on track, with some evenly matched displays out in the pits too! It's a crying shame that Yarmouth doesn't get as many 'big' fixtures like the BWS round throughout the year as it proves year upon year the potential it has, as no doubt again, this years' meeting will feature highly at the end of year awards for meeting of the year contender. The BWS moves on to Spedeweekend at Ipswich, where the bangers will feature on the Saturday.