National Unlimited Bangers World Series Round 2 – 14/03/2020 – Ipswich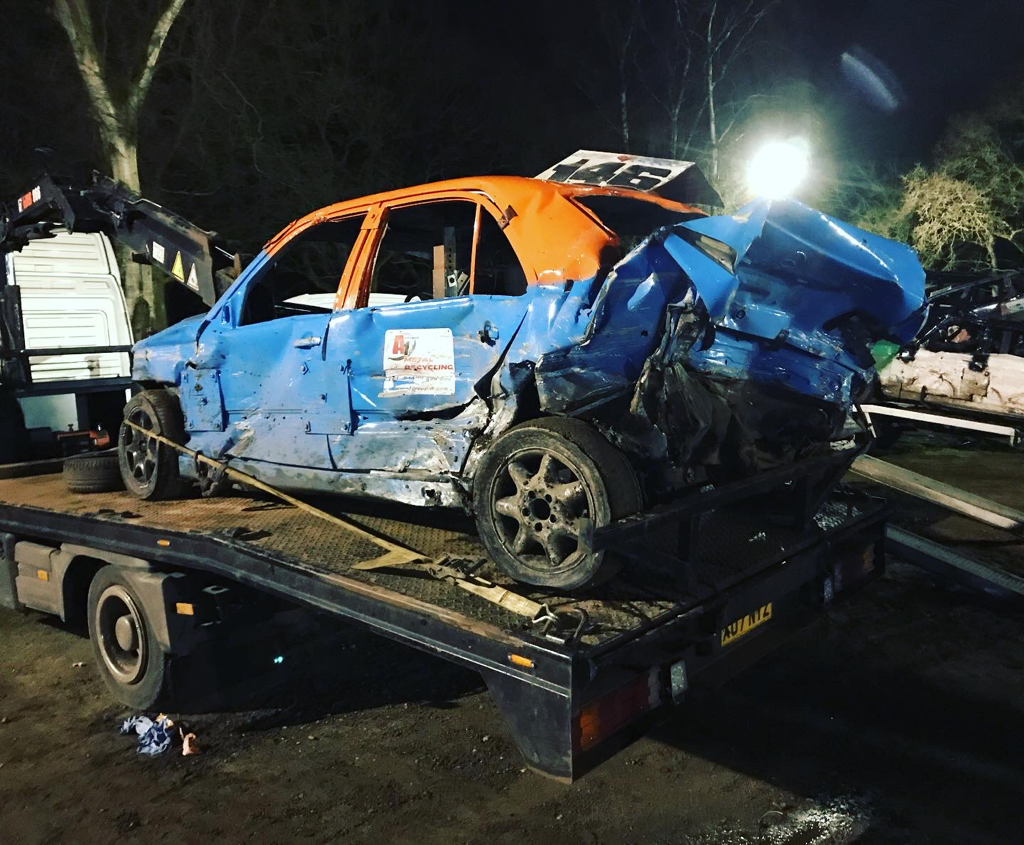 Saturday 14th March marked round 2 of the Banger World Series with drivers competing for the final weekend before the COVID-19 pandemic put a hold on proceedings. There were a few variations to the norm on the car front. 360 Jack Reynolds and 162 Brent Shaw had Ford Scorpio Limos. 145 Colin White opted for a smart looking Series 2 Jaguar XJ, whilst 77 Patxi Beasley had a Jaguar XJ Coupe. 211 Dennis Vorkink once again showed his dedication by travelling across the water with a smart Volvo 240 Estate. 222 Matty High had a smart Series 3 Jaguar XJ. The Bears were in large numbers with 266 Callum Hall debuting a MkV Lincoln Continental whilst 521 Ashley Riley returned his World Final Cadillac Eldorado Hearse. There was a sprinkling of used Granadas – 625 Josh Gooch with a Mk1; 17 Kyle Overy and 447 Nyall Hardingham with Mk2 Estates. 717 Jack Tuffen impressing on the paint front with a stunning Scorpio.
Heat 1 was overall a quiet affair but started with 174 Whipper spinning 143 Rose fencewards. 757 Jack Jnr spun 78 Mad Mace aside, and 570 Dino Jnr did the same to 131 Gromit. 400 The Boy took out 548 Big Al. Newly crowned Supreme Champion 204 Charlie Boy was sent spinning. 214 Osborne went out on the back straight and had a flash fire. 400 The Boy spun out 549 Smiffy Jnr and then did the same to 146 Wiggy a couple of laps later. 143 Rose took out 590 Galloway under pressure from 617 Overy. The recovered 590 Galloway attacked 549 Smiffy Jnr. 124 Oris set about 887 Browning, eventually spinning him as 673 Darren Fendley raced to the win.
673, 542, 372, 739, 887, 124, 400, 143, 625, 617
Heat 2 saw the action pick up a level. 444 Chaz took out 16 Fagass early on. 17 Chiefy spun 312 Whitey. 416 Spokes ran in 77 Patch under the scoreboard bend, whilst 341 Jonesey rattled 521 Ace Ash's World Final yank around the armco on the turnstile bend. 162 The Viking followed in 801 Foster. 341 Jonesey delivered a big shot over the rear wheel of 421 Nutty Nige who had found himself broadside at the end of the back straight. 294 Stuntman attacked 135 Spuddy. 28 Super ran in 162 The Viking but left him open to a jacking from 521 Ace Ash. 217 Madgwick took out 456 Roberts as 717 Jack Tuffen guided his stunning Ford Scorpio to the win.
717, 456, 217, 312, 17, 820, 75, 27, 506, 294
The new BWS format saw the Showdown up next with a three-a-breast start. 506 Mitchell stuffed in 146 Wiggy from the off. A small pile up formed on the turnstile bend. 114 Lakey spun 625 Gucci, who was then subject to a shot from 321 Chatty Man. 528 Jethro put away 242 Korps. 266 Odd Job jacked 162 The Viking. 356 Overy went in on 266 Odd Job. 77 Patch followed in 211 Mister Nös before the red flags came out to check on 162 The Viking. The restart saw 247 Bro launch 341 Jonesey which spun him leaving him open to a hit from 521 Ace Ash. 548 Big Al delivered a shot over the back wheel of 341 Jonesey. A few laps past before 341 Jonesey jacked the spun 548 Big Al, 801 Foster immediately weighing in on 341 Jonesey. 447 Nail spun aside 266 Odd Job. 348 Mushy caught the prone 548 Big Al and spun fence-wards making it tricky for the pack to make their way through. 699 Stacey Holdsworth won from 124 Oris and 447 Nail.
699, 124, 447, 757, 941, 760, 357, 817, 312, 75
The Wildcard Final saw both heat winners chose the front of the grid making things a bit spicier. 356 Overy set the action rolling by spinning 884 Filmer. 266 Odd Joh treated the spun 444 Chaz to a head on. 739 Meerkat took out 21 Tompkins. 266 Odd Job gave a head on to 111 Cotton Eye Joe. 617 Overy spun 941 Matthews. 266 Odd Job administered another head on, this time to the spun 506 Mitchell. 341 Jonesey ran in 521 Ace Ash, but had 16 Fagass and 801 Foster combining to bury him in turn. 247 Bro jacked 341 Jonesey. 521 Ace Ash delivered a reverse attack on 341 Jonesey to ensure he stayed put. 77 Patch met 521 Ace Ash in a massive head on snapping the already tender Jaguar. 27 Ooze Boy followed in 262 Roona. 114 Lakey jacked 262 Roona. 884 Filmer went flat out over the shale to do 521 Ace Ash behind the door. 247 Bro gave a head on to 27 Ooze Boy and was immediately on the receiving end of a meaty tbone from 415 Corndog. 372 Matthews gave a head on to 247 Bro. In the midst of all the action on the turnstile bend, 124 Oris managed to dislodge the leading 717 Tuffen for 699 Stacey Holdsworth to nip through and win booking her spot on the World Final grid.
Overall, an enjoyable night of Unlimited racing that got better as the night went on. You cannot deny the calibre of talent that the World Series meetings attracts and they certainly made the effort to entertain in the final.