National Unlimited Bangers World Series Final – 20/09/2020 – Yarmouth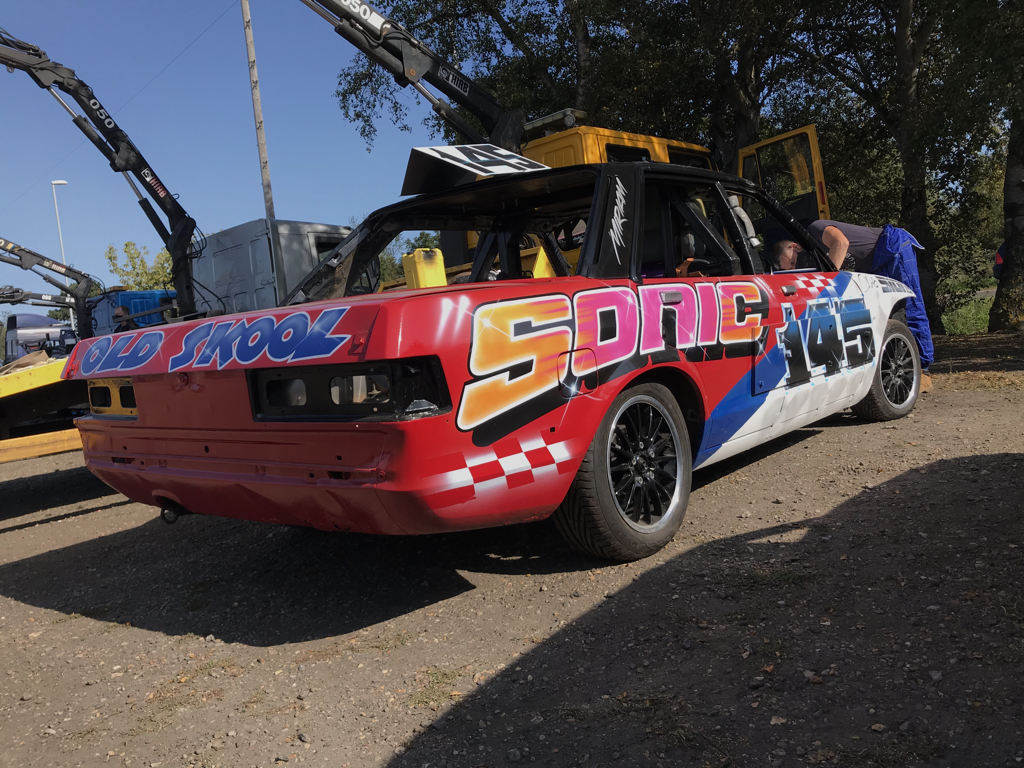 The final round of the Banger World Series saw the turn of the series at Yarmouth Stadium, with the track playing host to the last round for the first time which saw a great interest from drivers, raising an incredible 81 cars, the highest 'national' turn out in some while. The usual candidates certainly provided on the material front as they chased the all elusive 'Entertainers Points' on offer. 145 Colin Dicken had a stunning Mk2 Ford Granada, whilst 162 Brent Shaw had a more modern variant with his smart Ford Scorpio Hearse, his second of the World Qualifying campaign and fifth limo/hearse variant of the year. 360 Jack Reynolds debuted a fresh Volvo 740 limo and Gladiator young gun 214 Connor Osborn piloted an Oldsmobile Regency. Grey and Black man 180 Mark Foster had a smart FX4 Taxi. The rest of the machinery being split between the modern usuals of the Ford Scorpio and Mercedes W210. A few drivers made the effort on the paint front, with a trio of smart Toyota Supras for 262 Rob Bugler, 528 Alan Hunt and 341 Andrew Jones. 222 Matty High, 208 PJ Collins, 328 Danny Lathan, 456 Nathan Roberts and 801 Mason Foster were also others with smart examples.
The format saw a 1/3 split with 3 heats and a consolation race making up the grid for the Wildcard Final. 29 cars started the day's events with Heat 1. 341 Jonesey and 28 Jamesie headed off the front row, with the DWO man setting good early pace before being stopped head on by TGB rival 180 Sparky on the pits' bend. 328 Nichols spun 516 Gouldy, before 801 Foster drove through 341 Jonesey. 82 Big T weighed in on 341 Jonesey on oppo. The DWO man succumbed to the clear numbers disadvantage, with 180 Sparky delivering another head on to Jonesey. 82 Big T jacked 341 Jonesey on oppo, before taking a length of the straight run up and delivering another large portion to his DWO rival. This claimed 45 Lips, who got hung off a post on the back straight which also saw 328 Nichols and 380 Leeful crash out. 380 Leeful then went on oppo to jack 341 Jonesey which saw the latter cop a shot behind the drivers' door from 215 Gouldie in turn. Jonesey waved for the reds, but this didn't stop 801 Foster from cutting across the middle to drive through the former sandwiching him against the oncoming 143 Rose. The red flags were well and truly showing, as 380 Leeful pummelled in to 341 Jonesey once again, as 252 Boogie delivered a head on to the DWO man. The leading 247 Bro collecting 143 Rose, before the action fizzled. A side note must go to 180 Sparky who was trying to prevent his TGB family from delivering more punishment to Jonesey and was one of the first on the scene to check if he was ok. The DWO man lucky to walk away from his nasty Supra wreck. The restart saw local favourite 247 Bro head the pack from 455 Finney and Damage Inc compatriot 548 Big Al. The action resumed with 262 Roona spinning 57 Dino, who hit the curb, putting a wheel back in the process. 247 Lee Clarke counted down the remaining laps which were pretty action-less to take the win, ahead of 382 Jack Foster Jnr and 455 Rikki Finney.
247, 382, 455, 570, 252, 760, 516, 28, 262, 224
Heat 2 provided all of the material, with 214 Osborn, 162 The Viking, 145 Sonic and 360 Jackstar all out on track. 820 Maggot and 114 Lakey were off of the front row on this occasion, with the latter looking to continue his form from the previous night at Kings Lynn. 160 Winsor attacked Gladiator counterpart 214 Osborn. 360 Jackstar turned it around on the Caister bend to deliver a head on to 820 Maggot. 266 Odd Job homed in for a head on to the spun 214 Osborn. 162 The Viking jacked 820 Maggot. 160 Winsor drove through 214 Osborne on oppo, setting the latter up for a jacking from 333 Cuddles. 817 Stig was stuffed in by 211 Poley down on the pits bend, as 17 Chiefy gave a head on to 266 Odd Job. 348 Mushy rattled 702 Jimbo in the ropes and ever-growing carnage on the pits bend, before 333 Cuddles jacked 214 Osborn. This set the Gladiator up for a jacking from 521 Ace Ash. The reds then came out for 214 Osborn, who's belts came lose. The restart saw 114 Lakey heat 400 Kingsnorth and 309 Laney, although the latter didn't stay there for long as he was planted into 360 Jackstar's lame limo by 617 Overy. A few quiet laps passed before 211 Poley delivered a front wheel shot to 360 Jackstar, who had crawled slightly across the path of the oncoming pack. 114 Liam Lake raced to the victory ahead of 400 Lee Kingsnorth and 617 Jack Overy.
114, 400, 617, 625, 817, 941, 204, 211, 317, NOF
Heat 3 saw 294 Stuntman jack 433 Smith who had buried himself from the off. 78 Mikey Bell and 444 Chaz tboned 433 Smith, which set the latter up for a brutal head on from 24 Hughes, destroying Smith's Volvo 240 Estate. The restart saw 887 Browning lead from 506 Mitchell and 208 Collins. The race was then Midnight Runners and friends hence the action-less laps. The only thing of note saw 208 Collins remove 506 Mitchell, who was already on route to spinning. 331 Jason Jackson marked his return to bangers with a win ahead of 887 Robert Browning and 32 Callum Reed.
331, 887, 32, 456, 327, 27, 208, 514, 21, 84
The Consolation race was open to all non-qualifiers and begun with 145 Sonic getting absolutely ruined courtesy of a follow in from 415 Scott Cornish, leaving the former with a battered Mk2 Granada and bringing the reds out instantly, but not before 623 Tricky sent 309 Laney spinning. The restart saw a pile up form on the Caister bend. In the melee, 333 Chaz turned it around to nail 294 Stuntman with a head on, as down on the pits bend, 78 Mikey Bell buried 66 Geary into the ropes. 266 Odd Job jacked 328 Nichols and took a shot in turn from 460 Friend. 444 Chaz then homed in for a jacking to 266 Odd Job. Back on the pits bend, 66 Geary turned around to meet 78 Mikey Bell in a head on. The marker tyres ended up across the track on the pits bend claiming several drivers, as 284 Heady ran 440 Lemon and 460 Friend into them. 333 Cuddles homed in for a shot to 284 Heady. 960 Rossco was spat off a post down the home straight by 357 Two Pump, before 348 Mushy weighed in on 284 Heady. The last half of the race turned quiet as the pack had thinned out. 356 Harry Overy raced to the victory ahead of Team Black comrade 217 Sid Madgwick; 820 Martyn Perkins completing the top three.
356, 217, 820, 528, 623, 440, 309, 111, 24, 333
The Wildcard Final saw the three heat winners find out their position on the grid courtesy of the usual coin toss. The result of this saw 247 Bro and 114 Lakey have to go round to the back, whilst 331 Boxer Jack sat comfortable on the front row on his own. The race begun with 617 Overy and 760 Joey suffering early spins, as 247 Bro slowed 331 Boxer Jack down on the breaks, allowing 360 Jackstar to administer an attack on oppo to the Midnight Runner much to the crowd's delight. The force of the pushing pack saw 331 Boxer Jack buried into the pit gate as carnage pursued behind. 516 Gouldy and 400 Kingsnorth crashed out as 180 Sparky met 211 Poley on the nose. 360 Jackstar tboned 331 Boxer Jack and was jacked in turn by 27 Ooze Boy. This caused several drivers to pile into the carnage resulting in 252 Boogie being straddled across brother 262 Roona's Supra in an impressive auto sculpture bringing an early stoppage, but not before 760 Joey blasted 84 Peach. A complete restart was ordered with some big names absent including 331 Boxer Jack. A huge pile up took out most of the pack on the Caister bend before the drop of the green flag. 521 Ace Ash delivered a monster jacking to 208 Collins. 521 Ace Ash when homing in to the pile up once again, with 625 Gucci being on the receiving end this time. 204 Charlie Boy ran into 521 Ace Ash, as the action then switched across to the Caister bend. 262 Roona gave a head on to 114 Lakey, with 760 Joey immediately jacking the latter. 817 Stig went in on 760 Joey and was set about in turn by 224 Canham. 262 Roona once again stopped 114 Lakey on oppo, and it was 760 Joey on hand for the second time to leather Lakey with a jacking. 760 Joey then blasted 309 Laney on oppo. 941 Matthews turned the luckless 309 Laney fence-wards, as 247 Bro homed in for a head on to the spun 24 Hughes. 247 Bro went in for another hit to 24 Hughes. 317 Stress ran into 114 Lakey and was collected by 941 Matthews. 247 Bro administered another tboned to 24 Hughes. With no way through, 21 Tompkins collected 114 Lakey – the latter taking further punishment courtesy of a shot from 521 Ace Ash. 528 Jethro drove through 317 Stress, with 570 Dino Jnr going in on the former. 224 Canham went in on 317 Stress, and 521 Ace Ash met 820 Maggot on oppo. 760 Joey delivered a hard shot to 570 Dino Jnr, which lead to the pair sharing a pair of solid head ons. 32 Reedy Jnr drove through 521 Ace Ash, who recovered to stop 817 Stig on the nose. 224 Canham weighed in on 817 Stig. 440 Lennon Phillips won and celebrated by thundering into the pits bend pile up. 528 Jethro weighed in on 440 Lemon. 224 Canham came through the carnage to give 317 Stress a head on. 528 Jethro went in on 224 Canham before 32 Reedy Jnr jacked 317 Stress. The red flags then being called to signify the end of a solid race – eight only being deemed to have gone the distance.
440, 32, 317, 528, 820, 247, 817, 21, NOF
The Showdown concluded the action, with an Incarace Draw taking place seeing row 5 off of the front which was 180 Sparky and 135 Spuddy. A clutch start format saw the pack go before the green flag even felt which ensured carnage into the first bend resulting in 217 Madgwick and 514 Marty ended up in a post each among other casualties. 521 Ace Ash jacked 514 Marty, which set the Midnight Runner up for a huge shot from 252 Boogie blitzing Eighteen's Ford Scorpio Estate and bringing a race stoppage. 570 Dino Jnr attacked 760 Joey on oppo from the restart. 820 Maggot laid into 760 Joey, but ended up posting himself in turn and was duly collected by 333 Chaz. 252 Boogie assaulted 21 Tompkins with a shot on oppo, catapulting him into the oncoming 760 Joey. 57 Dino jacked 760 Joey on oppo, and was followed by 873 Roberts who went in on the nose of 252 Boogie. 625 Gucci went in over the front wheel of 57 Dino, and 262 Roona joined the action laying into 57 Dino. 17 Chiefy caught 252 Boogie head on whilst the latter was lurking. 21 Tompkins weighed in on 262 Roona and was collected in turn by 382 Chubby. This saw 204 Charlie Boy get tangled up top allowing 247 Bro to slip through and inherit the lead. 333 Chaz turned it around to home in for a tbone on 21 Tompkins, before backing off and delivering a tamer hit to the A4 Metals man. 180 Sparky homed in on 623 Tricky who had got caught up in the action on the pits bend. 570 Dino Jnr delivered a solid length of the straight jacking to 760 Joey on oppo, before 262 Roona homed in for a solid head on to 21 Tompkins. 570 Dino Jnr continued his attack on 760 Joey with another couple of solid hits. 625 Gucci drove through 570 Dino Jnr, defending his A1 colleague. 521 Ace Ash made his way to the pile up and stopped 327 Maskell as the latter navigated the only line through. 160 Winsor pushed his way through the carnage getting rid of 623 Tricky on route. The battle up front saw an interesting development, as 160 Winsor catapulted 400 Kingsnorth into 247 Bro at the end of the back straight posting the pair to take up the running. Back on the pits bend, 333 Chaz homed in for a heavy tbone on 21 Tompkins. 760 Joey managed to limp into a shot on 57 Dino. By this point 160 Shayn Winsor had already taken the win, and the line through on the pits bend had become non-existent. 941 Matthews gave a head on to 262 Roona, before 180 Sparky gave a large portion to 328 Lathan, hanging him off a post in the process. 262 Roona homed in for another head on to 21 Tompkins, as 960 Rossco ending the action by attacking 521 Ace Ash.
160, 960, 941, 328, 382, 548, 400, 327, 623, 180
A superb meeting to mark the end of what has been a superb season of World Series action, despite the forced break created by COVID-19, and a solid session to hopefully put Yarmouth well and truly back on the map and highlight what a great venue the track is. All eyes now turn towards Foxhall Raceway on Saturday 3rd October, for World Final fever.