Caged Open 2020 – 06/12/2020 – Standlake Arena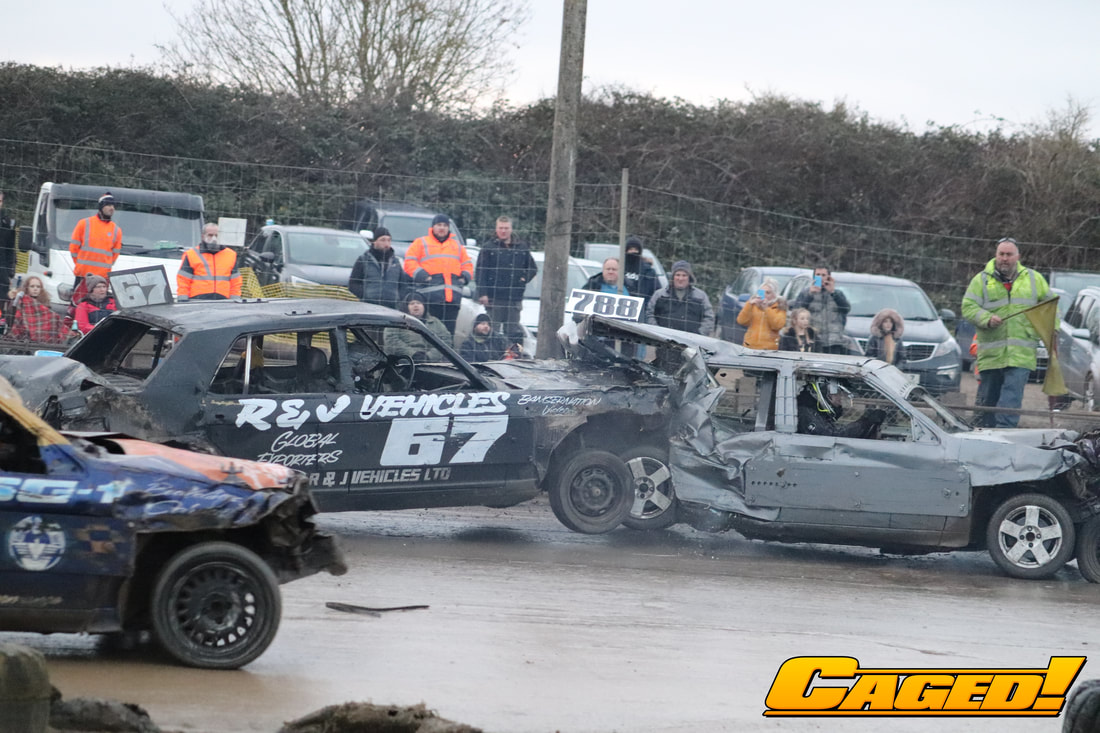 The third annual Caged Open took place at Standlake Arena once again on Sunday 6th December 2020, albeit under very different circumstances to the norm given the government regulations surrounding coronavirus as had been the new-norm all year.
The initial booking list dwindled somewhat in the week leading up to the event with drivers in a tier 3 area having to unfortunately unbook, but there was still a fantastic entry given the circumstance. A lot of drivers were local Standlake-based drivers, although there were several that had travelled plenty of miles to race with the likes of 41 Robbie Steele, 60 Dan Croskell, 246 Dylan Ward and 379 Shaun Turner from the North along with several from East Anglia too. The Squad put in a strong showing on their maiden Caged Open, and it was great to see a fleet of Team Black in the Unlimiteds too.
On the material front, 243 Josh Lee was awarded car of the day for his Humber Super Snipe in the Unlimited class, which was where the pick of the cars were. 572 Paul Scully had a Vauxhall Omega Limo which was very tender, and resident Hearse specialist 467 Carl Sewell debuted a Mk3 Ford Granada Hearse. The Jaguar XJ6 was a favoured tool; the Team Black trio of 617 Jack Overy, 356 Harry Overy and 739 Jason Moore with fresh examples; the latter's being very impressive on the paint front, while Team Black compatriots 67 Rickie Beasley and 103 Jack Deacon had used Bentleys. 882 Nathan Grant had a used Ford Scorpio Hearse. Caged's resident president 260 Keith Reynolds turned heads with a BMW 1 Series, and also had to be different in the Unders with his Nissan Sunny Estate. 333 Brad Wickson returned brother Wiggles' Vauxhall Zafira Limo from the year before.
On the paint front, 538 Curtis Salvage, 910 Kacy Church and 920 Terry Church all had stunning Mercedes E Class', whilst 246 Aston Burt had a smart Jaguar XJ40 and 356 Overy's XJ6 also equally impressive. The Unders class saw several smart cars too, with The Squad all making the effort. 243 Pete Osborne had a smart Mk5 Vauxhall Astra and 908 David Brown had a smart Ford Focus.
The Unders started the day, and with 50 in attendance, it was a split heats format for them. Heat 1 began with 135 Spuddy putting the bumper in on 530 Chiddle, which sent 474 Smiffy spinning. 616 Jackman attacked 41 Robbie, which claimed 420 Petey. 122 Boland weighed in on 616 Jackman with 445 Little Pete and 441 also going in. 379 Turner delivered a rear wheel shot on 420 Petey. 445 Little Pete spun on turn 3/4 and took a shot from 288 Fatboy. 288 Fatboy continued on to set about 162 Bradderz, whilst 400 Chip rattled in 545 Mini Wicks. The red flags came out due to a lose wheel for 122 Boland. The restart saw 379 Turner spin 288 Fatboy; the latter got his revenge by attacking the Fat Boyz man a lap later. 400 Chip followed 545 Mini Wicks in, as 295 Ashley Wallace took the first win of the day.

Heat 2 saw 419 Burgess weigh into 27 Evenden who had come to a halt against the plating on the entrance of the back straight. 530 Chiddle attacked 167 Kenzo, whilst 184 Gaughan laid into 391 Spikey. 317 Brick went in on the back of the orange focus, before 612 Robins spun 784 Killick. 391 Spikey backed 184 Gaughan into 27 Evenden along the back straight. 464 Tom leathered 27 Evenden, and continued on to run head on into the spun 530 Chiddle, and took a portion from 612 Robins in turn. 101 Johnson took a trip to the barrier courtesy of 535 Cox. 908 Browner set about 246 Meerkat. 167 Kenzo followed teammate 184 Gaughan in to conclude the action, as 226 Liam Bricknell guided his Honda Accord to the win.
The Unlimited Bangers were next out on track for their first heat. 360 Jackstar spun and copped a shot over the rear wheel from 572 Squirt, the 3 Litre man then backing up 67 Beasley for brother 760 Joey to remove the Team Black man. 411 Eggleton went for 840 Shep but couldn't get a clean attack on the latter. 146 Wiggy spun 572 Sauirt, which left the Omega Limo open to a shot from 617 Overy. 739 Meerkat set about 528 Jethro, as down the other end, 356 Overy rattled 360 Jackstar in. 67 Beasley spun on the back straight, which saw 360 Jackstar take the opportunity to home in for a hit on the nose of the former on the edge of the centre. 146 Wiggy spun aside 103 Jacko. 760 Joey Reynolds took the win and came under fire from 739 Meerkat after the flag. 28 Bell set about 19 Setters, and spun to take a head on from 146 Wiggy. 67 Beasley steamed in for a tbone on 19 Setters to conclude the action.
Heat 2 for the Unlimiteds saw several drivers from the first heat go straight back out. 862 Pidgeley set about 252 Nemo from the off. 290 Stefro spun and took a pair of hits from 788 Crawley and 625 Gucci. This allowed 356 Chops to latch onto 625 Gucci, running him into 252 Nemo on turn 1. 290 Stefro spotted 625 Gucci sat up and homed in for a large portion on the AMC. 467 Woody spun and took a hit over the rear wheel from 160 Warr, and then one from 572 Squirt, setting the Mk3 Granada Hearse up for the same hit on the drivers' side from 246 Burty Jnr. 572 Squirt found himself sat broadside at the end of the home straight – 246 Burty Jnr steaming in for a huge tbone, ruining the Omega Limo completely. 862 Pidgeley attacked 920 Churchy, running him in to the growing heap on turns 1 and 2. 246 Burty Jnr continued on to lay into 862 Pidgeley before the red flags came out to check on 572 Squirt, but not before 538 Rodders spun 910 Church. The restart saw 882 Nathan spin and take a hit from 711 Banks. The only other action coming as 246 Burty Jnr spun aside 910 Church, as 760 Joey Reynolds raced to the win once again.
The Teen Streets were on track for race number five, for their time to shine. 120 Lucas suffered a spin early on. 644 Davis got out of shape, which allowed 2 Bricknell to close the game on the former and spin the Metro a lap later. 295 Alfie clipped 644 Davis slowing his charge. 715 Rayner spun 268 Bailey. 457 Hayden laid into 120 Lucas, and spun him fence-wards along the back straight. 585 Luke Holdsworth raced to the win after reeling in and passing 822 Masterman late into the race.
The Unders class returned for Heat 3 for them on the day. 535 Cox followed in 530 Chiddle hard, and then copped a head on himself from 379 Turner. Turner was then picked up by 333 Beachball, who had 167 latch onto the latter and they all took a trip to the barrier on turn 1. 288 Fatboy took a pop at 41 Steele, likewise did 122 Boland on 441 Smith. 223 Jesse took a wild lunge at 41 Steele, with both visiting the barrier hard on turn 1. 185 Charlie homed in on 223 Jesse, with 535 Cox going in on the former. 122 Boland picked up 816 Binx, who went in on 41 Steele, the former following the pair in blitzing Steele's Mk4 Astra on impact, also taking out 307 Pretty Boy. 167 Kenzo ran into 530 Chiddle, and was clobbered in turn by 288 Fatboy. 535 Cox spun 191 Corey, before 60 Croskell drove through 288 Fordy. 295 Ash Dash spun 317 Brick for second as he looked to close the gap on 161 Smith who had opened up a decent gap at the front. 60 Croskell attacked 167 Kenzo, but them came under fire from 535 Cox, as 161 Billy Smith took the honours.
Heat 4 for the Unders was next up. 612 Robins set about 474 Smiffy, eventually dispatching him fence-wards at the end of the home straight. 246 Meerkat spun 420 Petey, who hit a marker tyre and took off on the centre in a spectacular effort from the Squad man – he must have been watching 'Strictly' the night before. The lively 246 Meerkat continued his assault nailing 908 Browner. 161 Stevey removed 784 Flange on the back straight. 246 Meerkat had a go at 612 Robins. 243 Bodja had an off into the barrier on turns 3/4, which saw a flash fire on the latter's car, but Bodja was happy for it to burn out so he could have a momentary warm up. As this happened, Bodja's running mate 198 Ashley Rummary took the win to balance the fortunes of the pair.
The Unlimiteds were back once again for their third Heat, albeit a change to the scheduled format with an all in race. The race begun with several spinning on turns 1 and 2, including 252 Nemo who got carried along by the pack down the back straight where he was pummelled courtesy of hits from 962 Pidgeley and 19 Setters. 146 Wiggy weighed in on 962 Pidgeley, but spun on impact to cop a hit in turn from 356 Chops. Whilst that was happening, 246 Burty Jnr delivered a hit over the front wheel of the spun 550 Fearless Frank on turn 4. 711 Banks spun and was leathered by 920 Churchy. 617 Overy attacked 550 Fearless Frank; the latter coming under fire once more courtesy of another hit from 246 Burty Jnr. 160 Warr spun and received a hit from the lively 246 Burty Jnr. 356 Chops removed 711 Banks, before 788 Crawley homed in on 246 Burty Jnr. 962 Pidgeley jacked 88 Ballbag, with 356 Chops also going in before the red flags came out. The restart saw 617 Overy and 411 Eggysis take turns at driving through the spun 711 Banks on the back straight. 67 Beasley took out 360 Jackstar and 528 Jethro on the entrance of turn 1, the latter's Jaguar blowing up big style spouting oil all over the already treacherous surface. 882 Nathan found himself sat up along the back straight, and had 28 Bell ran through the back of his Hearse by 356 Overy. 617 Overy tboned 28 Bell to conclude the action.
Heat 2 for the Teen Streets saw 268 Bailey suffer an early spin under pressure from 295 Alfie – 467 Haydon, 2 Bricknell and 714 Rayner all went in behind them. 822 Masterman spun on turn 1, before 120 Lucas punted in 715 Bailey. 714 Bailey followed 120 Lucas through the back of 715 Bailey, as it all kicked off between them three – 714 then completing a lap before jacking 120 Lucas. As all that went on, 585 Luke Holdsworth stayed out of trouble to take a second win.

The Unders Caged Open Final began the first of the trophy races. The action came thick and fast early on. 391 Spikey set about 816 Binx, and 101 Johnson fenced 288 Fatboy, as cars went in all directions on turns 3 and 4, 294 Scottie spun aside 307 Pretty Boy. 420 Petey put the bumper in on 317 Brick, causing the latter to spin 246 Meerkat. The Caged man was then spun along the back straight by 191 Corey, the Reem man being followed in by 400 Chip in turn. 122 Boland went in on 400 Chip, but they quickly continued on their way. 418 Amie put 10 Simmo under pressure. 616 Jackman took a trip to the armco and copped a large jacking from 122 Boland. Squad revenge was swift as 162 Bradderz leathered 122 Boland. 535 Cox followed in 161 Smith, ending the latter's charge. 400 Chip took a lunge at 441 Smith. 535 Cox jacked 418 Amie who had run head on into the lame 122 Boland. 162 Bradderz clobbered 535 Cox, and took a hit in turn from 317 Brick. 260 Keefy set about 167 Kenzo, as down on turn 4, 816 Binx followed in 317 Brick. 816 Binx then took a quick fire double from Squad duo 162 Bradderz, and 400 Chip, the latter's hit destroying the 816 Almera. 535 Cox homed in on 162 Bradderz, with the bend becoming a slight car graveyard. 317 Brick buried 440 Big Mac, and took a solid shot in turn from 808 Stevens. 440 Big Mac ran into the spun 191 Corey, and was done in turn by 612 Robins. This allowed 243 Bodja to rattle 612 Robins around the plating. The red flags came out for an unknown reason, which allowed time for turns 3 and 4 to be cleared. The restart saw the action resume, with the limping 420 Petey taking a shot from the lively 535 Cox. 243 Bodja weighed in on 167 Kenzo, spinning him at the end of the home straight. 391 Spikey homed in on 167 Kenzo after the flag – 333 Beachball lined up 391 Spikey for a hit but the timing was slightly off and he took a portion of the armco to round off the action. 226 Liam Bricknell won from 294 Scott Martindale and 391 Adam Bligdon.
The Unlimiteds looked to continue their action-packed afternoon with the Caged Open Final, which saw 243 Grumpy make it on track for the first time in the afternoon in the Humber. As expected the Humber was the focus of attention straight from the drop of the green, with 103 Jacko spinning it aside. 246 Burty Jnr then lined 243 Grumpy up for a tbone along the back straight. 290 Stefro spun and took a hit over the front wheel from 862 Pidgeley as he backed onto the centre. 67 Beasley fenced 260 Keefy, with 411 Eggysis homing in on the 1 Series. 246 Burty Jnr weighed in on 411 Eggysis, before 243 Grumpy bizarrely completed a full lap against the flow. 414 Craig spun under his own steam on the home straight. 551 Jackson stuffed in 882 Nathan, as 67 Beasley lined 788 Crawley up for a stonking hit. 243 Grumpy administered a hit on oppo to 246 Burty Jnr. 617 Overy then turned it around and splintered 243 Grumpy's Humber with a stiff jacking. 360 Jackstar tboned 617 Overy, the 3 Litre man then being followed in by 67 Beasley a lap later. Beasley completed a lap before jacking 360 Jackstar, and was done in turn from 146 Wiggy. 840 Shep tboned 243 Grumpy. Team Black assaulted 146 Wiggy – 617 Jack delivering a large shot, setting him up for a solid head on from 356 Harry. 760 Joey Reynolds raced to the win, and celebrated by steaming into the spun 103 Jacko. 699 Stacey Holdsworth and 356 Harry Overy filled out the podium places.
By the time the Teen Streets were on track for their Caged Open Final, darkness had fallen. The action came in small doses, with 2 Bricknell spinning 457 Haydon, copping the armco himself too. The other action coming as 268 Bailey spun 822 Masterman. 585 Luke Holdsworth raced to his hat-trick.
The Unders Dash saw a drop in numbers. 535 Cox drove through 167 Kenzo who came to a halt at the end of the home straight, also claiming 246 Meetkat. 243 Bodja drove through 545 Mini Wilks, setting him up for a tbone from 162 Bradderz. 317 Brick took a hard trip to the armco on turn 3, before 333 Beachball set about 60 Croskell. 101 Roberts drove through teammate 167 Kenzo, allowing 246 Meetkat to home in on the latter. 400 Chip laid into 474 Smiffy, with 162 Bradderz hitting him on oppo to form a 'Squad sandwich.' 307 Pretty Boy jacked 162 Bradderz just off the centre, and was done in turn by 400 Chip, 191 Corey delivered swift Reem revenge, before 317 Brick tboned 400 Chip on oppo to conclude the action. 161 Billy Smith took the win.

In an addition to scheduled programming, the Teen Streets were back for an Alcomers race. Hattrick hero 585 Holdsworth set the ball rolling by fencing 457 Haydon. 2 Bricknell spun 268 Bailey who was clobbered in turn by 294 Callum. 585 Holdsworth raced to his fourth win of the day.
The Overs were back on track for their Dash into DD. 617 Overy played a clever tactical lean on 360 Jackstar, holding him on his outside until 103 Jacko weighed in for a hit to the 3 Litre man. 617 Overy leathered 360 Jackstar a lap later, before 67 Beasley weighed in on the latter. 146 Wiggy homed in on the limping 882 Nathan, before 760 Joey delivered a textbook follow in on 356 Overy. 67 Beasley homed in on 146 Wiggy. 103 Jacko went against the flow to jack 882 Nathan. 617 Overy and 103 Jacko combined to assault 18 Setters – the latter was then silenced courtesy of a series of hits from 617 Overy and 67 Beasley. 699 Stacey Holdsworth took the win, with the DD honours being shared between the Team Black contingent.
The Unders DD saw 400 Chip set things off by delivering a huge shot on 167 Kenzo. 317 Brick set about 288 Fatboy on the back straight. 101 Roberts delivered a heavy front wheel shot to 535 Cox. 400 Chip destroyed 101 Roberts, and then took one in turn from 288 Fatboy. 317 Brick weighed in with a shot to 535 Cox. 77 jacked 288 Fatboy, and was done in turn by 535 Cox. 317 Brick drove through 535 Cox, before the pair shared a head on down the home straight killing off the former. 535 Cox celebrated his win with a solid jacking to 317 Brick to conclude a day of solid action.
We thank all drivers, teams and spectators, along with the Standlake staff and the Hooks for another great meeting to celebrate the Caged Open under strange times to say the least. The day was perfectly summed up by the GOAT, 617 Jack Overy. "It was a proper old school banger meeting – you can't beat Standlake! I always enjoy Standlake as it doesn't matter what you race, or who you are, if you get stopped, you're getting smashed; how it should be! Thanks for a good day!" We would also like to send well wishes to 535 Tommy Cox, who suffered a hand injury when loading his car up after the meeting.