All Volvo & Granada Bangers & National Micro Bangers – 19/09/2020 – King's Lynn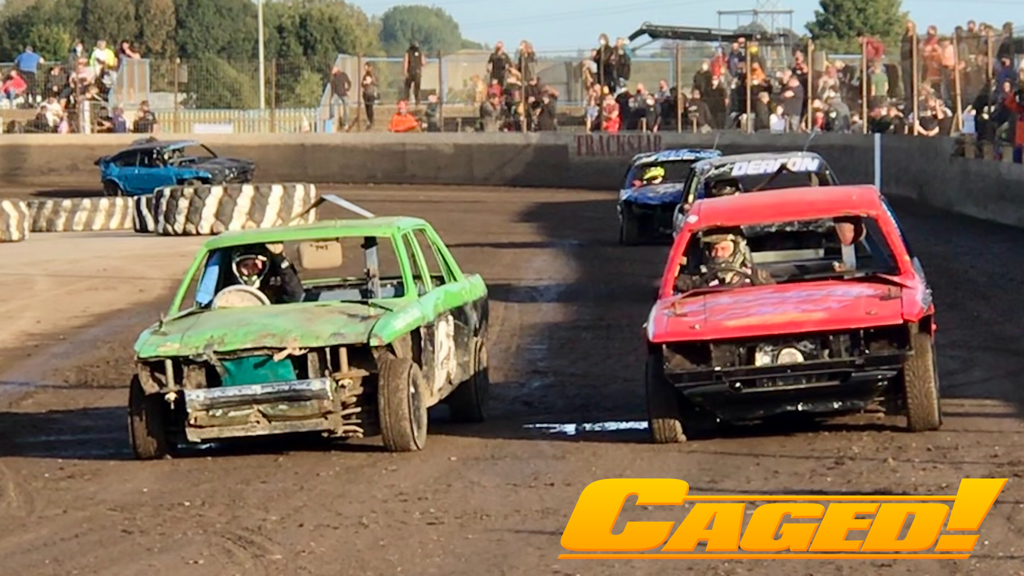 A night of all banger action saw the return of the All Granada (Mk 1/2/3) & Volvo Banger session, accompanied by the ever popular Micro Bangers at the Adrian Flux Arena on Saturday 19th September 2020. The material front naturally mostly coming from the Granada front, with 85 James Ellis and 273 Kevin McClagish boasting fresh Mk2 Limos, the former's being a smartly sign written one. 267 Martin French had a Volvo 9 Series Limo, one of two Volvo limo variants on display as 355 Martin Mullins also had one in the raw. 551 Brett Jackson piloted a smart Mk3 Granada Limo, with 550 Fearless Frank and 704 Connor Siddalls also in Mk3 Limos. Several drivers made an effort on the paint front, most notably 17 Shane Heath, 51 James Licquorice, 178 Kieran Bowman and 209 Tom Waller in the Unlimiteds, although 114 Liam Lake's Ford Granada Mk2 Estate looked the business without any signs. Providing the smart paint on the Micro front were 51 James Licquorice, 84 Will Cole, 212 Jack Maryon, 247 Jon Bailey, 293 Harry Cole, 557 Boab Ryan, 902 Kacey Crane, 904 Reece Crane, and also plenty of the Boston Warlords who had a fleet of Peugeot 206s to highlight a few.
An All Mk1 and 2 Granada Heat started the evening of nicely, with 17 cars out on track. 721 Clarkey set the early pace and had a strong lead before he decided to splatter 537 Bruno around the plating, which paid costly as the damage he attained from the hit caused him to retire handing 388 Little Stevo the lead. 760 Joey spun 625 Gucci, and 17 Heathy also spun before the end. 760 Joey lost a wheel but managed to finish whilst 388 Steve McGrath raced to the win ahead of 266 Al Roskell and 103 Jack Deacon.
388, 266, 103, 128, 757, 760, 625, 224, NOF
Heat 1 for the Micros saw the action turned up a notch. 115 Bull set about 512 Armstrong, before a massive push into turn 1 saw 664 Gump go up in the air, completely a full 180 degrees and 113 Franklin jacked 552 Crane, with 335 White and 212 Little Mario steaming in behind. 84 Alpaca delivered a huge shot to 77 Leeson. 212 Little Mario had a pop at 904 Crane on the power station bend before the reds came out. The restart saw 579 Mr Clumsy run in 117 Lennie. 664 Gump tboned 10 Collins on oppo, with 335 White running into 10 Collins triggering a small pile up. 904 Crane attacked 330 Stanney, allowing 212 Little Mario to set about 904 Crane, with 17 Filer, 609 Nath Tomo and 28 Bell all weighing in for extra measures. 609 Nath Tomo then turned 275 Clarke left along the back straight, as 338 Wingnut dispatched 247 Clarke. 5 Maddox and 04 Croft crashed out along the back straight, coming to a stop as they connect with the marker tyres. 65 Hornbrook followed 57 Garrod into 77 Leeson's empty car, as 609 Nathan Tomlinson raced to a lively win; Aftermath youngster 84 Will Cole taking the entertainer award.
609, 579, 337, 338, 335, 359, 041, 28, 334, 65
Unlimited Bangers Heat 1 saw the introduction of all Volvos and the Mk3 Granada variants, beginning with a push into turns 3 and 4. 549 Smiffy Jnr spun 634 Marty. 267 Frenchy spun 333 Cuddles as he looked very rapid moving up the order. 02 Reynolds spun 568 Shaggy, and 828 Sharpey removed 330 Deeley. 276 Rowell turned it around on the exit of turn 2 and stopped the leading 267 Frenchy head on, well and truly snapping the latter's Volvo limo with a few others collecting the former leader before the red flags came out to attend to Frenchy, who managed to get out all ok. The restart saw 634 Marty spin, only to be collected by 9 Cox. The race then went quiet as the last few laps counted down, with 466 Dalton Steele racing to the win ahead of 589 Simon Smith and 830 Lee White. 85 Ellis spun 155 Captain Slow across the line to pip him to fourth.
466, 589, 830, 85, 155, 419, 188, 549, 791, 828
Heat 2 for the Micro Bangers, which were split into a 2/3 commenced with 162 Bradderz following in 6 Ling from the off. 880 jacked 5 Maddox. 51 Licquorice assaulted 334 before 619 Nath Tomo absolutely homed in on 664 Gump leading to a red flag. The restart saw loads go in on turn 3 and 4. 84 Alpaca set about 17 Filer. 256 Marky G spun 920 Churchy, who was then treated to a head on from 579 Mr Clumsy. 53 Dreamer was spun by 338 Wingnut and was jacked in turn by 751 Wells. 84 Alpaca delivered a huge tbone to 110 The Judge. 231 Bam Bam rolled under pressure from 256 Marky G, bringing another race stoppage. 247 Jonboi was given a black crossed for jumping the start as Heat 2 got underway for the third time. 99 Garrod set about 579 Mr Clumsy. 335 White jacked 115 Bull. 449 Green dispatched 834 Yoshi, as 321 The Frog got rid of 556 Tillow. 549 Smiffy Jr removed 321 The Frog. 556 Tillow set about 449 Green spinning him on the back straight, before being spun himself by 17 Filer. 247 Jonboi took out 229 Cobby Jnr after the chequers, the latter managing to hold on for the win. 449 Green delivered a shot over the front wheel of 556 Tillow, and was then jacked by 41 Louis in turn.
229, 549, 37, 247 (docked 2), 17, 99, 41, 579, 331, 834
Unlimited Heat 2 was next on track. 146 Wiggy set the action rolling by spinning 537 Bruno. 517 Sidders ran 721 Clarkey through the spun 92 Clappy. 551 Jacko Jnr used his Mk3 Granada Limo to deliver a rear wheel shot to 517 Sidders. 466 Dalto attacked 791 Spud, which spun 312 Turbo Tom in turn. 760 Joey spun 209 Tombo and continued on to rattle the recovered 312 Turbo around the plating. 178 Slim blitzed 661 Smiffy who had been sat up nicely courtesy of a spin along the home straight. 247 Bro spun the luckless 312 Turbo Tom, before 209 Tombo struck 317 Stress on oppo. 178 Slim weighed in on 317 Stress. 209 Tombo gave a head on to 78 Mad Mace, the latter being blasted by 551 Jacko Jnr. 119 Davey Cox spun 51 Licquorice on route to winning, ahead of 146 Dan Wigman and 388 Steve McGrath.
119, 146, 388, 466, 128, 247, 517, 760, 549, 791
Heat 3 for the Micro Bangers saw Surrey Street Squad member 162 Bradderz set the ball rolling as he followed 920 Churchy in to the spun 353 Mullins. 557 Wee Boab got buried into a marker tyre, as a few more went piling in. 751 Wells followed in 330 Stanney. 552 Crane ran into 330 Stanney and was blasted in turn by 229 Cobby Jnr. 662 Dalts clipped 751 Wells, which caused several others to fall by the wayside. 557 Wee Boab weighed in on 751 Wells, as 117 Lennie came under fire from 904 Reece. After a yellow flag, the race was once again underway with action all around the shaleway. 10 Collins went on oppo on the exit of turn 2, and was met by 65 Hornbrook who squared him up for a solid exchange. 04 Croft jacked 65 Hornbrook, before 231 Bam Bam delivered a similar shot to 212 Little Mario. 904 Reece turned it around to deliver a massive tbone to 10 Collins, only to cop one himself from 634 Marty. 51 Licquorice jacked 162 Braderz down on the scoreboard bend as the reds came out to check on 904 Reece Crane. 549 Smiffy Jnr made an uncharacteristic mistake catching the parked car of 65 Hornbrook, taking him out of second place on the restart, although he rallied back to set about 634 Marty before the flag to secure a fourth place. 337 Ashley Garrod taking the win.
337, 99, 117, 549, 634, 04, NOF
The Unlimited Bangers 3rd Heat began with 721 Clarkey spun 9 Cox, the latter then being driven through by 02 Reynolds. 178 Slim decimated the lame Volvo Limo of 768 McSweeney; 634 Marty also driving through the Shunters limo. The red flags came out for an unknown reason. The restart saw 114 Lakey set about 178 Slim. 550 Fearless Frank turned around to give a head on to 353 Mullins. 312 Turbo Tom weighed in on 550 Fearless Frank; the latter copping further attention as 353 Mullins administered a revenge attack. 317 Stress dealt a blow to 353 Mullins on oppo. 830 Stretch attacked 81 Bell, and was tboned by 178 Slim as he reversed across the track. 9 Cox clocked 830 Stretch and drove through him as the two continued their rivalry. 704 Siddals jacked 317 Stress on oppo, as 9 Cox continued to reverse off and drive through 830 Stretch on the edge of the concrete. 178 Slim delivered a shot to 81 Bell on oppo. 247 Bro rattled 114 Lakey, before spinning him on route to taking the win.
247, 119, 760, 103, 589, 185, 114, 426, 312, 165
The Micro Bangers Final began with 247 Jonboi burying 117 Lennie at the end of the home straight. 321 The Frog took around 231 Bam Bam. 331 Mackenzie followed in 334 Stewart on the entrance of turn 3. 231 Bam Bam set about 552 Crane, leaving himself open to a flat out back wheel shot from 04 Croft. 117 Lennie rattled 84 Alpaca around the plating on the round bend, before getting put away with 37 Lewis by 321 The Frog. 248 Ashbridge jacked 334 Stewart, and was done in turn by 41 Louis. Warlords revenge was quick as 579 Mr Clumsy immediately homed in on 41 Louis. 331 Mackenzie went in on the beak of 579 Mr Clumsy. 335 White buried 36 Lewis into the melee on the scoreboard bend, only to be jacked himself by 04 Croft; 662 Dalts going in on the TSB man. 902 Crane delivered a shot on 41 Louis. 902 Crane went in on 579 Mr Clumsy, before taking a series of small shots as drivers passed by, including one over the rear wheel from 834 Yoshi. 17 Filer weighed in on 334 Stewart as the reds came out. 247 Jon Bailey raced to the win ahead of 338 Terry Garrod and 549 Phil Smith.
247, 338, 549, 99, 662, 37, 17, 321, 337, 634
The Unlimiteds Final commenced with 188 Victor taking out 817 Stig. 9 Cox spun aside 537 Bruno, the Steam Team veteran continuing his luckless evening. 155 Captain Slow attacked 119 Cruncher as 548 Big Al stuffed in 721 Clarkey. 185 Reade put away 155 Captain Slow, who took a head on from 791 Spud. 266 Big Al rattled 146 Wiggy into the armco as they jostled for position. 548 Big Al spun 466 Dalto, who then had 146 Wiggy run into him courtesy of 128 Shippy. 85 Ellis spun 51 Licquorice, whilst 388 Steve McGrath raced to his second win of the night ahead of 548 Alex Utting and 128 Andrew Shipp.
388, 548, 146, 128, 589, 760, 114, 85, 426, 549
The Micros Alcomers begun with 557 Wee Boab running in 175 Lay, only to cop more of the armco himself. 751 Wells set about 04 Croft. 834 Yoshi jacked Gladiator 107 Pritchett, only to be blitzed courtesy of a huge shot from 880 Little Wann. 634 Marty was on hand to administer swift brotherly revenge, jacking 880 Little Wann before the red flags came out to assist 834 Yoshi from his monster wreck, exiting all ok albeit initially wobbly on his feet. The restart saw several quiet laps before any action materialised. 330 Jackson Dude took out 57 Garrod. 247 Jonboi and 321 The Frog ended an enthralling battle for the lead, with 247 Jonboi pipping it on the last bend to take the honours; his second win of the night too!
247, 321, 337, 338, 549, 99, 662, 37, 04, 330JW
Straight into the DD, with 256 Marky G wasting no time in ploughing into 751 Wells. The lively Warlords man then exchanging blows with 51 Licquorice and 664 Gump, before 321 The Frog blasted 117 Lennie. 229 Cobby Jnr clobbered 751 Wells over the front wheel as 256 Marky G continued his lively streak by laying into 51 Licquorice once again. 488 Codie was in the middle of a solid impact; 175 Lay giving the young gun a head on as 256 Marky G jacked her leading to a cautionary period, but not before 110 The Judge jacked 175 Lay. The resumption saw 84 Alpaca straight off the mark with a shot on 117 Lennie. 321 The Frog blasted 84 Alpaca before taking a roof bending hit from 662 Dalts. 65 Hornbrook weighed in on 662 Dalts, only to take one in turn from 449 Green, with 664 Gump completing the train. 175 Lay landed a hit to 662 Dalts. 57 Garrod set about 175 Lay, as 04 Croft tboned 662 Dalts. 117 Lennie was blitzed courtesy of a large portion from 5 Maddox bringing another stoppage. The action got underway once again with the field fairly depleted at this stage. 664 Gump went in on a lame 449 Green, before sharing a head on with 51 Licquorice on the scoreboard bend. 84 Alpaca set about 449 Green. 70 Little Miss Grumpy tboned 57 Garrod at the end of the back straight before another stoppage. At this point, only a few cars were left running and it was evident the day's action had clearly taken its toll. 5 Maddox homed in on 51 Licquorice, stuffing him in to 70 Little Miss Grumpy's empty car at the entrance of turn 3. 84 Alpaca silenced 5 Maddox with a pair of hits before sharing a head on with the limping 449 Green half way down the home straight ending the charge of both to declare the event in a dead heat.
The Unlimited Bangers ended the night's programme with their Alcomers into the DD. The race started in slow action with little action of note, although 146 Wiggy took up the running after 87 Damo went awol. Several drivers spun under the scoreboard including 537 Bruno. 51 Licquorice drove through 317 Stress who had also suffered a spin. 178 Slim lost a wheel, and decided to go in on the nose of 537 Bruno. 828 Sharpey laid into the lame 178 Slim, setting him up nicely for a shot from 51 Licquorice. 548 Big Al set about 791 Spud on the road bend, with 247 Bro joining in the action by turning it around to do the latter head on. 247 Bro spun around again, this time getting a decent run up to deliver another head on to 791 Spud. 828 Sharpey drove through 247 Bro. 548 Big Al and 760 Joey dealt blows to 791 Spud in sequence. Whilst this went on, 146 Dan Wigman raced to the win ahead of 549 Phil Smith and 114 Liam Lake. Damage Inc pairing 548 Big Al and 247 Bro ended the race action by driving through 791 Spud on oppo.
146, 549, 114, 589, 760, 830, 548, 257, 165, 791
828 Sharpey set the ball rolling in the DD by going in on the nose of 247 Bro. 828 Sharpey continued his momentum to jack 247 Bro, before taking one in turn from 704 Siddalls. 550 Fearless tboned 704 Siddalls. 788 Nicholls gave a head on to 550 Fearless. 828 Sharpey delivered a large jacking to 788 Nicholls. 704 Siddalls set about 828 Sharpey and copped a hit in turn from 51 Licquorice. 548 Big Al then went in for another, albeit slightly pointless at this point, hit on 791 Spud. 828 Sharpey turned it around to jack 548 Big Al. 123 Kezza administered a head on to 828 Sharpey. 165 Benny drove through 123 Kezza, then receiving a tbone from 548 Big Al. This left 123 Kezza to take the honours and round of a solid and consistent evening of action.