Kings Lynn – 30/08/21 – Big Van Bangers 'Crash for Cancer' + Robins 'World of Shale' – Meeting Report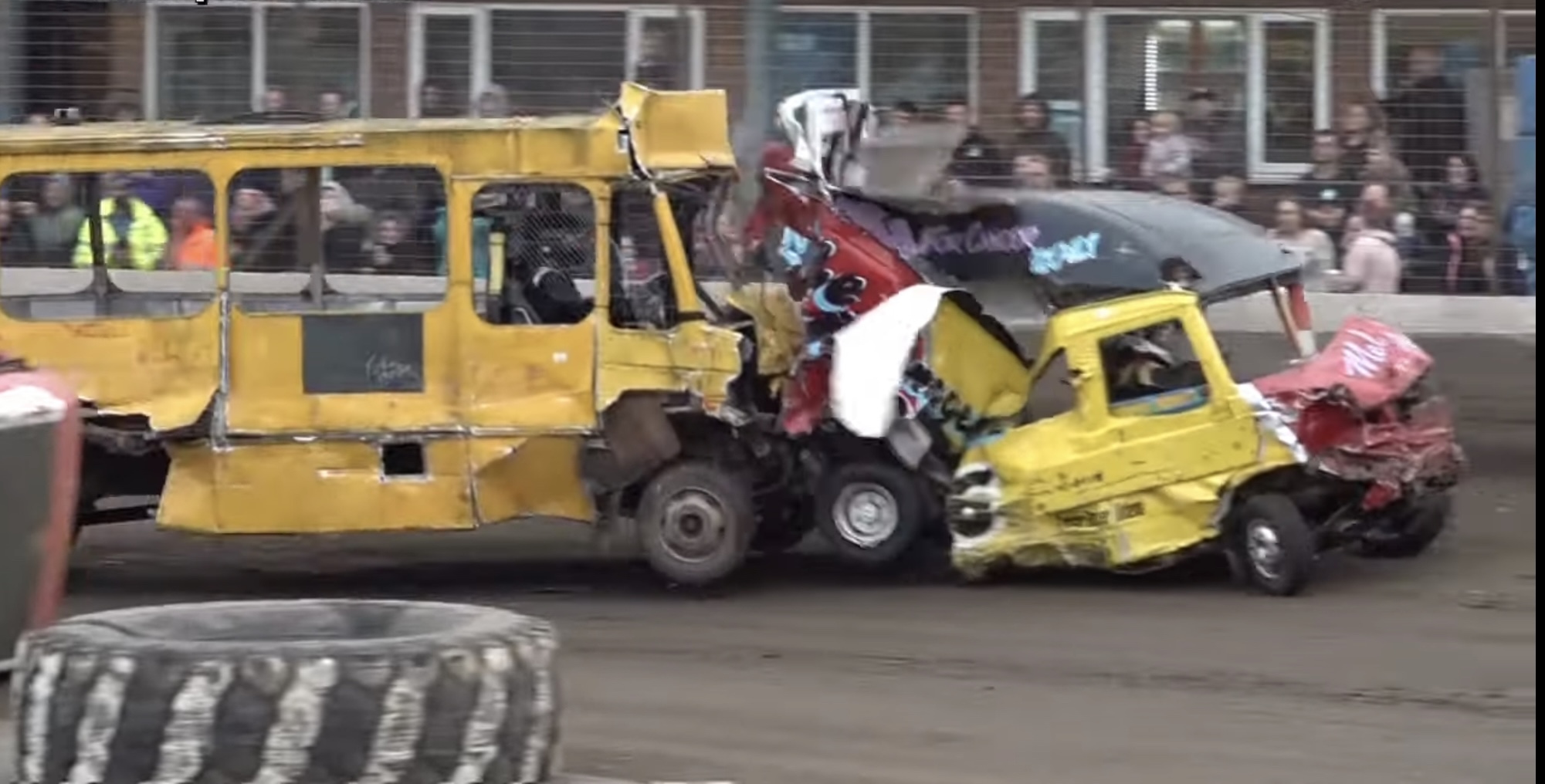 The annual Big Van Bangers Crash for Cancer session at the Adrian Flux Arena took place on 30th August featuring the Robins for their World of Shale Championship also. Several drivers made the effort on the paint front whilst the typical van material excelled.
Heat 1 saw several fall foul on the first lap. 617 Danny Everett got carried along the home straight by the pushing pack and dumped into the infield marker tyres. 476 Ross Coleman rattled in 39 Justin Woodlock and then came round to splinter him a lap later. 257 Peter Beard delivered a reverse attack on 39 Woody. 182 Paighton Gibson spun 476 Rosco. 862 Reece Eglington tboned 257 Beard. 476 Rosco attacked 288 Chris Ford. 347 Red Nelson got ran into the pile up by 28 Mac Bell into 721 Dan Clarke, which snapped the former's passenger A pillar fairly. 476 Rosco tboned 862 Eglington. 673 Darren Fendley spun 121 David Wright. 721 Clarkey delivered a head on to 347 Nelson. 476 Rosco drove through 862 Eglington. 512 Matt Armstrong rattled 664 Aaron Challis into the plating and through 862 Eglington. 673 Fendley drove through 862 Eglington. 664 Trellence drove through 32 Ricky Hughes. 121 Wright tboned 862 Eglington, before 182 Gibbo set about 512 Armstrong. 673 Darren Fendley secured the win in what was a lively opener.
673, 337, 28, 573, 380, 182, 121, 512, NOF
Heat 2 begun with 776 Ady Groome removed 23 Sonny Parsons, the latter then coming under fire from the leading 17 Gary Beck. 178 Kieran and 279 Bradley Bowman combined to stop 700 Harley Burr, 178 Slim then continued on to attack 577 Alfie Lee. 188 John Reeves went in on 178 Slim. 348 Lewis Saunders went in on the nose of 577 Fonzo. 23 Sonny P spun 776 Groomy and then leathered 700 Bogbean. 178 Slim was sat up on the power station bend, and was jacked by 188 Victor. 902 Tony Lowther drove through 178 Slim, the latter recovering to drive through 700 Bogbean. 188 Victor weighed in on 178 Slim, with 279 Braderz homing in for a revenge hit to 188 Victor. 757 Callum Gill tboned the backing out 178 Slim. Carnage ensued on the entrance of the home straight as 178 Slim and 577 Fonzo creating a barricade. 17 Gary Beck drove through 178 Slim. 77 Russell Gill drove through 577 Fonzo. 188 Victor set about 279 Braderz. 348 Saunders drove through 902 Tony. 757 Jack Jnr weighed in on 776 Groomy, with 385 Roy Gedge took the win.
385, 17, 77, 348, 188, 757, 776, NOF
The Robins World of Shale saw action before half the cars had even lined up as 51 James Licquorice rolled it out the pit gate. The race began and it wasn't long before a rollover; 51 Licquorice again the culprit after setting about 555 Taylor Douglas and getting put on his side in turn by 161 Billy Smith. On resumption of play, 57 Max Stott followed 51 Licquorice in who rolled big time. 554 Paul Douglas set about 566 James Willis. 57 Stotty put the bumper in on 419 Moss who rolled. 576 Colin Alfred rolled in major fashion and carried on. 178 Slim rolled, before 555 Douglas Jnr, 9 Anthony Cherry and 419 Laura Quadling rolled in sync on the road bend; the yellows coming out to retrieve them. 178 Slim rolled again as 553 Daniel Douglas, 385 Roy Boy and 197 Tommy Tatham battled for the lead. The leading 553 Chalkie punted on 419 Moss who rolled bringing out yet another yellow flag. 9 Cherry got rid of 566 Pork Pie Jnr on the restart. 197 Tatham attacked 576 Porkey for third place, the latter rolling big time and landing, much to the crowd's delight. 161 Smith attacked 96 Ian Robins as 553 Daniel Douglas raced to the win, his fifth time taking the World of Shale honours and his third in a row. 385 Roy Gedge secured second and 197 Tommy Tatham third place.
553, 385, 197, 490, 161, 419, 96, 9, 566, 554
The Van Bangers returned for Heat 3. 57 Josh Johnson and 182 Gibbo were dispatched heavily by the pack. 51 Licquorice backed out on 288 Fatboy and was duly tboned by 664 Trellence. 617 Everett ran 411 Daniel Pegg into 257 Beard. 721 Clarkey homed in for a shot on the nose of 411 Pegg. 32 Ricky Hughes went on the attack, firstly going in on 573 Sam Bloomfield before driving through 664 Trellence a lap later. 32 Hughes continued his assault with a tbone to 51 Licquorice. 257 Beard laid into 664 Trellence on oppo. 57 Johnson had a pop at 86 Simon Royal. 664 Trellence and 257 Beard enjoyed their own private battle on the power station bend. 165 Ben Randell drove through 51 Licquorice. 349 Finbarr drove flat out into the side of 86 Marlon along the home straight as running mate 380 Trevor Wright won. Entertainer awards given to 349 Finbarr, 32 Hughes and 51 Licquorice.
380, 673, 337, 165, 121, 57, 86, NOF
Heat 4 saw 348 Saunders tangle with 273 Kevin McClagish and go in hard before 178 Slim drove through 17 Becky. 188 Victor drove through 178 Slim. 757 Jack Jnr collected 348 Saunders. 385 Roy Boy drove through 700 Bogbear. 178 Slim weighed in on 411 Pegg, and then continued on to deliver a stiff tbone to brother 279 Braderz. 757 Jack Jnr tboned 278 Chantelle McClagish, dislodging most of the horsebox shell. 74 Caroline Garner drove through 279 Braderz. 188 Victor completely removed the body of 278 McClagish's horsebox. 757 Jack Jnr tboned 279 Braderz hard with 74 Garner weighing in for extra measures. 757 Jack Jnr spun 17 Becky on the back straight, before 279 Braderz delivered a solid shot to 178 Slim. 279 Braderz backed out catching 17 Becky, causing severe A pillar damage for the latter. 385 Roy Gedge took another win, and celebrated by tboning 279 Braderz with a solid shot. The entertainers going the way of 279 Braderz, 178 Slim and 273 Mad Mouse.
385, 77, 17, 188, 757, 700, 74, NOF
178 Slim continued his entertaining in the Robins, with a big rollover down the home straight early on into Alcomers 1. 57 Stotty followed in 161 Smith. 178 Slim rolled himself in epic fashion along the home straight. 490 Lee Barnard had a pop at 57 Stotty and sent himself flying. 490 Barney leathered 178 Slim coming to a stop. 178 Slim had another roll and landed back on his wheels. 57 Stotty jacked 490 Barney a lap later and rolled in turn. 178 Slim rolled himself down the back straight. On the restart, 178 Slim rolled again, as if he were trying to set a new record, with another halt in momentum. The restart saw 161 Smith try having a go at 576 Porkey, spinning and rolling himself in the process, as 553 Daniel Douglas took another win.
553, 229, 197, 385, 9, 96, 576, 161, NOF
Final time for the Van Bangers began with drivers piling in on turn 1. 573 Bloomfield attacked 78 Gavin Oakes. 776 Groomy drove through 23 Sonny P. 39 Woody weighed in on 288 Fatboy. 373 John Anderson jacked 39 Woody. 51 Licquorice backed out on 385 Roy Boy. 77 Jack laid into 21 Wright. 121 Wright thundered in to 373 Anderson. 664 Trellence tboned 51 Licquorice and then drove through him a lap later. 257 Beard drove through 279 Braderz. 81 Ashley Bell piled into 257 Beard. 178 Slim parked in the side of 373 Anderson. 74 Garner removed 279 Braderz as 257 Beard lamely went in on 178 Slim. 279 Braderz homed in on 51 Licquorice. 512 Armstrong went the length of the back straight on oppo to attack 121 Wright. 77 Jack delivered a head on to 81 Bell, who had just driven through 51 Licquorice. 476 Rosco tboned 51 Licquorice. 77 Jack delivered an oppo attack on 776 Groomy. 81 Bell weighed in on 178 Slim and then came under fire from 188 Victor, as 17 Becky drove through 257 Beard. 188 Victor set about 74 Garner who rolled, and with a fire for 373 Anderson also, it was reds and chequers with the race being declared in favour of 57 Max Stott; 337 Ashley Garrod and 385 Roy Gedge his placemen.
The Robins concluded their day with their second Alcomers of the afternoon with a quiet opening few laps, until 51 Licquorice spun 161 Smith. 57 Stotty set about 51 Licquorice but scuppered himself. 161 Smith chopped 553 Chalkie fence-wards which rolled the multi-champion. 197 Tatham leathered 161 Smith before the field was brought to a stop. 161 Smith continued on the front foot on the restart, attacking 555 Douglas Jnr. 51 Licquorice rolled under his own steam, before going flat out into the plating. 197 Tatham set about 161 Smith. 9 Cherry rolled himself over the top of 553 Chalkie as 229 Steve Futter took the win.
229, 385, 9, 197, 96, 161, NOF
The DD for the Vans concluded the afternoon in style. 757 Jack Jnr was immediately in reverse, stopping 74 Garner dead in her tracks. 51 Licquorice backed out on the power station bend taking consecutive shots from 700 Bogbean and 188 Victor. Several drivers were piling in on the road bend. 165 Randell tboned 902 Tony. 188 Victor drove through 902 Tony. 288 Fatboy done 346 Muttley and was jacked by 188 Victor in turn, creating one of the slowest rollovers in history for Fatboy. The red flags coming out to allow 288 Fatboy to exit safely. The restart saw 74 Garner jacked 17 Becky, who completed a lap before tboning 21 Wright. 346 Muttley deliver an oppo assault on 17 Becky. 188 Victor jacked 385 Roy Boy and 348 Saunders drove through 17 Becky with a pause to the proceedings once again. We were away once again with 17 Becky backing into 348 Saunders. 51 Licquorice attacked 385 Roy Boy in reverse. 512 Armstrong delivered a flat out tbone to 348 Saunders rolling him. The restart saw 51 Licquorice reverse out on the passing 273 Mad Mouse. 700 Bogbean drove through 346 Muttley. 17 Becky set about 81 Bell and continued on to drive through 346 Muttley. 51 Licquorice backed out on 17 Becky stopping him in his tracks. 700 Bogbean weighed in on 57 Johnson and dumped him into the plating. 17 Becky had got going again and homed in on 51 Licquorice. 757 Jack Jnr jacked the reversing 385 Roy Boy along the home straight. 700 Bogbean drove through 77 Jack, the latter bouncing back to tbone 346 Muttley. 700 Bogbean then attacked 346 Muttley. 81 Bell and 77 Jack met in a solid head on, the latter then coming under fire from a reverse attack from 346 Muttley. 17 Becky and 57 Jordan met in a head on, although theirs a lot slower and tamer. 757 Jack Jnr went on the assault, driving through the front wheel of 346 Muttley, before rattling in 57 Jordan and then leathering 17 Becky in reverse on the back straight. 757 Jack Jnr continued on the forefront, laying waste to 346 Muttley with a trio of solid shots, well and truly snapping the Management man. Jack Jnr then reversed into 17 Becky to ensure he was finished before laying into father 77 Jack. 757 Jack Jnr then went in on the nose of 77 Jack. A couple of tbones to 77 Jack saw him gain some sort of rejuvenation, leading to him delivering a couple of hits to 757 Jack Jnr. A joint reverse attack more or less finished off 77 Jack, with 757 Jack Jnr snapping his dad's van off with a series of jackings. He celebrated his win by reversing into 57 Jordan and then jacking 51 Licquorice a couple of times.
A superb Big Van session matched with the ever lively Robins and a jubilant bank holiday crowd creating a perfect combination for both the hardcore banger fan and causal visitor.