Kings Lynn – 29.05.2021 – All Nissan Sunny/Almera Bangers & All Carina/Corolla/Cavalier/Calibra/Bluebird/Primera Bangers – Meeting Report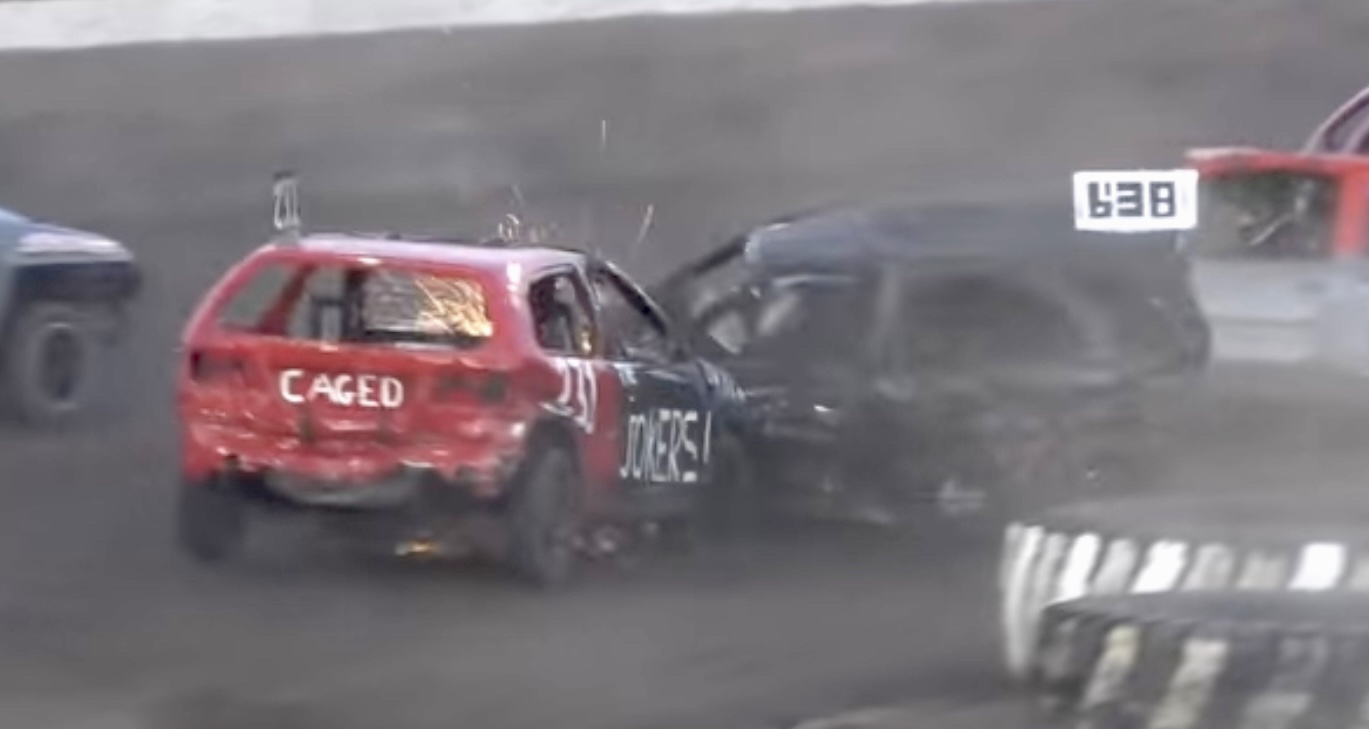 The 2l Bangers were up first for their first Heat. 51 Licquorice and 113 Wrighty were early casualties. 841 Jennings spun 624 Hubbard. 785 Diminoc delivered a head on to the spun 691 Ryno, before 279 Bradderz set about 783 Struddy. 517 Sidders weighed in on 279 Bradderz. 246 Meerkat followed in 600 Robinson, and 876 Ron did the same to 517 Sidders. 279 Bradderz jacked 517 Sidders and continued on to drive through the spun 135 Spuddy. 112 Wright spun 251 Broughton. 51 Licquorice squared up 13 Palin for a meaty head on, before 165 Benny rattled in 279 Bradderz. 707 Barney set about 78 Mad Mace, with the latter responding with a hit just before the reds came out. 589 Mark Crawford raced to the win after a long hiatus away from the track.
589, 78, 707, 841, 410, 246, 307, 785, 165, 279
Heat 1 for the All Sunny and Almera Bangers was next up, with 112 Wright burying 276 Rowell from the off. 43 Muttley Jnr rattled in 959 Keoghan, which claimed 278 Ace-Man too. 757 Jack Jnr jacked 278 Ace-Man, the latter coming under further attention courtesy of 27 Betts. 178 Slim jacked 27 Betts before doing a lap and blitzing 78 Mad Mace with a steaming hit. 396 Ginner turned 112 Wright fence-wards. The lively 178 Slim destroyed 197 Chapman before 49 Macdougal jacked 396 Ginner. 478 Weasel Jnr ran 396 Ginner head on into 278 Ace-Man. 333 Mr Matty T jacked 396 Ginner and was jacked in turn by 248 Blything. 51 Licquorice drove through 248 Blything before the reds came out. The restart saw 390 Gibbo attack 704 Siddalls, 321 Chatty Man driving through 704 Siddalls leaving the Barton Boy young gun open to a jacking by the on oppo 43 Muttley Jnr. 321 Chatty Man jacked 704 Siddalls delivering further abuse and was jacked in turn by 277 Sideshow. 9 Jordan delivered a huge tbone on 43 Muttley Jnr before 757 Jack Jnr delivering a head on to 704 Siddalls. The reds came out and with only a lap to run the race was declared; 266 Bradley Wells racing to a convincing win in his smart Almera.
266, 9, 128, 349, 757, 390, 862, 138, 611, NOF
The 2l Old School Bangers were for their second heat, which saw only a few early spins but nothing major occurred until 589 Crawford got spun and was jacked by 19. 231 Broughton attacked the rejoining 589 Crawford. The action picked up a notch, seeing several go in with 609 Tomo copping the brunt of it. 128 Shippy rolled bringing the action to a halt. The restart saw 785 Diminoc tbone 251 Broughton. 165 Benny boiled over whilst leading causing him to retire handing the lead to 337 Ashley Garrod who held on to take the win.
337, 113, 26, 556 Hamish, 191, 556, 279, NOF
Heat 2 for the Sunny and Almera Bangers, with 621 Barrett setting about 112 Wright from the off. 266 Brows spun 138 Little Jay, allowing 556 Tillow to weigh in on the latter. 478 Weasel Jnr and 861 Milner tangled, 321 Chatty Man then driving through Milner before the red flags came out for an unknown reason. The restart saw 113 Wrighty waste no time, rattling in 217 Smith. 248 Blything jacked 217 Smith. 611 Bieber had a pop at 901 Del Boy. 390 Gibbo followed 178 Slim in. 51 Licquorice ran in 638 Robson-Clare. 246 Meetkat leathered 349 Lightbulb, as 621 Jamie Barrett raced to the win.
621, 573, 27, 900, 128, 113, 390, 246, 51, 248
Heat 3 for the 2l Old School Bangers was next up. Top entertainer 178 Slim blitzed 565 Quadling aiding to his points charge. 51 Licquorice and 556 Tillow spun aside, and 135 Spuddy suffered the same feat at the hands of 113 Wrighty. 116 No Luck Nat spun 26 Lovick, before 307 Pretty Boy attacked 783 Struddy. Reem continued on the attack, with 191 Corey delivering a massive oppo assault on 783 Struddy snapping the latter. 707 Barney set about 112 Wright. 624 Cameron Hubbard raced to the win on this occasion.
The Almera & Sunny Final saw 112 Wright and 638 Robson-Clare collect the marker tyres as early casualties. 231 Ally delivered a mammoth tbone to 638 Robson-Clare, nearly knocking the latter's head of his shoulders. 757 Jack Jnr ruined 231 Ally with an equally solid hit and was jacked in turn by 396 Ginner. The reds then understandably coming out with 638 Robson-Clare seeking medical attention, although he climbed out just a little shaken. Heat winner 621 Barrett rattled in 78 Mad Mace and 611 Bieber on the restart, but was done in turn by 27 Betts. 396 Ginner homed in on 27 Betts, the latter then taking further abuse courtesy of a head on from 49 Macdougal. 9 Jordan wasted his lead to jack 49 Macdougal; 396 Ginner jacking the Barton Boy man in turn. 611 Bieber spun 321 Chatty Man, who squared up 621 Barrett for a jacking. 390 Gibbo and 901 Del Boy homed in on 49 Macdougal. 333 Mr Matty T leathered 621 Barrett and 349 Lightbulb came the other way through the pile up to stop 246 Meerkat head on. 51 Licquorice won and celebrated by homing in for a hit on the nose of 349 Lightbulb. With everyone caught up in the pile up, the race was declared and the result based upon laps completed.
51, 460, 113, 611, 128, 390, 900, NOF
The action continued into the DD, with 611 Bieber delivering a portion to 862 Eglington before taking a head on himself from 217 Smith. 113 Wrighty weighed in on the nose of 217 Smith in turn, before 478 Weasel Jnr set about 276 Rowell. Jokers revenge was swift as 277 Sideshow homed in for a tbone to 478 Weasel Jnr. 113 Wrighty jacked 478 Weasel Jnr and 321 Chatty Man did the same to 276 Rowell, almost in sync. 248 Blything came down the back straight with some menace, but with little to aim at, the resulting hit was a tame head on to 478 Wease Jnr. 113 Wrighty darted through the marker tyres to connect with a tbone to 246 Meerkat. 277 Sideshow came under attention, taking shots from 478 Weasel Jnr and 321 Chatty Man; the latter getting picked up and thundered into the lame 266 Brows Almera by 248 Blything. 276 Rowell went in on 248 Blything, who backed off only to cop a front wheel hit from 113 Wrighty. 246 Meerkat randomly jacked 611 Bieber, who's presence had been absent since early on, whilst 276 Rowell had a nibble at 113 Wrighty. 248 Blything got silenced by a combination of 246 Meerkat and 321 Chatty Man. 113 Wrighty and 246 Meerkat shared multiple shots including a stiff head on around the road bend. 276 Rowell attacked 113 Wrighty, but couldn't really build enough momentum to strike a killer blow. 113 Wrighty went in over the front wheel of 276 Rowell under the starters' rostrum, allowing 246 Meerkat to gather pace and leather 113 Wrighty. 276 Rowell delivered a head on to 113 Wrighty which was enough to end the life of both motors – 246 Meerkat made sure however, completing a lap on oppo and jacking 276 Rowell to take the honours.
The 2l Final begun with carnage on turn 4, with loads steaming in. 77 The Jack ran 600 Robinson into the pile up. 307 Pretty Boy set about 600 Robinson. 279 Bradderz homed in on 231 Shaggy and took a shot from 841 Carmen. 279 Bradderz drove through 841 Carmen a lap later, who also had 252 Wibbs ran through him to add to his woes. 707 Barney homed in on 221 Storr. 279 Bradderz jacked 841 Carmen, leaving him sat nicely for 51 Licquorice to do the same thing. 231 Shaggy had a rough couple of laps, eventually culminating in 112 Wright laying into him and disposing of him along the home straight. The hit evidently causing damage for 112 Wright, who rattled himself into the plating, allowing 307 Pretty Boy to home in. 329 Carter won and celebrated by going in on 307 Pretty Boy, with 609 Tomo going in to for good measure.
329, 609, 246, 116, 307, 337, 77, 26, NOF
231 Shaggy wasted no time delivering a head on to 26 Skiddy as the DD got underway. 556 Tillow jacked 231 Shaggy and spat him around the plating. 135 Spuddy drove through 221 Storr as 252 Wibbs set about 178 Slim and 556 Tillow in one hit. 191 Corey delivered a head on to 410 Calvert before the reds came out in association to 231 Shaggy. The DD resumed with 556 Tillow attacking 191 Corey triggering a jacking train which saw the boots put up for 252 Wibbs and 335 White, with others piling in. 624 Hubbard jacking 600 Robinson. 876 Ron weighed in on 624 Hubbard and took one in turn from 135 Spuddy. 113 Wrighty jacked 128 Shippy. 26 Skiddy administered a large jacking to 307 Pretty Boy and 410 Calvert tboned 135 Spuddy. 113 Wrighty leathered 178 Slim and then had a head on with 128 Shippy which allowed 876 Ron to obliterate the 128 Bluebird. 191 Corey delivered a head on to 589 Crawford and then jacked him, with the reds coming out to check on 589 Crawford. 556 Tillow was again the first to show on the resumption of play, going in on 279 Bradderz. The lively 191 Corey weighed in on 556 Tillow and then pushed 279 Bradderz head on into the incoming 113 Wrighty. 178 Slim shared a head on with 113 Wrighty; 191 Corey turning it around to get a run of speed blasting the latter. 113 Wrighty attacked 556 Tillow, the latter responding with a couple of shots of his own before silencing 113 Wrighty with a head on to take the win and round off a top night of action.