Aaron 'Weeman' King Memorial National Micro Bangers – 30/05/2021 – Yarmouth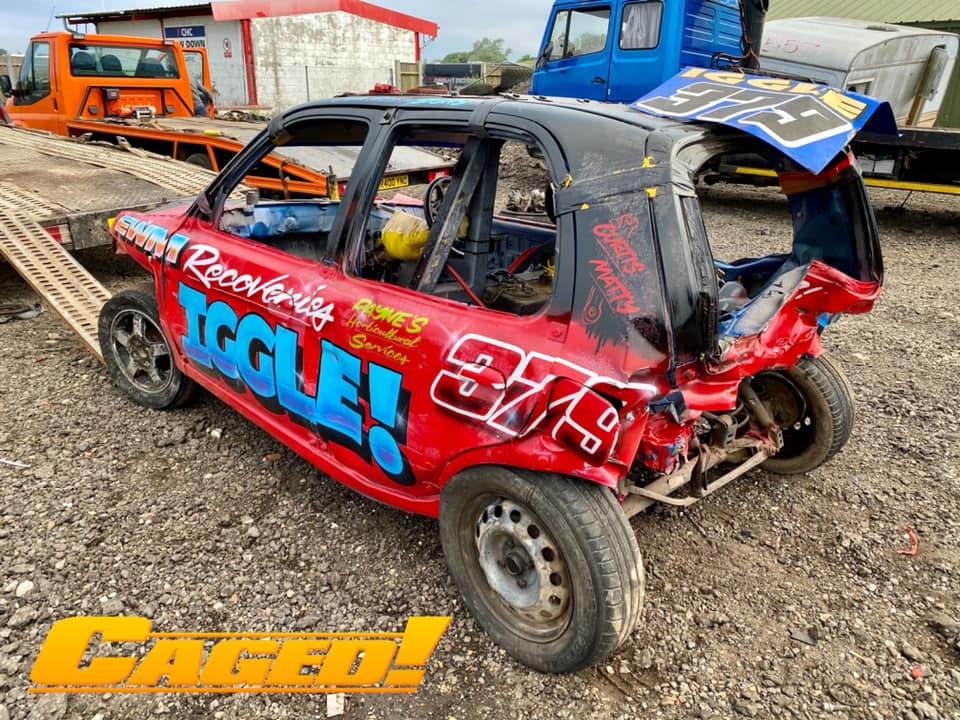 The Aaron King Memorial returned to Yarmouth Stadium on Sunday 30th May after a brief hiatus, having featured yearly between 2014 and 2016. A respectable 40 bangers attended including several long distance travellers from the North West and the Rowell brothers from the South who had already competed at Kings Lynn the night previous. Several drivers made the effort on the paint from including 448 Jay Byram, Fat Boyz pairing 166 Andy Armstrong and 623 Matty Mcfarlane and 379 Brandon Kevern. Damage Inc brothers 547 Ryan and 548 Alex Utting turned heads with their Mk6 Ford Fiestas.
Heat 1 begun with 131 McCarthy spinning 47 Jonboi from the off, which allowed 411 Rizzo to nail Jonboi with a head on. 29 Mawdsley was launched at the end of the home straight, which saw the long distance visitor meet a post, snapping it in half bringing the race to an early halt, but not before 217 Burrows homed in for a jacking to the former. After the repair work was finished, the race got underway again with 217 Burrows setting the tone rolling once more, pushing 516 Gouldy onto the infield tyres. 512 Rowe attacked 224 Canham for second place, which saw the latter catch a marker tyres and roll spectacularly landing back on his wheels under the starters' rostrum. The race quietened down in the final stages, but 131 Harley McCarthy raced to the win, setting his authority by besting 512 Kieran Rowe by over a straight – 634 Ben Green taking third place. 423 Oliver ended the action by setting about 518 Gould.
131, 512, 634, 621, 276, 141, 277, 730, 217, NOF
The second heat started in lively fashion once again. 548 Big Al was the first to show, spinning 77 Shadz fencewards. 87 Damo spun 157 Gru, and 866 Knott delivered the same treatment to 412 Chad to take the lead. 542 Oliver spun 666 Duckett who rolled on the centre and landed on all four. The rapid 866 Knott spun 145 Sonic Jnr and then dispatched of 77 Shadz before cruelly expiring with engine troubles. This allowed 448 Dodgy Jnr to take the lead but he was soon bested by 547 Rhyno. 379 Iggle removed 542 Oliver, but subsequently lost a wheel a bend later allowing 548 Big Al to drive through the former. 547 Ryan Utting won and celebrated by taking a pop at 87 Damo – 448 Jay Byram and 135 Donny Mann rounded off the top three.
547, 448, 135, 352, 542, 37, 412, 276, 87, 145
An all in format for Heat 3 saw the action step up a level. 87 Damo attacked 742 Webby which allowed 29 Mawdsley to weigh in with a large portion to Webby. 47 Jonboi delivered a huge jacking to 274 Bond on the Caister bend. 29 Mawdsley buried 375 Hensby but claimed himself in the process. 379 Iggle jacked 29 Mawdsley teeing us up for the evening's first jacking train. 276 Rowell jacked 379 Iggle and copped a shot in turn from 247 Bro. 666 Duckett jacked 247 Bro. 277 Sideshow jacked 247 Bro balls out seeing three wheels come off the deck. Damage Inc revenge was swift with 548 Big Al leathering 277 Sideshow. 666 Duckett weighed in on 548 Big Al, then rolling off the back of the latter as he went to pull away seeing him end on his roof for the second time bringing the reds out. The restart saw 548 Big Al spin 276 Rowell and brother 547 Rhyno did the same to 141 Snakey as 542 Craig Oliver took the win from 143 Dan Rose and 547 Ryan Utting.
542, 143, 547, 352, 548, 412, 621, 157, 730, 141
The Aaron King Memorial Final commenced with 866 Knott spinning 276 Rowell. Knott having completed a full engine change after blowing up in the first heat! 411 Rizzo had a pop at 77 Shadz. 217 Burrows spun and was done head on by 548 Big Al. 866 Knott attacked 412 Chad, before 423 Oliver once again made a beeline for 518 Gould. 47 Jonboi leathered 423 Oliver and took one in turn from 157 Gru. 145 Sonic Jnr went in on 157 Gru and was duly destroyed by a splintering shot from 247 Bro. 866 Knott spun 516 Gouldy. 37 Turner set about 548 Big Al, but ended up stuffed away by 143 Rose. 866 Knott dispatched 516 Gouldy, the latter then set about by 131 McCarthy when he rejoined to add to his luckless race. 512 Kieran Rowe raced to the win ahead of 621 Gareth Parker and 131 Harley McCarthy; 866 Gary Knott's attitude of driving through everything he got behind saw him earn the Caged Entertainer Award.
512, 621, 131, 448, 412, 143, 547, 542, 866, NOF
A respectable 15 cars returned for the DD, which was carnage from the offset. 29 Mawdsley managed to make it back out, and leathered 516 Gouldy to set the tone. 411 Rizzo destroyed 742 Webby. 29 Mawdsley drove through 276 Rowell and was done in turn by 277 Sideshow. 247 Bro delivered a head on to 47 Jonboi. 548 Big Al jacked 47 Jonboi. 157 Gru went in on 47 Jonboi and was jacked in turn by 217 Burrows. 411 Rizzo blitzed 217 Burrows with a roof bending shot, before 866 Knott also went in on Burrows. 411 Rizzo homed in on 277 Sideshow. 866 Knott delivers a large shot on 548 Big Al. 548 Big A homed in for a solid head on to 411 Rizzo, and then silenced 866 Knott to take the honours.
On the award front, our friends at Northern Bangers put 2x £100 prizes up for meeting entertainer and hardest trier which were two aspects of bangers Weeman thought echoed what racing is about. 29 David Mawdsley's never give up attitude coupled with the fact all his repairs were done the 'old school way' of a trolley jack and sledge hammer saw him take the hardest trier award and 548 Alex Utting's use of the Fiesta front bumper throughout the night saw him take the entertainer award, but all drivers put on a show making it very difficult for the panel decide on the award.