Kings Lynn – 2/7/22 – Unlimited Bangers War of the Worlds – Meeting Report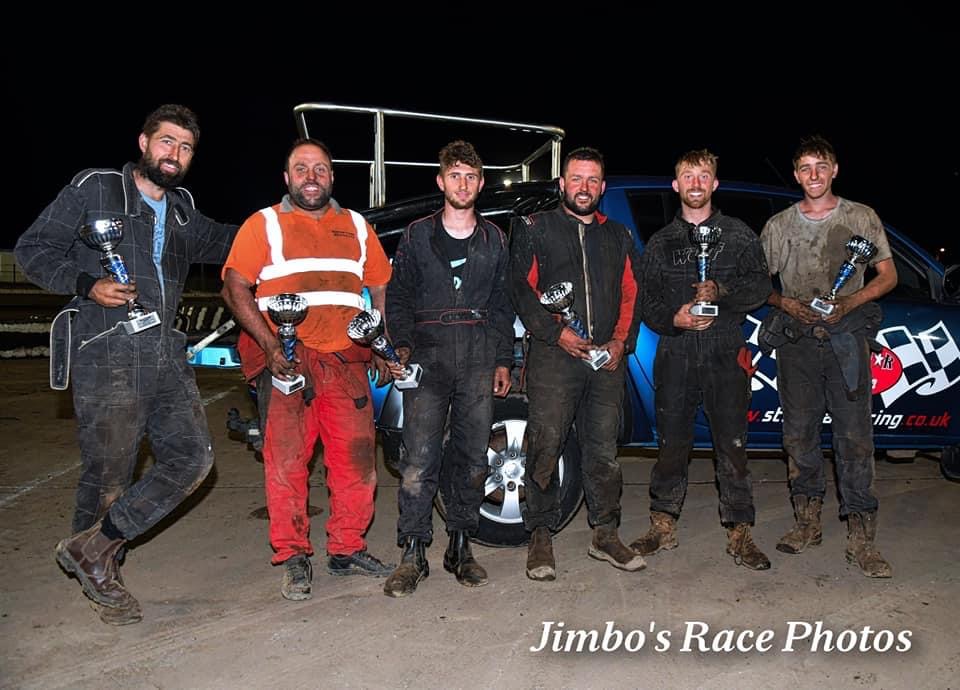 The annual Unlimited Bangers War of the Worlds event raised 12 teams with just over 60 cars in attendance. There was no material of note, the usual array of Mercedes W210, Ford Scorpios and Jaguar XJ40/X300s, but several impressed on the paint front.
Heat 1 saw action immediately as 107 Taylor Pratchett spun 661 Shaun Smith which claimed 209 Tom Waller in turn. This allowed 49 Blake Macdowell to strike the first blow in the Black v Predator rivalry, driving through 209 Tombo and continuing on to tbone 399 Jonny Atkin. 721 Dan Clarke went in on 49 McDougall and was done in turn by 400 Lee Kingsnorth. 697 Brandon Lawton came to a stop down the back straight and was duly jacked by 307 Martin Kent. This brought the red flags out to attend to 697 Brandon, with 174 David Osborne spinning 403 Steve Parrish as the flags came out. The restart saw 92 Lee Edwards run into 697 Brandon's stricken car and then come under fire from 180 Mark Foster. 279 Bradley Bowman set about 99 Scott Gough, turning him left at the end of the back straight. 214 Connor Osborne then removed 279 Braderz. 103 Jack Deacon tboned 279 Braderz, the Pred man then getting jacked by 399 Atkin. 721 Clarkey put the boot up on 399 Atkin in turn. 87 Damien Matthews went in on 399 Atkin too, before 214 Osborne delivered a stiff shot to 721 Clarkey.
199 Shaydy Gough went in over the front wheel of 279 Braderz before the yellow flags were brought out for an unknown reason. 21 Jason Colbert led them away on the green, with 103 Deacon setting about 87 Damo. 403 The Duck came inside out to do 103 Deacon over the front wheel before both traded blows on the edge of the infield. 400 Kingsnorth had a pop at 87 Damo. 459 Blake Platts weighed in on 403 The Duck on oppo. 400 Kingsnorth spun 107 Pratchett. 356 Harry Overy attacked 87 Damo along the back straight, who recovered only to be set about by 93 Dylan Goodman. 634 Ben Green had a pop at 356 Overy on oppo. 634 Marty laid into 180 Sparky on oppo. The latter recovering to meet 49 McDougall in a head on. 634 Marty then homed in on 180 Sparky. 549 Phil Smith ran 21 Colbert through the passenger door's of 634 Marty's Mk3 Granada as the Gladiator driver looked to take the lead. 107 Pratchett jacked 21 Colbert as the reds and chequers were waved. 549 Phil Smith taking the win, with only five going the distance, three of whom from the Gladiator camp in a strong haul of points for them.
549, 93, 21, 459, 107, NOF
Several drivers went in on turn 1 at the start of Heat 2, including 51 James Licquorice courtesy of the pushing 41 Louis Fidment. 448 Alfie Critt weighed in on 41 Louis. 595 Drew Burdett dealt a blow to 448 Critt as 617 Jack Overy struck the spinning 299 Tommy Callaghan over the rear wheel. 577 Alfie Lee stopped 873 Kyle Roberts head on, with 623 Ricky Hutton leathering the latter. 178 Kieran Bowman delivered an oppo attack to 67 Rickie Beasley, spinning the Team Black driver. 634 Marty attacked 555 Harry Gelsthorp but left himself sat prone, with 760 Joey Reynolds obliging to leather him. 299 Callaghan homed in on 760 Joey before 41 Louis attacked 356 Overy on oppo on the road bend. 592 Mark Marchant couldn't take avoiding action and ran into 41 Louis, who was then jacked in turn by 623 Tricky. 129 Joe Skutela delivered a very well timed shot on oppo to 219 Harry Steward as 555 Dirty Harry decimated 634 Marty along the home straight, bringing out the red flags. 673 Darren Fendley being deemed the winner.
673, 123, 830, 188, 299, 623, 356, 592, 555, 99
Heat 3 started with 662 Dalton Smith getting rattled around the turn 1 plating as 129 Skutela buried 219 Steward. 595 Drew Boy homed in on 399 Atkin, with 180 Sparky attacking 595 Drew Boy as the Predator fled the scene. 209 Tombo attacked 87 Damo on oppo under the scoreboard whilst 129 Skutela jacked 399 Atkin on the other bend. 400 Kingsnorth homed in on 129 Skutela and was immediately jacked in turn by 178 Slim. 180 Sparky weighed in on 178 Slim to complete the train. As 180 Sparky backed out, he caught 84 Tom Harris sending him spinning fence-wards, but this opened up the opportunity for 209 Tombo to go steaming in on 178 Slim. 93 Dilly Dilly removed 21 Colbert. 180 Sparky latched onto 129 Skutela and thundered him into the growing Pred and Black scrapyard on turn 2. 623 Tricky went in over the rear wheel of 129 Skutela. Skutela recovered to land a blow to 84 Harris on oppo, with 514 Charlie Taylor going in with a glancing hit to the BRISCA F1 World Champion. 180 Sparky tboned 403 The Duck, and was done in turn by 299 Callaghan. 21 Colbert ran 188 Victor through the pair before the red flags came out to pause momentum. On the restart, 84 Harris spun 514 Baby. 87 Damo had come to a stop along the home straight and was duly slaughtered by 617 Overy. 209 Tombo and 129 Skutela met in a solid head on on the exit of turn 2.
51 Licquorice weighed in on 209 Tombo, with 107 Pratchett going in on Licquorice. 617 Overy and 84 Harris homed in for a succession of hits to 129 Skutela. 67 Beasley rattled in 800 Jacob Rushton which spun 93 Dilly Dilly in turn. 188 Victor set about 174 Whipper, before 459 Platts turned it around and met 800 Rushton in a solid head on. 617 Overy jacked 800 Rushton. 21 Colbert removed 93 Dilly Dilly, before 51 Licquorice flew in for a huge shot to 617 Overy. 107 Pratchett weighed in on 51 Licquorice as 188 Victor tboned 93 Dilly Dilly. 188 Victor completed a lap and jacked 107 Pratchett in the last bit of action as 549 Smiffy Jnr took another win for the Gladiators.
549, 214, 67, 188, NOF
The Gladiators took a dominant lead in the points standing heading into the final, but it was all to play for in the entertainer standings still. 356 Overy dumped 595 Drew Boy into the tyres along the back straight before 67 Beasley spun 107 Pratchett. A bad bend for TMT saw 364 Bradley Lee remove running mate 592 Marchant, and 623 Tricky spinning also. Along the home straight, 307 Martin Kent found himself in a tangle with a Gladiator which allowed 67 Beasley to weigh in on the Predator. 400 Kingsnorth set about 92 Eddie before copping one in turn from 478 Craig Royal. 514 Baby had a go at 103 Deacon as the race was brought to a temporary halt. 478 Weasel Jnr led the field away on the restart. 514 Baby slowed with 617 Overy setting about the former. 123 Kezza plowed into 617 Overy. 555 Dirty Harry spun 51 Licquorice. 299 Callaghan spun 155 Sam Coote. 549 Phil
Smith completed his hattrick and secured the already guaranteed win for the Gladiators. After his three podiums in the F1 Stock Cars, 84 Tom Harris secured second place from 478 Craig Royal, although the latter rattled the World Champion into the plating after the flag – 209 Tombo duly weighing in on Weasel Jnr in turn.
549, 84, 478, 364, 589, 760, 123, 155, 107, 299
Into the DD, with 589 Gonna leaning 828 Sharpey into the armco with 549 Smiffy Jnr weighing in on the latter. 299 Callaghan attacked 180 Sparky. 209 Tombo spun 51 Licquorice, who was then tboned in turn by 873 Kyle Roberts. 180 Sparky set about 93 Dilly Dilly. 299 Callaghan leathered 873 Roberts along the home straight. 760 Joey spun 51 Licquorice who in turn drove through 555 Dirty Harry. 180 Sparky went in on 51 Licquorice and was jacked himself by 299 Callaghan. Callaghan himself then got a pasting. Firstly, 455 Finney jacked the Predator guest, before 459 Platts went in. 760 Joey finished 299 Callaghan off with a stiff shot. 49 McDougall who was out in 403 the Duck's Mercedes, laid into 459 Platts. 209 Tombo ensured 299 Callaghan was out of contention with a solid jacking. 455 Finney weighed in on 49 McDougall. 93 Dilly Dilly attacked 51 Licquorice and then came under fire from 455 Finney himself. 51 Licquorice set about 873 Roberts. 51 Licquorice went in on 93 Dilly Dilly. The latter responded with a hit to 760 Joey. 760 Joey then went in on 51 Licquorice. 455 Finney set 93 Dilly Dilly up for a head on from 760 Joey. 760 Joey jacked 51 Licquorice and continued on to set about 93 Dilly Dilly. 455 Finney homed in for a huge tbone to 93 Dilly Dilly. 760 Joey expired in to an array of steam and smoke handing the win to 455 Ricki Finney capping off a top night of Unlimited Banger action.