Caged Open 2019 – 01/12/2019 – Standlake Arena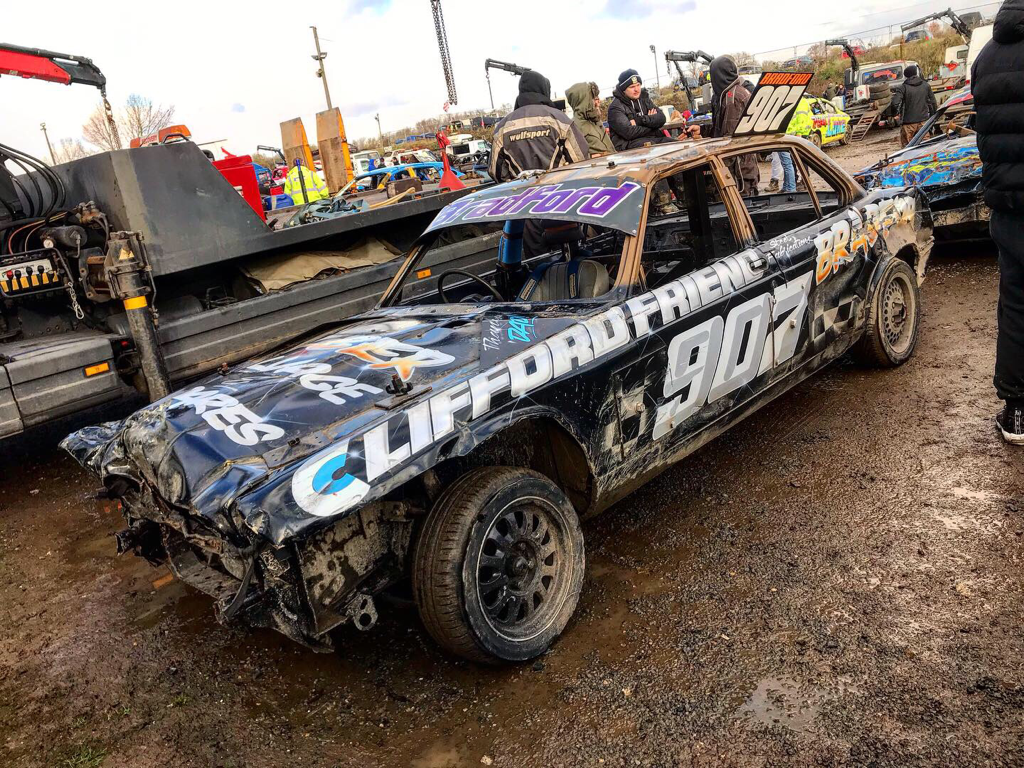 The second annual running of the Caged Open took place at Standlake Arena on Sunday 1st December in some bitterly cold conditions. Over 90 drivers contested the day's action across the two classes with plenty of material and stunning paint jobs to mark the occasion. 284 Justin Roff was deemed to have the 'car of the day' bringing a crusty yet fresh Rover P4 for the Unlimited class and it was a duo of sport's firsts in the Unders that also one materials awards with 760 Joey Reynolds bringing a very smart Vauxhall Insignia and 325 Adam Wickson putting some serious effort in with his smart Vauxhall Zafira Limo. Motley Krew pairing 538 Curtis Salvage and 394 Jack Powell had a pair of smart Nissan Primeras and the Real Steel outfit impressed with a pair of fresh Ford Scorpio Limos for 747 Bradley and 797 Chad Dee as well as some top used machinery with a Rolls Royce Silver Shadow and Mk10 Jaguar. There was some other smart efforts on display from 470 Steve Nelson, 244 Jack Bunyan, 161 Steven Grant among others, as well as 419 Rhys Burgess who brought a smart Volvo 440.


Unders Heat 1 commenced the days' proceedings with 465 Lee spinning 25 Loveridge to set the action underway. 222 Mills spun 383 Razza. 380 Leeful attacked 222 Mills. 760 Joey followed in 223 Trifly. 427 Big Mac spun 122 Boland. 25 Loveridge sent 794 Harvey around. 890 Pavarotti jacked 753 Hastings who had been sat for a while. 188 Page delivered a front wheel shot on 753 Hastings, as 427 Big Mac raced to the win.


Heat 2 for the Unders was up next. 783 Struddy took out 422 Mule which allowed him to come under fire from an attack by 391 Spikey. 703 Whitaker took out 244 Bunny Jnr. 703 Whitaker drove through 325 Wiggles who'd put a wheel back clipping a parked car. 703 Whitaker delivered another shot to the prone 325 Wiggles but expired himself allowing 244 Bunny Jnr to jack 703 Whitaker for swift revenge from the DMB camp – this left 703 Whitaker with no back wheel and open to another tbone a lap later from 244 Bunny Jnr. 333 Beachball took the win this time out.


The first Unlimited Heat began with 702 Jimbo attacking 75 Cory early on. 535 Cox spun 19 Setters. 102 Bokie drove through 19 Setters. 75 Cory jacked 479 Ghost. 260 Keefy set about 470 Nelson, spinning him aside. 907 Bradford drove through 470 Nelson to clear his path. 45 Lips buried 702 Jimbo. 470 Nelson spun and took out World Champion 327 Little Legs with him. 535 Cox ran 88 Ballbag through the spun 21 Tompkins. 479 Ghost gave a head on to 535 Cox as 260 Keefy took the win.


Unlimited Heat 2 commenced with 360 Jackstar following in 737 Crash and then spinning him aside. 341 Jonesey put away 455 Finney. 455 Finney gave a head on to 747 Bradderz as he rejoined. 595 Vimbo blasted 625 Gucci, the latter completing a lap and delivering a revenge hit on his attacker. 127 Ginge spun 383 Razza. 930 Churcher gave a head on to the spun 383 Razza. 127 Ginge attacked 699 Stacey allowing 3 Finney Jnr to latch on to 699 Stacey and rattle her around the metal plating. 699 Stacey waved the Silver Boys pairing off of the middle in her limping Jaguar – 3 Finney Jnr and 127 Ginge delivering consecutive shots on the former. 333 Matty attacked 127 Ginge as 146 Wiggy took the win.


The Unders returned for their third Heat. 572 Squirt tangled with Team Little Charlie's early on. 122 Boland spun 613 Mouldy. 760 Joey pulled off his second follow in of the day as he rattled in 405 Clever. 44 Pullen followed in 890 Pavarotti. 794 Harvey went on a wrecking mission as he attacked 391 Spikey and then put away 44 Pullen. This left him open to a swift TLC revenge jacking from 122 Boland. 572 Squirt jacked 122 Boland and took a big shot in turn from 25 Loveridge. 613 Mouldy ran 405 Clever into 794 Harvey creating more damage on the latter's Mk5 Astra. 188 Page copped a big hit from 222 Mills which prompted the red flags to come out. The restart saw 25 Loveridge put away 2 Bricknell: 525 Ryan went in on 2 Bricknell. 781 Blakos set about 711 Banks, the latter recovering to give a head on to 2 Bricknell. 380 Leeful concluded the action by spinning 25 Loveridge as 720 Kenny-Jo won.


Unders Heat 4 began with 753 Hastings rattling in 6 Light and 419 Raging Rhys in one move.230 Muttley put away 422 Mule and came under fire himself from 244 Bunny. 244 Bunny jacked 783 Struddy. 560 Reynolds spun 714 No Show. 333 Beachball spun 232 Baggs who then copped a front wheel shot from 753 Hastings. 422 Mule jacked 232 Baggs: the latter taking further abuse as 410 Dano ran 244 Bunny Jnr through the back of him. 325 Wiggles raced to the win in his Zafira limo which was surprisingly rapid.


The Unlimiteds were back on track for their Heat 3. 699 Stacey was the first to show as she took out 702 Jimbo. 535 Cox and 479 Ghost tangled allowing 284 Roffy to move in and set about 479 Ghost. 45 Lips spun 260 Keefy. 535 Cox took a wild lunge at 364 Nath spinning both cars allowing 102 Bokie to deliver a shot to the latter. 455 Finney then drove through 364 Nath. 907 Specs smooth approach saw him take the win.


Heat 4 for the Unlimited Bangers followed next and began with 797 The Special One attacking 360 Jackstar as the red flags came out for a false start. The restart saw 360 Jackstar make the first move spinning 278 Bean. 882 Nathan delivered a hit to 930 Churcher. 278 Bean jacked 252 Nemo. 360 Jackstar set about 341 Jonesey. 341 Jonesey recovered to attack 737 Crash and then tboned 747 Bradderz who had perfectly aligned himself across the track in his Frog limo. 456 Mad Tezza completed a full lap on opposite before bizarrely blasting 737 Crash over the front wheel.


The first of the Caged Open Finals saw the Unders return with a strong field of cars. 525 Ryan spun 714 No Show early on. 760 Joey spun 6 Light and then delivered a rear wheel shot to 465 Lee. 5 Jefferson set about 333 Beachball. 230 Muttley followed in 422 Mule before 325 Wiggles lost a wheel causing the reds to come out. Whilst under race stoppage, 122 Boland's Focus set alight, with Wayne casually climbing out, grabbing a fire extinguisher off of a marshall to put the fire out and then hopping back in his car to continue on! The restart saw 25 Loveridge spin 720 Kenny-Jo. 714 No Show spun 44 Pullen. 746 Yo-yo Jnr decimated 465 Lee. 25 Loveridge followed in 613 Mouldy and delivered a big jackkng to 465 Lee down the hill bend. 230 Muttley jacked 613 Mouldy. 27 Deano tboned 465 Lee. 410 Dano administered a heavy shot on 230 Muttley. A pile up occurred on turns 3/4 as 720 Kenny-Jo ran in 5 Jefferson claiming 25 Loveridge; 613 Mouldy burying 230 Muttley into the fray as well. 890 Pavarotti ran in 383 Razza who had already taken the chequered flag and 525 Ryan buried 613 Mouldy to round off the action.


1st – 383 Rory Adams
2nd – 799 Tom Pearce
3rd – 525 Ryan


The Unlimited Caged Open began with 327 Little Legs spinning 699 Stacey and then continuing his charge to attack 75 Cory. The P4 powered 284 Roffy spun aside World Champion 327 Little Legs. 737 Crash followed in 252 Nemo and then delivered an oppo attack on the latter. 327 Little Legs struck 109 Barton as he rejoined. 327 Little Legs took revenge on 284 Roffy as he followed him into the infield tyres which brought the red flags out. The restart saw 360 Jackstar jack the spun 45 Lips. 341 Jonesey then homed in for a head on to 360 Jackstar. 21 Tompkins spun 470 Nelson. 360 Jackstar drove through 341 Jonesey on the middle. 19 Setters jacked 109 Barton who had spun himself on turn 1. 161 SteveyG went in on 19 Setters. 797 The Special One backed out stopping 364 Nath.333 Matty buried 21 Tompkins into 109 Barton.528 Jethro tboned 109 Barton claiming 161 SteveyG. 470 Nelson weighed in on 161 SteveyG. 19 Setters jacked 470 Nelson. 260 Keefy followed in 45 Lips as 907 Specs took another win showing that smooth and steady is by far the best way around the 'lake.


1st – 907 Cameron Bradford
2nd – 209 Tom Waller
3rd – 260 Keith Reynolds


The Alcomers for the Unders began with 419 Raging Rhys getting battered from pillar to post in his Volvo 440, firstly taking a jacking from 720 Kenny-Jo which bounced him into the path of 325 Wiggles with the latter using his Zafira limo to tbone Rhys out the way. 244 Bunny Jnr then homed in for a head on to 419 Raging Rhys seeing the latter come to a stop at the end of the home straight allowing 760 Joey to jack the 440. 44 Pullen set about 572 Squirt. 25 Loveridge set about 720 Kenny-Jo pushing him along the home straight which allowed 333 Beachball to weigh in on the former, but got himself caught on the lame motor of 419 Raging Rhys. 122 Boland delivered a shot on 333 Beachball leaving himself open to a massive hit from 25 Loveridge. The reds were called to check on 122 Boland. The race was called so it was straight into the DD. 746 Yoyo Jnr weighed in on 760 Joey and took one in turn from 613 Mouldy. 44 Pullen weighed in on 613 Mouldy. All four drivers got going again with 613 Mouldy turning 44 Pullen fencewards allowing 760 Joey to deliver a head on to the TLC man. 760 Joey then set about 746 Yoyo Jnr, running him in fairly hard on turn 3. 760 Joey then met 613 Mouldy on the nose down the other end before combining forces with 746 Yoyo Jnr to sandwich 613 Mouldy. 760 Joey then delivered a couple of shots on 746 Yoyo Jnr to take the DD win.


The Unlimited Alcomers started as a quieter affair until 360 Jackstar stormed in for a shot on the limping 19 Setters before completing a lap and jacking the latter hard snapping the 3 Litre man's Scorpio. 360 Jackstar then homed in again on 19 Setters' Buick before spinning around and blasting it on oppo killing both cars. The DD saw 341 Jonesey get the ball rolling by laying into 702 Jimbo before going in on the back of 260 Keefy. 702 Jimbo went in on the back of 341 Jonesey before they shared a couple of hits. 260 Keefy set about 702 Jimbo to take the DD honours and a pair of DD wins for the 3 Litre camp to round off a superb day of entertainment from the Bangers.