Spedeworth Bangers World Championship 2019 – 16/11/2019 – Ipswich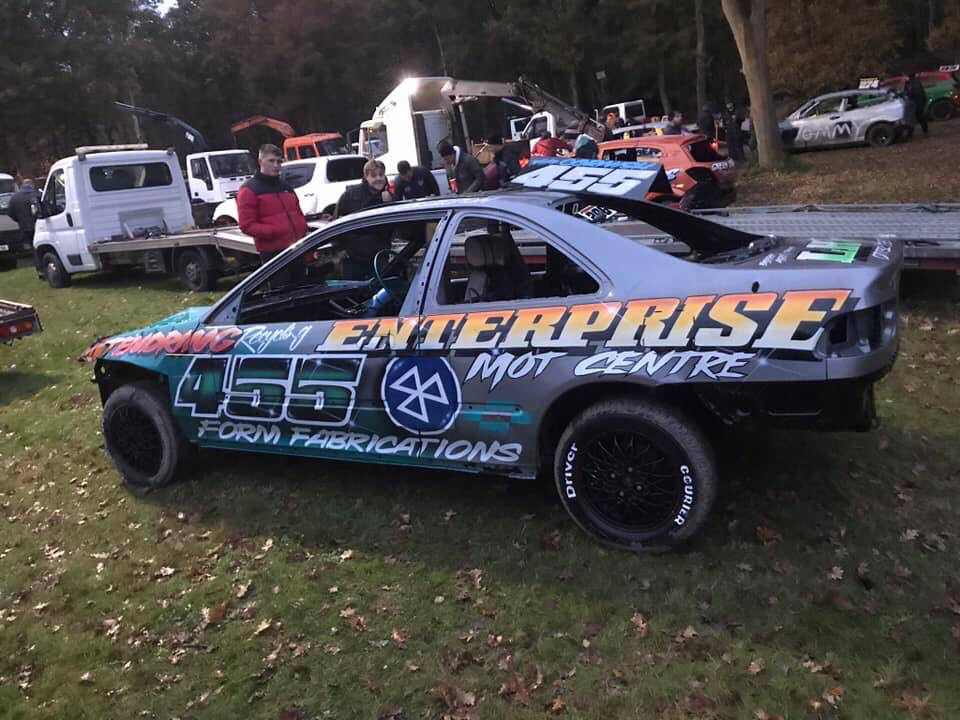 The annual 1600 World Championship took place at Ipswich on Saturday 16th November 2019. The pits were crammed with cars with multiple smart efforts on the paint front. On the 'material' front their was there was a pair of Nissan 100NX's from 683 Reece Woodgate and 783 Lee Strudwick. 503 Charlie George opted for a Proton.
Last Chance Heat 1 commenced with a pile up forming on turns 1 and 2 – 321 Chatty Man went steaming in to the pile up. 45 Felly jacked 321 Chatty Man. 544 Outhwaite set about 409 Murrell. 314 Farrell attacked 831 Fuller before the reds came out for 129 Skitz who's belts had snapped in the pile up. The restart saw 208 Sandy lead but he was quickly nudged aside and moved down the order. 182 took out 302 Smith. The leading 570 Dino Jnr tangled with a back marker which allowed 4 Cowell who was sat second to gain ground but he caught the abandoned car of 321 Chatty Man allowing 570 Dino Jnr some breathing room once more. 330 Wilkin was taken out on oppo by 201 Turkish as 570 Dino Jnr held on for the win; 1300 Stock Car man 711 Clark Wells getting second and also securing his spot on the grid.
570, 711, 544, 6, 170, 751, 330, 314, 409, 362
Last Chance Heat 2 started with 390 Ledbury suffering an early spin. 71 Treeby steamed in to jack 390 Ledbury. 113 Genie caught the spun 94 Kilb head on. The reds then came out to check on 390 Ledbury who was in some discomfort but exited under his own accord after a short while. The restart began with 628 Tinker taking out 350 Yogi Jnr. 461 Jenkins followed in 203 Musson in an all Skegness affair, the latter getting caught in the door by 81 Greenwood who was punted on. 536 Bazell spun 113 Genie. 165 Barwell jacked 81 Greenwood. The reds then came out to check on the well-being of 203 Musson after the accidental dooring. With all ok, the action resumed with 409 Collins still leading the fray. 97 Shep set about 266 Brows, whilst 224 Canham continued his run of form at the track to best 409 Collins for the lead and he broke out a sizeable gap fairly quickly. Behind him it was all action as 521 Coveney spun 266 Brows in the contention for the final spot on the grid – a mega scrap then breaking out between the aforementioned 521 Coveney, 409 Collins and 250 Scrapyard Dave; all of which tangling together allowing 577 Lee through. 97 Shep gave a head on to 220 Orgles whilst 224 Canham won by at least half a lap ahead of 577 Alfie Lee with them joining the back of the main grid.
224, 577, 409, 521, 305, 562, 250, 336, 291, 266
The third Last Chance Heat commenced with a massive pile up on turns 3/4. 828 Sharpey ran 910 Rookard in hard. 311 Lown followed in 783 Struddy and 275 McKeown seeing decent air time. 628 Flear followed in 87 Damo who went completely airborne; the former going under him. 27 Turbo tboned 469 Ruff before the red flags came out to allow 87 Damo to safely exit his Escort. The restart saw 717 Devall Jnr lead them off but it wasn't for long as 599 Henry Jnr was picked up by 360 Jackstar who both picked 35 Souter up and they followed him square into 87 Damo's abandoned motor creating a huge auto sculpture and snapping 35 Souter's Civic scarily. 135 Spuddy followed in 525 Andrews behind them and then took a solid tbone himself from 38 Caron just before the reds came out as there was concern for 35 Souter as well as a prominent smell of petrol coming from 87 Damo's car. 717 Devall Jnr lead the field away once again upon the race resumption. 43 Muttley followed in 96 Monday. 31 Shippers followed in 134 Rascal who took a tbone in turn from 53 Dreamer. 267 Fryatt spun 122 Pikey as 204 Charlie Boy did much of the same to 126 GFY. 31 Shippers drove through 174 Whipper only to cop a solid shot in turn from 101 Charmer. 377 Neale spun 717 Devall Jnr aside to take the lead. 455 Cornish attacked 204 Charlie Boy to try and move up the order but didn't dislodge him enough as Charlie Boy came back at him and spun him out of contention. 134 Rascal attempted an oppo attack on 578 Thorpey but failed to connect however 174 Whipper was successful with his oppo attack on 494 Harris. 377 Jay Neale won with 717 Devall Jnr recovering for second to go through and complete the World Final grid.
377, 717, 578, 494, 204, 219, 784, 566, 455, NOF
The 2019 staging of the 1600 World Championship placed previous winner 295 Ash Dash on pole and he was a sure favourite from there. Ash was joined on the outside front by 508 Hunt. Unfortunately Grimley seed 383 Razza failed to make the start. 23 Staples took out 760 Joey from the off in the first blow between the Rude Boys and 3 Litre camp. 982 Milkybar Kid jacked 760 Joey. 682 Quinny spun 143 Hansford. 352 Mynott followed in 351 Martins an absolute corker on the turnstile bend. 59 Greenstreet spun 85 Thur-toe as drivers scrambled for position. 944 Hosie was ruined half way down the home straight as he found himself stranded. The red flags came out but not before 380 Farrell attacked 116 Baty. 295 Ash Dash lead them away from the restart as 223 Smoke Dogg and 23 Staples had a to do with 760 Joey. 223 Smoke Dogg attacked 760 Joey. 717 Devall Jnr was spun and pulled in front of 894 Almedia allowing 938 Ricey to blast the latter. 377 Neale turned 570 Dino Jnr left. 760 Joey tboned the lurking 23 Staples who was sat waiting on oppo. 422 Mule tboned 23 Staples flat out and set alight bringing the race to another halt. 295 Ash Dash broke out a strong lead once again from the restart as 98 Shandy leant 116 Baty into the pile up to move up the order. 362 Drigter followed in 223 Smoke Dogg. 223 Smoke Dogg delivered a revenge shot on 362 Drifter. After post race scruiteneering, 295 Ashley Wallace was excluded from the results so 98 Shandy had the gold painted on his roof. However, following an investigation in the results 295 Ash Dash was reinstated to become a 2 time champion.
295, 98, 244, 929, 116, 155, 438, 88, 160, 333, 385
Alcomers 1 commenced with a pile up on turns 3/4 leaving 503 Leady with a decent wreck. A fire broke out on 751 Farren's motor leading to a red flag. The restart saw more cars gather into the ongoing pile up. 43 Muttley Jnr jacking 844 Button before copping a solid jacking himself from 426 Burnsy as the race was brought to a halt once again. Upon the restart, 126 GFY attacked 112 Peters for the lead. This allowed 146 Aylward to set about 112 Peters. 4 Cowell buried 76 Aldridge into the pile up. 76 Aldridge recovered to spin 132 Sutton. 4 Cowell turned 146 Aylward fence-wards. 97 Shep delivered an oppo attack on 330 Wilkin. 146 Aylward jacked 330 Wilkin. 112 Peters jacked 146 Aylward. 234 Pearcie went in to 112 Peters and was duly jacked by 817 Stig. 274 Leadfoot jacked 817 Stig. 97 Shep completed the train before the reds came out once again. The restart saw 146 Aylward give a head on to the spun 4 Cowell as 219 Ben Lewis-Thompson raced for the win.
219, 93, 521, 201, 362, NOF
244 Bunny Jnr set the early action in Alcomers 2 as he followed in 223 Smoke Dogg. 171 Strange jacked 244 Bunny Jnr sending him into 266 Smith head on. The restart saw 96 Monday jacked 87 Damo. 404 Dougie jacked 566 Hamish. 246 Meerkat went in on 404 Dougie before the reds were brought out again for a lose wheel. The race resumed with 544 Outhwaite tboned 96 Monday. 389 Deano put away 40 Goligher. The reds came out for 291. The restart saw 299 Knocka followed in 5 Alexander. 291 spun 404 Dougie. 41 Balu spun into 404 Dougie and took a huge tbone from the lively 389 Deano. 409 Murrell drove through 41 Balu, and then turned around and delivered a hit to The Bears man on oppo. 176 Elliot came off the shale to tbone 409 Murrell. 41 Balu gave a head on to 929 Baker. 4 Golly jacked 929 Baker. 389 Deano delivered a large tbone to 817 Hodgkinson. 176 Elliot backed out on 377 Neale. 141 Snakey raced to the win.
141, 192, 929, 377, 400, 360, 77, 380, NOF
Unfortunately we did not manage to catch the DD but overall the meeting once again put their bigger cousins of the Unlimited scene on notice.