Back to Basics – 31/07/2019 – Yarmouth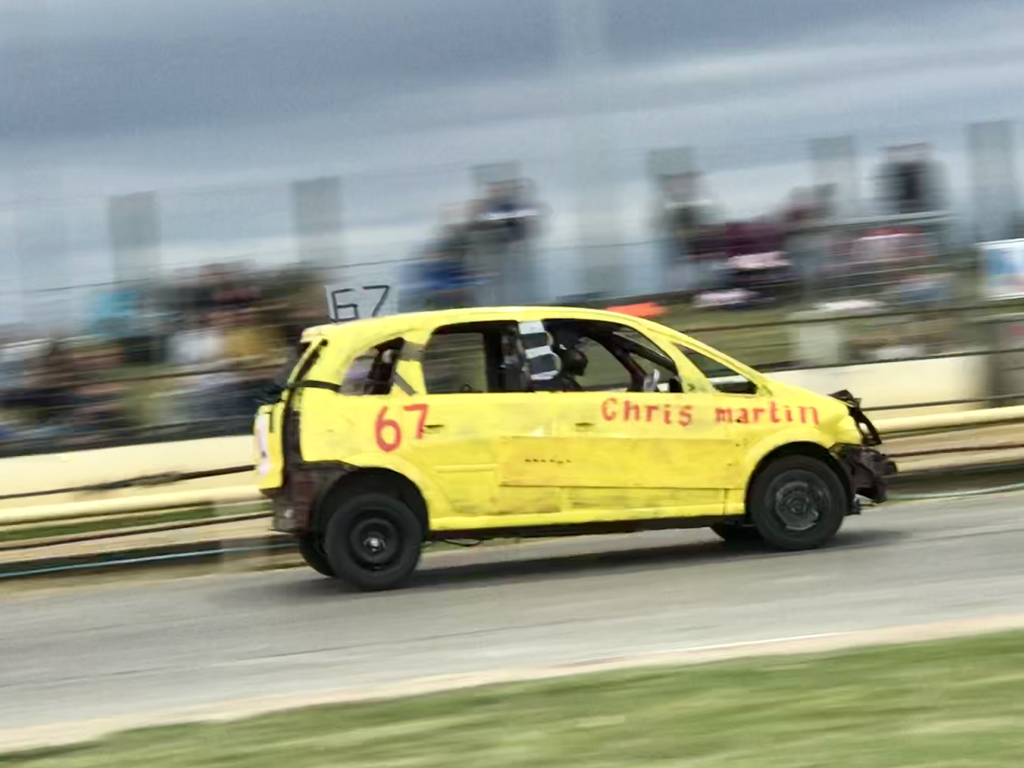 The first Wednesday night of the season at Yarmouth raised a respectable 45 Back To Basic Bangers and 8 Caravans to set the six weeks rolling in style.
Heat 1 commenced with 135 Old Mann putting the bumper in on ex- 1300 Stock Car World Champion 344 Fisher. 67 Martin spun 307 Parker. 893 Huggins spun 109 Posh Lad. 344 Fisher spun 893 Huggins into the infield tyres.307 Parker turned 336 Fathead left but he luckily managed to correct himself but sent 248 Lineham spinning in turn. 696 spun 700. 294 Deano attacked 14 Bazza. 109 Posh Lad attacked 893 Huggins. 109 Posh Lad attacked 248 Lineham allowing 294 Deano to move in and spin him. 19 Smiley Joe spun 344 Fisher; the latter catching his attacker and spinning him in turn on the run down lap. 294 Dean Francis raced to his first ever win in a banger.
Heat 2 saw 666 Damo and 7 Chunka tangle from the off and go flying across the pits bend centre green. 441 LeGrice turned 39 Pusher Paul fencewards earning a disqualification. 439 Sutty spun 367 Beevor. 142 Walters caught 367 Beevor head on. 175 Emmo attacked 9 Titch. 995 Deano spun 499 Crashley who rolled and landed on all fours on the inner curb of turns 1. 666 Damo got posted halfway down the straight. The red flags were then called for 499 Crashley who seeked medical attention. The restart saw 647 Wingnut spin 200 Baldy for the lead – the latter backing his attacker into a post in spectacular fashion. 439 Sutty had a nibble at 293 Smith eventually spinning him on the back straight. 995 Deano spun 39 Pusher Paul but it was too late as the latter had already taken the win, giving his trophy to a fan after his lap of honour.
Heat 3 was the first of an all in format and was mental from the start – with action all over the track it was difficult to keep on top of. 9 Titch attacked 433 Smith which sent 336 Fathead flying over the inner curb. 995 Deano attacked 696. 352 Brooks gave a head on to the spun 293 Smith. 315 Smith attacked 336 Fathead. 31 Manny spun but swiftly joined the fray. 142 Walters ran 14 Bazza into 19 Smiley Joe. 995 Deano ran 336 Fathead into the marker tyres as the latter was having a torrid time with his Alfa. 135 Old Mann spun 439 Sutty across the grass on the caister bend but this allowed 142 Walters to move in and spin the Bilge Brigade man. 344 Fisher jacked 175 Emmo. Revenge was swift from the Emmerson camp as 995 Deano followed in 344 Fisher. 145 Gladden went in on 344 Fisher. 316 Dace used his little Micra to spin 367 Beevor. 433 Smith set about 169 Lenny. 31 Manny spun 135 Old Mann, and 439 Sutty did the same to 367 Beevor. The winning 31 Manny celebrated by weighing in on the slowing 336 Fathead. 439 Sutty concluded the action by spinning 447 Nail.
The Final raised another strong turnout. 19 Smiley Joe spun 666 Damo fence-wards from the off with the latter being collected by 67 Martin. 764 Reece spun 14 Bazza. 145 Gladden attacked 175 Emmo. 19 Smiley Joe went in on the back of 145 Gladden. 764 Reeve fenced 367 Beevor. A gathering of 5 or 6 cars squabbled for position down the home straight which resulted in 766 Lambert spinning 67 Martin across the curb – the latter ending broadside across the pits bend with a broken steering arm. 175 Emmo attacked 764 Reeve as 109 Posh Lad rolled at the starters rostrum bringing the reds out. The restart saw 175 Emmo set about 19 Smiley Joe. 145 Gladden removed 336 Fathead. 447 Nail continuously tussled with 439 Sutty for second place, eventually dislodging him after 3 or 4 laps which also allowed 315 Smith to move past 439 Sutty too. The leading 441 LeGrice spun 766 Lambert as he looked to maintain his gap ahead of 447 Nail. 748 Ginge attacked 175 Emmo. 441 LeGrice attacked 748 Ginge. 447 Nail attacked 315 Smith. 175 Emmo had a pop at 748 Ginge. 766 Lambert drove through 748 Ginge but none of this effected 441 Gary LeGrice who had already raced to the win ahead of protege 447 Nyall Hardingham and 315 Bryan Smith.
The Caravan DD commenced with an astounding celebration for Charlie Stephenson, a young lad from local village Martham who regrettably lost his fight to DIPG, a rare brain tumour. 640 Amanda Shields drove her Car & Caravan onto the track and then walked on with the children of Martham Junior School who released red balloons in Charlie's memory in a very moving tribute. The Caravan DD commenced with 109 Posh Boy driving through 9 Titch's trailer over the 8. 294 Deano attacked 109 Posh Boy. 512 Neveah drove through 333 The Ginger's caravan. 294 Deano then drove through 333 The Ginger's trailer. 9 Titch entertained the crowd by driving through empty caravan's that were scattered across the track. 294 Deano ruined 9 Titch's Caravan. The drivers all piled into the caister bend which saw 200 Tank get lodged up inside the caravan of 640 Shields and 116 Wanty collected a post getting stuck too. 294 Deano catapulted up 9 Titch's trailer getting air time off the other side in a spectacular move. 9 Titch lost a wheel as a result of that attack. 109 Posh Boy full bored 512 Neveah's caravan. 9 Titch won and celebrated by parking himself inside 512 Nevaeh's Caravan much to the crowd's delight to round off a brilliant summer season opener at the East Coast venue.