Back to Basics – 28/07/2019 – Yarmouth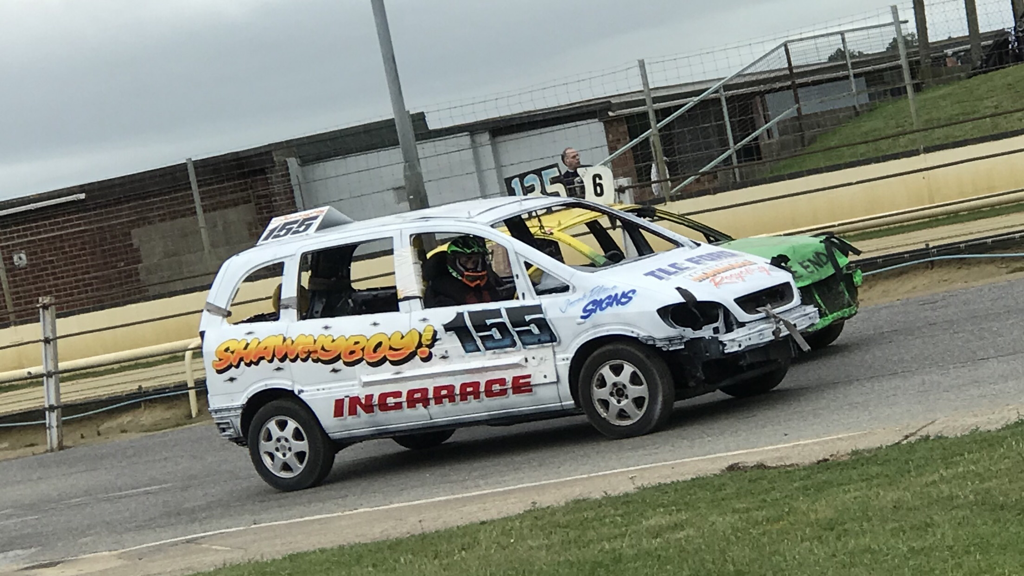 Around 50 Back To Basic Bangers assembled to Yarmouth Stadium on Sunday 28th July including the usual random array of cars. Scrapyard Screamer made the most of his holiday to the seaside destination with a very smartly presented Vauxhall Zafira from the rental scheme and 86 Alec Savage made a welcome return to Bangers after a lengthy absence in a used BMW 3 Series Estate previously used by 517 Dave Madgwick.
Heat 1 commenced with 14 Bazza taking a pop at 700. 717 Booty was an early spinner. 502 Selfy clashed with 720 Booty which saw both drivers lose momentum. 294 Deano turned 667 Smith fence-wards down the back straight. 585 Tyte tangled with 893 Huggins. 109 Posh Lad had a pop at 629 Rout. 14 Bazza attacked 294 Deano to move up the order. 512 Nevaeh raced to the win and set about 667 Smith to celebrate. 145 Gladden followed in 288 Fatboy Ford earning himself a load up.
Heat 2 started with Yarmouth's resident photographer and stat man 253 Utting attacking 251 Caines from the off with 7 Chunka going in on 253 Utting. 696 attacked 307 Parker. 420 Yoda had a go at 931 Gladden. 9 Titch spun 28 Mayo Maker. 7 Chunka jacked 420 Yoda. 950 had a go at 155 Leary. 135 Old Mann spun 253 Utting. 39 Pusher Paul spun 307 Parker, and at this point it was difficult to keep on top of the action. Squashies running mates 691 Turner and 28 Mayo Maker collide on the pits bend. 7 Chunka ran 253 Utting head on into 307 Parker which put an end to Utting's night. 7 Chunka continued his lively display spinning 499 Crashley towards the fence at the end of the home straight. 86 Savo had a pop at 950. 7 Chunka jacked the lame 931 Gladden. 691 Turner caught 7 Chunka. 28 Mayo Maker spun 499 Crashley to round off the action. The initial win was awarded to 33 Magic who admitted he definitely wasn't the winner after crashing out at various points and after a recap of events it was 9 Titch who was deemed the winner.
Heat 3 was the first of an all in format. 39 Pusher Paul attacked 315 Thompson from the offset. 696 posted 950. A pile up on formed on the pit bend which saw most of the field pile in and climaxed with a race stoppage due to 931 Gladden rolling in the middle of the chaos. The restart saw 839 Irons spin 499 Crashley. 647 Wingnut gave a head on to 499 Crashley. 251 Caines and 667 Smith clashed. 839 Irons had a go at the leading 502 Selfy resulting in the latter losing a lot of ground. 502 Selfy bounced back to spin 700. 408 Tytey attacked 28 Mayo Maker. 352 Brooks set about 995 Deano. 502 Selfy tangled with 28 Mayo Maker. 28 Mayo Maker retaliated by putting away 502 Selfy. 647 Wingnut attacked 512 Nevaeh. 86 Savo spun 499 Crashley who was having a luckless evening thus far as 995 Dean Emmerson took the win.
The Final started with 7 Chunka spinning Heat 1 winner 512 Nevaeh fence-wards. 995 Deano spun 9 Titch. 130 Gladden buried 421 Hippo into 512 Nevaeh. 499 Crashley spun 85 Thurlow. 408 Tytey ran in 499 Crashley. 748 Ginge spun 787 Potter. 420 Yoda attacked 717 Booty in a battle of the two smallest cars on track. 128 Kerry posted 420 Yoda hard. 995 Deano tboned 420 Yoda which allowed 9 Titch to attack 995 Deano. 515 Wishbone spun 9 Titch. 995 Deano jacked 9 Titch. 86 Savo collected 9 Titch. 9 Titch caught back up with 995 Deano and ran him into 512 Nevaeh's dead car. A fire broke out on 639 Green's Saxo which was piled in with several other cars bringing the reds out. The restart saw 39 Pusher Paul spin 562 Baker. 130 Gladden attacked 109 Posh Lad for the lead with the leading quartet piling into the parked cars on the entrance to the pits bend. 128 Kerry spun 362 Baker as 502 Luke Self took his first ever race win ahead of 585 Martin Tyte and 629 Ewan Rout.
The Final lead straight into the DD. 562 Baker attacked 56 Skiddy from the drop of the green. 629 Rout weighed in on 86 Savo. 56 Skiddy attacked 408 Tytey. 85 Thurlow weighed in on 408 Tytey. 251 Caines jacked 85 Thurlow only to leave himself open to a massive shot from 86 Savo. 128 Kerry jacked 251 Caines. 362 Baker had a go at 720 Booty. 85 Thurlow jacked 787 Potter. 629 Rout went in on 85 Thurlow. 362 Baker had a pop at 85 Thurlow. 562 Baker jacked 128 Kerry. 362 Baker attacked 85 Thurlow. 629 Rout attacked 128 Kerry. 85 Thurlow delivered a large portion to 629 Rout. 86 Savo treated 128 Kerry to a head on. 562 Baker jacked 288 Fatboy Ford.362 Baker went in on 562 Baker. 362 Baker put 562 Baker into 499 Crashley's parked car.562 Baker went in on 85 Thurlow. 362 Baker went in on 85 Thurlow tamely. 85 Thurlow gave a reverse shot to 362 Baker. 562 Baker love tapped 362 Baker but both of them expired leaving 85 Nathan Thurlow as the winner to cap off a great evening of action.
The Back To Basics return to action at the track on Wednesday 31st July to commence six weeks of Wednesday nights for the formula.