Back to Basics – 07/08/2019 – Yarmouth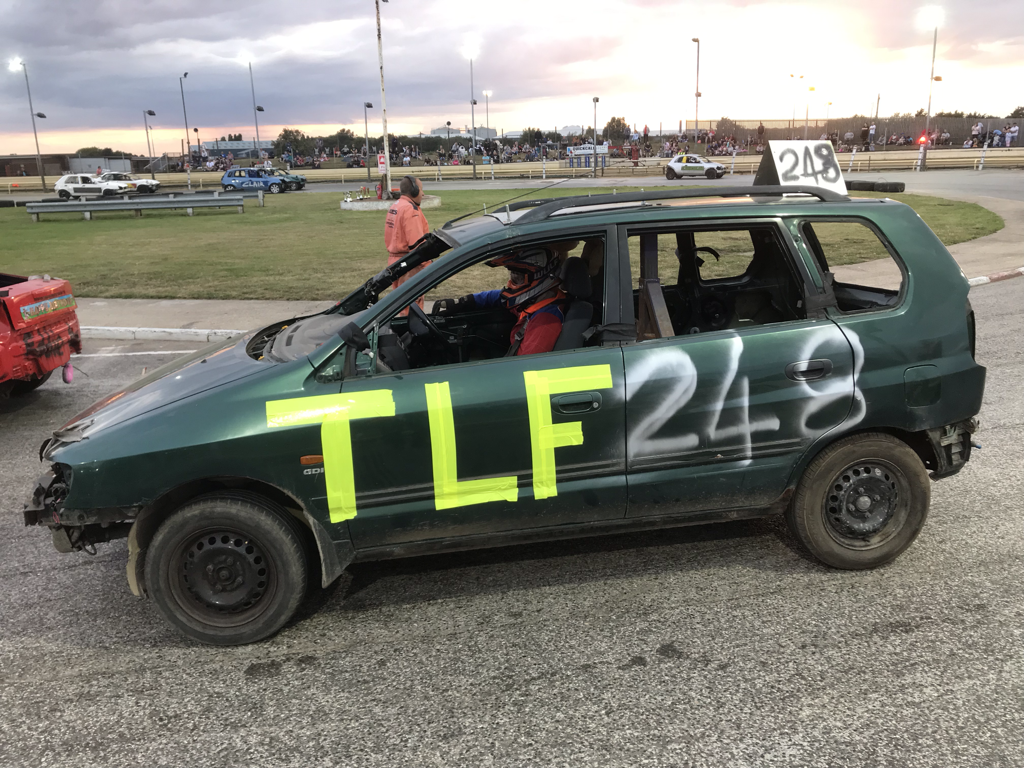 35 Back To Basics made it to Yarmouth on Wednesday 7th August for 'Summer Sizzler 2' and 5 Caravans finished the night of with a typical Yarmouth figure of 8 DD.
Heat 1 commenced with 885 spinning 636 Planey. 636 Planey recovered to spin 439 Sutty. 647 Wingnut bounced 513 Gilbert off a post. 85 Ellis spun 155 Captain Slow. 367 Beevor spun 697. 433 Smith spun 33 Magic.696 had a pop at 308 Martin. 9 Titch spun 67 Martin. 315 Smith attacked 647 Wingnut. 31 Manny attacked 367 Beevor which sent 9 Titch spinning. 369 The Dog spun 155 Captain Slow which sent 696 fence-wards as a result.367 Beevor spun 700 Rigby. 85 Ellis once again spun 155 Captain Slow. 315 Bryan Smith took the win and was duly turned left at the end.
Heat 2 saw 764 Gray spin early on. 931 Gladden attacked 248 Lineham. 697 set about 439 Sutty which sent the latter over the tyres.369 The Dog tangled with 33 Magic. 344 Fisher spun running mate 447 Nail as he looked to move up the order. 102 Damo had a pop at 37 Wright. 885 spun 367 Beevor. 439 Sutty spun at the end of the home straight and rolled on the pits bend centre green bringing out the red flags. Once righted back on all four wheels, he was able to drive off the track much to the delight of the holiday crowd which saw him earn one of the special awards on the night. The restart saw 37 Wright have a nibble at 512 Nevaeh. 433 Smith spun 102 Damo. 82 Quinny spun the leading 14 Bazza left down the back straight. 31 Manny attacked 885. 367 Beevor spun 433 Smith. 885, 31 Manny and 433 Smith all tangled near the pit gate which saw a fire break out on the 885 car seeing the race declared at that point in favour of 9 Titch Mancini.
The Final saw 885 set the ball rolling with an early attack on 697. 67 Martin had an off with 369 The Dog and 439 Sutty. 709 Block ran head on into the spun 67 Martin. 102 Damo spun 367 Beevor. 33 Magic moved in to spin 439 Sutty and 102 Damo in one move on the home straight. 700 Rigby and 697 clashed on the pits bend. 433 Smith spun 155 Captain Slow. 102 Damo caught 315 Smith. 433 Smith attacked 308 Martin. 302 Smith attacked 67 Martin causing the latter to lose steering. 85 Ellis met 67 Martin in a head on as the latter was looking to rejoin the fray. 526 Cannell jacked 85 Ellis. A pile up on former on the caister bend claiming several drivers. 526 Cannell jacked 439 Sutty who was running lame. This allowed 367 Beevor to spin aside 526 Cannell. 33 Magic ran head on into 526 Cannell. 9 Titch attacked 439 Sutty. 302 Smith set about 33 Magic but couldn't dislodge him from the lead spot. 155 Captain Slow attacked 447 Nail but it was 33 Gary Madgwick who raced to the win ahead of the recovered 447 Nyall Hardingham and ?
5 Caravans were out on track for their DD and created the typical array of carnage. 9 Titch and 116 Wanty grudged it out for the win but it was the former who held on to win making it 2 out of 2 so far this summer.
There were a few extra awards handed out on the night for various aspects. 37 Warren Wright swept the best novice award. Team Bash man 155 Sam Coote was viewed the most entertaining and rental driver 700 Jason Rigby got the hardest trier award on the night.