National Micro Bangers – 11/08/2019 – Yarmouth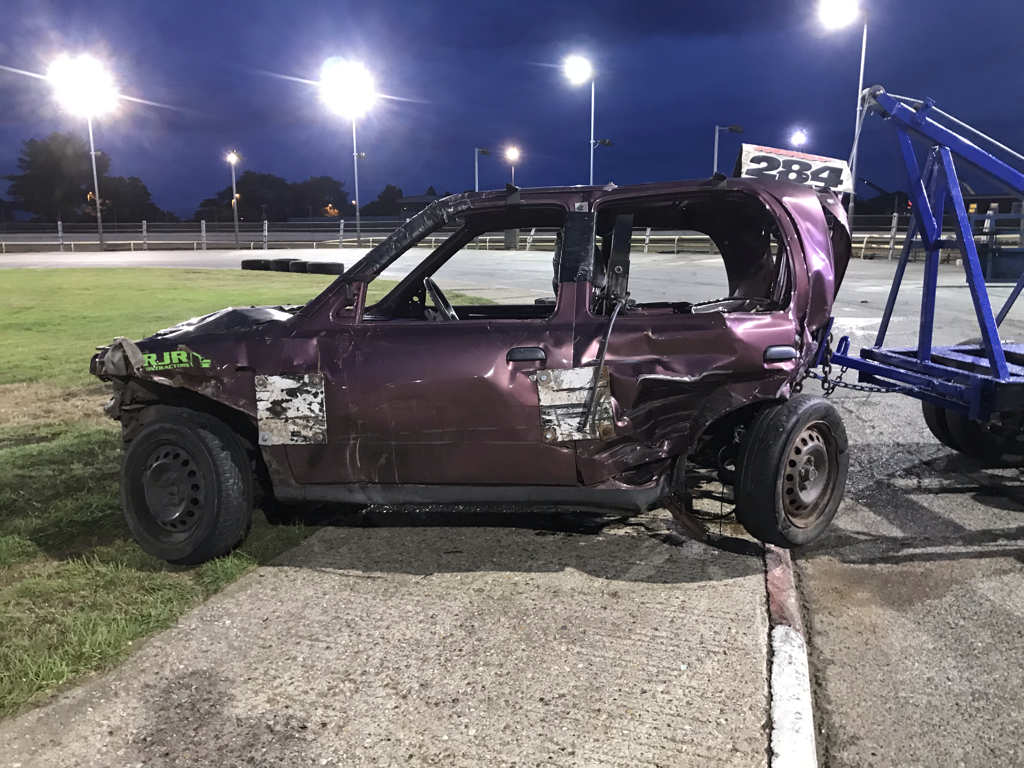 17 Micro Bangers assembled at Yarmouth Stadium on Sunday 11th August, all of whom competing the night before at Mildenhall.
Heat 1 saw 102 Bokie expire early on. 247 Bro spun aside 258 Ando. 247 Bro punted aside 57 Dino as he moved into the top three. 204 Charlie Boy had a pop at 28 Jamesie to move up the order as 400 Lee Kingsnorth raced to a flag to flag victory, 247 Lee Clarke coming through from the back for second ahead of 760 Joey Reynolds.
Heat 2 saw another early mechanical gremlin as 57 Dino pulled off onto the centre after only completing one lap. 400 The Boy and 548 Big Al tangled on the entrance of the home straight resulting in the former having to take avoiding action of 57 Dino. 570 Dino Jnr took a lunge at 467 Shifty to move past him and they enjoyed a good scrap for position for a number of laps. The leading 760 Joey put the bumper in on 28 Jamesie to keep his gap strong. 102 Bokie spun 28 Jamesie at the end as 760 Joey Reynolds took the win ahead of 204 Charlie King and 247 Lee Clarke.
Only 9 cars returned for the Final. 247 Bro dislodged 400 The Boy from the running early on but the latter swiftly rejoined. 570 Dino Jnr has a nibble at 284 Heady as he moved up the order. 467 Shifty retired onto the infield. 760 Joey and 400 The Boy enjoyed a little battle swapping positions before 760 Joey spun 284 Heady. 247 Bro had a pop at 204 Charlie Boy on his way past to take up the running. 57 Dino and 760 Joey crashed out together as 246 Bro raced to a dominant win ahead of 570 Jordan Cumming and 548 Alex Utting. 760 Joey spinning out 57 Dino to round off the action.
The DD saw only 204 Charlie Boy and 284 Heady up for it. 284 Heady plugged into the back of 204 Charlie Boy a few times and then spun him aside on the pits bend. 204 Charlie Boy delivered a rear wheel shot to 284 Heady and then jacked him on oppo. 204 Charlie Boy steamed in on 284 Heady to take the win.