2l War of the Worlds preview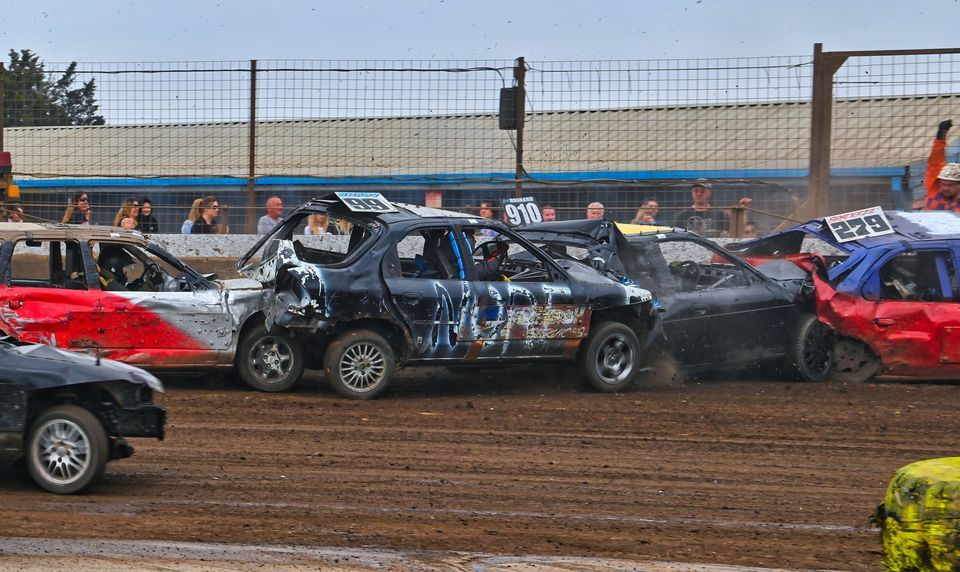 Welcome once again to the Adrian Flux Arena, and what a top night of entertainment we are expecting this evening with the return of the 2 Litre War of the Worlds Team Championship.
12 months ago saw The Predators take the title by some margin, with 227 Chris Horton taking the final win from 519 Lee Middleton. They will be looking to retain that title, and go one better by taking a clean sweep with the entertainers perspective of the meeting too. The Predators certainly have the drivers to achieve both. 519 Knuckles is arguably one of the best 2L pilots on shale, but doesn't shy away from a crash either. 178 'Slim' Kieran Bowman is one of the sports' modern greats, and really can do a bit of both. The Bandit Memorial winner highlighted on that night his capabilities behind the wheel, but he also currently sits second place in the entertainer rankings and is one of Trackstar's hardest hitters. Add to that pairing, 307 Martin Kent, who just took the white and yellows championship, 87 Damien Matthews, 191 Kieran Greenway and 279 Bradley Bowman, they look to be the team to beat.
Looking to mount a challenge and go one better than the year previous will be Team Mates. They have effectively linked forces with Team Green & Black, who were third place last year, so boast a team that can certainly mount a threat. Trackstar 2L World Champion 830 'Stretch' Lee White leads the line up, and is having another strong year which sees him sitting second in the national points. 352 Ben Mynott will be looking to continue his recent form, fresh off a 3rd place finish in the 2L World Final at Northampton a couple of weeks ago. 707 Jack Lilley has been a stand out driver this year on the shale, seeing him getting well in the mix but he can also pedal a motor as we saw at Mildenhall earlier in the month. The additional recruitment of usual Green & Black drivers 28 Mac Bell and 699 Aaron Nelson bolsters their line up and adds that element of a team that can also handle themselves as well as have a race for the points.
The Dover Boys will be looking to add the War of the Worlds title to the Suffolk Open title they won at Mildenhall on Good Friday. The team work very well as a collective unit, and although their line up looks slightly varied to what we'd usually expect to see, they seem to have a great recruitment process when it comes to 'guests.' 337 Ashley Garrod is always handy in a Mondeo here at Kings Lynn, and the fact he has finally had to paint a car may mean his unlucky streak is done for good. 51 James Licquorice has had another year of being properly on one, a sure bet to gain the team entertainer points but is no stranger to being among the front runners either. Veteran racer 188 'Victor' John Reeves knows what it takes to win these sort of events, and that experience could prove invaluable on the day. Guest 828 Jordan Sharpe is one of Trackstar's rising stars, and will be very much at home in the 2L format, and 347 Connor Burbridge is capable of getting some points where needed.
A 2 litre team meeting wouldn't be complete without a TMT presence. Although we see them in a variety of classes, the 2 litres really are where the team thrive, and they have also done some top recruiting for tonight's meeting. Newly crowned 2 litre World Champion 'Dino Jnr' 570 Jordan Cumming had a top night at Northampton, taking an Alcomers win as well as his world title win before mixing it with the Scrapyard Screamers in the second Alcomers. The screamers are booked in tonight, but Jordan will likely be looking to focus on securing some points for his team. 760 Joey Reynolds is a surprise addition to the ranks, but he is another of the sports' top stars and can pedal any car around any track. The 3 Litre man really is that good and he'll be a precious addition to the TMT field when it comes to adding points on the board. 592 Mark Marchant, 623 'Tricky' Ricky Hutton, 741 Charlie Daniels and 720 Kenny-Joe Gabriel are all top talents in the 2 litres and can provide on both fronts depending on whether the team chooses to chase the points or entertainers league. Their B team is also as strong. 60 'Shakey' Kyle Stevenson is a shock to see among the names for TMT, as you'd expect to see him feature for The Outsiders, but regardless of whatever colours he is in, he always performs for his team. 248 Jamie Blything is always reliable for some points, a very underrated talent and he shines under the team format too. 448 Alfie and 449 Billy Critt are top entertainers and will be game for a smash up, as will 444 Charlie Jackson who will be hoping to avoid incoming boots tonight.
The aforementioned Scrapyard Screamers look very strong heading into tonight. 299 Dale Locker came close to taking the 2L World at Northampton before being spun by eventual winner Dino Jnr. The team showed collective spirit by laying waste to the latter in the second Alcomers, and they'll be looking to replicate that cohesion this evening. Rawlins pairing 214 Shane and 314 Luke are no strangers to the Norfolk shaleway, and have been regulars alongside 732 Chris Cullum. 132 Archie Cullum is more than familiar too, coming through the junior ranks, so keep an eye on the Scrapyard Screamers to be up among the front runners for both points tables.
Mainline Munchers look to be another strong team, with a very tasty line up. 396 Callum Woods has been one of the best 2 Litre drivers over the last couple of years, and has entered a team which has the potential to be at the business end of both the points and entertainers league. 211 Jamie Pole is one of the sports' top entertainers, and we don't see him in a Mondeo enough these days. 466 'Dalts' Dalton Steele is another top addition. The Team V man has been a regular among victory lane at the Adrian Flux Arena, but doesn't shy away from a crash either. 210 Callum McKee and 198 Zach Clements can also have a crash whilst having a race around – the Mainline Munchers could potentially be a surprise package to keep your eye on.
The Gladiators have made Kings Lynn their home of recent; the distinctive white and red paint regularly on show. 107 Taylor Pratchett counties to dominate the entertainers league where he leads Slim by around 300 points at this stage. It's likely that the entertainers league title will be the aim for the Glads this evening, with the likes of 93 Dilly Dilly and 669 Heli Boy never shying away from a crash. 549 Phil Smith and 589 Simon Smith can certainly motor though; if the pair of them decide to have a quieter day on the crashing front then they could easily pile the points up.
The Outsiders will likely be another contender for the entertainers title, with the likes of 73 'Crucko' Dean Cruickshanks and top youngster 199 Shaydy Gough likely to be throwing the front bumpers in. With 50 Simon West and 399 Brendan Kavanagh too, the team will be one of to keep an eye on when the action breaks out.
North-west outfit CrashZone have made frequent trips down to Kings Lynn where they are always welcome additions. It's doubtful they'll be looking for silverware but they'll be looking to ruffle some feathers where 112 Daz Prestage, 113 Lee Waller and 410 Jake Calvert are concerned. Don't be fooled though, 526 Jak Denikiewicz is more than comfortable behind the wheel of a Mondeo and is definitely a candidate for one of the years most improved drivers too, so they could spring somewhat a shock upset.
It's always great to have The Shunters involved, albeit with only half a team booked in at present. The pairing of 513 Sean Harvey and 768 Dan McSweeney is more than enough to put on a show however, and it's a sure bet that's what they'll be looking to do.
Trackstar's main man Matt Black has been busy once again. 'Blacks Allstars' make way for 'Matt's Mafia', and although it's a combination of individual drivers, both the A and B team are flooded with drivers that will be very handy on the entertaining front with the likes of TYB livewire 160 Jamie Warr who is entertaining wherever he races, 808 Fabian Leathers-Ashley who is having a top season so far, Team V man 32 Connor Byram, a standout driver in the old school 1600s here a couple of weeks back and Aftermath hard hitter 603 Jon Cooper among others, keep an eye on them to spice things up.
The Junior Bangers are really thriving all over the country at the moment, and that can evidently be seen with 46 drivers booked in tonight. 291 Liam Waterfall is having a stand out season so far which sees him currently as a superstar in the gradings. There is a large crop of drivers that will do battle for the podium positions including the likes of 74 Mikey Whitehall, 622 Harvey Webb, 701 Riley Marsh and 920 Kaelan Blakeman, but don't overlook some of the lower graded drivers. 996 Jack Wright is always competitive and will mount a charge from the yellows, whilst 85 Jade Ellis is ever improving. 10 Harry Andrews and 356 Rhys Barrow will relish the chance to go off the white grade, both are very talented and will be ones to catch from there. If the Junior Bangers had an entertainers league then 23 George Childs, 515 Regan Flatters and 702 Ben Kaleta would no doubt be front runners, so keep an eye on them to deliver the action. 713 Oscar Preston is a young driver that has already mastered that never say die attitude of bangers, and is improving meeting after meeting.

Tonight has the makings to be a solid crashing affair, we really hope you enjoy your time at the Adrian Flux Arena tonight.