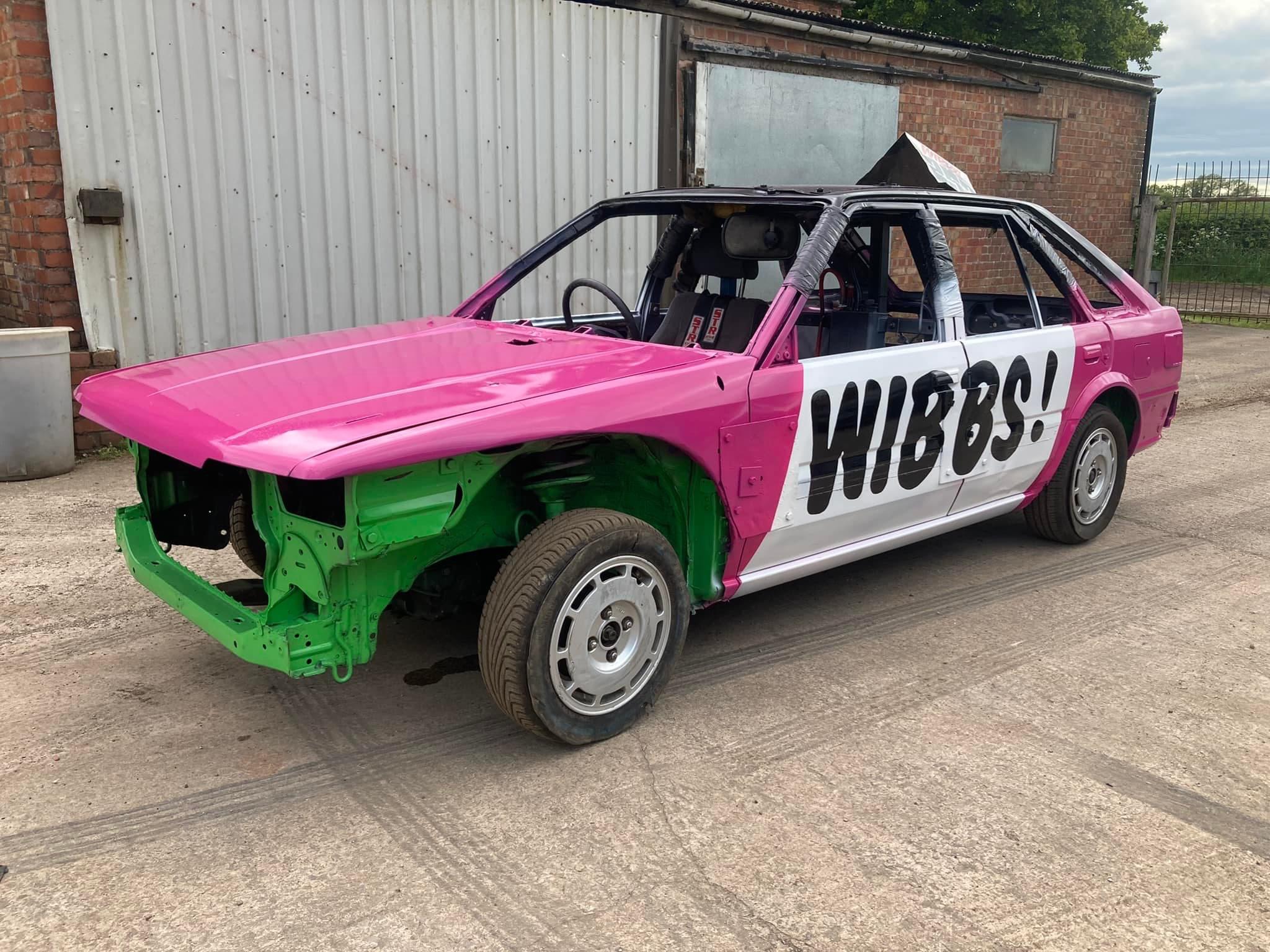 We are now into the middle of May, and meetings are coming thick and fast, but that doesn't mean that the quality has lapsed with what is shaping up to be another top night of action at the Adrian Flux Arena. Trackstar roll back the years for a slight bit of nostalgia, with the an Old School Bangers themed night featuring 2 Litres and Under 1600s. Expect an array of Bluebirds, Primeras, Cavaliers, Calibras, Corollas, Carinas and the like in the 2 litres, and whilst, Almeras and Sunnys will be the main tool to have in the Unders, the loosening of restrictions to allow more cars in will surely attract more drivers and hopefully a bit of bilge. Unlimited Lady Bangers complete the bill, in a rare appearance for them; a real triple threat tonight for you all!
The 2l Bangers booking list is filled with top drivers from all across the scene. Ex Saloon Stock Car World Champion 57 Max Stott was rapid in his Bluebird at the Chris Murfin Memorial at Skegness last month, and it's likely he'll be returning that car tonight, so expect him to be battling towards the front of the pack. An old school 2L meeting wouldn't be what it is without some old school drivers. 252 'Wibbs' John Wibberley certainly fits that criteria, and I'd bank on the Team V man being Bluebird powered. Freestone brothers 340 Wesley and 342 Ryley are always welcome additions when they appear, and both have the capabilities to take home silverware, whether it be winning or entertaining – Ryley in particular being in top crashing form of recent. Others that are always on top form are Trackstar's finest entertainers 178 'Slim' Kieran Bowman and 51 James Licquorice, the pair being at the forefront of the entertainers league for the past few seasons and are always a sure bet to get stuck in. 107 Taylor Pratchett, however, has thrown his name into that hat this year; leading the entertainers league by some margin in what has been a breakthrough season from the young Gladiator. Taylor will be joined by 214 Connor Osborne and the more experienced 549 Phil and 589 Simon Smith, and wherever there is a few Gladiators on track together, there's usually some sort of action not too far away. The Dahmbusters pairing of 347 Red Nelson and 617 Danny Everitt will be looking to make an impression, likely getting their bumper in. 'Skiddy' 26 Paul Lovick guided his Calibra to a third place finish in the Smurf Memorial and will looking to replicate that again today. Another to keep an eye on is 691 Ryan Bartrum, he was an entertainer wildcard winner on 2nd May and also secured the DD win on that day too.
Not to be overshadowed, the All Almera and Sunny Bangers return after a stunning session here 12 months ago, and with the relaxation of car choices, expect to see some Mk3 Astras, Escorts, Orions and the like out too. One man who will certainly be pleased by the opening of car choice is 420 Matthew Jode. The Trackstar entertainer regularly takes on the more modern Unders variants Mk3 Astra or Escort powered so will feel right at home tonight. 'Maff' took an entertainers wildcard on 2nd May, booking his spot in the 1500 National Championship, so if he is to continue that form tonight, keep your eyes on him! At the time of writing, Trackstar points leader 608 Lenny Murkin, so expect 478 Craig Royal to be one of the front runners in the class tonight. The North-Eastern man is fast in any front wheel drive motor he pedals, so he'll be a sure bet for some silverware this evening. Looking to upset those going for the win will be the Wild Boyz contingent, who are expected in large numbers tonight. The team have really put themselves back on the banger map this year, and have been regulars among the Micro and 1500 classes here at Kings Lynn where every meeting they have been on top form. The Mad Hatters will sure be up for mixing with them. It's great to see them in numbers here tonight, in cars that they used to dominate the 1500 Trackstar scene in. 390 'Gibbo' David Gibson was in superb form at the Chris Murfin Memorial over at Skegness, delivering one of the hits of the day when he jacked 360 Jack Reynolds in epic fashion. 611 Joe Geeves is always great value for money; rarely seen not smiling regardless of what's happened on track. The bank holiday meeting here on the 2nd May saw a top day of action for the 1500 Bangers, with several standout performances. 110 Brett Judge was on fine crashing form that day, even getting a compliment from his partner Stacy on social media after the meeting which is very rare indeed, he'll be looking to keep in the good books! 10 Chris Lovick took a 3rd and 2nd place finish on the 2nd May and will surely be looking to better that with a win tonight. Add into that stockpile of the crème de la crème of the 1500 scene is Bears trio 321 Kieron Fry, 43 Luke Maynard and 831 Shane Fry, the ever underrated 248 Jamie Blything, the return of 776 Ady Groom who was always a lively performer, 717 Lewis Ivatt whom is going well in the 1500 points and 511 Jack Licquorice who is having a lively season so far, tonight has the makings for a top session.
The Unlimited Lady Bangers conclude the bill in the first of three fixtures for them this year. 85 Danielle Ellis and 477 'Wino' Amy Brown will certainly head the pack of drivers. The pair have been leading ladies of the scene for a few years now and are not out of place in a normal domestic banger fixture either. 419 'Mossop' Laura Quadling is another who doesn't require a ladies only meeting to showcase her abilities, always livening up meetings regardless of bangers or robins. Ex-British Champion 319 Jodie Grief will be in attendance, hoping to take her Jaguar to victory lane, and hopefully stays out of the trouble so James Licquorice can have a bit of a break from building cars! 57 Sophie Tillow, 313 Shannon Woods and 626 Kayleigh Saunders have all been going well over in the Ladies at Skegness, and we shall see how they fare switching to shale and RWD. 469 Emily Taylor is a regular in the back to basics and 1600s on the Spedeworth so will relish the opportunity to take an Unlimited out, maybe even show boyfriend Ben Randell how to hold on to a lead! 

Another top night on the cards from Trackstar who seem to be doing no wrong at the moment, we really hope this one continues that trend for you.