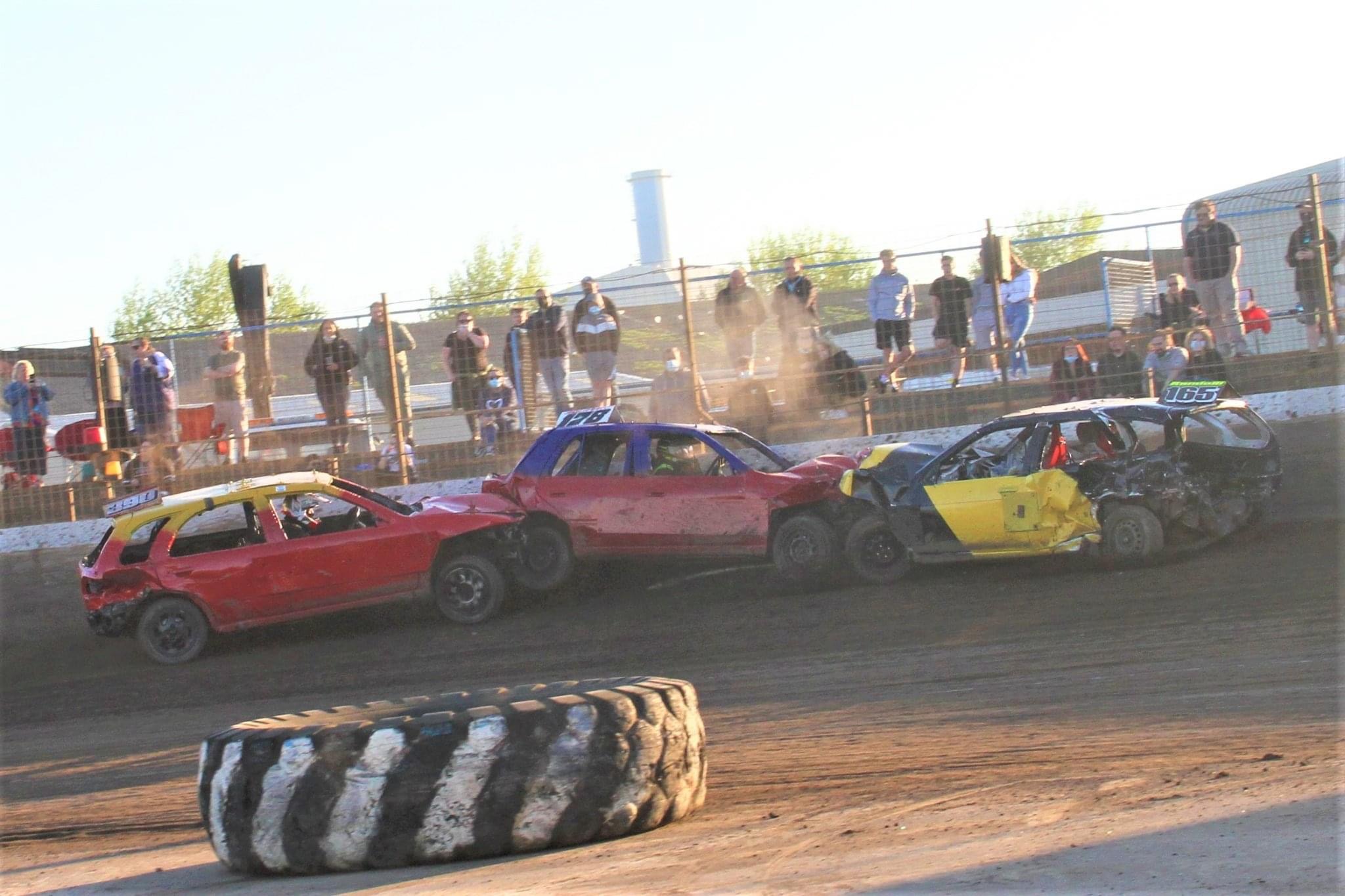 Tonight we have the return of the 1500 Bangers East Anglian Team Championship, accompanied by Unlimited Bangers and Junior Bangers.
It isn't often that the 1500 Bangers get to headline a meeting, normally forming support for their bigger banger cousins, but with an impressive 19 teams booked in to compete for the honour of being East Anglian Team Champions, it looks set to be a top evening here at the Adrian Flux Arena. At present, their is a perfect mix of teams that will be looking to go for the honours, and those that will be looking to stir up the action. With no STB booked in to defend their titles that they took way back in 2019, it looks likely new champions will be crowned tonight. TFB look to be the strongest team to go for the honours; collectively they are always consistent in the 1500 Bangers which tends to be the teams speciality. 248 Jamie Blything, 624 Cameron Hubbard, 556 Matt Tillow and 717 Lewis Ivatt are all very talented pilots, so expect them to be up in the podium places come the end of the evening. 830 'Stretch' Lee White heads Team Mates into battle with a strong line up. The 2L Shale World Champion is back to finding his best form recently, and has recruited ex-UK Champion 165 Ben Randell and the accolades alone suggest the pair know their way around the track. 265 Karl Gant and 707 Jack Lilley are typically a pair that you'd see doing the entertaining, but both are capable of picking up some points where needed. Team Jackpot are a well organised faction, consisting of UK Champion 99 Ricky Garrod, 339 Jack Garrod, 340 Wesley Freestone and 7 Dan Bitson, the latter a race winner at the 1500 Icebreaker. The team are no strangers to victory lane and will be among the leading contenders tonight. Hocus Pocus will surely mount a threat too. Brothers 69 Brad and 691 Ryan Bartram were well involved in the Micro Bangers here on June 3rd, but have shot through the grades this year with some top results. 479 'Jooble' Joel Allen currently sits third in the 1500 National Championship qualifying standings, and with 11 Ryan Leeks fresh off the back of a solid debut in his F2 Stock Car, this team could spark a challenge for the titles.
Trackstar's 1500 scene really is thriving at the moment, and with the Gold Rush events over at Spedeworth providing popular too, race fans are spoilt in this division for choice. It is argued that various team presence in individual meetings ruins them, but this has not been the case here at Kings Lynn with Blue & Black, Scrapyard Screamers, Predators, Wild Boyz, Gladiators and Green & Grey all being heavy hitters on regular occasions. It was Blue & Black who took the entertainer awards at the 1500 Icebreaker and their recent performances both here and on their travels to Skegness and Scunthorpe suggest they'll be looking to go down the same route today. The Scrapyard Screamers have been entertaining all season and bring a strong team, whilst the Wild Boyz have three teams, so expect them to come across one another at some point – two top teams that have seen a rejuvenation this year from the emerging young talent among their ranks. Green & Grey driver 197 Sean Chapman took one of the entertainer wildcards on 9th April and is another that is likely to get the front bumper in. Entertainers League leader 107 Taylor Pratchett is joined by 214 Connor Osborne as only a duo of Gladiators, but Taylor is never one to shy away from a crash. Cruncher's Crew have the makings to deliver on both fronts. 342 Ryley Freestone is one of the hardest crashers on the Trackstar scene, but in similar fashion to his teammates 910 Jack Rookard, 9 Ben Cox and 119 Davey Cox, he can pedal too! Team BJs, a bit of a different name, but 100% a team to look out for with three of the Bond brothers among the ranks, all of whom are out and out entertainers not afraid of a crash. Team NFG are a proper bread and butter banger team, the epitome of what bangers are about with their approach in terms of racing anything against the more modern cars and getting stuck in; 420 Matthew Jode in particular one to watch. He was an entertainer Wildcard winner here on May 2nd.
That alone would be enough for any race fan, but Trackstar have treated us with the ever all-action Unlimited Bangers which are in strong numbers with a star studded line up. 299 Tommy Callaghan heads the World of Shale qualifying points and will be looking to continue his momentum. 639 Tye Williams is third in those points, and was a heat winner here on 16th April and was up in the podiums in the final. 267 Martin French was also a heat winner on that night and took second in the final behind 334 Stephen Court, both of whom feature this evening. 307 'Pretty Boy' Martin Kent took the 2021 White & Yellows Championship earlier in the year from teammate 178 'Slim' Kieran Bowman and 271 Ashlun Woods; all three will be hoping for a good night, but I'd expect Slim to feature among the crashing. Another you can expect to put the bumper in is 51 James Licquorice. He was back in form in the Micros here last week taking 2 entertainer awards on the evening, so fingers crossed that spurs him on for another crashing display. 673 Darren Fendley took a hattrick of wins in his Van on June 3rd, will he have the same luck tonight? 478 'Weasel Jnr' Craig Royal is not someone we usually see in an Unlimited Banger, but when he does make the journey down from the North-East it is typically a successful one. I'm sure Craig will be happy with just getting some laps in but keep an eye on his progress. 266 'Odd Job' Callum Hall will hoping to avoid any Toyota Previas he comes across after his encounter at Tullyroan last weekend; if you haven't seen the crash yet, give it a search! Adding to that crop of drivers is even more star power with a trio of Team Black. World of Shale Champion 617 Jack Overy, World Champion 217 Sid Madgwick and 67 Rickie Beasley will look to get some laps in, but expect the Trackstar faithful to make it tricky for them. A decent warm up to the Unlimited War of the Worlds event taking place at the start of July.
Accompanying the Unlimiteds and 1500 Bangers are the stars of the future in the Junior Bangers. The racing all season has been highly thrilling and competitive, with numbers high again tonight, it really puts the spotlight on how good the formula is of recent. 996 Jack Wright guided his smartly presented Union Jack themed Micra to victory in the feature final last time out and looked quick all night, but it was a mixed back of winners all evening with 750 Rhys Parrin, 356 Rhys Barrow, 702 Ben Kaleta and 150 Katelyn Parrin all taking wins from the white grade. 291 Liam Waterfall continued his great start to the season too, showing great pace from the back of the grid. The races really could go the way of anyone so keep your eyes peeled.
A top night of crashing expected this evening then with a star-studded line up throughout in this all banger affair. We hope you enjoy your evening and don't forget the bangers are back at Kings Lynn for a bumper weekend of racing on the 2/3 July.
Credit to the individual photographers – photos sourced from Trackstar website