Stan Woods Memorial – 27/04/2019 – Stoke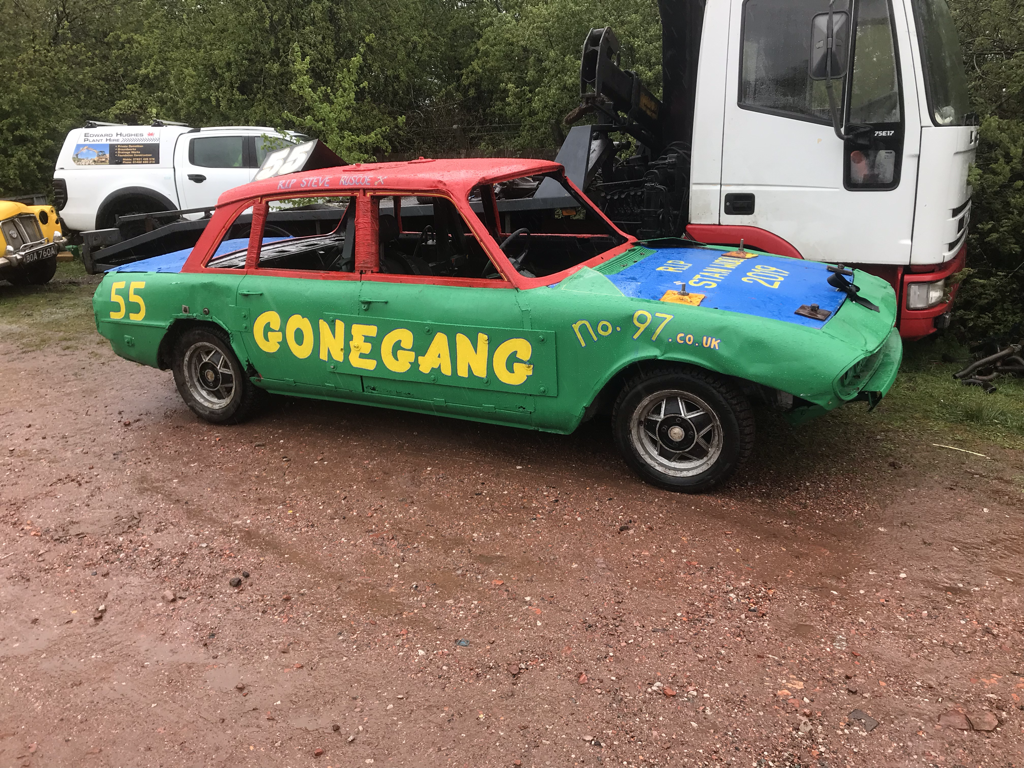 The 8th annual Stan Woods Memorial celebration took place at Stoke Speedway on Saturday 27th April in abysmal conditions as the full force of Storm Hannah swept over the North-West track in what can only be described as the worst weather conditions I have witnessed at a meeting. Nonetheless, an impressive amount of machinery turned up with drivers producing the goods as always for the special day. Our thanks as always to Paul Toward for the hard work in producing a 'tin list.'
189 cars listed, 69 overs and 120 unders
Overs
4 David Wilde – used Mercedes W123 Estate
4 Mark Mitchell – Austin A135 Princess III Hearse (DNR)
5 Jonny Hughes – Rover P4
22 Dave Sullivan – Jag XJ Series 2
26 David Bylett – Rover P4 (DNR)
43 Jon Ross Hutchinson – Mercedes W126 Hatchback
57 Mark Gilbert – Daimler Sovereign XJ Series 2
64 Gary Mitchell – Rover P5 (DNR)
88 Alan Read – Rover P5 Coupe
88 Willie Stawiarski – Rover P4
104 Mick Siddalls – used Jaguar XJ Series 1 (DNR)
112 Sean Gallagher – used Rover P5
131 Peter Hanmer – used Austin 3 Litre
134 Josh Heeps – Rolls Royce Silver Shadow I
152 James Dillon – Humber Imperial
155 Rob Phillips – Austin FX4 Taxi
164 Gary Mentoplay – Daimler DS420 Limo
169 Matt Daly – Daimler DB17 Six-Light
169 James Rushton – Jaguar 420
171 Tommy West – Daimler Sovereign XJ Series 2
173 Steve Reynolds – Vanden Plas Princess 4 Litre R
177 Matt Williams – Rover P4
186 Mike Pullen – Datsun Cedric 430 Estate (DNR)
198 Dave Hughes – used Holden Kingswood HQ Estate
224 James Burrows – used 1941 Chevrolet Special Deluxe
230 Dean Moldjord – used Daimler Sovereign XJ Series 2
243 Jamie Millen – Daimler DS420 Limo
252 Gareth Griffiths – used Rolls Royce Silver Shadow
261 Dom Davies – Jaguar 420
266 Al Roskell – Daimler Sovereign XJ Series 2
267 Martin French – Mk1 Granada Coupe
288 Carl Sowter – Jaguar XJ Series 2 Coupe
311 Josh Brierley – Jaguar XJ Series 2
323 Dean Kelly – Toyota Crown S80/100
333 Tony Cotton – used Mk1 S-Type Jaguar
342 James Stone – Rover P5
347 Red Nelson – Mercedes W123 Estate
349 Lee Saunders – Jaguar XJ Series 1
366 Mark Wren – used Daimler DS420 Limo
366 Carl Stacey – Mk1 Granada
372 Martin Scully – Rover P4
380 Trevor Wright – Volvo 164
388 Stevo McGrath – used Mk1 Granada
414 Neil Peters – used Wolseley 6/110
439 Danny Sutton – Wolseley 6/110
476 Ross Coleman – 1941 Chevrolet Master Deluxe (DNR)
492 Dean Harper – Austin A125 Sheerline Limo
501 Ste Kaye – Daimler Conquest
506 Terry Williams – used Austin 3 Litre
514 Paul Woods – used Mk1 Granada
528 Alan Hunt – Mk1 Granada Consul (DNR)
523 John Swanborough – used Datsun Cedric 430
537 Martin Brunson – Rover P5 Coupe
583 Dan Weeks – Jaguar XJ Series 2 Coupe
616 Phil Watkiss – Mercedes W123 Coupe
617 Danny Everett – Mercedes W123 Hearse
632 Callum Reed – used Mk1 Granada
650 Phil Barker – Daimler DS420 Limo (DNR)
690 Pete Richardson – Rolls Royce Silver Shadow I
691 Paul Snape – Rolls Royce Silver Shadow I
724 Mark Puddiphat – Volvo 144
734 Mark Saunders – Jaguar XJ Series 2 (DNR)
737 Ian Crandon – Mk10 Jaguar
747 Bradley Dee – Rolls Royce Silver Shadow I
883 Tom Filmer – Jaguar XJ Series 2
886 Andrew Topham – Rover P4
917 John Millen – used Wolseley 6/110
924 Matt Millen – used Rover P5
949 Tony Fidoe – Jaguar XJ Series 1
Unders
10 James Eaton – Hillman Minx Series V-VI
13 Bobby Palin – Mk1 Honda Civic
14 Stephen Clarke – Mk3 Cortina Estate
15 Ryan Murphy – used Morris Oxford V Fintail
15 Simon Eggleton – MG B-GT
22 Ant George – Mk2 Triumph 2000
27 Will Longford – Hillman Super Minx III-IV
28 Marty McKiernan – Mk1 Humber Sceptre
33 Andrew George – Mk2 Triumph 2000
37 Alex Stride – Renault 5 (DNR)
38 Mike Caton – used MG B-GT
42 Gregg Brunt – used Standard Vanguard Phase 3 (DNR)
44 Robert Clarke – Rover P6
44 Andy Gorton – used Hillman Minx I-III
47 Andy Davies – used Wolseley 16/60
49 Billy King – Wolseley 16/60
55 Graham Smith – used Mk2 Triumph 2000
67 Mark Whittaker – used Mk2 Triumph 2000 (DNR)
72 Tom Carr – Mk5 Hillman Minx
91 Dave Barwick – Mk2 Triumph 2000
91 Lee Herbert – used Austin A60 Cambridge
96 Amber Daniels – Sunbeam-Talbot 90
99 Lee Clarke – Hillman Minx Series V-VI
99 Eddie Hughes – Austin A55 Bubble Cambridge
107 Josh Gent – used Hillman Minx I-III
109 Ian Barton – used Volvo Amazon
113 Dan Wright – MG Magnette ZB
122 Lee Waddington – used Triumph Dolomite
123 Paul Manning – Triumph Dolomite
125 Roy Preece – Rover P6
132 Connor Dando – used Fiat 125
141 Dan Steele – Mk3 Ford Cortina (DNR)
143 Paul O'Connor – Wolseley 16/60
146 Alastair Carter – used Hillman Super Minx III-IV
155 Scott Hamilton – used Mk2 Triumph 2000
158 Shane Davies – Morris Oxford VI
165 Charlie Barnwell – Triumph Dolomite
179 Shaun Rushton – used Mk2 Triumph 2000
178 Andy Walsh – used Rover P6
181 Jordan Cadman – Mk4 Ford Zodiac
188 John Reeves – Mk2 Hyundai Pony Pickup
201 Brian Mullen – Austin A50 Cambridge
203 Darren Nash – Austin A60 Cambridge
203 Josh Moldjord – used MG Magnette Farina
209 Tom Waller – used Riley 4/72
209 Oliver King – used Austin A55 Fintail Cambridge
214 Chris Buckley – Mk2 Ford Zodiac Estate
218 Shane Sandy – Triumph Dolomite
218 Jack Chapman – used Toyota Corolla E50 Liftback
222 Terry Lodge – Austin A55 Bubble Cambridge (DNR)
224 James Burrows – used 1934 Standard Twelve
246 Dylan Ward – Lada Riva
252 John Wibberley – Mk3 Ford Cortina (DNR)
267 Martin French – Mk3 Ford Cortina
268 Damian Bush – Triumph Dolomite
269 Dean French – Volvo 145 Estate
273 Dean Jenney – Rover P6
276 Adam Rowell – Mk3 Ford Cortina
282 Bobby Daniels – Austin Princess 18-22 Limo
287 Steve Francis – Austin Princess 18-22
288 Stacey Reeves – Mk1 Vauxhall Cavalier
303 Brain Cope – Vauxhall Victor FE
310 Jon Nicholson – used Austin Maxi
310 Chas Lee – Austin A55 Bubble Cambridge
325 Craig Preece – Triumph Dolomite
329 Michael Carter – Lada 1200
333 Phil Wise – Mk2 Triumph 2000
346 Scott Saunders – Mk2 Triumph 2000
353 Dan Buckley – Ford Taunus TC1 2-door
360 Roy Parkes – used Vauxhall Victor FE
362 Aaron Loader – Lada Riva Estate
374 Richard Kelly – Hillman Super Minx III-IV
374 Jake Carter – used Lada Riva
383 Rory Adams – Hillman Avenger Estate
386 Tony Byrne – Riley 4/72
388 Stevo McGrath – Lada Riva Estate
389 Dean McGrath – 2-door Mk3 Ford Cortina
389 Ray McGrath – used Lada Riva Estate
416 Aaron Clarke – used MG B-GT
419 Laura Quadling – Austin A40 Somerset
421 Laurence Ault – Hillman Minx Series V-VI
430 Aaron Langley – Austin A60 Cambridge
471 Trevor Perry – Lada Riva
492 Dean Harper – Morris Marina
504 Karl Jones – used Hillman Super Minx III-IV
509 Les Dolan – used Mk1 Humber Sceptre
514 Paul Woods – Mk3 Ford Cortina
516 Glynn Hughes – used Morris Oxford VI
517 Brad Hughes – Riley 4/72
517 Alan Kinghorn – used Volvo Amazon
523 Robbie Phenah – Hillman Avenger Estate (DNR)
528 Guy Wise – Mk1 Humber Sceptre
533 Josh Pritchard – used Hillman Minx I-II
536 Harry Barwell – used Triumph Dolomite
538 Ian Lee – Morris Oxford VI
552 Jordan Street – Fiat 124 Coupe
553 Luke Webb – Hillman Super Minx Estate
557 Paul Bowen – Hillman Hunter Estate (DNR)
572 Paul Scully – Morris Oxford MO
577 Danny Taylor – Hillman Minx V-VI
612 Craig Nicholl – Lada Riva
627 Bekah Everett – Mk2 Ford Consul
673 Darren Fendley – used Austin Maxi
704 Connor Siddals – used Mk2 Triumph 2000 (DNR)
712 Alex Hatcliffe – used Austin Allegro
715 Wayne Carless – Austin Princess 18-22
720 Martin Lewis – Triumph Dolomite
743 Jake Bond – Morris Marina
790 Jay Buckley – used Mk2 Triumph 2000 (DNR)
800 Tom Hannah – Mk2 Triumph 2000
802 Liam Duncanson – Hillman Hunter
814 Mark Millen – Wolseley 16/60
824 Ollie Millen – used Wolseley 16/60
825 Luke Preece – Mk2 Triumph 2000 Estate
855 Ash Sherwood – Triumph Toledo
886 Andrew Topham – Rover P6
893 Tony Holden – Mk3 Ford Cortina Estate
909 Jamie Duff – Triumph Toledo
914 Tony Webb – Morris Ital (DNR)
925 Aaron Preece – Austin A50 Cambridge
The Overs were out on track first for their Heat 1 which raised only 13 cars. 724 Pudiphatt was the first to show, spinning 333 Cotton and 131 Hanmer in one sweep. 88 Speedy spun 342 Stone. The leading 349 Finbarr went in the thick mud and got stuck handing the lead to 88 Speedy who also expired. 388 Lil Stevo had a nibble at 439 Sutty before going on to spin 333 Cotton as 492 Mullet raced to the first win of the afternoon in his Austin A125 Sheerline Limo.
Heat 2 for the Overs raised a better field of 18 cars. 252 Mr Blobby was the first to show as he spun 506 Mitchell through the slop. 169 Rushton followed in 616 Watkiss, who was jacked in turn by 22 Sully. 414 Doom spun 380 Shaky to take up the lead. 252 Mr Blobby spun 112 the Captain as 924 Millen attacked 5 Hughes, which also claimed 537 Bruno in the process. 632 Reedy Jnr spun 112 the Captain whilst the lively 252 Mr Blobby claimed another, spinning 244 Bugsy Jnr aside. 414 Doom took the win this time around.
A better 22 cars made it out for Unlimited Heat 3. 57 Gilbert spun 690 Richardson early on, with the latter copping a head on from 747 Bradderz. 691 Snapper then jacked 747 Bradderz. A few laps passed, before 152 Mr Grumpy delivered further punishment to 747 Bradderz homing in on his Roller. 501 Basho spun 152 Mr Grumpy. 288 Sowter had a pop at 164 Gary who caught the pit gate plating. 230 Moldjord got caught up with 164 Gary, which allowed 198 Little Dave to jack 230 Moldjord. 501 Basho drove through the rear wheel of 230 Moldjord before completing a lap and blasting 198 Little Dave. 243 Jamie Millen guided his DS420 Limo to the win.
The batch of Unders races were next up with Heat 1 starting fairly slowly. 288 Doris was an early spinner before 533 Nasty Junior ran 627 Beckha in backwards. 107 Gent spun 224 Bugsy Jnr to conclude the action as 310 Eno raced to a very dominant win.
The Unders Heat 2 raised 23 cars. 143 O'Connor spun 158 Davies early on and 516 Ikky delivered much of the same to 386 Gorgeous Gus. 55 Smiggy attacked 113 Wrighty. 158 Davies turned 209 King fencewards. A pile up formed on the back straight, as 158 Davies span aside 802 Ringo running into 15 Eggy. 824 Millen ran head on in to 15 Eggy leaving him open to a shot from 909 Duff. The rapid 55 Smiggy spun 158 Davies as he raced to the win – 909 Duff put away 383 Dodger late on in the race to conclude the action.
Heat 3 started with 25 cars. 203 Moldjord was turned left early on and got collected by 155 Hamilton. 430 Langley delivered a head on to the spun 209 Tombo. 209 Tombo claimed 33 George and 132 Dando as he backed across the track. 203 Gnasha spun teammate 49 Buff just before the line to take the win. 209 Tombo delivered a meaty head on to 28 Marty as the reds came out.
Heat 4 started with a home straight pile up. 886 Topper jacked 218 Chapman. 353 Buckley weighed in on 886 Topper. 246 Meerkat ran 273 Jenney through 287 Francis. The red flags came out in order to obtain a loose wheel. The restart saw 282 Mr Mad attack 246 Meerkat. 179 Mr Cool spun 353 Buckley for second place. 91 Bart assaulted 353 Buckley. 552 Street ran 282 Mr Mad into the tyres. 267 Frenchy attacked 893 Holden, as 374 Carter won by a lap.
A schedule change due to many drivers loading up due to the weather and subsequent damage in the early heats saw the Overs Final next up which raised 23 cars. Cruelly, 514 Paul Woods failed to make the start in his father's memorial race. 43 Large attacked 372 Scully early on. 342 Stone stuffed in 177 Williams. 617 Everitt backed across the track and was duly tboned by the obliging 261 Davies. 164 Gary jacked 691 Snapper. 288 Sowter rattled in 224 Bugsy Jnr. 883 Filmer attacked 323 Kelly. A jacking train formed on the back straight with 169 Rushton going in on 883 Filmer. 372 Scully weighed in on 169 Rushton only to cop one in turn from 288 Sowter. 288 Sowter stuffed in 349 Finbarr to take 3rd place. 388 Little Stevo took the win ahead of 243 Millen and 288 Sowter.
The Unders Final raised a healthy 32 cars. 886 Topper was the first to show as he run 533 Nasty Junior through 536 Barwell thanks to an assist from 246 Meerkat. A fire broke out on the 533 Nasty Junior Minx bringing a temporary halt to proceedings. The restart saw the lively 909 Duff attack 282 Mr Mad. 536 Barwell homed in with a big hit to 282 Mr Mad. 430 Landgley jacked 536 Barwell. 224 Bugsy Jnr went in on 430 Langley. 715 Wapid spun 310 Chas as he moved up the order. 430 Langley drove through 282 Mr Mad. 925 Preece delivered a head on to 536 Baz. 310 Chas blasted the limping 282 Mr Mad, only to be smeared across the plating in turn by 715 Wapid. 55 Smiggy took another impressive win ahead of 715 Wapid and 528 Wisey.
At this stage, there was a large delay to see what was left to decide on a format for the remainder of the meeting so we decided to call it a day being soaked through to the bone. Overall, the drivers produced some top action in consideration of the conditions that they were dealt with and although the meeting won't rank high in the memories of Stan Woods gone by, still had a bit of something for everyone. Once again, a tremendous effort by all involved that braved the appalling conditions. A few tweaks potentially needed for next year and pray to the weather gods too!