National Unlimited Banger World Series Round 3 – 22/04/2018 – Yarmouth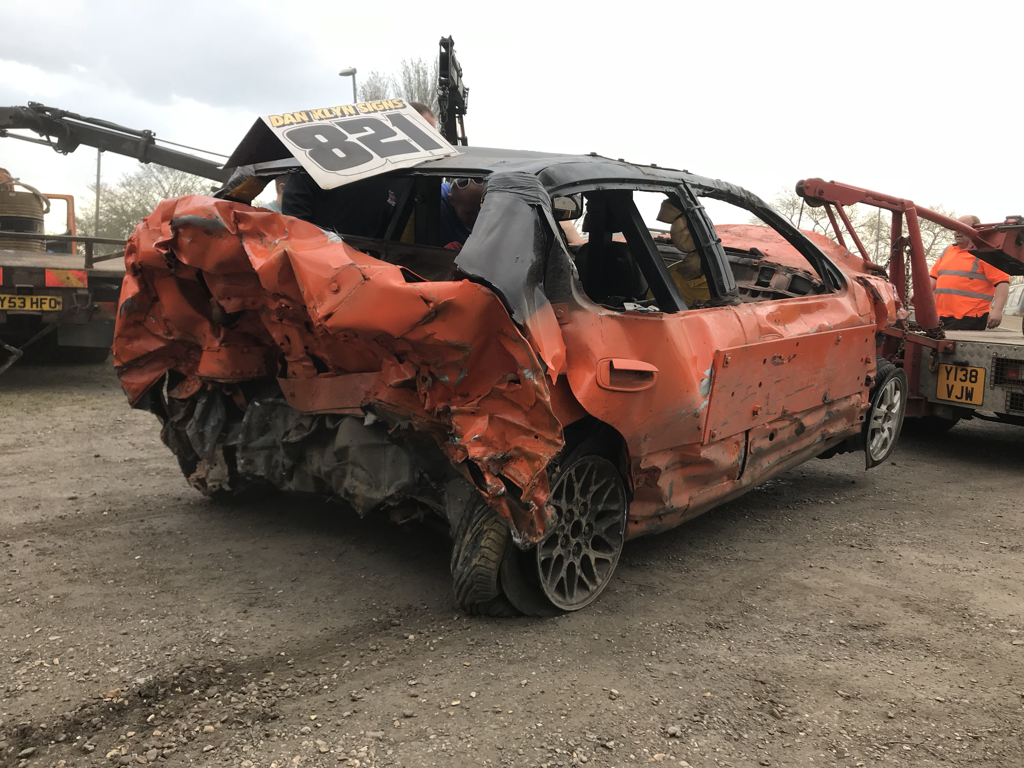 45 cars gathered at Yarmouth Stadium as round three of the Banger World Series rolled in to the East Coast destination. The field was mainly made up of used motors. 622 Garry Webb making the effort with a smart fresh Mercedes E Class, while local lad 873 Kyle Roberts had a slight differ to the norm with a BMW 5 Series.
Heat 1 raised 24 cars. 208 The Gambler and 341 Jonesy got caught up. 247 Bro spun 306 Bell. 327 Maskell Jnr and 17 Chiefy combined to put away 94 Cecil Jnr. 331 Boxer Jack spun 327 Maskell Jnr out of his way. 548 Big Al spun running mate 821 Dangerous who was holding him up. This allowed 821 Dangerous to deliver a solid head on to 341 Jonesy. 341 turned round to jack his attacker. 341 Jonesy then cut across the centre green to administer a head on to 821 Dangerous. Damage Inc revenge was swift as 247 Bro jacked 341 Jonesy. 341 Jonesy went across the centre green again to rejoin, jacking 247 Bro in a revenge shot. 595 Sal-mon was on hand to jack 341 Jonesy as the numbers game stacked up against the latter. 699 Stacey Holdsworth was the evenings' first winner.
Heat 2 saw a little less cars with 19 making the track, although 873 Roberts was a none starter. 622 Gazza and 45 Lips tangled together on the Caister bend. 114 Lakey spun 433 Smith. 284 Heady set about 75 Corey, eventually spinning him. 114 Lakey spun 558 Stewart for second on the last lap. 717 Jack Tuffen took a dominant win, taking the chequered flag by over a straight.
The Wildcard race raised 37 cars including 753 Gypsy Boy and 257 Waterboy who were on their first races of the evening. 699 Stacey drew the front of the grid; 717 Tuffen was not as lucky drawing the back of the grid. The race got underway with drivers going in way too hard on the now slippery surface with the rain coming down just before the race. 558 Stewart thundered in 349 Noddy, snapping the latter's Jaguar in impressive style. 570 Dino Jnr attacked front row sitter 33 Magic, spinning the latter. 887 Browning spun 570 Dino Jnr. 160 Winsor put away 400 The Boy; the latter get stuck around a post. 45 Lips ran into the back of the already snapped 349 Noddy. 284 Heady tboned 45 Lips as he backed across the track. The red flags came out to assist 349 Noddy out of his wreck – coming away with a nasty gash to his leg. 699 Stacey was leading at this early stage with only around 3/4 laps completed, although she cruelly expired before the green flag. 87 Damo was lurking from the off, holding up the leading 331 Boxer Jack. With the packing pushing, 309 Laney took out 331 Boxer Jack for the lead but was removed immediately on the next bend with a lunge from 887 Browning sending the inaugural 1600 World Champion into a parked car. 327 Maskell Jnr gave a head on to 549 Smiffy Jnr. 549 Smiffy Jnr delivered an on oppo attack to 160 Winsor. 331 Boxer Jack spun 433 Smith. 549 Smiffy Jnr gave another head on to 160 Winsor. 160 Winsor retaliated with a hit to 549 Smiffy Jnr, and then proceeded to dish a couple of front wheel shots to the latter. 960 Rossco attacked 306 Bell, who then dished a revenge shot to his attacker until the starter's rostrum. 717 Tuffen buried 787 Soft Lad into 400 The Boy's parked car with a last bend lunge and then spun 196 Joey over the line. 887 Robert Browning secured his place in the main event ahead of 196 Joey Palmer and 717 Jack Tuffen.
The Showdown started with slight confusion with the Incarace draw leading to all drivers going off and a complete restart being ordered. The three-a-breast clutch start lead to a big pile up on the pits bend; with loads going in. 72 Bondy wrapped round 1 winner 673 Daz round a post and 327 Maskell Jnr jacked 787 Soft Lad. 548 Big Al jacked 341 Jonesy. 247 Bro spun it around a dished a head on to 341 Jonesy. 341 Jonesy was then ruined by a big jacking from 247 Bro, although the former continued to wave the shots in. 247 Bro drove through 341 Jonesy again. 570 Dino Jnr hung himself off a post, owing to damage picked up in the pile up. 327 Maskell Jnr hung 558 Stewart off a post half way down the home straight with a big impact. 595 Sal-mon met the spun 552 Blacknuts on the nose whilst 456 Nathan Roberts took the honours.
Overall a fairly solid session, with a mix of the top racing and crashing. The Banger World Series rocks up at Aldershot Raceway for round 4 on Sunday 20th May.