National Big Van Bangers – 18/08/2019 – Yarmouth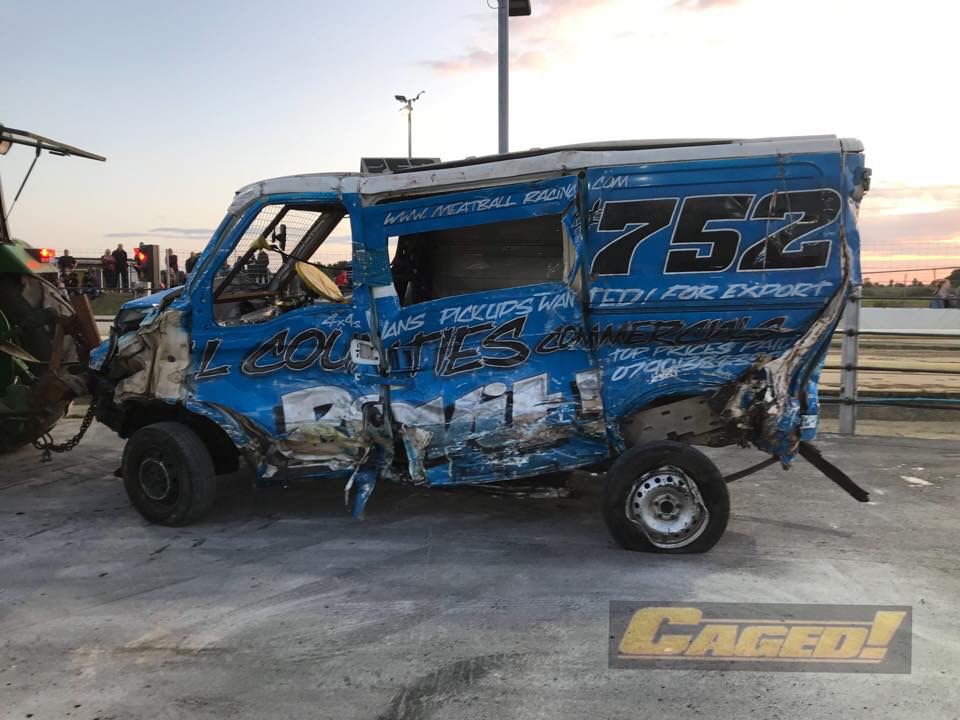 Sunday 18th August saw a double header at Yarmouth as the National Van Bangers had their annual outing raising 7 in total and they were supported by a late addition of Back To Basics Bangers which had been on fine form in the meetings leading up to the meeting; 29 cars in total assembling to the East Coast venue.
Back to Basics were up first for their Heat 1 which commenced with 469 Taylor spinning 502 Selfy. 19 Smiley Joe spun 294 Deano. 469 Taylor spun 112 Greatrex which in turn posted 97 Scott. The leading 469 Taylor put away 421 Hippo earning herself a black flag as it was deemed she turned him left. 14 Bazza attacked 46 Grumpy. 336 Fathead jacked 585 Tytey. 512 Wishbone Jnr weighed in on the lame 666 Damo. 636 Planey spun 585 Tytey and then delivered the same treatment to 9 Titch. 336 Fathead spun 439 Sutty. The rapid 636 Planey spun 515 which in turn claimed 14 Bazza. A quiet last few laps ensued, seeing 109 James Williams winning from 512 Lee Ray & 9 Titch Mancini.
109, 512, 9, 585, 19, 165, 562, 336, 366, NOF
Heat 1 for the Van Bangers was a big push into the first bend resulting in 753 Gypsy Boy getting dispatched. 820 Maggot spun 516 Goulding. 753 Gypsy Boy began pulling across the track claimed 570 Dino Jnr, giving the latter a puncture. 753 Gypsy Boy bumped 516 Gouldy back onto the track. 570 Dino Jnr jacked 753 Gypsy Boy. 820 Maggot tboned 516 Gouldy. 570 Dino Jnr drove through 753 Gypsy Boy. 820 Maggot tboned 753 Gypsy Boy on two consecutive laps. 570 Dino Jnr gave 753 Gypsy Boy a portion. The leading 548 Big Al weighed in on 753 Gypsy Boy and managed to recover to keep the win.
548, 518, 820
Back to Basics were back for Heat 2 and saw a complete restart after 1 lap as 512 Wishbone Jnr lost a wheel. The restart saw 515 have a nibble at 214 Rigby. 502 Selfy attacked 748 Ginge at the pit gate. 636 Planey spun 9 Titch who immediately recovered only to get spun by the former's son, 336 Fathead. 112 Greatrex caught a post down the back straight ripping a wheel off; creating a big wreck for his Ford Puma in the process and resulting in another race pause. The race resumed with 748 Ginge attacking 629 Rout, the latter backing his attacker up into the ropes. 636 Planey got bounced off a post by the pack losing a wheel bringing yet another stoppage. The restart saw 21 Ballard spin 433 Smith. 995 Deano buried himself tangling with 14 Bazza. 19 Smiley Joe spun 433 Smith who was having a luckless race by all accounts. 14 Bazza spun 109 Posh Boy. 433 Smith recovered to attack 667. 469 Taylor expired due to running out of fuel, but luckily boyfriend 165 Benny managed to push her for over half a lap and fend off the onslaught of drivers behind for her to take the win.
469, 585, 629
Heat 2 for the Van Bangers began with 204 Charlie Boy spinning 518 Gould for the early lead. 753 Gypsy Boy pushed around 516 Gouldy who was failing to get his van running.570 Dino Jnr drove through 753 Gypsy Boy.753 Gypsy Boy backed into 204 Charlie Boy.570 Dino Jnr administered a couple of reverse attacks to 753 Gypsy Boy. 548 Big Al won and celebrated by driving through 753 Gypsy Boy.570 Dino Jnr again went for a reverse attack on 753 Gypsy Boy. 548 Big Al set alight concluding the action and his participation in the rest of the proceedings for the day.
548, 204, 820
The Back to Basics Final started with 502 Selfy setting about 308 Martin from the off.214 Riggers was posted by the pack. 336 Fathead spun 748 Ginge as 502 Selfy spun 308 Martin for the second time in the race. 585 Tytey set about 995 Deano. 9 Titch spun 308 Martin. 515 Ray attacked 333 Ginge. 9 Titch spun 748 Ginge who snatched back across the track. 629 Rout got posted by the pack coming out of the pits bend. 19 Smiley Joe spun 667, with 165 Benny running head on into the latter. 585 Tytey spun 9 Titch for the second time in the race but the latter was swiftly back in the fray. 502 Selfy spun 748 Ginge, as 21 Marcus Ballard raced to the win ahead of 995 Dean Emmerson and 585 Martin Tyte.
21, 995, 585
The Final for the Van Bangers was scrapped as only 3 drivers returned so it was decided to go straight into the DD. 518 Gould bumped 204 Charlie Boy to start and then spun him aside. 518 Gould tboned 204 Charlie Boy and then drove through him again. 518 Gould then continued his onslaught of 204 Charlie Boy with a meaty tbone. 570 Dino Jnr then managed to get involved in the action with a reverse hit to 518 Gould, and then delivered another one at full speed. 204 Charlie Boy delivered a reverse hit on 518 Gould. 518 Gould attacked 204 Charlie Boy. 570 Dino Jnr administered a reverse tbone on 518 Gould. 204 Charlie Boy then had his turn at a reverse shot on 518 Gould. 518 Gould jacked 570 Dino Jnr hard. 204 Charlie Boy delivered a reverse attack on 570 Dino Jnr which bump started the latter. 518 Gould went in on 204 Charlie Boy. 204 Charlie Boy spun 518 Gould across the Caister bend grass. 518 Gould and 204 Charlie Boy exchanged more hits before the former was on the receiving end of sequential reverse attacks from 570 Dino Jnr and 204 Charlie Boy, who then combined to sandwich 518 Gould. The DD then continued with multiple reverse hits being exchanged between the three before 518 Gould expired. 204 Charlie Boy then lost his steering and was strategically pushed into the marker tyres by 570 Dino Jnr who delivered a couple of reverse attacks on the former to take the win.
The Back to Basics ended the evening with an American style DD which raised 9 cars. 502 Selfy gave a head on to 421 Hippo. 696 attacked 165 Benny who went up on two wheels. 696 then attacked 502 Selfy. 667 jacked 433 Smith. 439 Sutty went in on 433 Smith. 696 caught 433 Smith in the drivers' door. 439 Sutty jacked 696. 502 Selfy delivered a reverse attack on 696. 9 Titch jacked 439 Sutty. 165 Benny attacked 9 Titch.165 Benny tboned 439 Sutty and then delivered a tame hit on 9 Titch. 9 Titch delivered a rear wheel shot on 667 who was re-enacting Tesco car park J-turns and avoiding every car in sight. 9 Titch doored 667 accidentally in the latter's bizarre attempt to win a DD. 548 Big Al jacked 439 Sutty. 667 drove through 696 who had expired for ages.433 Smith drove through 439 Sutty. 548 Big Al went in on 433 Smith. 548 Big Al tboned 433 Smith as 9 Titch won by default due to the lack of involvement from 667.
Overall, both banger formulas combined for a great evening of entertainment for the holiday crowd.