KIRS Round 3 – All Mk1 & Mk2 Ford Granada Bangers Maya Memorial – 27/07/2014 – Arena Essex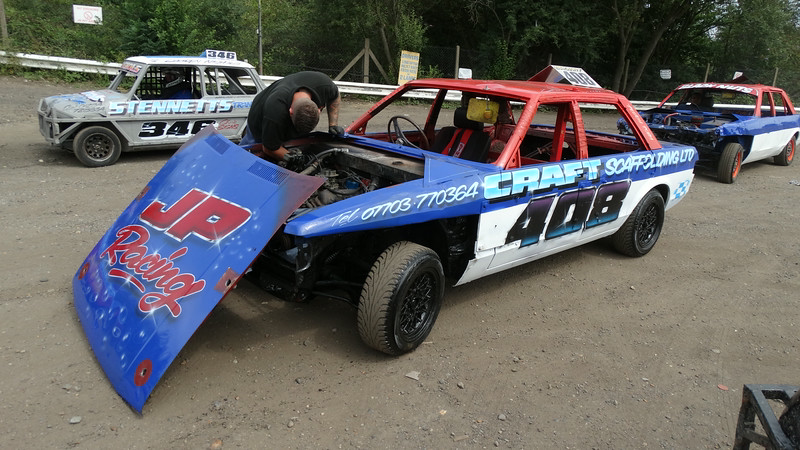 The Keeping It Real Series saw its invention for PRI's 2014 season, mostly the brain child of Paul Whiteman in an effort to put Arena Essex back on the map after a few struggling seasons on the domestic front. There were 4 rounds for KIRS, with round three seeing the return of an All Mk1 & Mk2 Ford Granada meeting to the track, once again for the Maya Memorial raising around 50 cars including a mega showing of continental drivers with the vast majority coming from the Hammertime and Garbage contingents.
Heat 1 saw a tangle on the exit of turn 4, seeing 261 Jacko and 242 Korps go off onto the shale. 555 Rawlins spun 6 Goose. 388 Little Stevo followed in 555 Rawlins hard, with 347 Bull immediately going in on 388 Little Stevo. 422 Beresford drove through 347 Bull. 68 Sven jacked 388 Little Stevo, and was battered himself by a shot from 508 Ledhead. 408 Brown set about 6 Goose along the home straight, leaving the latter open to a huge assault from 17 Chiefy. 571 Goodearl spun 174 Sharrod, who recovered only to buried by the leading 331 Boxer Jack half a lap later – the latter going on to take the win.
Heat 2 begun with 196 Palmer spinning 267 Steele, before taking in 1 Maai on the tavern bend. 777 Vorkink rattled in 23 Pearcie, before continuing on to set about 291 Turbo Turner. 592 Marchant ran in 1 Maai. 382 Hutchings spun 741 Daniels. 26 Muller took in 592 Marchant. 39 King snaked ahead of 717 Tuffen costing him the lead, which allowed 10 Lamp to take up the running. 362 Simons spun 23 Pearcie. 24 Devastator went flat out on oppo down the home straight in true Arena Essex, connecting with 20 Mr Cush on the tavern bend. This set up one of the best moments of the meeting, as 592 Marchant jacked 20 Mr Cush triggering a jacking train, as 382 Hutchings stormed into the TMT man. 267 Steele jacked 382 Hutchings delivering instant revenge for his TMT brethren. 623 Tricky then weighed in on 382 Hutchings, only to be done in turn by 362 Simons. 552 Blacknuts jacked 362 Simons, and received the same treatment from 23 Pearcie. 741 Daniels put the roof up on 382 Hutchings. 623 Tricky drove through 23 Pearcie, lining him up for a front wheel shot a lap later. 10 Paul Whiteman raced to the win, with 24 Mark de Laat taking the race entertainer award.
The Consolation saw 1 Maai attack 291 Turbo Turner from the drop of the green flag. 577 Fonzo went in on 1 Maai, before 190 Pikey followed 174 Sharrod in on turn 1 at an unreal rate of knots, well and truly snapping the latter's Mk2. 239 Nemesis gave a head on to 262 Roona on the tavern bend. 196 Palmer turned around to weigh in on 262 Roona, before getting a run of speed and jacking the latter. 1 Maai jacked 239 Nemesis, as 196 Palmer delivered a flat out jacking to 262 Roona. 1 Maai completed a lap before administering a back wheel shot to 239 Nemesis. The leading 17 Chiefy spun himself, which handed the lead to 190 Pikey, but the DWO man had different intentions, turning the car straight around. 714 No Show took up the running. 242 Korps drove through 1 Maai who had become stranded along the back straight. 190 Pikey delivered a huge shot on 1 Maai. 714 Paul Smaldon won, with only 3 finishing the race.
The Final saw Consolation winner 714 No Show swipe 53 Palmer. the latter ending up pinballed along the home straight. 241 Korpiela turned 632 Reedy Jnr fence-wards down the home straight. 347 Bull delivered an oppo attack on 24 Devastator, with 623 Tricky ploughing through the RAL 6005 driver too. 227 Ooze Boy spun 267 Steele in a battle for third. 382 Chubby spun 39 King. 267 Steele delivered a rear wheel shot to 347 Bull as 49 Buff set about 632 Reedy Jnr along the home straight. 49 Buff shed a wheel leading to red and chequeres. 331 Jason Jackson taking his second win of the day, ahead of 227 Dale Hughes and 10 Paul Whiteman. 49 Billy King was deemed the race entertainer this time around.
The Spinners Special started with 190 Pikey spinning 241 Korpiela. 552 Blacknuts spun 239 Nemesis. 577 Fonzo followed in 20 Mr Cush. 632 Reedy Jnr delivered a shot on 577 Fonzo. 241 Korpiela jacked 555 Rawlins who had come to a halt against the armco on the tavern bend. 190 Pikey homed in for a rear wheel shot on 241 Korpiela. 632 Reedy Jnr delivered a head on to 241 Korpiela off the shale. 347 Bull homed in on 241 Korpiela. 262 Roona went for an inside out attack on oppo to 347 Bull and was then blitzed with a stellar hit from 262 Roona. 717 Jack Tuffen raced to the win, and it was straight into the DD where several drivers that were waiting on the middle joined in too. 6 Goose piled into 577 Fonzo. 23 Pearcie delivered an oppo attack on 592 Marchant. 26 Muller jacked 239 Nemesis. 73 Bandit stopped 17 Chiefy on the nose. 777 Vorkink homed in on 17 Chiefy. 190 Pikey jacked 777 Vorkink. 68 Sven delivered a head on to 6 Goose. 190 Pikey delivered a huge shot on 1 Maai. 552 Blacknuts jacked 68 Sven, and then received a head on from 777 Vorkink. 577 Fonzo went in on 777 Vorkink and they both expired, leaving the former to take the win.