National Micro, Ladies and Junior Bangers – 11/07/2015 – King's Lynn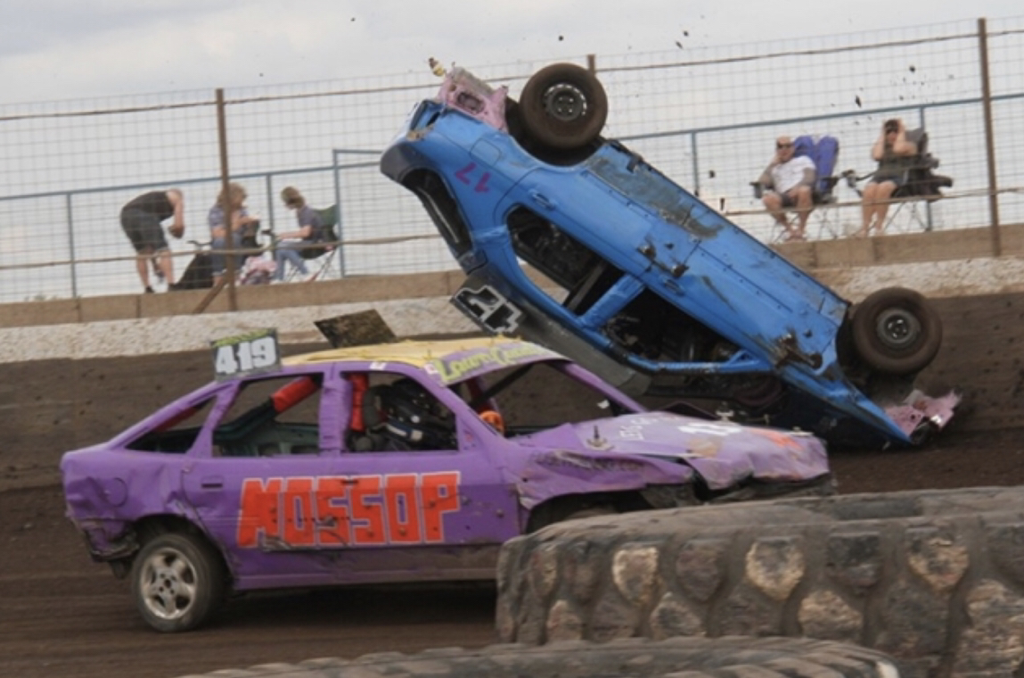 Saturday 11th July 2015 saw a night of banger action headed by the Micro National Bangers, with the Junior Bangers & Ladies Bangers in support raising circa 120 cars across the board which was an impressive stat considering the clashing Bears Bash fixture at Arlington.
Junior Bangers were the first out for their Heat 1. 854 Minitator jacked 107 Bettsy from the off. 77 Ivatt collected 107 Bettsy. 31 McCarthy rattled in 229 Petherick before the yellow flags came out to assist the stranded 308 Richardson. The restart begun with 229 Petherick spinning 752 Revit. 997 Cotty Jnr set about 78 Bowman after several quiet laps before the race was red and chequered for an unknown reason in favour of 340 Will Brazier.
340, 375, 245. &23, 997, 715, 69, 78, 93, 186
Heat 1 for the Ladies Bangers
750 Kate Dent was taken out early on, making a poor start to her debut. 514 Blondie and 70 Miss Grumpy clashed but managed to rejoin fairly swiftly as 396 Rix spun on the road bend. 257 Piggott had a nibble at 17 Smith which in turn sent 74 Garner crashing into the armco. 419 Mossop took out the leading 529 Atter to take up the running herself. 17 Smith was the next to show as she spun 511 Williams. The leading 419 Mossop then took out the luckless 511 Williams, but then went on to catch the stranded 611 Spiers, which allowed 3 Hewitt to take up the running. 127 Roberts turned 419 Mossop into the marker tyres, 17 Smith caught the back of 419 Mossop rolling big time bringing another early finish as the red and chequers came out with only a lap and half left to run. 3 Hewitt took the honours.
3, 4, 126, 257, 477, 298, 419, 818, 70, 514
The Micro Bangers were split into a half cars format for their heats. 634 Marty was the first to show as he took out 51 Licquorice. A pile up formed down the home straight claiming several drivers, as 551 Jacko Jnr turned 71 Unwin fence-wards. 830 Stretch nailed 380 Johnson. 551 Jacko Jnr attacked 45 Blower, but immediately came under fire from 851 Intimidator, who followed the Blue & Black man in. The lively 851 Intimidator then followed 909 Peanut in a lap later. 45 Blower jacked 29 Hermon. The leading 317 Brick ran 909 Peanut into a marker tyre at the end of the home straight, snapping the latter and bringing out the red flags. The action resumed with 78 Gavlar spinning 5 Animal. 886 Stark set about 102 Noble, who was attacked in turn by 51 Licquorice which held up the leading 317 Brick. 317 Brick then removed 51 Licquorice. 104 Brown Jnr took up the running but was immediately spun by 317 Brick. 104 Brown Jnr recovered to spin 834 Yoshi. 317 Brick bested 135 Old Mann for the lead on the last lap but was turned left down the back straight by 51 Licquorice in a revenge attack to end his hopes of a birthday win. 26 Hacker buried 135 Old Mann on the last bend in a battle for the win which allowed 104 Paul Brown Jnr to slip through to take the win. 256 Ginders nailed 5 Animal and was jacked in turn by 317 Brick. The latter joining 851 The Intimidator to gain the entertainer awards on offer.
104, 337, 128, 155, 135, 78, 886, 43, 256, 51
E – 317/851
Heat 2 for the Micros commenced with 55 Ivatt attacking 133 Whall immediately. A pile up formed on the power station bend in which 123 Kezza was doing the pushing. 123 Kezza then found himself turned out down the other end and was jacked hard by 390 Gibbo in turn. 713 Crashley picked up 108 Smith running him in. 93 Lewie Boy was run in which claimed 364 Farmboy Snr and 117 Bailey. 181 Farmboy Jnr delivered a huge jacking on 117 Bailey rolling on impact bringing the race to a stop. The restart saw 512 Cooper turn aside 133 Whall as 390 Gibbo took out 18 Uptownfunk. The lively 390 Gibbo combined with 517 Sidders to follow in 747 Jumbo on the road bend. 133 Whall leant 399 Noodles into 9 Norman's lame car, which rolled 399 Noodles on impact bringing another halt to proceedings. The race resumed with 571 Quinsee removing 55 Ivatt to take second place. A few quiet laps passed before 337 Pretty Boy took out 571 Quinsee in a battle for position. 390 Gibbo homed in for a solid tbone to 571 Quinsee, rolling the STB bringing another early finish in favour of 691 Ryan Bartrum. The entertainer awards going in favour of 390 Gibbo, 713 Crashley and 123 Kezza.
691, 337, 338, 390, 339, 394, 133, 512, 664, 517
E – 390/713/123
Junior Bangers were back on track for their Heat 2. 13 McCarthy spun and was done over the front wheel by 246 Buttsy. 78 Bowman turned 70 Tiny Tiff fence-wards. 93 Scooby removed 229 Petherick. The leading 375 Hensby took out 69 Bartram, as 78 Bowman spun 107 Bettsy. The leading 375 Hensby then crashed out down the back straight in a tangle with 752 Revit. 823 Murrell took out 246 Buttsy just at the death, and then spun 608 Murkin half a lap later, whilst 854 Aiden Storr raced to the win. 997 Cotty Jnr ran into a marker tyre after the flag to conclude proceedings.
854, 340, 997, 715, 608, 78, 246, 375, 186, 752
The Micros were back once more for their Consolation. A big push from the white tops saw 45 Blower and 14 Bonnett go in hard. 243 Hussey went in on 45 Blower. 256 Ginders took out 573 Bloomfield. 747 Jumbo nailed 5 The Animal. 551 Jacko Jnr delivered a large portion to 143 Mann, as 55 Ivatt jacked 248 Ashbridge. The reds came out on track, but the reason was unclear. The restart saw 142 Lower put away 69 Skippy. The lively 55 Ivatt went in on 752 Boughen, only to cop a huge portion himself from 108 Smith. 256 Ginders then jacked 108 Smith, but snapped the A pillars on his Micra just as much. 399 Noodles completed the sequence of hits with a tbone to 256 Ginders. 830 Stretch set about 69 Skippy, the latter's Saxo coming under further punishment as 256 Ginders went in on him. 573 Bloomfield had a go at 256 Ginders in turn, as the former's SHB running mate 213 Musson was removed by 830 Stretch. 309 Gibson spun out 181 Farmboy Jnr. 573 Bloomfield jacked the limping 256 Ginders hard. 142 Lower had a nibble at 309 Gibson, which allowed 830 Stretch enough room to gain on the former, just pipping him to the line for the win. 256 Ginders and 108 Smith the entertainers in this one.
830, 142, 181, 886, 309, 573, 743, 834, NOF
The Ladies Bangers were back for their second heat. 818 Collins put away 298 Staples, who was then collected by 514 Blondie. The early lead was with 85 Calamity Kate until she spun and was collected by 818 Collins. 511 Williams and 396 Rix got caught together but quickly rejoined the fray. 342 spun aside World Champion 4 Street. 762 Thurgill spun 529 Atter for the lead, as 396 Rix moved in to attack 611 Spiers. 419 Mossop spun 514 Blondie, who had 127 Roberts run into her for extra measures. 419 Mossop then ran head on into the spun 611 Spiers. 396 Rix weighed in on 85 Calamity Kate, as 3 Hewitt spun 477 Wino fence-wards. 127 Roberts took up the lead as 762 Thurgill tangled once again with 529 Atter, the latter's poor run of luck not over as she was spun aside by 396 Rix. 396 Rix was then given a taste of her own medicine as she was turned aside by 419 Mossop. 3 Hewitt bested 127 Roberts for the lead with 2 laps to go and she remained there to take her second win of the evening.
3, 127, 74, 477, 762, 4, 823, 396, 95, 611
The Micros Final begun with Jackpot man 713 Crashley running in ex-compatriot 573 Bloomfield. 181 Farmboy Jnr and 133 Whall were early spinners. 394 Lofty tboned 573 Bloomfield as 337 Pretty Boy attacked 181 Farmboy Jnr. 830 Stretch turned 713 Crashley left and then continued on to remove 135 Old Mann. The leading 317 Brick spun aside 394 Lofty. 713 Crashley attacked 133 Whall whilst 512 Cooper had a pop at 51 Licquorice. 886 Stark went in on 512 Cooper. 390 Gibbo continued his wrecking streak from the heat to set about 133 Whall. 338 Wingnut ran in 512 Cooper, with 390 Gibbo homing in for a hit to 512 Cooper. 43 Jones went in on 390 Gibbo to administer so TOM revenge. 713 Crashley latched onto all of them thundering them all in. 317 Brick removed 512 Cooper to add to the latter's woes. The entertaining 713 Crashley once again set about 133 Whall. 390 Gibbo nailed 78 Gavlar. 317 Brick spun 512 Cooper for the second time on route to winning by half a lap, with 104 Paul Brown Jnr coming through for second ahead of 830 Lee White. 390 David Gibson earning his second entertainer award of the evening, with 886 Liam Stark being deemed worthy of the other.
317, 104, 830, 673, 390, 339, 337, 155, 338, 517
E – 886/390
The Junior Banger Final was up next. 77 Ivatt set the action rolling by running 107 Bettsy into 752 Revit. 854 Mintimidator took out 69 Bartram claiming 186 Bad Boy Brett too. The yellow flags then came out due to lots of stranded cars on the road bend. The restart saw 823 Murrell spin 617 Overy. 246 Buttsy turned 78 Bowman fence-wards. 715 Prince nudged 375 Hensby wide to take the lead, as 78 Bowman buried 107 Bettsy. 364 Bradderz boasted his way through to the lead in his rapid Mk1 Micra. 246 Buttsy fenced 93 Scooby hard scuppering himself in the process. 186 Bad Boy Brett tangled with 69 Bartram, as 93 Scooby jacked the game 78 Bowman. The recovered 69 Bartram weighed in on 93 Scooby, as 364 Bradley Lee raced to the win ahead of 823 Jamie Murrell and 608 Lenny Murkin.
364, 823, 608, 308, 997, 77, 69, 186, NOF
The Ladies Bangers Final was next on the bill. 419 Mossop spun 762 Thurgill from the off. 127 Roberts was removed by 95 Harbord. 514 Blondie jacked 529 Atter which took both out of the contention. 511 Williams dived at 257 Piggott allowing 477 Wino to move in and spin the latter. 529 Atter snaked across the track and accidentally collected 257 Piggott in the drivers door bringing out a stoppage. The restart saw 298 Staples spin 419 Mossop, the latter then being run into the marker tyres by 396 Rix. This allowed 127 Roberts to then take a pop at 396 Rix. 342 spun aside 127 Roberts. 514 Blondie spun 4 Street who was having an off night by her standards. 342 stuffed in 762 Thurgill, 4 Street collected 762 Thurgill over the front wheel to conclude their programme for the evening, as 3 Danielle Hewitt completed her hattrick, ahead of white graders 85 Kate Calver and 818 Tiff Collins in an impressive feat for them.
3, 85, 818, 514, 477, 511, 74, 419, 298, 95
The Micros Alcomers saw the first all in format of the evening ensuing chaos from the off. A huge push on the power station bend claimed most of the white and yellow graded drivers. 317 Brick homed in for a shot on 135 Old Mann, but was jacked in turn by 78 Gavlar. 78 Gavlar then continued on to attack 205 Simpson. 633 Leeroy then removed 78 Gavlar from contention. 213 Musson jacked 394 Lofty, but Mad Hatter revenge was swift as 390 Gibbo weighed in on the former. 78 Gavlar went in on 213 Musson as 133 Whall ran 337 Pretty Boy into 143 Mann. 317 Brick had a pop at 78 Gavlar in a revenge move from his earlier attack, whilst 181 Farmboy Jnr jacked 143 Mann. This allowed 390 Gibbo to home in on 181 Farmboy Jnr with 317 Brick dispatching the pair half way down the home straight. 830 Stretch attacked 337 Pretty Boy, but came under fire himself from 633 Leeroy – the latter then going on to set about 337 Pretty Boy himself. 713 Crashley buried 633 Leeroy hard, and 337 Pretty Boy attacked 213 Musson as the STB and Jackpot outfits crossed paths once again. 390 Gibbo set about 78 Gavlar as down on the power station bend 317 Brick ran in 133 Whall, knocking a drive shaft out in the process. This left the Final winner open to a jacking from 743 Ramhead. 337 Pretty Boy weighed in on 317 Brick, ended the Team Wanger man's evening and leaving him broadside on the racing line. This caught out the leading 41 Dibble, but he managed to hold on to win take the win. 713 Crashley put away 133 Whall. The winning 41 Dibble celebrated by following in 339 Jackpot. 390 Gibbo took his third entertainer award of the evening, with 155 Captain Slow scooping the other.
41, 830, 713, 338, 155, 133, 309, 673, 743, 339
E – 390/155
After a 1300 Stock Car race in between, the Micros were back for their DD to conclude the evening's entertainment. 851 Intimidator was the first to show with a big shot on 213 Musson. 399 Noodles jacked 69 Skippy. 390 Gibbo jacked 14 Bonnett. 380 Johnson then weighed in on 390 Gibbo, as 571 Quinsey went in on 78 Gavlar. 5 The Aminal jacked 571 Quinsey. 155 Captain Slow ran 248 Ashbridge through 633 Leeroy, as 69 Skippy delivered a head on to 93 Lewie Boy. 248 Ashbridge homed in on 69 Skippy. 390 Gibbo continued to get stuck in with a head on to 633 Leeroy. 743 Ramhead then struck with a tbone to the Mad Hatters man. 248 Ashbridge limped into 743 Ramhead. 155 Captain Slow jacked 28 Grief, only to be on the receiving end of a huge shot from 390 Gibbo. 249 Ashbridge set about 743 Ramhead, the latter shaking of the assault to run in 14 Bonnett. 249 Ashbridge once again went in on 743 Ramhead, but was duly jacked in turn by 390 Gibbo. 573 Bloomfield shared a head on with 571 Quinsey, the latter jacked by 5 The Animal. 573 Bloomfield then administered a blow to 5 The Animal to take the spoils and end a great evening of action.