Back to Basics – 22/01/2017 – Wimbledon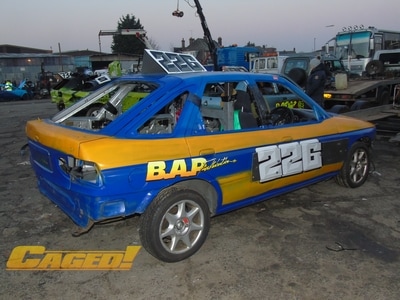 Plough Lane played host to it's penultimate Back to Basic Banger event on the 22nd January with its 1800cc format. A turnout of 55 cars was impressive, but at the same time a poor no show count of 20 cars was very disappointing, however this was made up by the 5 drivers who weren't booked in before the meeting. The field was mostly Fiesta and Astra dominated, as per usual with the Back to Basic format there was plenty of variety to be seen including a pair of Golfs for 613 Liam White and 275 David McKeown, used Ford Puma for 5 Jeffrey Woolford, Toyota Corolla for 150 Lewy Richardson but topping the bill was 340 Willy's rare in the UK Mazda 323 Saloon. 
30 cars lined up for Heat One. The race started with plenty of spins, 21 Dean Tompkins got fenced early on in the race, turn 3 saw plenty of carnage as within a short period of time there was a coming together with 3 drivers and shortly after a follow-in took place. 474 then spun 779 Richard Pike, 340 Willy then takes a turn on 474 Lee Smith. 713 Lauren Annets took a swipe at 414 Jimmy Craig, which then the latter spun 713 inwards into the famous Plough Lane wire resulting in 713 losing one of her wheels & taking airtime and 414 Jimmy Craig being loaded as a result. 760 Joe Reynolds took the flag.
Winner: 760 Joe Reynolds
A slightly smaller field of 25 bangers lined up for the second half of cars for Heat Two. The race started with 352 and 800 on pole. Both PVR drivers of 5 Jeffrey Woolford and 734 Daniel Blackwell got spun out early on, 25 Tombo took a nudge on 275's Golf, 29 Jamie Smith seemed a little stuck on the home straight after being fenced. 5 almost got posted via 143 Ryan Mackley, 314 clipped 734 on turn 4, plenty of drivers getting stuck in on turn 4, 732 Nort and 25 Tombo had a proper race on their hands, 143 took the win.
Winner: 143 Ryan Mackley
All in for Heat Three where around 45 cars made it on track, including 713 Lauren Annets, which was a great effort. 226 Anthony Armstrong plunged into 215 Glen Shuttle, 200's Primera was in the post, 29 sent one of the Citroen's into the fence, after some carnage on track a red flag was called upon. 30 cars remained, 74 spun 8, 639 Kevin Christmas was posted hard on the home straight and shortly after another red flag followed due to a fire. After the 2nd restart, 314 spun 782, 6 Mark Holdsworth was nudged by the Golf of 275, 852 posted 96's Celica, 322 spun 29 Jamie Smith as 760 Joey Reynolds claimed a second win on the night.
Winner: 760 Joey Reynolds
36 Bangers returned for the Final. After a slight coming together with 3 drivers 315 gave 368 a head-on, 732 Nort clipped 782 Alex Reynolds, as the race slowly went on a red flag appeared after a rollover on turn 4. 613 Liam White was a non-starter for the restart but eventually got back on track, 352 spun 25 Tombo, 732 Nort blasted at 21 Dean Tompkin's Fiesta as turn 2 erupted into mayhem with plenty of jack-ups, 126 was put away by 589 Pullen, 760 Joe Reynolds took the grand final in reverse! A fair amount of Bangers stayed on for the DD. 63 planted into 163, 63 then found 732 head-on, 80 and 732 blitzed 63, 589 pulled off a shot on 215, head-on between 340 Willy and 215, 74 blasted into 589, another head-on this time including 363 and 74, from that point on it was a two-way dual between 363 and 74, before eventually 74 Patrick Mulroe took the win.
Race Winner: 760 Joe Reynolds
DD Winner: 74 Patrick Mulroe
A great night of racing and crashing from the back to basic class at Wimbledon Stadium, with perhaps the main talking point being the incident between 713 Lauren Annets and 414 Jimmy Craig in Heat One, which resulted in the latter being loaded. Despite this, we saw a fine turnout (apart from the 20 no-shows) and plenty of crashing to boot.