All Escort Bangers – 03/11/1996 – Yarmouth Stadium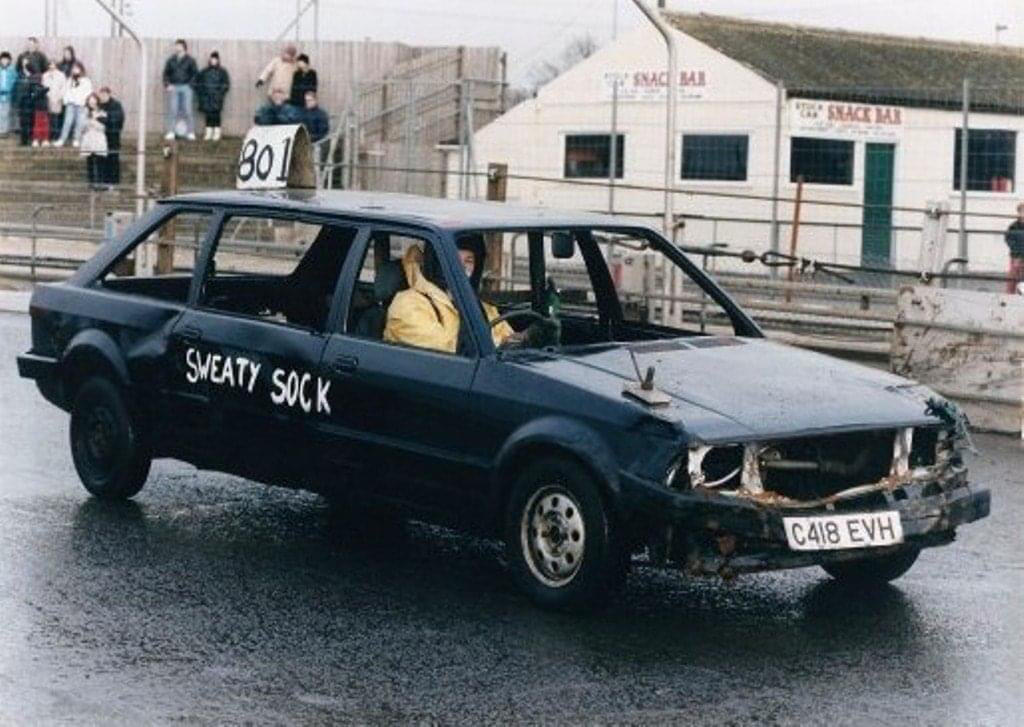 The 1996 Gala Night meeting took place at Yarmouth Stadium on Sunday 3rd November, seeing an All Escort Bangers event raising shy of 30 cars. There was a fair mix between the Mk2 and Mk3 variants, with 301 Micky Haworth having the most extrovert car with a stretched Mk3.
Heat 1 begun with 307 Haworth getting run in, with several more going piling into the pits bend. The Haworth's were well involved dishing the hits out. 167 Kevin Ling spun 170 Ronnie George for the lead, which saw the latter roll onto the centre green. 444 Gary Cannell set about 16 Mick Sage, running him into 307 Haworth. 23 Bailey spun and was collected by 336 Nigel White, before 307 Haworth followed in 806, and then completed a lap before jacking him. 307 Haworth continued his lively streak, driving into 167 Mardy. 536 Annette Nichols spun 804 Terry of Team Kamikaze. 536 Annette attacked and spun 351 Longie for the lead, the latter then coming under fire from 23 Bailey. 536 Annette Nicholls took the win ahead of 27 Mark Sack, and 804 Terry.
Heat 2 started off with 801 being turned left on the back straight by 118 Gozzie. 117 Karl Dack set about 351 Longie, before 118 Gozzie set about 23 Bailey which caught out 536 Annette. 167 Mardy spun 336 White, with the latter then coming under attention from 119 Jason Dack. The leading 167 Kevin Ling attacked 336 White on route to winning ahead of 444 Gary Cannell and 117 Karl Dack.
23 Bailey leant in 118 Gozzie from the off in the final. 444 Cannell spun 167 Mardy, who was then driven through by 119 Dack. 805 Jamie set alight, with the action being concluded with 23 Bailey setting about 351 Longie. 117 Karl Dack took the win this time around, from 444 Gary Cannell and 167 Kevin Ling.
The DD concluded the evening's action, with 117 Kamikaze landing the first blow as he blasted 351 Longie. 117 Kamikaze then motored on to jack 16 Sage, before 444 Cannell followed in 27 Sack. 444 Cannell attacked 351 Longie. 118 Gozzie drove through 812 and rolled himself in turn. 119 Dack destroyed 170 George with a solid shot, with brother 117 Kamikaze homing in for a head on to 170 George. 117 Kamikaze followed in 810 Mad Murdock. 119 Dack jacked 810 Mad Murdock, and then went on to attack 23 Bailey. 444 Cannell homed in on 117 Kamikaze, who responded with a rear wheel shot of his own to the former. 444 Cannell took the upper hand blasting 117 Kamikaze, and then laying into 119 Dack with a couple of hits. 119 Dack attacked 444 Cannell with a hit of his own, allowing 117 Kamikaze to drive through 444 Cannell, but the latter expired in the process. 444 Cannell and 119 Dack had a game of cat and mouse; 444 Cannell managing to win the game, jacking 119 Dack to take the honours.