1999 Unlimited National Banger World Final – 14/11/1999 – Wimbledon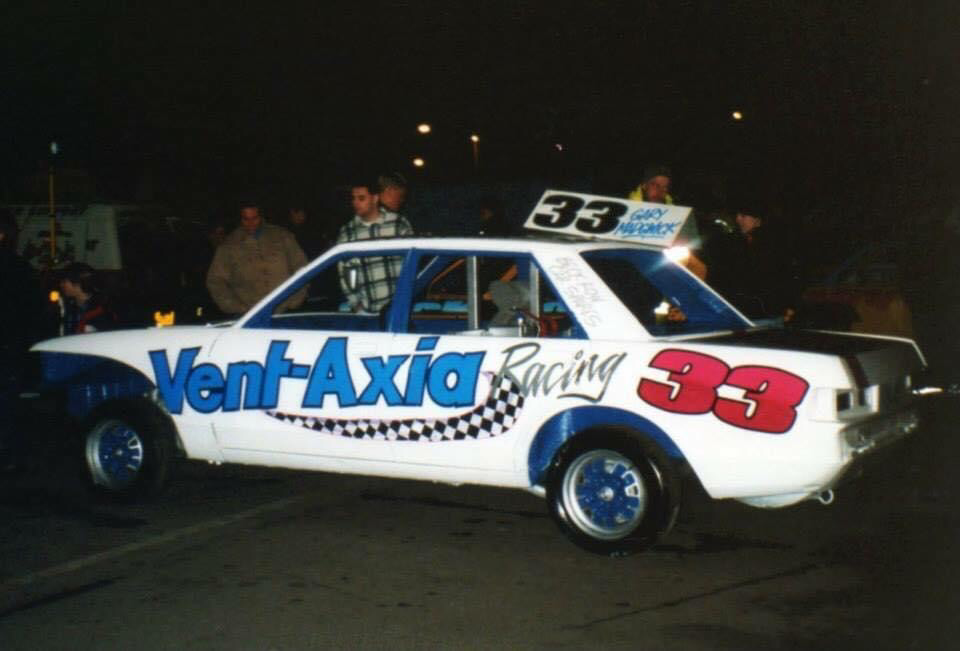 The biggest night of the year on the Banger calendar; the Spedeworth World Final took place at Wimbledon on Sunday 14th November for the 1999 staging of the event. Around 100 cars were in attendance at the Plough Lane venue, with drivers' representing various promotions including seeded entries 53 Chris Crellin from the Isle of Mann and 259 Gert Roubroeks from Belgium. Plenty of drivers impressed on the paint front as typically expected, but the stand out motors saw 66 Mark Rogers with a tidy Toyota Custom Crown Coupe and 670 Richard 'Tricky' Flockton with a Mk2 Ford Granada Windsor Estate, both of which featured in the support races.
The Last Chance races were split into a half cars format, with the winner going through. It didn't take long for the action to start with various spins occurring, before 202 Kilf went in on 233 Mr Magoo down the back straight in a tangle. 191 Druggie put 9 Wallace away on the pits bend, before 537 Bruno absolutely destroyed 369 Shepperd to bring the first stoppage of the evening. The restart saw early leader 314 Toolbox taken out of contention by 245 France. 510 King Basher put away Cream Team man 59 Greenstreet. The action rolled on with 295 Havoc and 39 Peanut having a coming together along the back straight. 202 Kilf's hopes of qualifying took a blow as he crashed out of second place when he tangled with 285 Rose. The lively 510 King Basher set about 418 Hitman in a big way. Whilst all this was going on, 82 Winkle races to a convincing win, lapping the field in its entirety on route to booking himself a spot on the back of the grid for the main race.
82, 510, 245, 22, 314, 152, 202, 295, 126
The second last chance race began in lively fashion once again as 239 Smosha leant in 260 Moon, before two stonking hits went in on the pits bend. 05 Perez hung 226 Retard Roy off a post with a follow-in on the exit of the bend, as 101 The Cobbler thundered 331 Melons in, leaving the Old Gits driver well wrecked and The Cobbler's Volvo 240 Estate on its side bringing out an early stoppage. 25 Tombo set the action rolling on the restart by spinning aside 8 Wolfe. 3 Stevens followed in 130 Laney, before 37 Fizz put away 66 Rogers as the graveyard of cars on the pits bend became ever-growing. 8 Wolfe moved in to spin out 37 Fizz. 66 Rogers recovered from his earlier visit to the fence to administer a jacking to 153 Palmer. The former then came under some attention with 8 Wolfe homing in on the Custom Crown Coupe; 239 Smosha and 80 Matty also adding more abuse to Rogers. 183 Struddy spun the back marking 595 Cossey as he looked to close the gap on the leading 287 Gizmo. 568 All Blacks destroyed 239 Smosha, but was duly jacked in turn by 37 Fizz with both drivers heading onto the middle. 287 Gizmo managed to hold on for the win taking the final spot on the grid.
287, 183, 320, 670, 62, 595
The usual festivities sparked the build-up to the World Final, with defending champion 7 Colin Farley leading out the entrants for the live grid draw, which was assisted by Patsy Palmer (Eastenders Bianca.) It was Scotsman 760 John Mason that drew pole, with RDC's 22 Dave Vincent filling out the front row. Defending champion 7 Wally was back in 41st on the grid. 627 Cokey had issues whilst the grid draw took place so his position was not announced.
Outside – Inside
22 Dave Vincent – 760 John Mason
294 Alan Tarn – 60 Shane Winsor
88 Alan Read – 382 Danny Hunt
348 Sonny Sherwood – vacant
46 Keith Painter – 224 Dave Canham
218 Lee Clelland – 384 John Golden
162 Brett Ellacott – 308 Mark Cooper
120 Shane Brown – 206 Dave King
732 Mark Bryant – 259 Geert Roebroeks
37 Phil Hudson – 83 Lloyd Isherwood
230 Jason Harrison – 207 Steve Ovett
179 Shaun Rushton – 264 Mark Welland
55 Mick Ivatt – 811 Pete Winter
145 Colin Dicken – 307 John Randall
158 Shane Davies – 6 Mark Holdsworth
41 Willie Skoyles – 331 Jason Jackson
627 Terry Coke – 117 Dave Tuffen
332 Chris Reed – 17 Mark Anderson
147 Andy Davies – 282 Steve Hunt
53 Chris Crellin – 7 Colin Farley
33 Gary Madgwick – 71 Jenny Holliday
700 Marc Glenister – 751 John Worstencroft
82 Paul Tompkins – 287 Paul Totham
After two rolling laps, the race was underway. 259 Limbo was an early casualty as he caught a post courtesy of the pushing 37 Balders and 83 Lost It Lloyd. Loads of drivers went piling in under the scoreboard bend claiming 179 Cool, 55 Ivatt and 230 Harrison. 53 Crellin ran 700 Marco into 259 Limbo to add further punishment to the Dutchman. Defending champion 7 Wally put away 117 Tuffen into the pile up. 179 Cool set about 230 Harrison. 287 Gizmo homed in for a shot to 55 Ivatt. 7 Wally caught the spun 627 Cokey head on. 307 Randall spun 158 Davies left down the back straight, as 82 Winkle got turned aside down the home straight. 7 Wally ran into 82 Winkle. 46 Maverick turned 6 Holdsworth fence-wards. 282 Hunt ran 700 Marco into the spun 294 Tarny. 7 Wally once again put away 117 Tuffen which scuppered 307 Randall. The scoreboard bend pile up still hadn't cleared as was taking more casualties as 88 Speedy and 348 Mushy piled in. 224 Canham jacked 88 Speedy and was done in turn by 264 Wellard. A general black cross was administered to the whole field as a lot of the racing was being taken up on the rumble strips. 22 Dave Vincent had the early lead. 382 Hunt blasted 700 Marco hard on the back straight. 230 Harrison landed a blow on 53 Crellin. 120 Brown set about 207 Showtime, 88 Speedy running 71 Holliday into 207 Showtime. 147 Davies put away 206 Kingy. As this was going on, 308 Cooper had taken up the running by turning 22 Vinno fence-wards. 46 Maverick homed in for a head on to 22 Vinno. 287 Gizmo jacked 46 Maverick. 82 Winkle picked 307 Randall up and ran him in flat out into the scoreboard bend pile up. 230 Harrison weighed in on 82 Winkle. 41 Skoyles bounced 294 Tarny off a post which held up the leading 33 Magic. 147 Davies put away 41 Skoyles. 88 Speedy put the bumper in on 33 Magic to take up the running. 332 Reedy spun 147 Davies. 332 Reedy fenced 71 Holliday hard down the home straight. 7 Wally delivered a rear wheel shot to 71 Holliday, who was then treated to a large portion from 206 Kingy. 179 Cool attacked 348 Mushy and then weighed in on 7 Wally, with 33 Magic removing the former. With three laps to go, 264 Wellard bested 33 Magic for second, who was then passed by 207 Showtime too as he moved down the order. 88 Speedy Read entered the last lap with a clear run taking the win ahead of 264 Mark Welland, 207 Steve Ovett and 33 Gary Madgwick. 179 Cool ended the action with a text-book follow in to 207 Showtime just as the red flags came out.
88, 264, 207, 33, 382, 751, 332, 41
The follow-up race to the World Final was often just as highly anticipated as the title race itself. This staging of the Alcomers certainly delivered the goods. Motley Kees man 384 Goldie set the ball rolling with a follow in to 488 Murrell. This set off a triage of follow-ins, as 670 Tricky thundered in 307 Randell and 320 Duell did the same to 3 Stevens. 287 Gizmo was on hand to tbone 670 Tricky. 732 Bryant buried 384 Goldie as the pits bend began to form a pile up with loads of drivers steaming in. 147 Davies tboned 202 Kilf. 332 Reedy was the next to show as he dispatched of 295 Havoc. The fast charging 332 Reedy then caught 33 Magic and spun him to take up the running. 384 Goldie then spun it around to stop 66 Rogers on oppo, whom received further punishment courtesy of a jacking from 314 Toolbox. 6 Holdsworth homed in with a shot to 700 Marco. 66 Rogers then went on oppo delivering an attack to 374. The leading 332 Reedy was stopped courtesy of a head on from the lively 66 Rogers, which allowed 33 Magic to sweep in and dispatch the former on the last lap to take the win. Reedy recovered for second, with 314 Toolbox rounding off the top three. 6 Holdsworth concluded the action with a tbone to 66 Rogers.
33, 332, 314, 382, 245, 6
The DD rounded off the evenings' action and begun with 285 Rose delivering a follow in to 369. 326 Picton delivered a shot to 17 Captain Caveman. 568 All Blacks ended 33 Magic's hopes of securing an Alcomers and DD double with a solid head on. 199 Powell had a lively spell delivering a shot on 53 Crellin before going on to jack 264 Wellard, the latter coming under further abuse courtesy of a head on from 17 Captain Caveman. 285 Rose administered a head on to 199 Powell. Autospeed man 382 Hunt made a beeline for Trackstar driver 537 Bruno with a tbone before homing in with multiple shots but this only freed the latter from the pile up. 382 Hunt then continued his assault on 537 Bruno, going on to give a head on to the latter before 285 Rose eventually made his way round from the back straight to deliver a reverse attack to Hunt. This saw both cars expire leaving 537 Martin Brunson to take the win in a night where Trackstar took most of the spoils.