1600cc National Bangers – 25/09/2016 – Stansted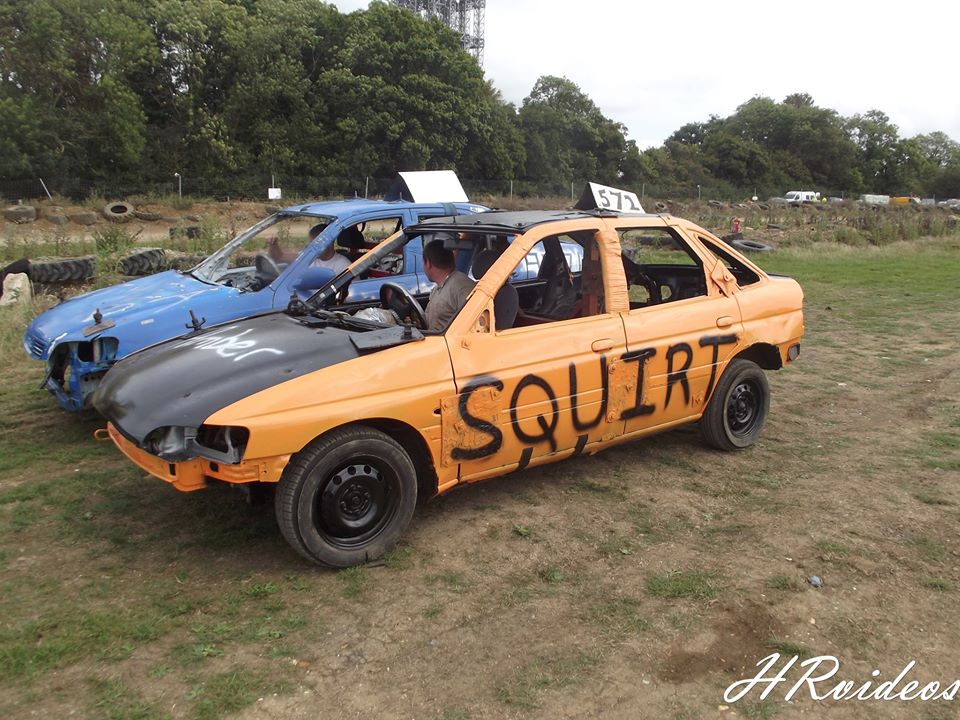 Report by Hanley Reilly 
Car List: (18 cars)
#7 Plonk – Escort
#13 Maisie – Rover 45
#28 Mac Bell – Ford KA
#107 – New shape Honda Civic
#122 Chris Webb – 3 door Civic
#199 Darren Mouser – Rover Estate
#259 – Mk4 Fiesta
#437 Connor Burbridge – used Escort
#504 Richard Webb – Mk3 Astra
#508 – 5 door Civic
#512 – Mazda 323
#517 – Almera
#572 – Escort
#587 Humps – Mk3 Primera
#907 – Civic
Heat 1
#199 Darren Mouser takes an early lead as #107 gets taken out by 512 which in turn collects 508 & 13. Then 519 punts 508 into the wall, a few laps later 572 spins 512 into a marker tyre. 13 gets a puncture and gets punted to the centre by 907, 199 Mouser gets lunged on the last lap allowing 572 Squirt to take the win with 199 in second and 259 third.
Heat 2
Once again 199 Mouser gets off the line at speed and gets the early lead, with 259 Ash setting about 572 Squirt early on spinning him to the centre clipping 13 Maisie in the process, 107 then lunged Maisie resulting in a spin on the pit bend 1 lap later 107 goes in with a massive lunge on Maisie yet again which resulted in her nearly rolling. 199 Mouser successfully retained the lead to take the win with 259 second and 572 third.
Heat 3
Mouser yet again makes an impressive start, 437 Burbridge sets about 259 on the roadside bend from which 259 tries to regain control but ends up hitting the tyre wall and getting massive air. Following lap, Humps goes for Squirt getting him sideways but Squirt holds it well & carries on 122 then gets hold of Burbridge and pushes him into the bend spinning him out. Then 122 seems to lose power on the back straight resulting in a solid shot from 519 Knuckles with 199 Mouser making it his second win of the day followed by 542 second and 508 in third.
Final into DD
199 Mouser gets away nicely to then get spun out early on by 542, 907 then collects 199 on the nose, with nothing much happening for the next few laps, 199 Mouser picks up 437 and runs him into the tyre wall resulting on 437 to roll on impact. Once the restart was under way less than half a lap was completed before 542 gets spun to the centre by 587 Humps leaving 542 to do a double barrel roll. With the last few laps to go it was a mad dash to the finish with 508 taking the win followed by 572 Squirt in second and 587 Humps third. Now it was green flags for the DD to begin 587 sets about jacking 232 Lauren Smyth on the home straight, 572 then picks up 339 and runs him into the dead Astra estate of 351. 907 then t-bones 223, 223 then suffers another t-bone from 7 Plonk this time. 907 then gives Plonk a head-on, 572 spins 512 as 907 t-bones him which results in the 907 car losing power & cops a heavy shot from 504 who then turns on 512 giving him two t-bones, 199 then runs 512 in Mouser then jacks 512 up & then reverses into 512 resulting in some very impressive airtime which leaves 199 Mouser the last car running and the DD winner.