Micro Banger Teams – 27/12/2015 – Yarmouth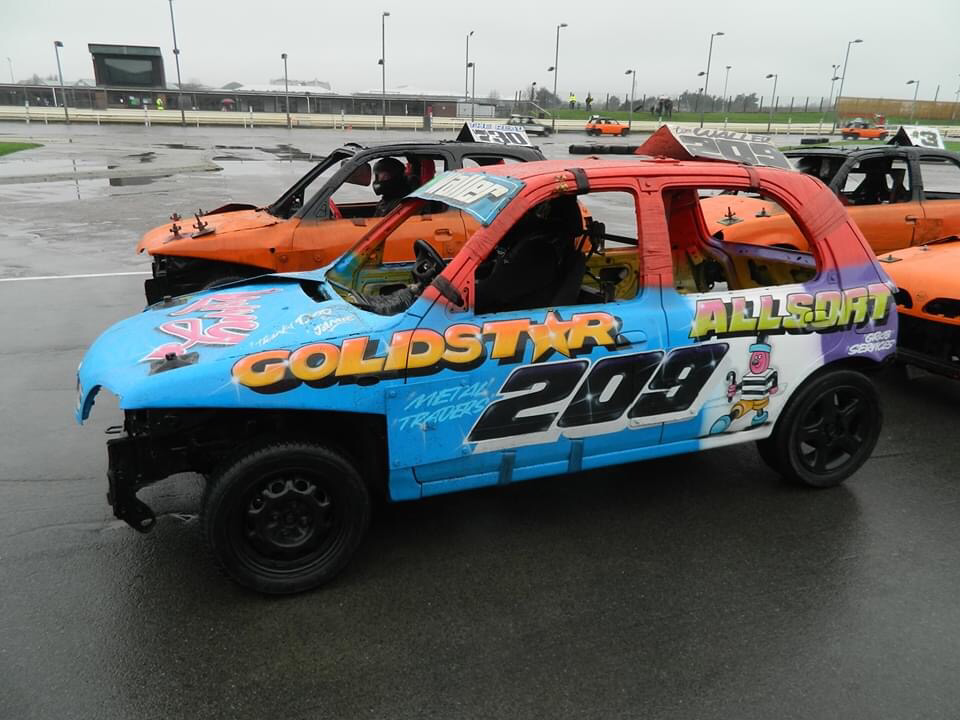 The annual Christmas Team meeting at Yarmouth had by now cemented itself as a Micro meeting, and had become renowned for being quite a crash-happy meeting. The pre-meeting talk was around the Damage Inc factions squaring off with the multiple Midnight Runner teams.
On the car front, it was a case of your standard variety of Micro machinery as you'd expect with the Nissan Micra being the favoured tool – Midnight Runners 72 Billy Bond and 209 Tom Waller impressed on the paint front with their smart Nissan Micras, as did Swindon Vigilante 707 Mark Court.
Damage Inc A
33 Gary Madgwick
247 Lee Clarke
548 Alex Utting
821 Ryan Preston
Damage Inc B
516 Carl Gould
547 Ryan Utting
730 Brandon Mayes
887 Rob Browning
Damage Inc C
433 Ben Smith
447 Nyall Hardingham
595 Jamie Ling
601 Chris Medler
Damage Inc D
3 Toby Bond
37 Brandon Kevern
509 Richard Colk
518 Stuart Gould
Midnight Runners A
27 Dale Hughes
294 Lee Hughes
309 Michael Lane
331 Jason Jackson
Midnight Runners B
72 Billy Bond
89 Joe Barrett
209 Tom Waller
415 Scott Cornish
Midnight Runners C
2 Georgie Lee
106 Darren Terry-Brand
197 Joe Bowers
455 Micky Cornish
Midnight Runners D
57 Harry Rawlings
107 Michael Seex
129 Will Morphey
597 Andy Ashman
Surrey Street Squad
311 Garry Lown
Swindon Vigilantes
174 Daniel Smith
707 Mark Court
920 Terry Church
Team Monster
275 Matty Roberts
378 Joy Roberts
873 Kyle Roberts
Team Stig
313 Tobias Trenter
317 Callum Jacobs
428 Ben Airey
817 Kurt Jacobs
37 cars for Heat 1 which begun with a big push into the first bend which claimed several, with 275 Joker taking the brunt of it. On the pits bend, 873 Roberts followed in 197 Stanley earning himself a load up. Midnight Runner revenge was fast as 72 Bondage homed in for a large jacking to 873 Roberts. 730 Bubba tboned 72 Bondage. 27 Ooze Boy put the bumper in on 595 Sal-mon, whilst 294 Stuntman was hung off a post down the back straight, with 821 Dangerous the first to go against the flow giving a head on to 415 Corndog, the latter having a flash fire on his Micra seeing an early stoppage to proceedings. The restart saw 57 Mad Harry put away 428 Airey. 548 Big Al used his K12 Micra to bury 378 Roberts. 27 Ooze Boy stopped the leading 247 Bro and then done him head on. 821 Dangerous stopped 57 Mad Harry on the nose. 331 Boxer Jack attacked 247 Bro over the front wheel and took one in turn from 433 Smith. 821 Dangerous delivered a head on to 209 Tombo, which snapped the former's Micra across the front A-pillar heavily. The Volkswagen Polo powered 447 Nail jacked 331 Boxer Jack, as 247 Bro delivered a head on to Midnight Runner's 129 Morphey. 89 Panda tboned 821 Dangerous, as it all kicked off on the exit of turn 2. 27 Ooze Boy jacked 247 Bro on oppo. 107 Seexy delivered a length of the straight jacking on 821 Dangerous, who's snapped Micra was a cause for concern bringing another race stoppage. The restart saw 331 Boxer Jack set about 447 Nail. 548 Big Al then stopped the leading 2 Lee with a monstrous head on. 89 Panda jacked 548 Big Al. With all of Damage Inc accounted for, 331 Boxer Jack turned his attention to 174 Smithy, dishing a shot on oppo to the Swindon Vigilante. 817 Stig spun aside 57 Mad Harry as the field had massively fizzled out, with a few quiet laps to conclude a very lively opening seeing 209 Tom Waller taking the spoils.
Heat 2 saw 28 cars make it on track including 920 Terry Church and 707 Mark Court who were on their first appearance of the day after being delayed on route. The Midnight Runners and Damage Inc continued where they left off, forming a pile up on turn 1. 311 Golden Boy set about 57 Mad Harry. 89 Panda attacked 518 Gould, which set the latter up for a solid tbone against the flow from 27 Ooze Boy. 311 Golden Boy then drove through 518 Gould, which wasn't the last of his punishment as 27 Ooze Boy homed in for another hit to silence him off. 817 Stig attacked 707 Squinty, burying him into the marker tyres at the end of the home straight. 27 Ooze Boy set about 37 Iggle, spitting him off the home straight fence posts at rapid speed. 3 Toby met 57 Mad Harry in a head on over on turn 2. 27 Ooze Boy delivered a solid jacking to 3 Toby, before 601 Bling turned it around to attack 57 Mad Harry. 2 Lee laid into 601 Bling on oppo down the back straight; evidently the 'zones' for head ons had gone out of the window as multiple hits from both factions were going unpunished. 595 Sal-mon removed 428 Airey down the home straight. 311 Golden Boy then put 817 Stig under pressure before 601 Bling delivered a shot on the nose to 57 Mad Harry on the pits bend centre green. 920 Terry Church ignored everything around him and raced to the win, on his first race around the track; not a bad effort at all!
The Final saw a very depleted field compared to the start of the day. 311 Golden Boy spun 37 Iggle early on. 428 Airey was hung off a post in dramatic fashion down the home straight, whilst 415 Corndog set about 730 Bubba. 415 Corndog then set about 247 Bro a lap later, taking it upon himself to deal with Damage Inc one by one. 33 Magic and 57 Mad Harry shared a pair of head ons along the back straight, and 730 Bubba was removed from contention by 89 Panda. 415 Corndog spun 37 Iggle, whilst 294 Stuntman stopped 595 Sal-mon head on and 57 Mad Harry did the same to 516 Gouldy as all the action began to occur on the exit of turn 2 once again. 415 Corndog tboned 548 Big Al. 601 Bling went head to head with 27 Ooze Boy. 89 Panda then went on the assault – delivering blows to 595 Sal-mon, 247 Bro and then meeting 730 Bubba in a head on. This sat the latter up nicely for a roof bending hit from 415 Corndog. 57 Mad Harry homed in for a balls out head on to 730 Bubba, whilst 27 Ooze Boy weighed into 447 Nail on oppo. 89 Panda set about 817 Stig, allowing 920 Churchy to weigh in on the latter. 817 Stig recovered to spin 174 Smithy. 597 Ashman attacked 601 Bling, and 106 The Cheat jacked 174 Smithy hard. 920 Terry Church raced to another win. The results meaning that Team Stig took the team honours.
Straight into the DD, which saw 6 drivers game for the occasion including 821 Dangerous who bravely returned his mangled Micra. Dangerous' charge was short lived, as 27 Ooze Boy silenced the Damage Inc man with some heavy shots on the infield, earning himself a disqualification, but that didn't stop him. Ooze Boy continued on to jack 275 Joker, seeing the rear axle detach on the latter's Corsa C on impact. 817 Stig went in on 27 Ooze Boy. 106 The Cheat homed in on 174 Smithy, as 27 Ooze Boy gave a head on to 275 The Joker who was limping along still. 106 The Cheat and 174 Smithy had a head on along the home straight, setting 27 Ooze Boy up for a shot on the Swindon Vigilante. 106 The Cheat tboned 174 Smithy to kill him off, taking the win by default due to the earlier disqualification for 27 Ooze Boy.