Interview with new Unlimited Champion – 124 Carl 'Oris' Korsewski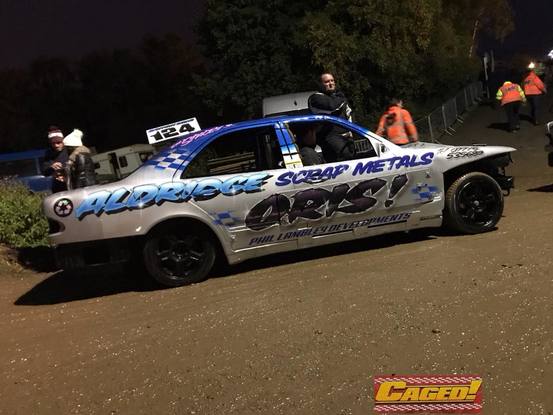 We quickly caught up with the 2018 Spedeworth National Banger World Champ 124 Oris to ask a few questions!
Caged: Thank you for joining us Oris – First of all congratulations on becoming the new National Banger World Champion, how did it feel seeing the chequered flag taking the biggest banger race of the year?
Oris: I didn't realise I had won the race, I said to Stacey "I finished!" And she said "finished?! You won!" I didn't believe her at first then 45 Lips said well done mate. And I thought oh right can't believe I won!
Caged: Lining up with so many other top names on the grid, realistically before winning the big race, what was your aim or target?
Oris: My main aim was just to finish the race, it is a hard race to be in with a lot of fast drivers so all I wanted to do was finish in one piece.
Caged: You took the win in a Mercedes will that be your favourite choice of car for future years?
Oris: Yeah I plan to use a Mercedes as I get on well with them. Might do an odd meeting with something a bit different but most of the time will take Mercs.
Caged: When you come to defend the title next year how do you intend to do it? Go for the win again or maybe a tasty big yank limo and park it up?!
Oris: When it comes to World Final next year I plan to use a Merc and just finish the race again. It's a hard race to be in so to finish is an achievement in its self.
Caged: Having taken the World Final crown – what are your plans for 2019?
Oris: In 2019 I want to do Unlimiteds only really. Hoping to travel a bit going to Ireland and back to Scotland. Would like to go to Emmen but have to see how Stacey (Holdsworth) gets on qualifying as well.
Caged: Moving away from the World Final what have been your other racing highlights of 2018?
Oris: My highlights of 2018 are BWS at Northampton, Scotland and the Ringwood World Final. The car was on the pace at them meetings so it's always good when you're fast.
Caged: What advice would you give any drivers making the big step up to National Bangers?
Oris: My only advice is to stick at it and persevere. Eventually all the hard work pays off even if it takes years.
Caged: Is there anybody you would like to thank?
Oris: I would like to thank my Mum mainly for having the kids all year. Without her we wouldn't have done half as much racing. Mark Holdsworth for being the brains behind it all. All the boys that come and lend a hand down the unit when they can, it's very much appreciated. And thanks to Stacey for putting it up with it all.
​Thank you for your time we wish you all the best for 2019!