Mildenhall – 9/10/2021 – Unlimited Bangers Supreme Championship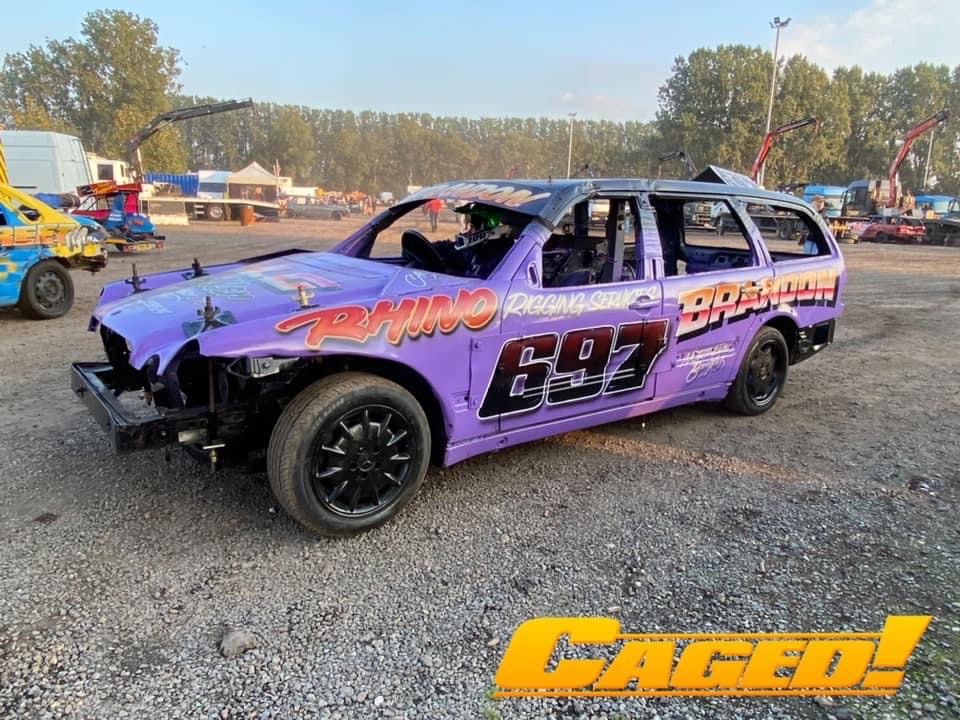 The annual Unlimited Bangers Supreme Championship took place on Saturday 9th October, a slot a lot later than usually anticipated due to COVID restrictions earlier in the year.
Most drivers opted to return used vehicles, although most had their World Final motors from the week previous that given the conditions, hadn't seen much damage. 270 Mark Hutton had a fresh Volvo 240 Estate and 697 Brandon Lawton had a smart Mercedes W210 Estate. 103 Jack Deacon returned a Mk1 Granada and 178 Kieran Bowman a Mk2 Granada, with 555 Harry Gelsthorp and 279 Bradley Bowman returning a pair of yanks.
The Last Chance Qualifier was up first, which started with 514 Charlie Taylor spinning 279 Bradley Bowman. 941 Jimmy Matthews spun 132 Robert James, before 348 Sonny Sherwood turned 291 Mick Turner fence-wards. 514 Baby again spun 279 Bradderz as 555 Dirty Harry attacked 960 Ross Winsor. 354 Thomas Clarke tangled with 279 Braderrz and took one in turn from 514 Baby. 348 Mushy spun 447 Nyall Hardingham, causing the latter's diff to seize. This left him open to hits from 514 Baby and 960 Rossco. 270 Fuller jacked 164 Gary Shaw, who then had 25 Matt Black ran into him by 699 Stacey Holdsworth. 279 Bradderz spun 552 Jordan Street. 555 Dirty Harry went in on 132 Bobbles. 348 Mushy reversed around the track for two laps, even dealing a blow to 25 Black Magic in the process. 132 Bobbles weighed in on 279 Bradderz as 328 Ben Nichols raced to the victory.
328, 699, 400, 460, 960, 552, 270, 28, 390, 354, 555, 25, NOF

The Supreme Championship begun with 390 Dan Stacey spinning 354 Them and 360 Jack Reynolds setting about 341 Andrew Jones. 28 Fred James lost a wheel, which brought out the reds flags prompting a complete restart. The resumption of play saw 360 Jackstar spin 460 Clifford Friend and 617 Jack Overy did the same to 817 Kurt Jacobs. 178 Slim spun 552 Street, as did 960 Rossco to 25 Black Magic. 341 Jonesey spun 360 Jackstar before the action picked up a notch with 555 Dirty Harry turning it around to deliver a head on to 328 Daniel Lathan. 555 Dirty Harry then delivered an oppo attack on 390 Dazza. 625 Josh Gooch spun 158 Shane Davies and Autospeed World Champion 114 Liam Lake spun 328 Nichols. 625 Gucci was turned fence-wards and collected by 209 Tom Waller, as 555 Dirty Harry again took out 328 Lathan on oppo. Lathan responded with a hit on the nose to 555 Dirty Harry. 158 Davies turned it around to deliver an oppo attack on 548 Alex Utting, almost claiming the leading 617 Overy in the process. 360 Jackstar bounced 817 Stig and 270 Fuller off the armco whilst taking avoiding action. 328 Lathan and 555 Dirty Harry continued to have their own private DD. 400 Lee Kingsnorth drove through 158 Davies, before 548 Big Al decided to go against the flow and drive through 552 Street. He continued this momentum to deliver a head on to 158 Davies too, before taking a revenge hit from 552 Street – 341 Jonesey had also lined Big Al up, but couldn't get the shot in due to 552 Street going in. 328 Nichols tangled with 699 Stacey as they took avoiding action for the aforementioned. 552 Street jacked 548 Big Al on oppo and 341 Jonesey did the same to 328 Lathan. As all this was going on, 617 Jack Overy motored to the win to successfully defend his title. 209 Tom Waller taking second and 639 Tye Williams taking the third, the latter spinning 400 Kingsnorth as the reds came out.
617, 209, 639, 817, 217, 114, 360, 178, 356, 960
215 Callum Gould spun 279 Bradderz to set the action rolling for Alcomers 1. 400 Kingsnorth spun 204 Charlie King before the action stepped up a gear. 279 Bradderz delivered a head on to 356 Harry Overy, who was jacked in turn by 178 Slim. 555 Dirty Harry jacked 178 Slim. World Champion 217 Sid Madgwick delivered an oppo attack to 279 Bradderz and 178 Slim did the same to 514 Baby, the latter squaring up 279 Bradderz for a head on off the back of the attack. 400 Kingsnorth weighed in on 178 Slim, also claiming 570 Jordan Cummings. 217 Madgwick delivered a head on to 279 Bradderz and 25 Black Magic jacked 356 HJO. 555 Dirty Harry leathered 25 Black Magic. 132 Bobbles homed in on 555 Dirty Harry, stopping himself dead in the process and killing off the Shunters man's Mercedes. 460 Friend jacked 132 Bobbles and was jacked in turn by 360 Jackstar. 114 Lakey weighed in on 360 Jackstar before 341 Jonesey delivered a length of the straight oppo tbone on 514 Baby. 360 Jackstar homed in on 341 Jonesey as 555 Dirty Harry blitzed 132 Bobbles. Shunters revenge was swift as 514 Baby laid into 555 Dirty Harry, but he took one in turn from 617 Overy. 817 Kurt Jacobs stayed out of trouble to take the win, with only 6 going the distance.
817, 28, 717, 400, 960, 114, NOF
Alcomers 2 begun with 697 Brandon setting about 960 Rossco. 328 Lathan attacked 555 Dirty Harry, but came under fire himself from 341 Jonesey, who eventually spun the Motor Bitz man. 548 Big Al spun and was driven through by 552 Street. 617 Overy spun 114 Lakey, who recovered to spin 341 Jonesey; this prompted the latter to deliver a head on to 360 Jackstar. 548 Big Al administered a head on to 552 Street. 341 Jonesey delivered a couple of hits to 548 Big Al, which were arguably on the infield. 555 Dirty Harry drove through 328 Lathan on the concrete, the latter having been inactive for a fair while. 341 Jonesey went on a rampage delivering a front wheel shot to 360 Jackstar and continuing on to do the same to 328 Lathan. 548 Big Al drove through 341 Jonesey, who responded with a tbone of his own. 341 Jonesey delivered a heavy front wheel shot to 215 Gouldie, nearly rolling him, the DWO man going on to jacked 328 Lathan as 400 Lee Kingsnorth won.
A superb night of Unlimited action, and certainly a lot better than most expected given the nature of the meeting – all drivers up for it and getting well and truly stuck in.