Back to Basics – 13/05/2018 – Yarmouth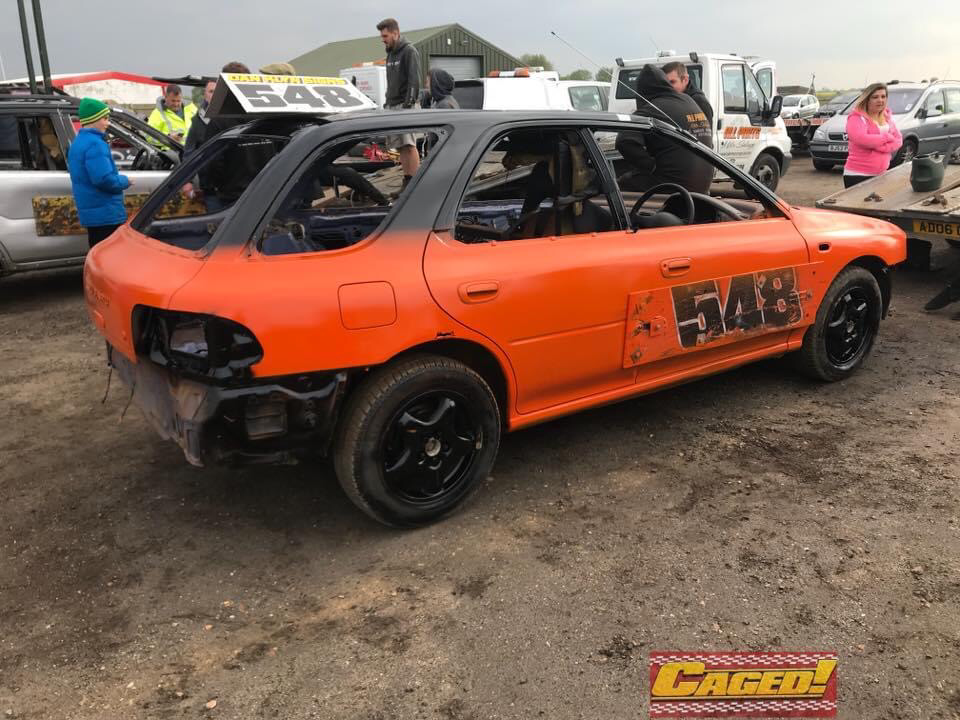 27 cars gathered at Yarmouth on Sunday 13th May 2018, for another evening of Back to Basics action with more variety as always on the car front.
Heat 1 saw 26 cars grace the track. 6 Ling attacked 41 LeGrice. 447 Nail spun 6 Ling. 14 Bazza went head on into 754 Medler. 691 Turner attacked 755 Yaxley. 546 Leonard spun 444 Francis. 14 Bazza and 997 tangled, creating a chicane on the exit of the pit bend with the stranded 754/755 cars also creating an obscurity. 546 Leonard spun 512 Ray. 546 Leonard spun 499 Emms, the former giving himself a puncture in the process ending his charge. 161 Pikey tangled with 499 Emms on the Caister bend with both cars rolling into the ropes. 6 Ling spun 444 Francis, who went up on to two wheels. 585 Tytey set about 995 Emmerson. 6 Ling spun 444 Francis for the second time. 760 Hazza buried 6 Ling, as 175 James Emmerson takes the first win of the night.
175, 995, 760
Heat 2 saw a smaller entry of 20 cars. A lively first couple of laps saw cars in all directions before it eventually settled down. 512 Ray nibbled 41 LeGrice, who hit the tyres and went up on to two wheels, breaking his steering on impact. 691 Turner jacked 140 Scotty. 760 Hazza ran 50 Barty through 41 LeGrice. This made Barty's polo a bit tender and he rolled big time a lap later bring out a race stoppage. The restart saw 346 Nicholls spin 499 Emms; the latter burying himself hard on the Caister bend, bouncing out and claiming the leading 447 Nail. This allowed 546 Tony Leonard to move in and race to the win.
The Final saw only 17 cars make the track. 447 Nail put away 444 Francis, as 691 Turner had a go at the waiting 548 Big Al. 595 Cossey spun 140 Scotty. 447 Nail attacked 13 Burcham, as 444 Francis jacked 548 Big Al. 760 Hazza put in 691 Turner, before 346 Nichols spun 445 Leonard; the latter recovering to blast 439 Sutty. 585 Tytey then attacked 439 Sutty, before 39 Pusher Paul spun 760 Hazza. 760 Hazza bounced back to launch an attack on 439 Sutty, eventually spinning him. 691 Turner weighed in on 548 Big Al, who was then jacked by 760 Hazza. 39 Pusher Paul spun aside son 439 Sutty to conclude the action. The Emmerson brothers taking the spoils, with 175 James besting 995 Dean for the win ahead of 546 Tony Leonard.
175, 995, 546
9 cars were game for the DD, with 548 Big Al delivering a reverse attack on 995 Deano from the drop of the green. 444 Francis jacked 548 Big Al, with 439 Sutty then doing the exact same. 499 Crashley jacked 754 Medler, and then took a portion himself from 444 Francis. 754 Medler reversed through 439 Sutty's doors, before 760 Hazza jacked 444 Francis hard. 995 Deano attacked 760 Hazza. 754 Medler delivered a huge reverse attack on 6 Ling, which snapped the former's car well. 760 Hazza had a pop at 548 Big Al before the action was brought to a pause to attend to 444 Dean Francis who was shaken. The resumption of play saw 439 Sutty drive through 995 Deano. 760 Hazza nibbled 14 Bazza, the latter continued on to go in on the nose of 754 Medler. 760 Hazza then went on a dominant front, jacking 548 Big Al, before tboning 754 Medler. 760 Hazza then continued his assault, hanging 14 Bazza off a post before laying waste to 754 Medler to take the win. Miracously, 995 Deano started back up but he was quickly silenced by a celebratory hit from 760 Harry Spencer.