1400cc National Banger Suffolk Teams – 30/03/2018 – Mildenhall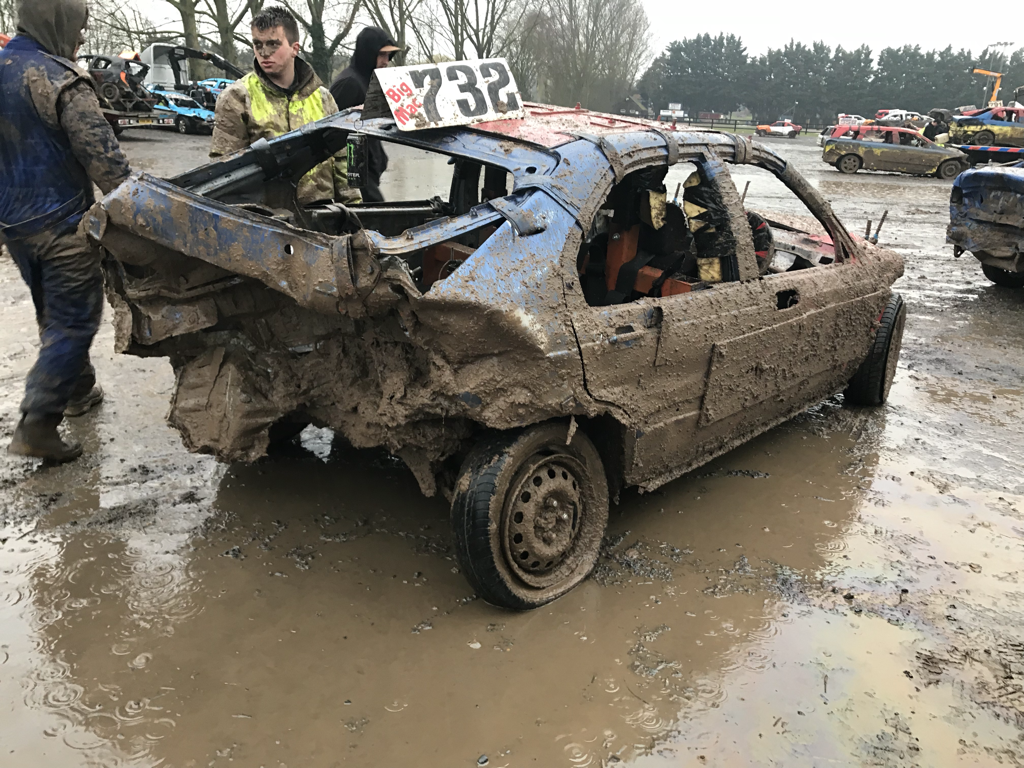 The annual Good Friday bash raised a strong field of cars although suffered from some late cancellations and teams that were a few short. The sun set the day off right with showers later in the day making for various track conditions throughout the day.
Bangers And Mash (BM)
2 Shaun Swinbourne – Vauxhall Astra Mk4
88 Nick 'Flash' Dash- Vauxhall Astra Mk5
91 Ben Lawrence – Honda Civic
141 Gary 'G-Man' Lee – Vauxhall Astra Mk5
200 Ashley Grierson – Nissan Almera
623 Ricky 'Tricky' Hutton – Vauxhall Astra Mk5
Better Halves (BH)
95 Jade Harbord – Vauxhall Astra Mk4
96 Amber 'BamBam' Daniels – Nissan Sunny LX
97 Jim Maddison – Nissan Almera
682 Paul 'SparraBoy' Sparrow – Nissan Almera
Crunchers (TC)
9 Ben Cox – Vauxhall Astra Mk5
19 'Dove Toe' Joe Mullarkey – (DNR)
60 Daniel Rea – Honda Civic Aerodeck
119 Davey 'Cruncher' Cox – Nissan Almera
394 Harry 'Hilly Jnr' Hill – Ford Escort*
566 Tony 'Zippy Jnr' Pallett – Vauxhall Astra Mk5*
DILLIGAFF (DI)
85 Daniel Clarke – Vauxhall Astra Mk4
290 Ryan 'Bry' Anderson – Vauxhall Astra Mk4*
528 James Bailey – Vauxhall Astra Mk4 Estate
540 Adam 'Jamesy' James – Nissan Almera GX
551 Brett Jackson – Vauxhall Astra Mk4
Dover Boys (DB)
116 'No Luck' Nat Cohn – Vauxhall Astra Mk5
170 Chris 'Shippy' Shipp – Nissan Almera
188 John 'Victor' Reeves – Nissan Almera
511 James Licquorice – Vauxhall Astra Mk5*
673 Darren Fendley – Nissan Sunny
898 Andy Battle – Vauxhall Astra Mk4
ESM (ESM)
38 Jon 'The Bullet' Waite – Vauxhall Astra Mk5
83 Rich Waite – Vauxhall Astra Mk4
146 Dan 'Broomey' Broome – Nissan Almera
239 Ricky Smith
277 Gavin 'Mr Perv' Perryman – Nissan Almera
692 Callum Gubbey – Honda Civic
Gravediggers (GD)
110 Garrie '10 Men' Mirza – Vauxhall Astra Mk4
112 Daz Prestage – Vauxhall Astra Mk4
114 Adam Jackson – Vauxhall Astra Mk4 Estate
116 Martin Yeates – Vauxhall Astra Mk4
467 Mark 'Mad Mark' Studd – Nissan Almera
Jokers (JK)
114 Shaun Turnage – Honda Civic EK
123 Kieran 'Kezza' Gray – Vauxhall Astra Estate Mk4*
276 Adam Rowell – Nissan Almera
370 Craig Gray – Vauxhall Cavalier*
528 Lee 'Manic' Vaughan – Nissan Almera
Mad Hatters (MH)
43 Luke 'Muttley Jnr' Maynard – Nissan Sunny
321 Kieran 'Chatty Man' Fry – Vauxhall Astra Mk5
390 David 'Gibbo' Gibson – Nissan Almera
399 Jonny Atkin – Nissan Almera
509 Richard 'Dicky' Colk – Nissan Almera
601 Chris 'Bling' Medler – Nissan Almera
Motley Krew (MK)
46 Wayne Pecker – Nissan Almera
199 Eddie Lawrence – Nissan 100ZX
210 John 'Slim' Ellison – Nissan Almera
316 James 'Mr Cush' Cushion
538 Curtis 'Rodders' Salvage – Nissan Almera
724 Mark Puddiphatt – Vauxhall Astra Mk4 Booted
Motor Bitz (MB)
51 Jack Licquorice – Vauxhall Astra Mk5
326 Shane 'Ratty' Lynn – Nissan Almera
328 Danny Lathan – Vauxhall Astra Mk5
337 Terry Garrod – Ford Escort booted
338 Ashley 'Wingnut' Garrod – Nissan Almera
339 Jack 'Jackpot' Garrod – Ford Escort booted
One Shot (OS)
211 Dennis 'Mr Nös' Vorkink – Vauxhall Astra Mk3
319 Shaun 'Clarkey' Clarke – Vauxhall Astra Mk4
419 Laura 'Mossop' Quadling – Vauxhall Astra Mk3
420 Matt 'Maff' Jode – Vauxhall Astra Mk4
562 Gavin 'Gavo' Barnes – Vauxhall Astra Mk3
769 Ben Englestone – Vauxhall Astra Mk4
Reem (TR)
158 Shane Davies – Vauxhall Astra Mk5*
291 Mick Turner – Vauxhall Astra Mk4
876 Ronnie 'Ron' Hammond – Nissan Almera
Seasiders (SS)
84 Jack 'Peach' Ansell – Nissan Almera GX
205 Michael 'Gava' King – Honda Civic
274 Tommy 'Leadfoot' Grantham – Nissan Almera GX
426 Mark Pope – Vauxhall Astra Mk5*
558 Rob 'Rook' Haines – Vauxhall Astra Mk5 Estate
791 Lee Herbert – Nissan Almera GX
Simples! (SI)
183 Simon 'Sexpot' Goodwin – Vauxhall Astra Mk4
333 Matt Thomas – Vauxhall Cavalier
397 Kyle 'Rusty' Lines – Nissan Almera
597 Shane Lines – Vauxhall Astra Mk4
959 Aaron Keoghan – Nissan Sunny
961 Kev Loarding – Vauxhall Astra Mk4
STB (STB)
10 Chris Wick – Vauxhall Astra Mk4
12 Troy Cobbett – Honda Civic Coupe*
26 Paul Lovick – Vauxhall Astra Estate Mk5*
157 Michael 'Piglet' Piggott – Vauxhall Astra Mk5*
666 Nicholas Ungermann
799 Tim Rees – Vauxhall Astra Mk4
Team Stig (TS)
292 Harry 'Harold' Airey – Nissan Almera GX
317 Callum 'Stress' Jacobs – Vauxhall Astra Mk5
428 Ben 'Stretch' Airey – Nissan Almera
669 Cal 'The Joker' Curtis – Honda Civic
732 Mcauley 'Big Mac' Free – Honda Civic
817 Kurt 'Stig' Jacobs – Honda Civic
Stinkbridge (SB)
99 'Boothy' Booth – Nissan Almera*
211 Jordan Hall – Nissan Almera
219 Matty Hall – Honda Civic
409 Baker – Honda Civic*
410 Jake Calvert – Vauxhall Astra Mk5
TPT (TPT)
122 Mark Cooper Jnr – Nissan Almera
208 PJ Collins – Nissan Almera
725 'Sibbs' – Nissan Almera
726 Sam 'Sambo' Bye – Nissan Almera
732 Danny Stroud – Nissan Almera
733 Ricky Stroud – Nissan Almera
Twisted Metal (TM)
26 Daniel 'Hacker' Holmes – Vauxhall Astra Mk4
36 Ricky Lewis – Rover 214*
37 Dave Lewis – Rover 214
95 Anton Martin – Ford Escort Estate*
135 Donny Mann – Nissan Almera
322 Tom 'Foxy' Fox
Underdogs (UD)
313 Scottie 'Scottie Dogg' Elden – Honda Civic
352 Ben Mynott – Vauxhall Astra Mk4*
400 Mark 'Gibbo' Gibbons – Vauxhall Astra Estate Mk4*
452 Paul Sweet – Vauxhall Astra Mk4*
760 Harry 'Hazza' Spencer – Honda Civic
959 Andy 'Sewelly' Sewell – Rover 214*
Wild Boyz (WB)
43 Nicky 'Bish' Bishop – Vauxhall Astra Estate Mk4
78 Lee 'Mad Mace' Macey – Nissan Almera*
229 Dean Jarvis – Rover 214
289 Ricky Haresign – Nissan Almera*
*- denotes used car
Heat 1 attracted 22 cars. Ipswich Banger World Series winner DB673 Fendley attacked SS426 Pope from the get go. TC119 Cruncher also attacked SS426 Pope, as DB188 Victor tboned MK46 Pecker on oppo. MK724 Mark immediately dished a revenge attack on DB188 Victor. MK46 Pecker took out WB78 Mad Mace, with WB43 Bish laying in for a revenge attack on MK46 Pecker. DB511 Licquorice dished a heavy tbone to MK46 Pecker, who was then spun out by DB116 No Luck Nat; the latter continuing on follow in MK724 Mark a lap later. DB116 No Luck Nat continued his momentum to tbone the luckless MK46 Pecker. MK538 Rodders tboned DB116 No Luck Nat, as the battle between the Dover Boys and Motley Krew outfits really stepped up a gear. MK199 Lawrence delivered a head on to DB116 No Luck Nat. DB898 Battle jacked MK199 Lawrence. MK538 Rodders jacked DB898 Battle, as DB116 No Luck Nat treated MK46 Pecker to a head on. DB170 Shippy ran MK210 Slim into DB116 No Luck Nat. TC394 Hilly Jnr spun DB188 Victor. DB116 No Luck Nat delivered the last action of a lively opening heat with an attack on oppo to MK210 Slim, as Team Crunchers secured the top 4 places; TC566 Zippy Jnr taking the win for them.
566, 394, 60, 119, 205, 898, 170, 791, 43, 188
Heat 2 raised only 17 cars. GD116 Yeates jacked TR876 Ron from the off. SB409 buried GD114 Jackson. OS420 Fuggers turned in around a delivered a blistering head on to the leading GD110 10 Men. OS211 Mister Nös jacked GD110 10 Men. Gravedigger revenge was swift as 112 Daz blitzed OS211 Mister Nös, only to cop at tbone in turn from OS419 Mossop. OS420 Fuggers dished an on oppo attack to GD112 Daz, which triggered a One Shot v Gravediggers pile up. SB410 Calvert jacked OS419 Mossop, only to come under fire himself from GD467 Mad Mark. GD112 Daz gave a head on to the leading TR291 Turner, while TR158 Davies attacked SB99 Boothy along the back straight. OS420 Fuggers has a head on to TR876 Ron, as the latter's team mate TR291 Mick Turner survived to hold on for the win.
291, 562, 769, 99, 158, 876, 476
Heat 3 started with 31 cars. STB12 Troy spun MH399 Jonny. ESM146 Broomey spun TS817 Stig, as MH390 Gibbo followed in MB51 Licquorice. STB157 Piglet jacked UD452 Sweet. MB328 Lathan jacked MH390 Gibbo. MH601 Bling jacked MB51 Licquorice. MB328 Lathan delivered a flat out revenge shot on the drivers side to MH601 Bling which brought the reds out straight away as the latter needed attention – Bling getting out mostly unaided albeit a bit dazed. The restart commenced with ESM38 The Bullet setting about UD760 Hazza. MB328 Lathan picked up MH43 Muttley Jnr; the latter's teammate 390 Gibbo latched on and followed the pair in. MH321 Chatty Man ruined UD959 Sewelly, as ESM277 Mr Perv set about STB12 Troy. STB666 Nicholas spun teammate STB12 Troy aside. STB26 Skiddy ran in ESM83 Waite. ESM38 The Bullet jacked STB26 Skiddy. STB10 mullered ESM38 The Bullet. STB666 Nicholas took the chequered flag, although the action continued on turn three. MB326 Ratty jacked STB10, which left him open to a flat out tbone from MH321 Chatty Man on the stroke of the red flag.
666, 328, 292, 428, 390, 31, 352, 38, 399, 509
Heat 4 saw 30 cars take to the track. TM26 Hacker ran in TPT122 Cooper Jnr. JK528 Manic weighed in on TPT122 Cooper Jnr. TPT732 Stroudy jacked DG290 Bry. TPT732 Stroudy continued his rampage by blasting SI961 Kev. BH97 Jim set about TM37 Lewis, as SI959 Keoghan jacked TPT208 The Gambler. SI397 Rusty tboned TPT732 Stroudy. DG85 Clarke ran in TPT208 The Gambler. BH95 Harbord jacked DG85 Clarke. TPT725 Sibbs span TM36 Lewis. TPT732 Stroudy delivered a mega hit on DG85 Clarke, as TPT725 Sibbs ruined SI959 Keoghan, who was then dispatched by TM322 Foxy on route to the latter taking the win. SI959 Keoghan weighed in on TPT732 Stroudy just as the reds came out
322, 26, 370, 726, 725, 97, 123, 114, 37, 290
After the first set of heats, the Crunchers headed Team Reem and Twisted Metal in the points standings.
Heat 5 saw 18 cars again for Group A. The field smaller due to Team Crunchers opting to not compete and chance having enough points to qualify for the A Final. DB170 Shippy set about MK46 Pecker from the off establishing Dover Boys intentions once again. SS205 Gava spat MK538 Rodders left. DB898 Battle tboned MK538 Rodders. WB289 Haresign followed his own team mate WB229 Jarvis in. SS791 Herbert dished a head on to WB229 Jarvis. SS274 Leadfoot treated WB78 Mad Mace in a similar fashion as DB188 Victor jacked MK538 Rodders. MK316 Mr Cush ruined WB229 Jarvis. DB898 Battle struck MK316 Mr Cush head on. MK199 Eddie weighed in on DB898 Battle. DB188 Victor gave a head on to MK316 Mr Cush. DB673 Daz snatched the win on the last lap from SS205 Gava, and celebrated by driving through MK316 Mr Cush. DB116 No Luck Nat attacked MK316 Mr Cush to conclude the action.
673, 205, 78, 170, 116, 791, 274, 188
Heat 6 saw Group B raise 22 cars; with Bangers and Mash on their first appearance of the day. BM141 G-Man spat OS562 Gavo into the marker tyres. BM141 G-Man set about OS211 Mister Nös. SB99 Boothy ran OS420 Fuggers into GD114 Jackson. GD467 Mad Mark blasted OS420 Fuggers. OS769 Englestone set about TR281 Turner for the lead. BM623 Tricky gave a head on to TR291 Turner. GD112 Mirza followed in BM2 Swinbourne. OS420 Fuggers jacked GD112 Mirza, only to cop a big shot from SB211 Hall. BM91 Lawrence gave a head on to the leading OS769 Englestone. BM2 Swinbourne jacked OS211 Mister Nös. GD467 Mad Mark went in on BM2 Swinbourne. OS211 Mister Nös stopped TR291 Turner, who ended up being in a 211 sandwich as SB211 Hall jacked the Reem pilot. OS769 Englestone jacked SB219 Matty, with the latter turning around to blast OS211 Mister Nös. TR291 Turner last bended SB99 Boothy for the win and collected OS211 Mister Nös just on the line, although it was viewed that the former had done just enough to cross the line first which secured his second win of the day.
291, 99, 562, 769, 876
Heat 7 saw 34 cars raised for Group C. TS317 Stress followed in UD760 Hazza to begin the action. MB339 Jackpot followed in MH321 Chatty Man and MB328 Lathan set about MH390 Gibbo. MH509 Dicky attacked MB328 Lathan. MB338 Wingnut tboned MH321 Chatty Man. MH509 Dicky jacked MB337 Garrod. MH399 Jonny dished a head on to MB337 Garrod. MB51 Licquorice jacked MH399 Jonny, only to receive a shot from MH509 Dicky. MB337 Garrod jacked MH509 Dicky. MB337 Garrod went on oppo to blast MH390 Gibbo. MB338 Wingnut went in on MH509 Dicky. The Garrod family continued their assault of the Mad Hatters in a dominating display. MB337 Garrod jacked MH509 Dicky. MB338 Wingnut jacked MH390 Gibbo. MB337 Garrod tboned MH390 Gibbo and then done the same to MH399 Jonny. MB338 Wingnut dished a head on to MH390 Gibbo. UD400 Gibbo treated a head on to STB12 Troy. ESM146 Broomey tboned MB337 Garrod to conclude the action, although MH321 Chatty Man was clearly not happy with the Garrod's actions and went on a heated exchange which dispersed fairly quickly.
352, 10, 146, 817, 692, 912, 732
Heat 8 raised 24 cars for Group D. JK528 Manic got the ball rolling with a massive follow in on SI597 Lines. TPT122 Cooper Jnr ran TM95 Martin and JK370 Gray in with one foul swoop. TPT725 Sibbs followed in SI397 Rusty, who was then jacked by TPT122 Cooper Jnr. TPT725 Sibbs completed a lap and weighed in on SI397 Rusty. TPt122 Cooper Jnr delivered a front wheel shot to TM95 Martin. JK123 Kezza battled TM37 Lewis for the lead and eventually got the better of him where he stayed to take the chequers.
123, 322, 37, 36, 540, 96, 726, 97, 290
The A Final saw the top scoring half of teams back on track. TR291 Turner dispatched SB219 Matty as SS274 Leadfoot ran in TC394 Hilly Jnr. OS420 Fuggers delivered a head on to ex-World Champion TR158 Davies, who found himself in a One Shot sandwich with OS419 Mossop going in on the Condom man as well. SS84 Peach weighed in on TR876 Ron, as TR291 Turner went in on OS419 Mossop in a revenge hit. SS791 Herbert gave a head on to OS211 Mister Nös, with a fire breaking out on the 211 Astra the race was brought to a momentary halt. The restart saw OS319 Clarkey attack DB673 Daz. SB409 set about DB188 Victor, who responded by following in SS274 Leadfoot into SB409. The leading TC9 Cox got black flagged for corner cutting, as he had opened up a large margin through his antics. DB898 Battle jacked SS558 Rook, only for OS769 Englestone to blast the former. SS84 Peach attempted an on oppo attack on TR291 Turner but was unsuccessful in doing so. DB673 Daz set about OS769 Englestone. SS558 Rook gave a back wheel shot to DB673 Daz, as OS769 Englestone recovered to attack SB219 Matty. Seasiders 205 Gava took the win; TR291 Mick Turner nearly completing his hat trick had to settle for second with DB673 Fendley rounding off his successful week with a third.
205, 291, 673, 426, 558, 898, 769, 84
The B Final raised 22 cars, although JK276 Rowell did not start after being pushed on by a tractor. TS317 Stress buried himself trying to do 26 Hacker. TPT733 Stroud tboned TS317 Stress. The leading duo of JK123 Kezza and TM322 Foxy took one another out. TM36 Lewis put away TPT732 Stroudy, as a pile up formed on the pits turn. UD352 Mynott tboned ESM146 Broomey. TPT732 Stroudy went on oppo to attack TS669 the Joker. The leading TM36 Lewis spat out JK528 Manic. TS669 the Joker dished a revenge head on to TPT732 Stroudy. JK123 Kezza went in on TS669 the Joker. The action broke out again on the pits turn, with several piling in. TM37 Lewis paved his way through the wreckage to take the win.
The DD raised 11 cars. MB326 Ratty jacked GD112 Prestage. SS84 Peach buried BM200 Grierson. GD110 10 Men jacked SS84 Peach, only for TPT732 Stroudy to weigh in on the former. TS817 Stig went in on TPT732 Stroudy, and was duly jacked by MK199 Lawrence. SS84 Peach blasted MK316 Mr Cush. TS292 Harold gave a head on to SS84 Peach. TPT732 Stroudy jacked SB219 Matty. TPT732 Stroudy and TS292 Harold then sandwiched SB219 Matty as they both went for an attack. SS84 Peach went in on TS292 Harold, with the latter responding by blasting his attacker, running him into MK316 Mr Cush. MK316 Mr Cush delivered a head on to TS292 Harold to take the DD honours.