Not just a Rookie – Interview with 717 Harvey Devall Jnr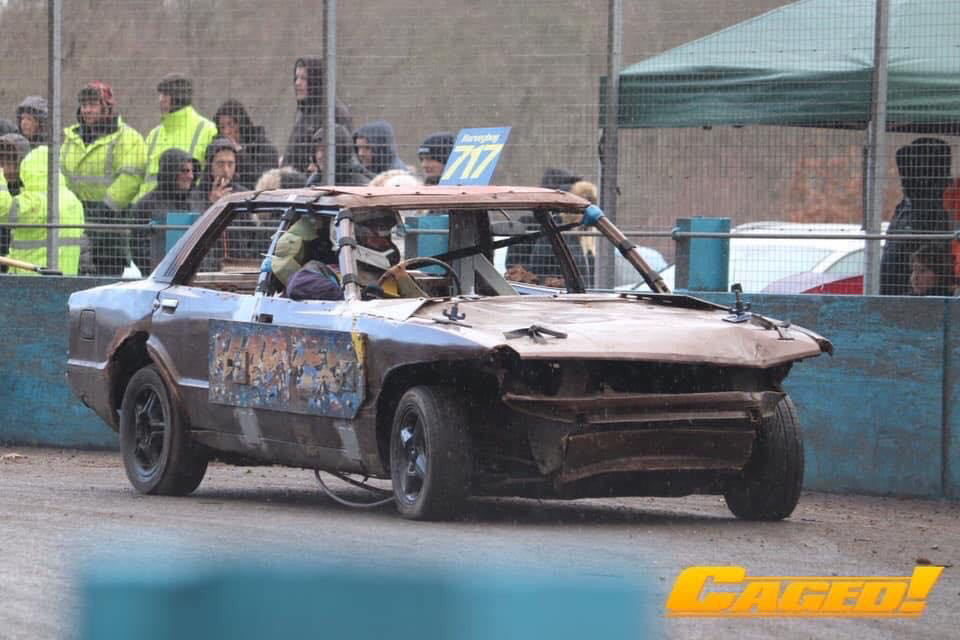 Harvey Devall may not yet be a household name in Bangers, but The Firm man from East Sussex has been quietly going about his business in recent years and is one of the ever improving drivers in the successful Spedeworth domestic scene, and more recently has been dipping his toes in national sec meetings. Bryson caught up with Harvey earlier in the month to get his views on various aspects of the racing spectrum.
Like many, Harvey got into racing through his family routes, however he had to put up a fight! "My dad started way before I was born, so I've grown up around it all my life. I didn't start until I was 17 though as he wasn't too keen on me doing it, but I eventually got my own way, and haven't looked back since." Harvey admits that his fathers' reservations were all with good intentions though. "He always wanted me to learn to drive properly first – he said you had to run before you could walk! When I was younger, I didn't care, I just wanted to race, but now I've been out on track for a little while and won races and can compete, I understand why he didn't want me to do it." Harvey reflects on his dads career at the time, stating "Dad had a lot of wars at the time and I suppose he didn't want me to get brought into them. Now me, my brother and Toby have taken over I understand his reasons why."
Harvey mentions his team, as previously mentioned, known as The Firm, but Harvey says the team is more like family. "Toby sort of came home one day with my brother from school and never left," Harvey jokes. "He's as thick as you can get but put him in a banger and he's nuts! He's someone that's an asset to the team 90% of the time, and me, my brother and dad will always work together. My younger brother will be coming up into the big Bangers next year as well. Last year we sorted ourselves out more, and tried doing as many meetings as we could but altogether it's a better feeling knowing you are all out on track and have one another's backs."
As previously mentioned, Harvey is one of the ever improving drivers from the Spedeworth 1600 scene, and managed to find his way through onto the World Final grid, but not without leaving it late as he came through from the last chance race on the night. Harvey relives that moment and explains the emotions going through him. "The truth is before the meeting I was going off the rookies (as they used to be known as). The back to basics had begun to take over for me and then that happened and it was the best feeling ever. Everything just went right on the night and I had a stupid amount of luck! At the start of the night I was talking to my mate Turkish (James Friston 18), who was already in the World Final, and I told him that I felt I could qualify and he told me to just go for it, so that's what I did. The whole feeling on the start line, with the fireworks, the crowd, just the full atmosphere was brilliant. This year I'd like to qualify in advance but it all depends on how this COVID-19 stuff goes."
The World Final meeting sticks out as one of Harvey's racing highlights, but admits there are plenty more that he has fond memories of. "The first time my dad, brother and I raced together was a special occasion. There was a meeting at Arlington last summer where I won the DD, and got myself stuck in the pile up doing so; when I climbed out the crowd were all cheering which was a great feeling as well! The Cortina I raced earlier in the year (3 Litre's Undercracker meeting) was a nice car to race. I've always wanted to race a Cortina or Granada having grown up round them, so it was great to be in the seat of one." Going back to Harvey's earlier comments about going off the 1600s, and given the nature of the 3 Litre meeting to fit somewhere in between the 1600s and nationals, I wondered whether taking that 'step-up' to the nationals was something Harvey had considered. "Myself and my brother have both spoken about it lots, and it's probably something we will do. We enjoyed the 3 Litre meeting and keen on doing them, so I'll think we'll make a few appearances slowly and then work our way up from there. You can't just jump straight into nationals in this day and age, you'll get run rings around you so I think it's a case of when you feel like you're ready. For me it will happen, just a case of when."
Once normality resumes, Harvey plans on carrying on as he left off. "We'll keep enjoying the racing and try to do as many meetings as possible, and to try to qualify for the World Final if I can, but it'll just be good to just get back in a Banger." The lockdown time has definitely got drivers and fans alike itching to get back to the race tracks. The Firm lads have all been busy getting ready for when racing does resume. "We are ahead (in reference to car prep). We've got loads of cars ready, I think we all have 2 ready each, so we are prepared for whatever meeting it is. I'm sure it will be fully booked whatever it is. I just want racing back now! It's a shame because the Wednesday nights would be started now and I love them; proper split the week up." With all these cars prepped, what does Harvey rate to race? "I've had a lot of cars that I've raced and get along with so try to find again. The Rover 216/416 has to be my favourite though. My dad used to race them week in week out. Now I've started I realise they aren't strong, but for a one meeting car, I don't think you can beat them. You have sensible crash in them and being Honda powered, they have the speed too!"
One of favourite questions is who our interviewee looks up to from a racing perspective, I feel like it provides a deeper insight into the driver, and Harvey has numerous influences. "When I was growing up it was my dad. He could win in anything, and even now he hasn't lost it. Besides that, 204 Charlie King, I think he has adapted into a brilliant driver. 246 Aston Burt is just rated; loves a crash and would do anything to help anyone which is how it should be. 760 Joey Reynolds is the boy! He could win on a push bike! He can seriously drive in anything you can put him in. 18 James Friston too. He's seriously underrated in the rookie scene. I think though, anyone that gets in a Banger deserves credit because some people in the crowd don't understand the time, effort and money that goes into racing; it is a way of life!"
Harvey concludes the interview by thanking his dad, brothers, Toby, and all of the other boys for their help.