166 Lee 'Dogga' Lawson Interview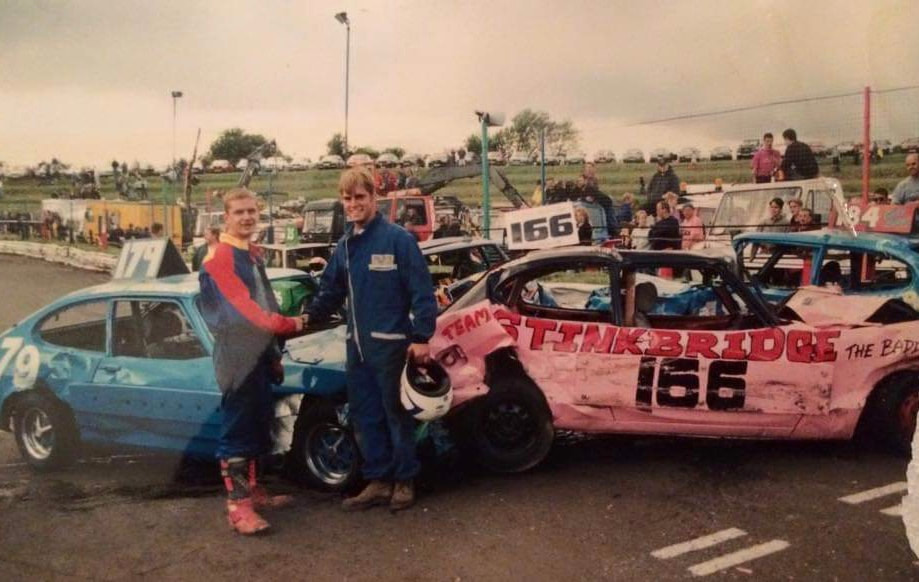 The following interview was written by Rob Woollhouse for Caged during the first COVID lockdown in 2020.
As COVID-19 continues to keep us in lockdown, we continue the drive to keep bringing you engaging and interesting content via various social media platforms.
The most recent material we have here, is an insight to the racing life of 166 "Dogga" Lee Lawson who spared some time to catch up with Caged`s Northern representative Rob Woollhouse.
Dogga raced for the infamous pink and black of the Lancashire Based team, known as `The Baddest`, Team Stinkbridge from 1990 to 2002 racing at approximately over 200 different meetings in his time, undoubtedly when the team were in their prime, dominating local tracks, and regularly putting on a show, despite being outnumbered whilst travelling on the road to various tracks. Before donning the overalls again to return to racing in 2008/09 to tick off a few tracks that he hadn't competed at previously.
It is at this point, we suggest you get a brew, a few biscuits and put your feet up.
Lee begins by rolling back the years and explaining how he got into the oval racing scene, which follows suit for most, a fathers influence. "My Dad raced at Nelson in the Mid 1970s so my first meeting, I was probably around 3 or 4 years old. My Dad was an Alcoholic, and Oily (Graham Hall) was the mechanic for him, Oily was probably only about 15/16 years old at the time and he used to have to steer my Dad through the pit gate sometimes!"
"Nelson Raceway sadly closed in 77/78 so that brought that to an end for the time being. In 1982 I started going racing with Oily to Crewe and Carnforth (Warton), for a couple of years until my Uncle bought an F1. Obviously 2 years running an F1 skint him so I went back to bangers."
Dogga has a list as long as his arms in terms of tracks that he has raced at; Crewe, Stoke, Barrow (old sandpit), Old Scunthorpe, Hartlepool, Hednesford, Birmingham, Swindon, Long Eaton, Mildenhall, Ipswich, Arena Essex, Wimbledon, Ringwood, Warton, Taunton, New Belle Vue, Coventry, Nutts Corner, Cowdenbeath, Skegness, Kings Lynn, Northampton, Sheffield and maybe even more that he can't remember.
On the history and roots of the team colours and the team name Lee elaborates `I think that Oily, Big Hoss, Dave Brennan, Martin Lamb, Pete Howarth, Glynn formed the team around 1980. They had some cheap pink paint and Len Wolfenden came round and told one of his shit jokes about what's the pink bit in between a woman's pussy and her arsehole called? …….STINKBRIDGE….. So there you go, that's the real reason for the team name, all them years the commentators were saying Stinkbridge over the tannoy, and we just pissed ourselves. People just thought that because the yard was in an old tannery and there was a bridge on the entry, that was the reason.'
One track that does hold fond memories is Crewe, and Lawson goes into some great detail of the battles between Stinkbridge and the Crewe based Gone Gang team.
Dogga explains "The most intense war was against The Gone Gang at Crewe. I was only 18 years old, trying to get round what was undoubtedly at the time, the best and fastest shale track in the country. I couldn't even drive to save my life, the throttle was either ticking over or flat out. There was simply no in between. There was a lot of hatred in them days, deliberate doorings, bricks, stones, rocks being thrown at cars on the track from spectators on the safe side of the fence, the promotion were on their side, gone gang scrutineers, so pretty scary shit pal. Once I found my feet and knew how to operate a throttle things soon changed, I wasn't the sitting duck anymore, I soon began to start giving a bit of payback! The war with the gone gang probably started when Big Hoss, Oily etc started going there. We never had a local track after Nelson and Blackburn had closed, even Belle Vue had its regulars, so wherever we went we were the outsiders, but we didn't fuck about! We went to a track and took on their best? Gone Gang, Crewe Steeles, Barrow Animal and his team, Scunthorpe, Swindon Vigilantes, Incarace – Coventry Avengers, PRI- Suicide Squad/Creams, Cowdenbeath-all of them, Trackstar – Pictons. For me, there was no point in blitzing some poor fucker that had built his car, on his drive with a jack and a screwdriver. We would always go for the top bloke."
"By the time Crewe finished, I was setting off as a white top and catching the Red tops up, oh and the full lap run up on Ken Smith's Sierra was awesome! That's after I had given it a large portion. Things were getting heated at Crewe, people were getting drivers doored intentionally. I saw Smiggy go for Wilfs door intentionally! Wilf unbuckled, got out of the front windscreen, give Smiggy the wanker sign, got back in the car and started chasing him. First aid called Wilf in and wanted to look at his leg, he said are you sure? She said yes, he dropped his shell suit bottoms and was stark bollock naked with an imprint of a 50p coin on his leg!"
"Any how I was still a white top and had found out that there was something in between tick over and flat out, and was starting to get control of the car! The Gone Gang had given a few of us some shots in the heats. It came to the final and was a clutch start, by the time I came round for the first lap, there was the Sierra that Kruncher had taken 2 months to build, armoured up to the tits, he was just off the track half way-ish down the straight. I think a pink car was in front of him, so I give it him flat out, he got out, and because I had put low profiles on for the dry track and it was wet in the middle I struggled backing out of him, meanwhile he was hurling abuse at me from the centre, giving me the wanker signs, once I got out of the back of his car I just stuck one finger up at him and shouted one lap! I set off and did the full lap run up and give it to the Sierra full chat and backed out again, I finished the rest of the race, although my tracking was out. It bent my bonnet frame, 40 x 20 box up to my engine! When joining the track and lining up, the first thing I did was to see where #09 Psycho (Andy Holmes) was! It got better when we were both gold tops and started at the back, I'd just let him go, he was far too dangerous to start behind me ffs!"
"Can I just take this opportunity to say I had the utmost respect for anybody who was out there on the track who was willing to give it and take it. Some people got out too quickly, for me, you should stay in your car and take what's coming to you, not bail out as soon as they have delivered their hit. I never got out straight away, I often chose to remain in the car for the rest of the race, and it's the safest place. Although having said that, I think I got the best years where there wasn't many hero shots like there is in the sport today. Lining up beside The Gone Gang, I think they were more scared of me than I was of them. You can't beat someone who doesn't give a fuck, and if I repair that car time and time again throughout the day then you haven't beat me! That's how I looked at it!"
"We never really had a local track, so going travelling to any track was in reality, seen as a war for us, we just used to take the full track on, if it wasn't pink it got stuffed, simple as that! Unless the other guys on track stuck together, which most of the time they didn't, we came out looking awesome, especially when the magazines began to appear and publish write ups and photos and then later on the internet may have made us look better than we were. Obviously we had run ins with Suicide Squad and Creams, but I wouldn't class them as a war, it would have been a lot of travelling for that, we just clashed whenever and wherever we met. There's only one track that ever really sent us home with our tails between our legs, well, we give as good as we got, but the full track stuck together and give as good as they got, and that was Ringwood! Big up Ringwood, fair play, although a couple of displeased drivers kept their bangers on trailers as they complained we had 15 inch wheels, but other than that it was a pretty good session. Also having the VOSA outside the track weighing wagons wasn't good, seeing as mine was a 7.5 ton, weighed 5.2 Empty and had 2 Granada's on with all the spares! I wasn't leaving that track, I tell you!
But don't feel sorry for me, once we finally got going we did 85/90mph all the way home, a 24hr long that day was, I recall eating salt and vinegar discos to stay awake! A trick I learned from doing Wimbledon."
We then asked Lee if he had any idea about the actual number of cars he had raced throughout the years.
"I never really kept count if I'm honest. I just went and got another off the stack as and when required but even in the Crewe days with 'Hard' cars, I never did more than 3 meetings with one car. The most I remember paying for a car was £80 and that was for a mint 3.0 manual mk1 Granada Estate, but after that I was sponsored, I was spoilt really, I didn't get the best cars out of the yard, but also never raced a rotten one, like some of the guys are racing these days. I never had to weld a pillar or floor anyhow. £25 to £50 we paid for most of them, some even less when scrap was as little as £6 a ton!
Looking back at calendars we raced around 25 meetings a year nationally, and when you're building 3 cars/repairing at a time in some cases and trying to run the yard as well it was pretty tough going. Obviously the Granada/Cortina/Capri were the easiest cars to get hold of and build. I'd been building them since I was about 14/15 years old so I had all the gear for them and the knowledge, they were easy to strip out, engines aplenty, spares a plenty. Looking back at some of the less favoured cars, I built an Oxford estate once, never again. I built a Jag once, never again but I imagine if I would have had a good supply then I would have got used to building them I suppose. I had built the Jag for Sheffield, and welded the prop up out of centre. By the time I got to the corner I couldn't see, it shook me to bits! I only really raced Granada's, they were built to the rules, and any inspection was welcome in the pits. I remember following in Havoc (295 Graham Haywood) at Bolton, the next thing I know all the scrutineers were wanting my bonnet off. That wasn't a problem at all. I just wished I'd have charged 20 quid a look. I also took the same car to Swaffham and followed in (733) Carl Picton, same again, scrutineers all over it, with nothing in it, just bolted up in the correct places!"
"Some of the best meetings were the early Scottish World Cups, not just the racing, but also the crack in the pub after, too much of a crack because we ended up running out places to stay overnight. The first year we stopped at the one on the left after the bridge, had a good laugh throughout the night into the early morning, the landlady put us up again for the Scottish Championship later in the year but we had to camp in the function room. About half 1 in the morning she says I've got to go to bed, so we bought about 20 pints and took them to the room. She says, whatever you do, don't go behind the bar! An hour later Psycho 09 comes into the room with a massive bog roll and a lampshade on his head! Throws the bog roll at us, knocks about 7 pints over, then he says don't worry I'll pull some more and sets the alarm off in the pub! The old dear comes down in her dressing gown, hair all over, gives us a bollocking, and never let us stay there again! It went on like that at every pub, we went to another, books in on the phone to a Scottish bloke, we arrived at the pub and were greeted by the landlord of Indian ethnicity. We says sorry pal, we've come to the wrong pub! He says back to us in a Scottish accent, no you haven't! We started calling him John, and nicknamed his wife Eileen! That night it all kicked off with fire extinguishers etc. We tried setting off in the morning, next thing the police blocked us in and had to pay 90 quid for refilling fire extinguishers. It could have been worse if they had got us to blow into the bag. In about 1998/99 someone unloaded one of the Davies brothers cars in the car park one night, and put it on its roof on the floor. I never saw it or knew it happened until we got to the track, but it was definitely some of ours that did it! I won the Scottish World Cup championship in 1995. A few Spedeworth drivers were up for it – Willie Skoyles, Craig Went etc. We had a chat before and agreed England v Scotland. We all qualified for the final. It was at the time 2.0 limit so I just had a bog standard 2.0 litre injection engine with a carb on. I was running in 3rd with no chance of catching David Holmes. Willy was winning with David chasing him down, then Willy clipped a parked car and with David being so close it took them both out, allowing me to come through and win. We had a good piss up that night, all Spedeworth drivers came over. 1st, 2nd, and 3rd paid for the beer all night! 1996, I returned to defend my title, and the suicide squad came up. I had to qualify to defend my title which wouldn't happen anywhere these days. Anyhow, I lined up for my heat next to Kevin Wilshere of all people. You have to be careful next to Kev, so I held back a bit, I got took out and bent the steering, got back into it but the car simply wouldn't go round corners. Kenny Connor, one of the top men in Scotland must have taken me out 4 times during the heat, but each time I re-joined and managed 7th. I took the car back to the pits and repaired it, got the wheels pointing in the right direction ready for the final. I have never had a car go round a track as good as that. Took Kenny Connor out about 4 times during the race, I was winning from about half way, had a Scottish driver come off the centre at me but shot off and give him one over the back wheel and one of the Ashley's give it him over the front wheel. With 2 laps to go, took Kenny Connor out again. I took the chequered flag and caught him up again on turn 4, gave a mad lunge, spun him at end of the flag straight, where he turned it around and came to meet me on the nose on turn 4. Obviously I was happy to oblige, give him the big head on, left my gearbox in 100 bits on the track and broke his ribs."
unknownLawson brings the interview to a close with a retrospective view of his years in the banger racing scene
"Can I just say, that never in my full racing career, did I class myself as any higher than anybody else. Sometimes you were in the right place at the right time, and sometimes you were in the wrong place at the wrong time. Fair enough I could chuck a car around a track once in a while, but there were far better drivers out there than me, and far better wreckers. I would have never have won a world championship such as Wimbledon but people would have known I'd turned up!"